Impractical Jokers' Net Worth: How Much Are The Guys Really Worth?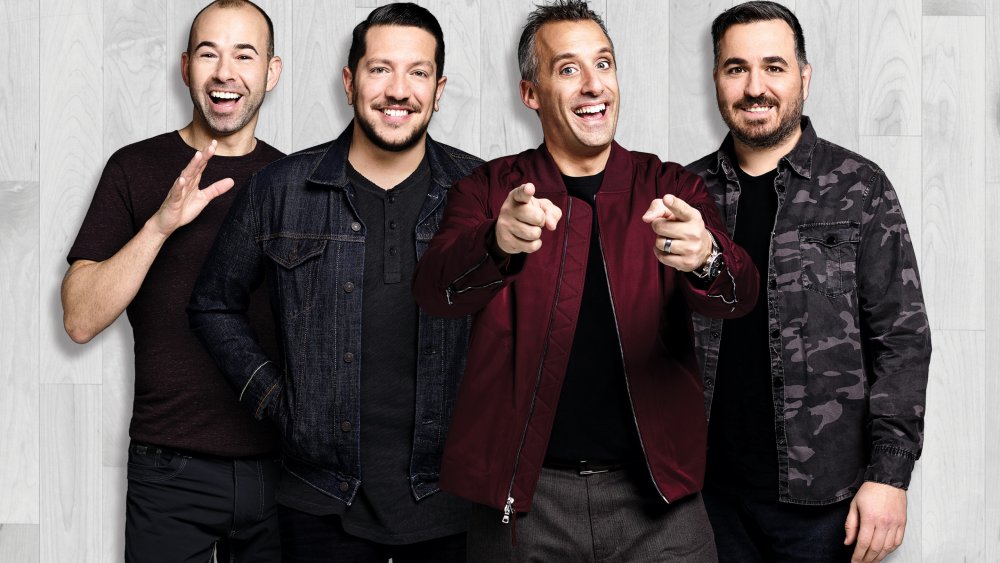 Tru TV
Since 2011, comedy troupe The Tenderloins have kept fans in stitches with their ridiculously funny TruTV reality series Impractical Jokers. In it, the troupe's four funnymen — James "Murr" Murray, Brian "Q" Quinn, Salvatore "Sal" Vulcano, and Joseph "Joe" Gatto — compete to see who can best navigate the insane situations contrived by their fellow Jokers, which require that they interface with an unsuspecting public in outlandish and often humiliating ways. Those who fail at their task are assigned "punishments" that are often more bizarre and embarrassing than the challenges themselves, and if you're wondering why these guys don't hate each other after 9 years and 8 seasons of this madness, it may help to know that the four friends have been doing this in some form or another since their school days.
Impractical Jokers has pretty much been the crown jewel of TruTV's lineup since the series' debut, and on February 21, 2020, the four clowns hit the big screen with the release of Impractical Jokers: The Movie. Truly, it must be an amazing thing to garner appreciation from an adoring public and a steady paycheck just for making complete asses of yourself and your friends, and for The Tenderloins, the ride is far from over — their series' ninth season is expected to debut later on in 2020, and there's no reason to think TruTV won't let them keep doing their thing for as long as they want to. So, just how much wealth have these guys amassed from their sweet, ass-making gig? Well, they're not super-rich, but they do okay. Sal has a net worth of $400,000, Q and Joe clock in at $500,000 apiece, and Murr is worth a cool million, according to Comparilist.
How much will the Impractical Jokers movie pump up the guys' bank accounts?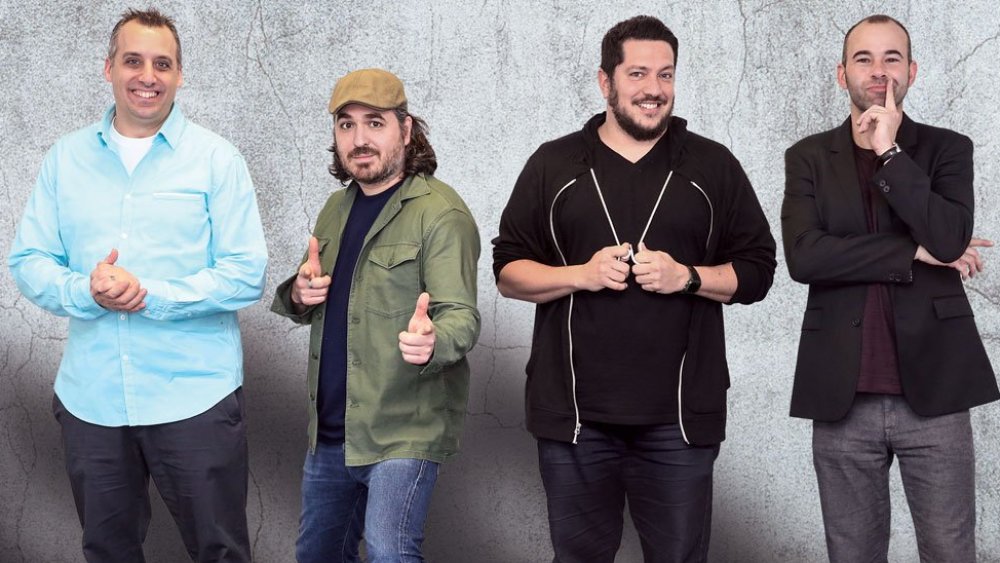 Tru TV
Of course, it stands to reason that these totals might soon be pumped up just a bit, due to the fact that the guys recently dropped a movie. This endeavor, though, probably won't score them a boatload of cash.
The flick opened in limited release, and sure, it did surprisingly well. Despite showing on only 357 screens, Impractical Jokers: The Movie notched an impressive $2.8 million opening weekend, nearly making back its $3 million budget in one fell swoop (via Forbes). Since then, though, it's been slightly downhill. The flick has only managed to roughly double that total since that first weekend, and while it's sure to make a tidy profit (and nobody expected it to do Marvel movie numbers), it's not going to be making any of the guys rich beyond their wildest dreams.
Having said that, the movie's modest success should serve not only to the guys in front of fans' faces as they await the series' return, but to cement for TruTV the notion that said fans simply can't get enough of Impractical Jokers. The series looks set to stretch long past that upcoming ninth season, and if you ask us, the guys deserve each and every paycheck. If you've seen the kind of craziness they put themselves and each other through, you'll agree that if anything, they don't get paid enough.