Every J.J. Watt Sketch From SNL Season 45 Ranked Worst To Best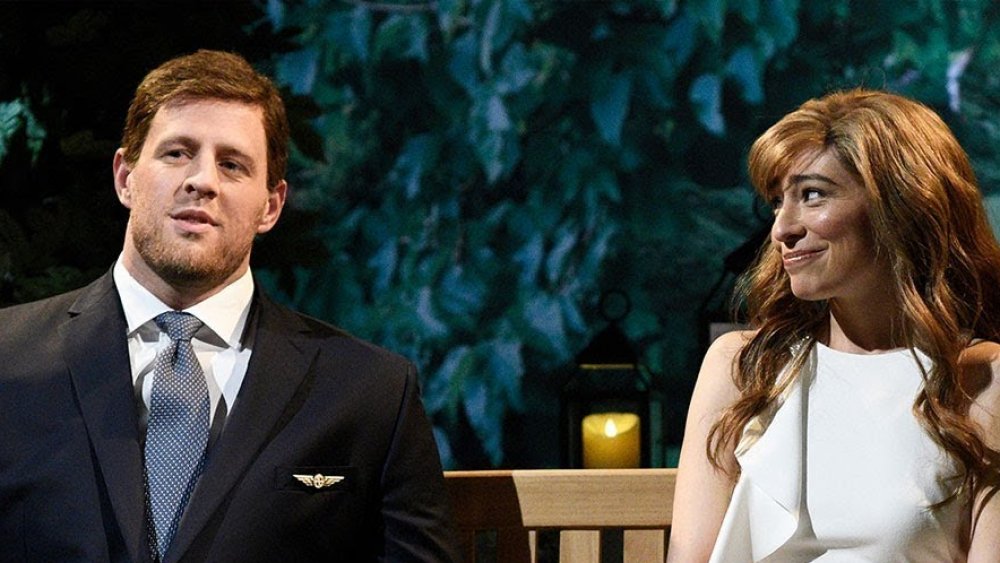 NBC/YouTube
On Saturday, February 1, Saturday Night Live celebrated the impending Super Bowl by welcoming Houston Texans' defensive end J.J. Watt as its host for his first-ever gig at Rockefeller Center. Professional athletes can be a tricky bet when it comes to sketch comedy — Manning brothers aside — so asking Watt to host was definitely a risk for the SNL crew. In the end, the real question is: did the risk pay off?
Watt certainly brought a sense of enthusiasm to the proceedings, but unfortunately, he seemed nervous throughout the show and was wisely sidelined for a few sketches — including all of Weekend Update (which memorably featured Bowen Yang as China's new Health expert), the cold open (which detailed an imaginary impeachment trial), and "Food Dudes" (a sketch about mannequins that make you look normal when you order too much food). However, audience members couldn't overlook Watt's touching Kobe Bryant tribute — during the goodbyes, Watt wore a Bryant jersey and shot a wad of paper into the crowd, pretending he was throwing a basketball like the fallen NBA star. 
Between Watt's nerves and some middling sketches, this wasn't a top-notch SNL outing, though there were a few memorable moments. Here's every J.J. Watt sketch of the night, ranked from worst to best.
Society Debut
In one of the last sketches of the evening, Saturday Night Live viewers are transported to 1918 London, where a group of high-society men and women are hosting a reformed Bigfoot, played by J.J. Watt. After being captured in the American woods, Bigfoot now has impeccable manners, but still yearns to return to the woods along with one of the partygoer's wives.
Ultimately, this weird sketch goes absolutely nowhere. Most of it is centered on the fact that "someone" (spoiler alert: it was Bigfoot) left an enormous pile of excrement in one of the bathrooms, and in the end, there are hardly any laugh lines at all. If it was hard to write for Watt, the SNL scribes showed their hand with this literal stinker of a sketch.
Pizza Place
Much like "My Fair Bigfoot," the final sketch of the evening bolsters the notion that the Saturday Night Live writers ran out of ideas for the episode with J.J. Watt as host. As the sketch opens, it brings to mind a stereotypical adult film, where two eager young girls (played by Cecily Strong and Heidi Gardner) don't have any money to pay the pizza guy (Watt), so they have to find another way to "thank" him.
However, this sketch takes the idea way further than it needs to go — imagining a struggling pizza place that never makes any money because its only delivery man takes way too long on his deliveries, needs to take a nap when he's done, and never actually gets any payment for the food. The idea isn't bad, but the execution leaves much to be desired, despite a typically excellent performance from SNL stalwart Kenan Thompson as the pizza parlor's baffled proprietor.
Monologue
J.J. Watt arrived on the Saturday Night Live stage with his game face on, but despite some solid jokes, he just couldn't sell his monologue because he was so clearly racked with nerves. 
Watt poking fun at football players for being stupid — according to him, a lot of his teammates asked "when Saturday Night Live tapes," to which he responded that he couldn't possibly know because he "doesn't work there" — was funny since his brothers, Derek and T.J., are both professional football players as well (for the Los Angeles Chargers and Pittsburgh Steelers, respectively). But it still felt stiff. Throughout the performance, it became increasingly clear that Watt hadn't memorized any of his lines, and his awkward clapping highlighted just how anxious he felt. Though that might have been endearing at first, it was also an awkward start to the evening, making it obvious that Watt wasn't particularly comfortable on stage.
The Sex Talk
In this sketch, a father (played by J.J. Watt) checks in with his son (Kyle Mooney) after the teen caught his parents going at it on his birthday. In a fairly predictable twist, the dad is way too graphic during his sex talk with his seriously unsettled child. Eventually, Aidy Bryant joins the party as the mom, who explains to her son that she's been "blessed" with "that good good," clarifying that her skills in the bedroom are what keep a roof over her son's head.
Watt is enthusiastic in character, which gives the sketch a good energy (despite the fact that he flubs a few lines), but it never really builds to anything, even when SNL pinch hitter Bryant shows up to proudly display her overt sexuality. Everyone commits themselves to the silliness, but ultimately, the premise just isn't robust enough to support an entire sketch.
Madden 21
J.J. Watt played himself in several sketches throughout the night, and the weakest of the bunch was easily "Madden 21," in which Watt lends his voice to the newest edition of the popular Madden video game series. Though the lines seem straightforward at first, they start to get weirdly personal as he bungles every single play, cancels his own birthday party, and even cruelly mocks a disabled child in Madden's computer-generated crowd. However, as director Mikey Day tells Watt, the lines are personalized for each player.
While hosting Saturday Night Live and acting opposite the series' seriously funny players, Watt is at his best when he's allowed to play himself. The conceit of the sketch offers him this opportunity and is certainly amusing, but in the end, it's just not strong enough to be ranked among the best of the evening. Thus, this skit sits firmly in the middle of the pack.
Men's Product
A few years ago, Saturday Night Live made headlines when it announced that some of its sketches would include branded content, and this episode's most obvious instance of that gambit ended up being one of its more successful bits. In the sketch, J.J. Watt once again plays himself — this time as an unexpected spokesman for Olay skincare products, shilling for black under-eye patches that make you look super-masculine while also making sure your under-eye bags are a thing of the past.
The one-liners in this sketch are pretty solid — all of the efforts to make sure the patches are as "manly" as possible pay off, especially the fact that they're made to smell like a mixture of "Jack Daniels, gasoline, and a little bit of matcha extract" — and it closes out by advertising a related product. Beyond the eye patches, Olay offers black pore strips for players' broken noses, because even if their noses are shattered, their pores should still be clean. (Both products are available at Sephora and Dick's Sporting Goods.) 
Branded content isn't always a bad thing, and this SNL sketch is a perfect example of a clever take propelled by mandatory advertising.
Frozen 2
Frozen is one of the biggest animated films of all time, and its sequel, Frozen 2, was a box office smash when it hit theaters in November 2019. Ahead of the DVD release of Frozen 2, Saturday Night Live lampooned the sequel flick by airing some imagined deleted scenes — including one where Anna (Cecily Strong) tells her sister Elsa (Kate McKinnon) that everybody knows Elsa is really gay, one where Kristoff (J.J. Watt) announces via song that he's "Big and Woke," and one where Matthias (Kenan Thompson) explains why an African American man would fit in within rural Norway. Finally, Olaf (Mikey Day) shows up with a disturbing new addition to his physique.
The details in this sketch really make it sing. As it opens, the commercial tells parents they can put Frozen 2 on while they "have a margarita in the bath," there's a particularly clever reference to Game of Thrones' Brienne of Tarth in Elsa's song to Anna, and McKinnon, who's usually the most stoic member of the cast, keeps breaking. The sketch uses Watt for only a few lines, which is wise considering that he looks baffled throughout the entire scene — not to mention the fact that he really can't sing.
Pilot Hunk
Saturday Night Live has poked fun at ABC's The Bachelor countless times over the past couple of years, and unsurprisingly, the women of Rockefeller Center carried this sketch while J.J. Watt just sat back and let them shine. The skit, which focuses on a new bachelor known as "Pilot Hunk," follows the exact same format as all of the other SNL parodies of The Bachelor: the man relaxes on a bench while a rotating door of eligible bachelorettes keep telling him that they "like this" right before the next girl arrives to ask, "Can I steal him for a sec?"
Thanks to super-specific jokes — including that most of the women are named "Hannah" and Watt's bachelor only really says two phrases, "tell me about yourself" and "I love that" — this sketch succeeds, bolstered by the fact that the women of SNL (especially Aidy Bryant and Kate McKinnon) are familiar with this joke and give it their all. Ultimately, this was a perfect sketch for Watt, and it's always a welcome addition to any SNL lineup.
Robbie
In the best sketch of the night, J.J. Watt stretches his acting chops to play... a football player, but he's used perfectly in "Robbie." This pre-taped parody of a sports movie starts out with several football players relinquishing their jerseys so that Robbie (Chris Redd), the only African American member of the team, is allowed to play. However, when it's Watt's turn to make this sacrifice, he refuses, yelling about how Robbie is actually terrible at football.
The twist? Robbie is really bad at football. Even the friendly, inspirational janitor (Kenan Thompson) backs Watt up in a series of perfectly edited quick cuts. When given the chance to prove himself, Robbie completely chokes — he doesn't know any of the plays and immediately gets thrown into a locker. By letting Watt play a football player, giving Redd a chance to shine, and utilizing some clever editing, "Robbie" is the clear standout of the entire night.