How Margot Robbie Got Ripped For Birds Of Prey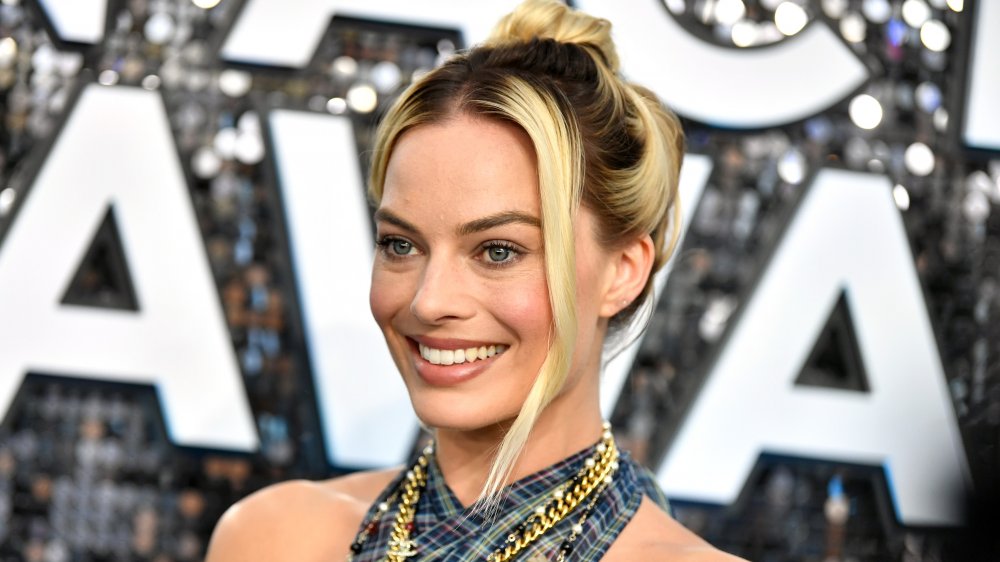 Emma Mcintyre/Getty Images
Landing a role in a superhero movie comes with more than just a nice paycheck and an opportunity for steady roles. More and more frequently, actors are getting as close to the superhuman physique as possible with the help of studio-assigned trainers.
In a world where even comedians like Kumail Nanjiani are getting ripped for blockbuster roles, it's pretty much a given that an actor in a tentpole comic-book movie is going to come out the other side in the best shape of their life. And Margot Robbie is no exception. The Australian starlet took on an intense training regimen to star as Harley Quinn, the leader of a gang of antiheroines in the DC movie Birds of Prey (And The Fantabulous Emancipation of One Harley Quinn). Both Robbie and her personal trainer have been candid about the work that went into the role. Here's how Robbie became Harley Quinn and got into havoc-wreaking shape.  
Getting cast as Harley Quinn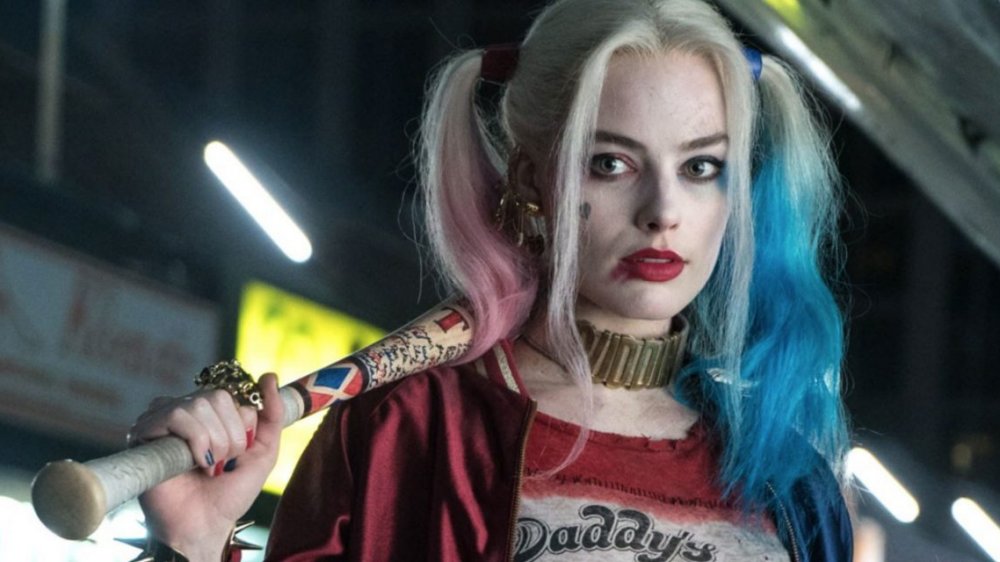 Margot Robbie is fully dedicated to playing Harley Quinn now, but she got the role without having to convince anyone she wanted it. The actress told MTV News that the team behind Suicide Squad approached her with the role. As it turns out, the producers were captivated by Robbie's performance alongside Will Smith in the 2015 movie Focus. Smith was locked in to play Deadshot and Suicide Squad wanted to recreate that connection when they cast their Quinn.
Robbie marked the offer as a point of pride, seeing it as a sign that she had leveled up in the eyes of Hollywood's movers and shakers.
"I actually got offered this one, I didn't audition, which is a real step up as an actor when you can get offered things," Robbie said. "We didn't have to do chemistry reads or anything like that."
Getting in shape for the squad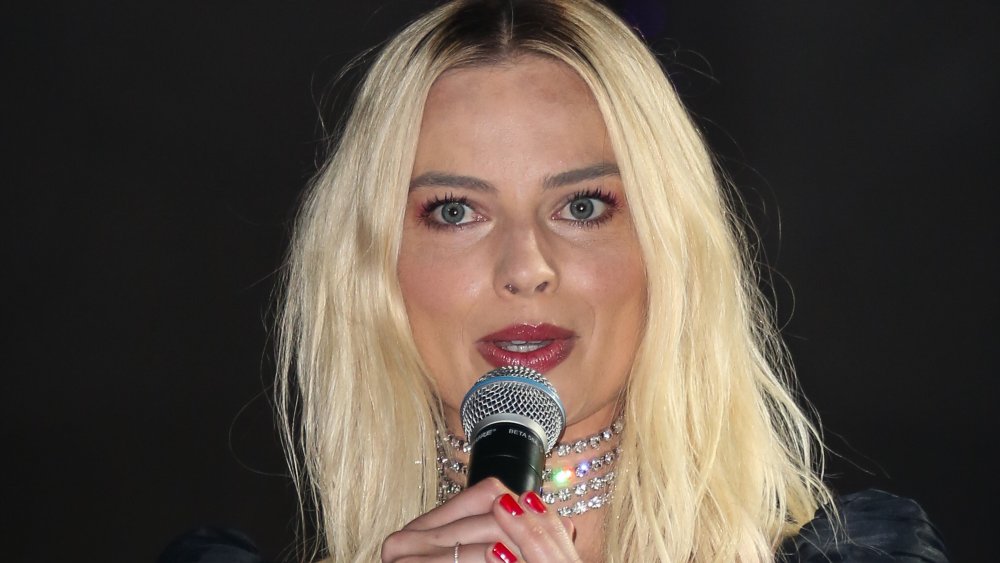 Paul Archuleta/Getty Images
Margot Robbie is already in pretty great shape. She works out four or five times a week for an hour each session, according to Hollywood personal trainer Andie Hecker. To get in fighting shape for her comic book movie, however, she ramped that up to three hours per day.
As part of a ballet-based fitness program that Hecker operates, Robbie worked out in three-hour blocks while filming Suicide Squad. Hecker told People that the focus on Quinn's body and Harley's skimpy costume, made up of a baby tee and short shorts, pushed Robbie to work out that much harder. "There's a scene in Suicide Squad where she changes clothes in front of a bunch of dudes, so her abs needed to be impeccable," Hecker revealed. "And in those tiny shorts Harley wears, her butt was constantly on display."
The parts of Robbie's body that were onscreen for most of Suicide Squad became the focus of her tailored workouts, toning those muscles while remaining petite. 
Butt workouts a focus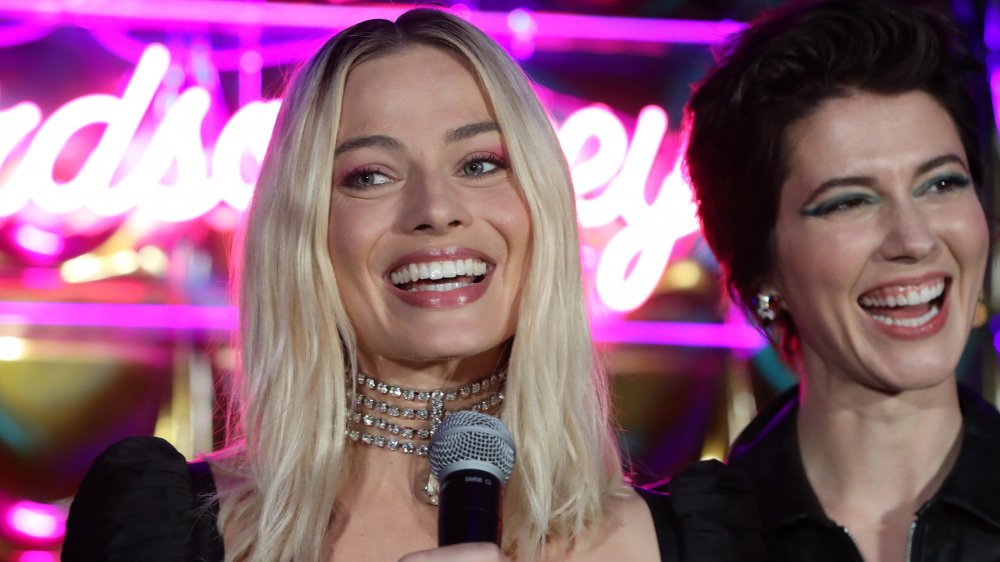 Ari Perilstein/Getty Images
Hecker is a former dancer who runs and her ballet-based training program in Los Angeles is much ballyhooed among the movie industry elite. Margot Robbie's workout consisted of more than just the five forms, though. 
Hecker ran Robbie through a weightlifting regimen that would tone her butt, thighs and legs. She spoke of the workout on a granular level in the lead-up to Squad's release, telling publications the exact types of exercises Robbie went through while trying to embody Harley Quinn. She said that they went for a lower number of reps with more weight, a focus on form, and engaging the correct muscle groups. 
"She had to look sexy and strong," the trainer said in an interview with The Hollywood Reporter. "We'd do lower reps, so 20 leg lifts with that ankle weight on and then take a break to move on to the other leg to do another 20, making sure her glutes were doing it and not her hamstrings."
Not just butts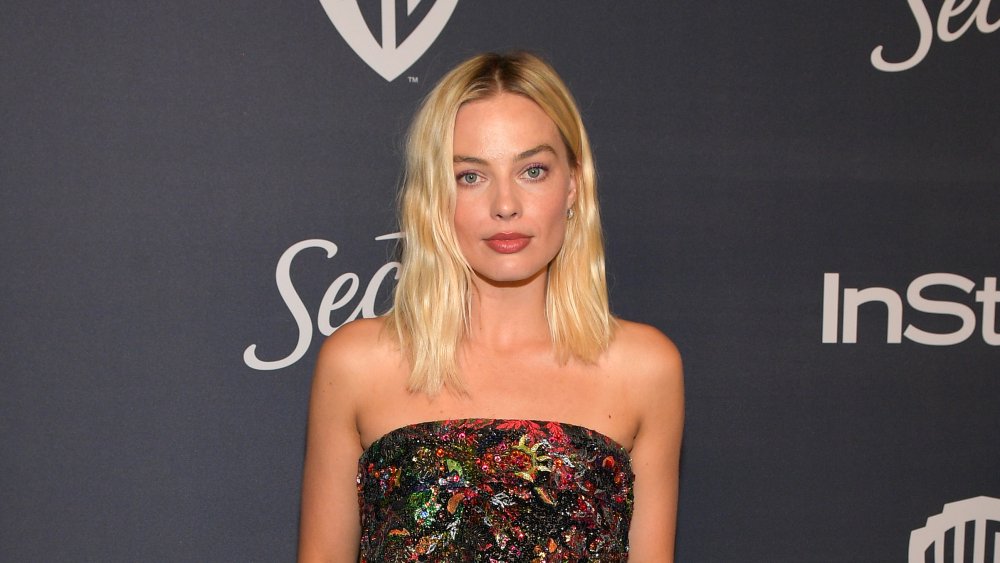 Matt Winkelmeyer/Getty Images
Of course, the rest of Margot Robbie had to be toned as well. Hecker pointed interviewers toward a scene in Squad where Quinn takes off her shirt in a room full of men. The camera lingers on Robbie's body in that shot, so she hoped to be as fit as possible.
Robbie achieved this through non-bulking cardio exercises like ballet jumps. Though Hecker might be a little biased, as a former dancer who runs a ballet training program, she told People that the jumps ballet dancers perform were the most "challenging form of cardio [she had] ever come across." In spite of their relative difficulty, Hecker said that Robbie rarely ever faltered in her commitment to the routine. Hecker compared Robbie to a machine when she spoke to the Los Angeles Times. The actress' workouts apparently resembled dance marathons, where other clients of Hecker's would steadily throw in the towel while Robbie kept at it, relentlessly. 
"Other people would try [the workout] along with us," Hecker shared. "But she kept going when other people were dropping off. It's so challenging to keep up that level of intensity, but she powered through it."
Every day is cheat day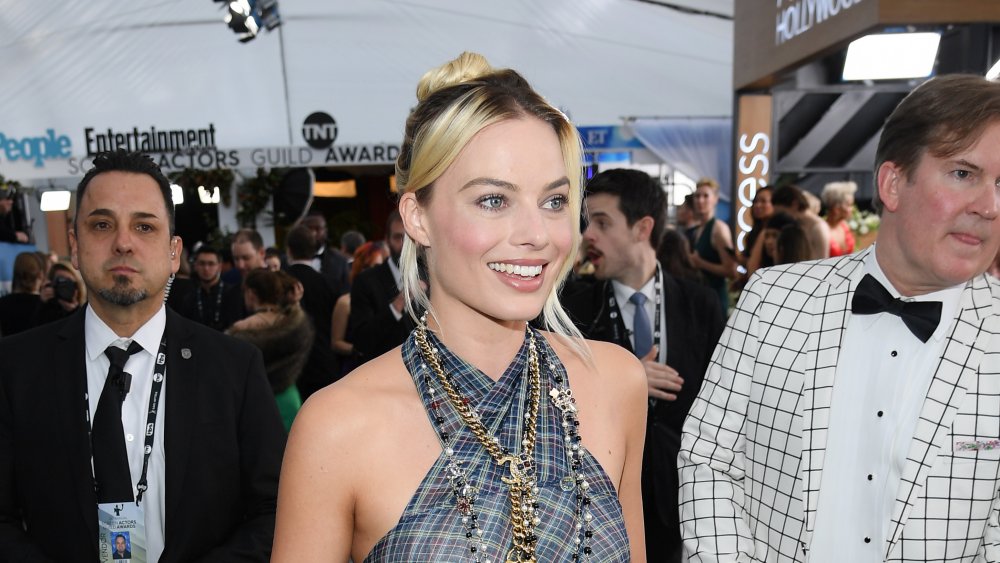 Dimitrios Kambouris/Getty Images
If that robotic intensity is making you feel like you'll never be able to attain a form like Margot Robbie's, don't worry. While Hecker painted a picture of the actress as an ultra-dedicated workhorse in the gym, Robbie herself revealed that she is far from disciplined when it comes to her diet. In an interview with Emirates Woman, Robbie admitted that she can't handle calorie-cutting diets and that cutting delicious and fatty foods from her life makes her "miserable."
"I'm not good at doing moderation," she said. "I can't just have a salad every day and a half a glass of wine every second day. I can't do it."
Robbie told the publication that her diet largely consisted of beer, fries and burgers, which she burned off in the gym. She added that she has a rather unhealthy way of cutting weight quickly, if a role calls for it.
"If I have to get in a bikini then I'll eat carrot sticks for three days," she said. "I'm one extreme or the other."
Falling in love with Harley Quinn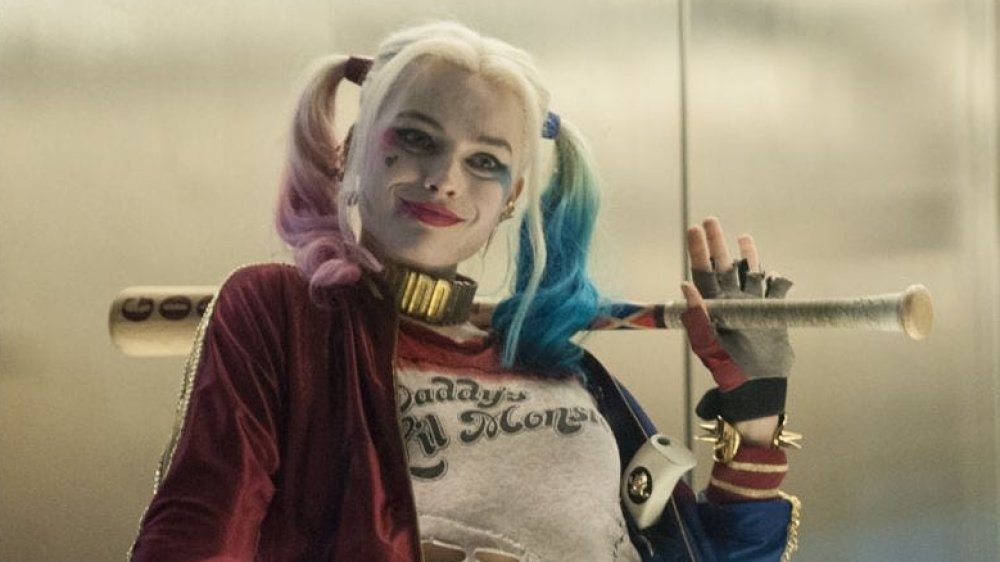 In spite of the grueling workout (and abysmal reviews) that came with Suicide Squad, Margot Robbie fell hard for the character of Harley Quinn. The main reason we're getting the Birds of Prey spinoff is Robbie's devotion to the onetime associate of the Joker.
Robbie was drawn to the character because of Quinn's take-no-prisoners intensity and the challenge of playing a truly unhinged villain that is completely unpredictable. In an interview with Variety, Robbie explained that she "fell in love with" Quinn and was invigorated by the idea of portraying an agent of chaos. "Harley has this unpredictable nature that means she could react in any way to any situation, which as an actor is just a gift," Robbie said.
Robbie served as a producer on the film, in addition to starring as Quinn, and Birds screenwriter Christina Hodson revealed the way that Robbie's passion drove the project. "She really wanted to see Harley with girlfriends, Harley in a girl gang," she said. "Harley is such a naturally sociable character."
Girl gangs all the way down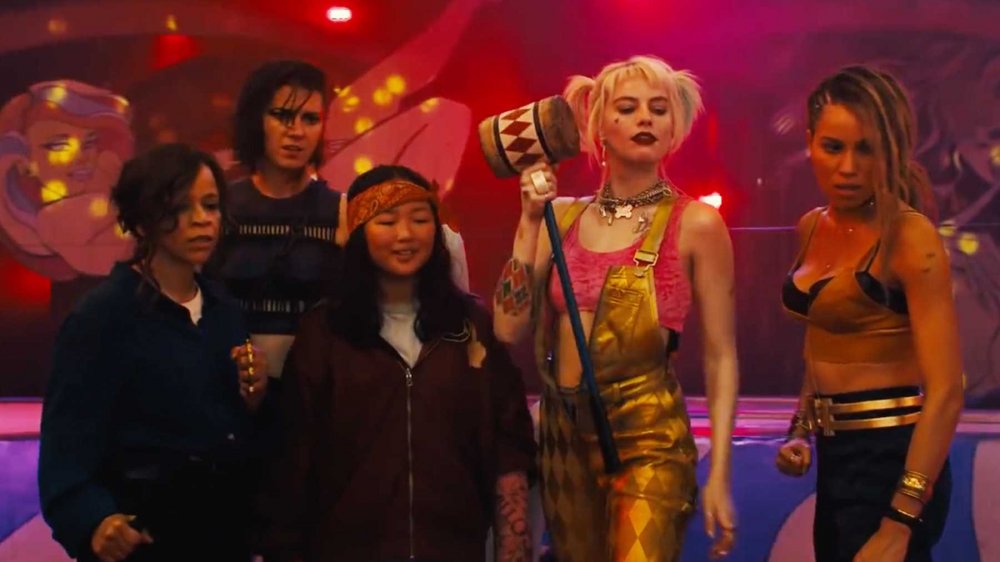 Birds of Prey will follow a cast of female leads, including Rosie Perez as Renee Montoya, Mary Elizabeth Winstead as Huntress, and Jurnee Smollett-Bell as Black Canary. 
While all of the top-line characters being women is notable, the girls-to-the-front ethos extends well outside the movie's cast. Birds of Prey was penned by British screenwriter Christina Hodson and directed by Cathy Yan. Along with Robbie, the film is being produced by A Star Is Born's Sue Kroll.
"I'd been thinking for quite some time how there was a real gap in the market for a female ensemble action film. And I love action films, and I think there's a misconception perhaps subconsciously for people: action films are for dudes, girls don't really like them," Robbie said of the impetus behind Birds Of Prey. "[It's] just not true. I love them! I know heaps of other women who love them."
Getting back into form for Birds of Prey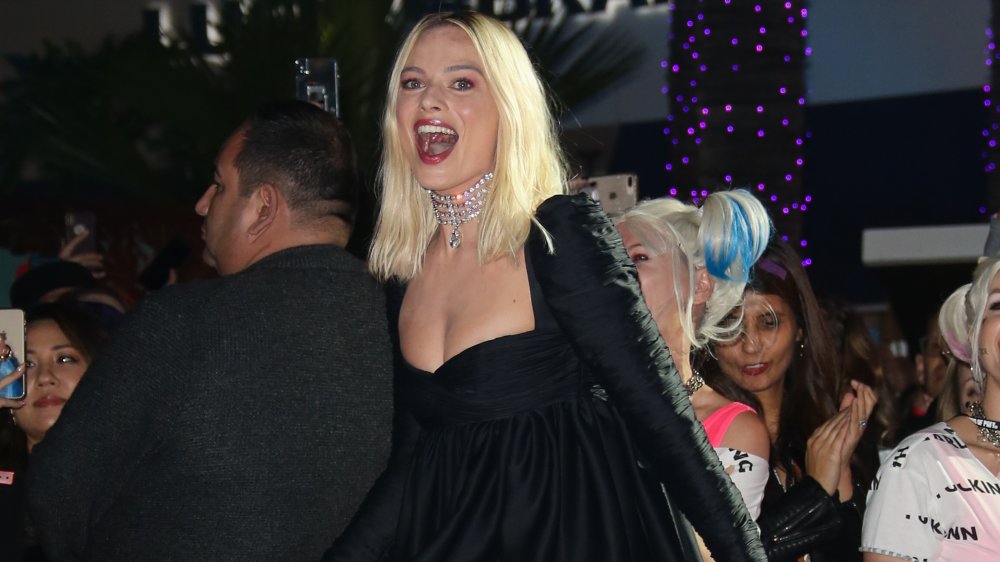 Paul Archuleta/Getty Images
Successfully pushing to get a standalone Harley Quinn movie made meant that Robbie had to get her Suicide Squad shape back. In a chat with Joe.ie, she talked about preparing for the stunts in her latest project. While she performed almost all of her own stunts in the film that launched the current on-screen iteration of Harley Quinn, Robbie said many of the stunts in the new film were too dangerous to take on.
"There's a lot of really cool stunts in the Birds Of Prey movie," she said. "Quite a few of them, I couldn't do, because they were just too risky."
That's not to say that Robbie slacked off in comparison to her work for Squad. In addition to regular workouts, Robbie clearly trained to skate ahead of Birds. Photos of Robbie training and shooting in roller skates circulated on comic book blogs ahead of the movie's release, revealing that Prey will be based on a later version of Quinn modeled after roller derby players.
What Margot Robbie's workout says about the film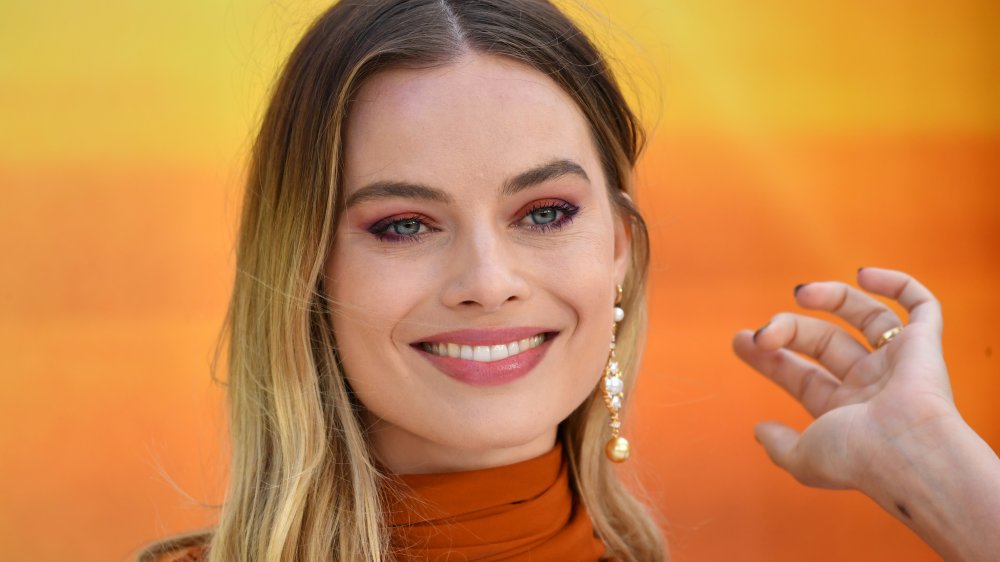 Gareth Cattermole/Getty Images
The roller-skating Harley Quinn comes from the New 52 reboot in the DC Universe, which remodeled many characters with a hard refresh of 52 titles. Even a newish character like Quinn was not immune from the mandate. The most recent version of Quinn has been completely removed from the Joker, as she finally split with the Clown Prince of Crime for good.
With her newfound independence, Quinn's motivations have also shifted. Where before most of her actions could be explained as working for "Mr. J," the freed up Quinn is considerably less villainous. She's become a sort-of antiheroic vigilante, toeing the line between criminal and superhero while attempting to hold her home of Coney Island together. The new Quinn is in the mold of wisecracking weirdos with murky morals like Deadpool, and Hodson cited the "Merc with a Mouth" when she talked about her early talks with Margot Robbie around the film.
Robbie's dedication to the character is bound to translate to the big screen — and her first performance as Quinn was one of the few bright spots in Suicide Squad — so it's likely that we will be seeing Robbie as a ripped Harley Quinn for years to come.