Every Adam Driver Sketch From SNL Season 45 Ranked Worst To Best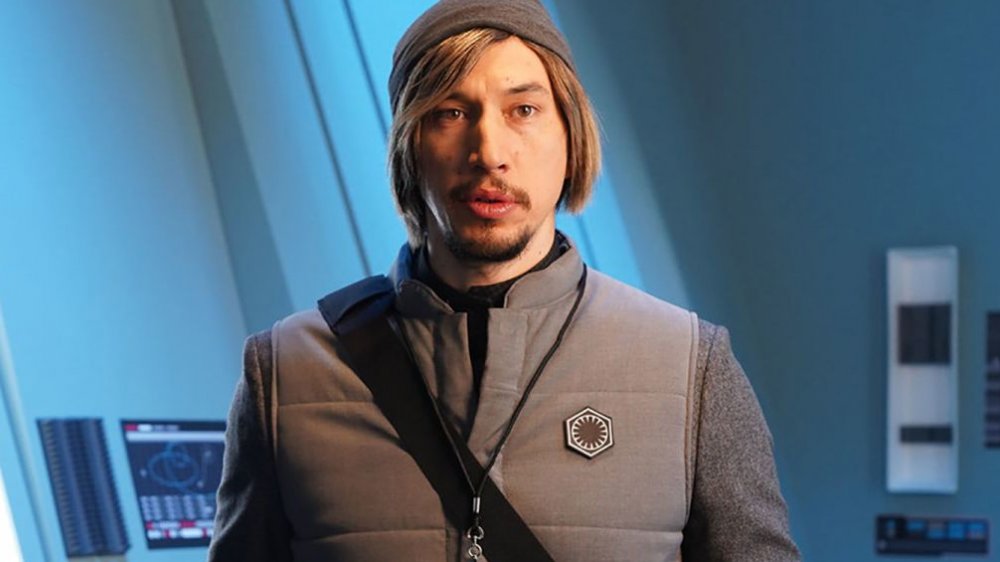 On Saturday, January 25, 2020, Saturday Night Live officially returned for a new year. After a brief holiday hiatus, the show came back with a bang — bringing Adam Driver, the actor behind Kylo Ren, to 30 Rockefeller Center for his third hosting stint (this time alongside musical guest Halsey).
Fresh off his critical and box office successes Marriage Story and Star Wars: The Rise of Skywalker, Driver was at the top of his game during this particular Saturday Night Live stint, offering up his distinctive acting style and strong comedic sensibility to each and every sketch — including the cold open. Driver appeared in almost every sketch of the evening — though he, like most hosts, sat out "Weekend Update." There was something to love about every skit in which Driver starred, and overall, his latest Saturday Night Live gig proved to be one of the season's strongest episodes thus far across the board.
Cold Open
After Saturday Night Live took a few weeks off the air during a particularly fraught political time, one might think that the sketch show might come up with some especially incisive political takes. But unfortunately, this week's cold open simply came up short. 
In the midst of President Donald Trump's impeachment trial, SNL took on the Commander in Chief's controversial lawyer, Alan Dershowitz (played by SNL veteran Jon Lovitz), as he briefly dies and is sent directly to Hell.
With Kate McKinnon perfectly cast as the Devil, the sketch hits some strong notes — for instance, when noting that Instagram influencers all have a fast pass to Hell, she says that most of Hell's key concepts were actually tested in Orlando first. But despite cameos from Bowen Yang as the guy who wrote "Baby Shark," Mikey Day as the late Mr. Peanut, Beck Bennett as Mitch McConnell, and Adam Driver himself as Jeffrey Epstein, the sketch simply falls flat — largely because Lovitz can barely read his cue cards.
Cheerleading Show
Thanks to Cheer, the new reality docu-series that chronicles the ups and downs of an elite cheerleading squad, Netflix has yet another hit on its hands. Unfortunately, that didn't quite translate when it comes to Saturday Night Live. 
In the sketch "Cheerleading Show," Adam Driver and Heidi Gardner portray two tough coaches deciding which of their injured athletes can handle the mat. The skit offers plenty of physical comedy — especially the moment where a cast-clad Kate McKinnon says she literally can't do anything — but in the end, it doesn't work very well. The fact is that unless SNL's audience shares a seriously overlap with Cheer, this sketch feels pretty foreign to most viewers, relying on a super-specific and extremely recent reference to connect with fans. Those who tuned into SNL who have never watched Cheer were probably left pretty unsatisfied by this particular sketch.
Marrying Ketchups
In this absurdist sketch, a waitress (Heidi Gardner) is asked to combine, or "marry," ketchup bottles at a diner before she heads home for the night — a chore that ends up taking on an unexpected life of its own. As Gardner prepares to mix the two bottles together, they come to life, played by Adam Driver and Cecily Strong, and argue about whether or not they should even get married. The biggest factor complicating the union? Strong's bottle reveals that she's fallen in love with a rival condiment: a bottle of Cholula hot sauce played by Kyle Mooney.
The simple set-up and straightforward pretense serve the performers well in this sketch, especially when it includes weirdly specific notes like the fact that Strong's bottle is actually "catsup" instead of ketchup and Driver's is Hunt's brand instead of the more popular Heinz, as well as the fact that Driver's bottle is inexplicably named "Windermere." Beyond all of that, the intense melodrama of the scene gets even better thanks to the sketch's insane costumes, which prevent all of the performers involved from moving their heads naturally. "Marrying Ketchup" certainly isn't the best sketch of the night, but it's certainly an entertaining interlude.
Undercover Boss
Saturday Night really loves to revive past sketches when a host comes back after a long absence, and with Adam Driver taking on his third hosting stint, it probably seemed like a no-brainer to revive his popular Star Wars spoof, "Undercover Boss." After Driver's Kylo Ren tried — unsuccessfully — to go undercover within the villainous First Order during a previous SNL sketch in 2016, the Sith Lord decided he needed a little more rehab and chose to infiltrate his organization one more time as "Randy," a lowly intern.
However, despite the show's best intentions, this second go-around of "Undercover Boss" doesn't uncover much — apart from the fact that "Randy" can't control his temper and ends up murdering several underlings when they're unwittingly rude to him. Without any surprises, the sketch is amusing, but ultimately just feels like more of the same.
Medieval Times
Nobody plays overcommitted like Adam Driver, who gives his all to "Medieval Times," one of the night's odder sketches. 
In the skit, a father (Kenan Thompson) and his young son attend a Renaissance fair, and are surprised when one of the performers, Driver's Red & Yellow Knight, turns out to be just a bit overenthusiastic. Not only did he bring his own costume from home, but Driver's knight is also on a bizarre quest to kill the fair's "bastard king" (Beck Bennett), whom he regards as a tyrant. And if that wasn't enough, he also brought his own horrifyingly detailed weapon to the event.
Driver's Red & Yellow Knight isn't just a vengeful freak, but also a casual racist — in fact, several other Renaissance fair participants end up leaving thanks to some of the slurs he throws around — but in the end, both the character and overall joke of the sketch are a bit too broad to work, though Driver's committed performance saves the sketch from sinking.
Sleepover
Making jokes about menstruation can be pretty risky, but this Saturday Night Live sketch — which casts Adam Driver as an anxious, confused dad struggling to get to the bottom of a toilet issue — somehow hits all the right notes. 
During a sleepover, one of the young girls in attendance flushes an entire sanitary pad down the toilet, which ruins the house's plumbing and forces Driver to ask who's to blame. When Kate McKinnon's Megan arrives halfway through the scene, covered in water and extremely flushed, it seems pretty obvious that she's the culprit — and the entire situation gets worse once she starts openly hitting on Driver's concerned dad. However, when all the girls confess that they've been flushing pads this whole time — Aidy Bryant's teen, in particular, admits that she's flushed pads today, yesterday, and every day before that — the entire thing takes a much funnier turn. 
Alongside super-specific details — like the fact that Driver discovers a Google chat to somebody named "Megan's mom" that simply says "it happened again, just like in church but worse" — the sketch ultimately succeeds, even with a juvenile foundation.
Slow
A fake music video that also stars the night's musical guest, Halsey, "Slow" is an ode to the men who take their time, even as the objects of their affection are begging them to pick up the pace. Kenan Thompson, Chris Redd, and Adam Driver (the last of whom is sporting a ridiculously deep voice modification) team up to tell the audience just how slow they want to take the night with their ladies, sparing no detail about just how much time they'll take once they get home.
If you're thinking that going slow doesn't exactly sound like the best time for everyone involved, you're right on the money. The gang's ladies aren't exactly thrilled about their speed, complaining that over an hour spent on shoulder-kissing doesn't really do much for them, and there's an extra little twist right at the end of the sketch that drives the entire joke home. 
"Slow" reads a bit like a rejected Lonely Island sketch at first glance, but it eventually earns its place alongside sketches like "D*** in a Box" and "Three-Way (The Golden Rule)."
Monologue
2019 was a banner year for Adam Driver, who appeared in awards season favorites like Noah Baumbach's Academy Award-nominated Marriage Story (which earned Driver a nod of his own for Best Actor) and box office blockbusters like The Rise of Skywalker (or, as Driver calls it, "the space one"). Hott off of these successes and poised for a great 2020, Driver headed back to Rockefeller Plaza to fight against his deeply ingrained image as a super-intense guy — a reputation well-earned thanks to his characters.
"I've acted so much and so hard," Driver noted of his past year of performances, saying that he yelled, cried, punched, and sang — "all four emotions." To the actor, this meant that his SNL monologue was the perfect opportunity to prove just how "chill" he really is. 
Driver spent most of his monologue wandering around the space, breaking his stride occasionally to harass the house band or threaten audience members, but all in all, it was a delightful use of his comedic sensibilities — especially when he drifted towards the camera in an extreme close-up to show off his creepy, unsettling "smile."
Del Taco Shoot
Beck Bennett and Kyle Mooney frequently work together to produce some of Saturday Night Live's weirder sketches, and "Del Taco Shoot" is no exception. As Mooney's struggling actor character gets ready to earn his paycheck by filming a straightforward ad for a taco chain alongside Chloe Fineman, he's confronted by the director of the ad (Bennett) and the vice president of the company (Driver), who simply don't understand his approach to the project.
Driver's character finds himself baffled and infuriated by the actor, saying he either looks like a "pervert" or like he wants to "kill himself." And even after some pretty desperate direction from the VP and the director, the actor simply can't figure out a good way to announce that he just doesn't have any cash on him. 
Despite a paper-thin premise, Driver, Bennett, and Mooney sell this silly sketch perfectly, making it one of the best of the night.
The Science Room
Adam Driver's darkly funny side is at its best when he can access his anger, and that tendency is perfectly on display in "The Science Room." As Professor Zachary Adams, Driver is thrilled to teach two young children, Loni (Cecily Strong) and Josh (Mikey Day), facts about the element of oxygen. Unfortunately for him, these kids are beyond redemption. As two willfully stupid children, Strong and Day sell their characters perfectly, culminating in a perfect laugh line where Strong makes an extremely inappropriate guess in answer to one of Driver's completely normal questions.
The sketch would have been funny enough if it had just let Strong and Day play dumb for its entire run, but allowing Driver get so furious that he breaks half the set before heading backstage to scream profanities into his shirt only ups the ante. Though "The Science Room" seems simple enough, a strong cast and a good turn elevates the entire premise.