The Flash Set Pics Reveal Season 3 Villain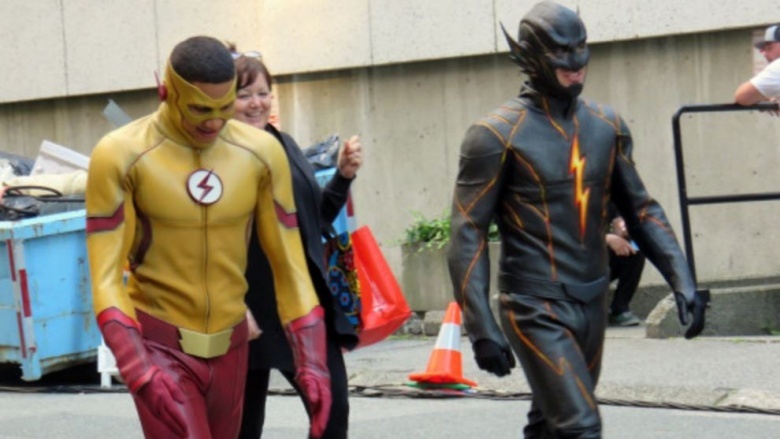 The Flash TV universe just keeps expanding. We recently learned that Wally West (played by Keiynan Lonsdale) would find his own speedster powers to become Kid Flash. And new photos taken from the set of the hit CW series might reveal a new villain to emerge during the upcoming third season.
Vampire Diaries star Todd Lasance plays the new speedster in black, and his costume is very similar to that of classic Flash nemesis Black Racer, right down to the fiery, orange accents on his suit and elongated lightning bolts on the ears. In DC Comics lore, Black Racer is the physical manifestation of Death, and he made his first appearance in 2015's Justice League storyline, "Darkside War."
In the Season 2 finale, the Flash had traveled back in time to prevent his mother's death at the hands of the Reverse Flash. We've already gotten word that the first episode of the new season will be titled "Flashpoint," which references the Flash-centric DC storyline wherein Barry's time travel shenanigans radically reconfigure the lives of everyone he knows, including those of his fellow Justice League members. And that means Season 3 could get pretty wild, pretty quick.



From the shooting downtown Vancouver pic.twitter.com/9M2CYscNKA


— Cap's Ulette (@caps_ulette) July 13, 2016



#TheFlash also had another speedster on set today. Currently DO NOT know who yet.

Any input is welcome. pic.twitter.com/hOug5O3C04


— Canadagraphs (@canadagraphs) July 13, 2016