Actors Who Are Perfect To Play She-Hulk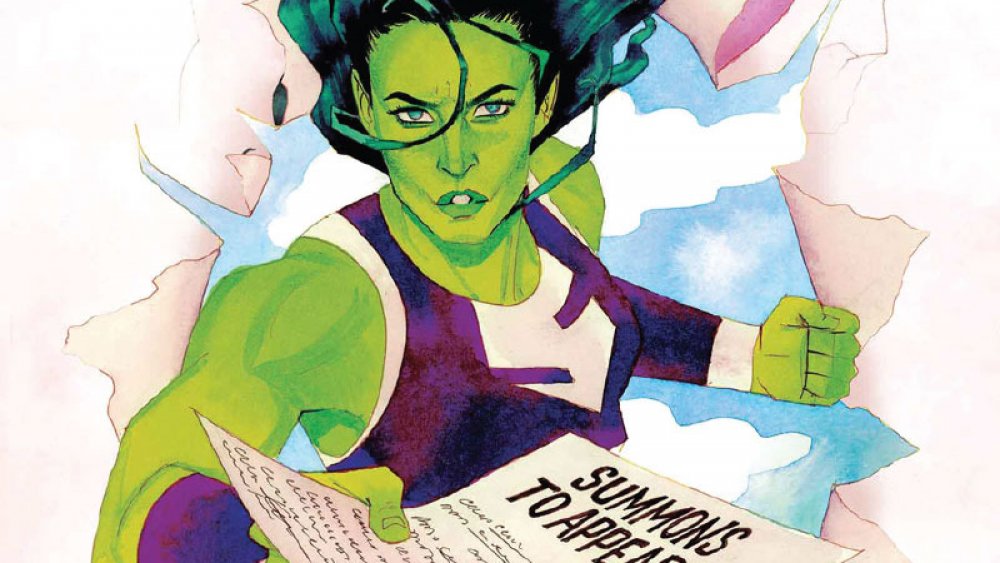 At D23 in 2019, Marvel and Disney announced a slate of brand-new Marvel shows in development for the Disney+ streaming platform. Some of the biggest cheers came when the presenters revealed three shows at once: Ms. Marvel, Moon Knight, and She-Hulk.
Since her introduction in 1980, She-Hulk (real name Jennifer Walters) has won the hearts of comics fans the world over. While her cousin Bruce Banner traditionally has to struggle with the monster inside him, Jennifer can control her Hulk side and often chooses to live big and green for extended periods. She's snarky and usually good-natured, but she can also crush a car with her bare hands.
The Avengers and Fantastic Four both brought her in as a member at one point or another, but she eventually joined another group... namely, the New York State Bar. That's right, She-Hulk is an attorney at law who specializes in defending fellow superheroes, which means Jennifer's law career and superhero responsibilities collide on a regular basis.
Some of the best She-Hulk comics lean toward the lighthearted and tongue-in-cheek, even occasionally breaking the fourth wall. Ideally, the upcoming She-Hulk TV show should use a funny female lawyer setup (a la Ally McBeal), but with impressive superhero action mixed in.
As far as we know, Disney hasn't found their She-Hulk yet, but whoever plays Jennifer needs to have a commanding presence in the courtroom as well as fight scenes, and she needs stellar comedic timing. Here are a few actors who would look great in green.
Gina Carano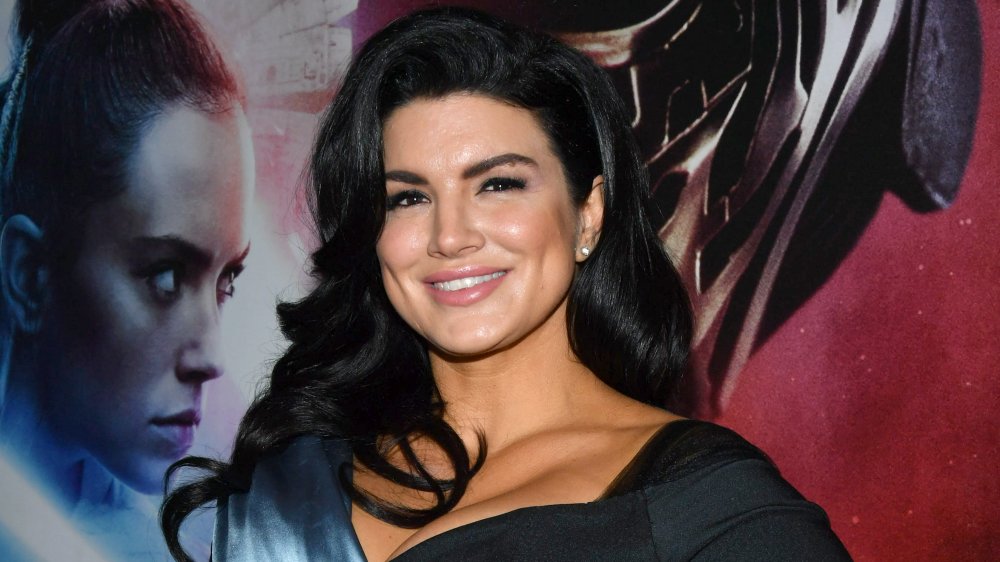 Amy Sussman/Getty Images
Gina Carano has had a long career in action roles — film fans probably knew Carano either as the merciless henchwoman Angel Dust in the first Deadpool movie (she takes on Colossus) or as one of Hobbs' secret agents in Fast & Furious 6. What makes Carano stand out as a potential She-Hulk is her real-world experience in martial arts — she started out competing (and winning) in Muay Thai before deciding to become an MMA fighter, winning all but one of her bouts. Her martial arts background and muscular physique would be great for She-Hulk's superhero battles, and her bravado will work well during the dialogue-heavy scenes. And recently Carano has gained a whole new fanbase thanks to her role as the mercenary Cara Dune in The Mandalorian — which also, as luck would have it, airs on Disney+. Bringing her in to finally play a superhero just makes sense.
Lena Headey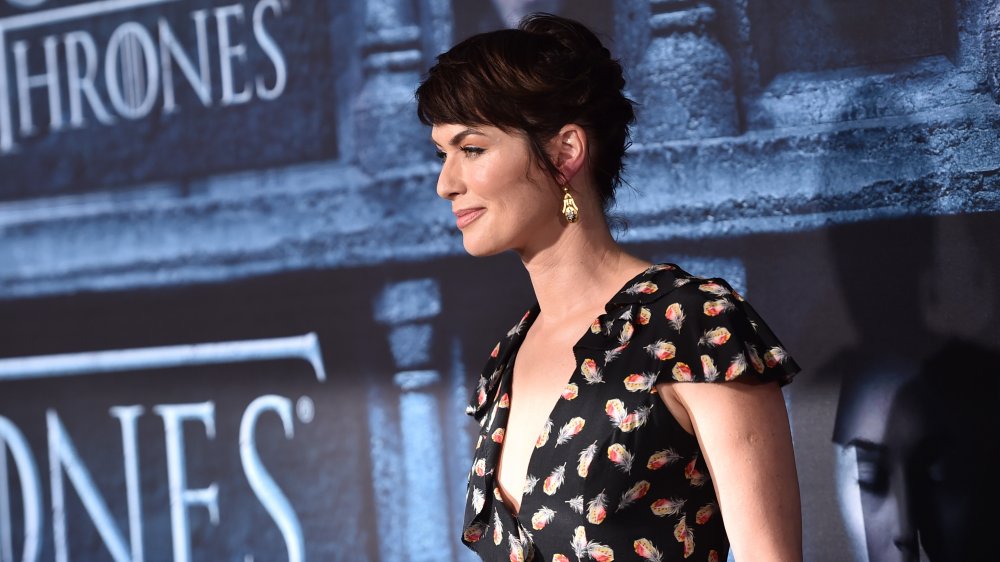 Alberto E. Rodriguez/Getty Images
Lena Headey spent eight years playing Cersei Lannister, one of the most compelling antagonists in all of television. Headey is only 5'5" in real life, but you could never tell on Game of Thrones. The actor is just that good at commanding the room. Wouldn't it be great to see her bring that commanding energy to a super-strong, super-green lawyer? Who wouldn't want to see Lena Headey saunter into the courtroom? As Cersei, she managed to balance her character's truly human struggles with her ruthless climb to power. The challenge of balancing Lawyer Jennifer and Superhero Jennifer is tricky, but Headey can definitely pull it off.
It certainly doesn't hurt that she has previous experience with action scenes in Terminator: The Sarah Connor Chronicles and the Purge series. Plus, it would be delightful to see Cersei stare down the biggest bads of the Marvel Universe.
D'Arcy Carden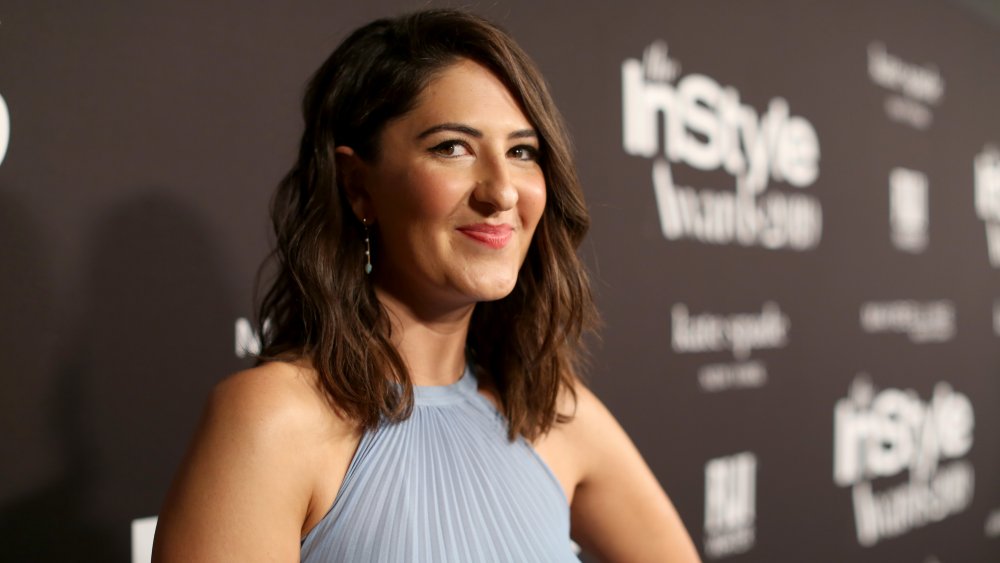 Randy Shropshire/Getty Images
D'Arcy Carden is having a moment. In addition to playing Janet, the helpful celestial assistant on The Good Place, audiences have also recently seen her on HBO's critically acclaimed Bill Hader-led hit Barry. While cheery, personality-less Janet was very funny in the first season, the rest of the series shows how she slowly evolves into a more complex and opinionated being. Carden's versatility shines in every version of Janet she portrays. She has a knack for bringing genuinely sincere moments into her comedic roles, and not all actors can pull that off. A She-Hulk show would need that nuance to avoid getting too serious or too silly.
On top of her comedy background, Carden did a little stunt work for The Good Place and has said how much she loved it. As The Good Place wraps up, this is the perfect time to cast her in something more action-packed... and a green super-powered lawyer sounds just about right.
Adrianne Palicki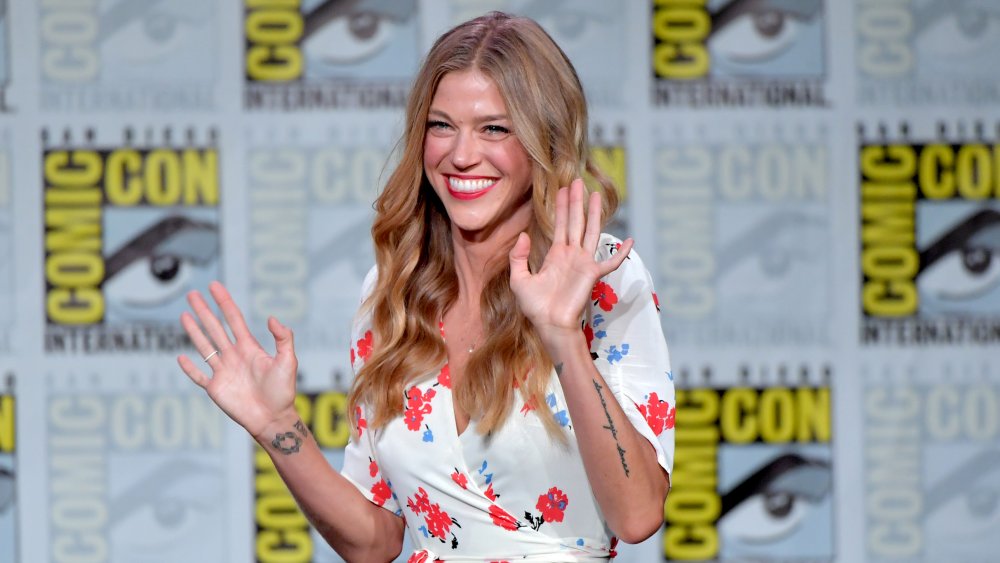 Amy Sussman/Getty Images
Outside of television, Adrianne Palicki might be best remembered as the cold, conniving assassin Ms. Perkins in John Wick, but her career is full of action roles, big and small — like her work in the sci-fi/comedy series The Orville, which mixes action, humor, and science fiction. And with her 5'11" stature, Palicki seems like a natural fit for She-Hulk.
Yes, Palicki has already been a Marvel hero as fan favorite Bobbi Morse on Agents of SHIELD. However, consider that there's a precedent for actors playing different superheroes, even in the same comic universe. Brandon Routh joined the Arrowverse as the Atom after his lead role in Superman Returns, and two different Johnny Storm actors (Chris Evans and Michael B. Jordan) went on to even bigger roles within the MCU. Who says Palicki can't be brought in to play a different superhero?
Kathryn Hahn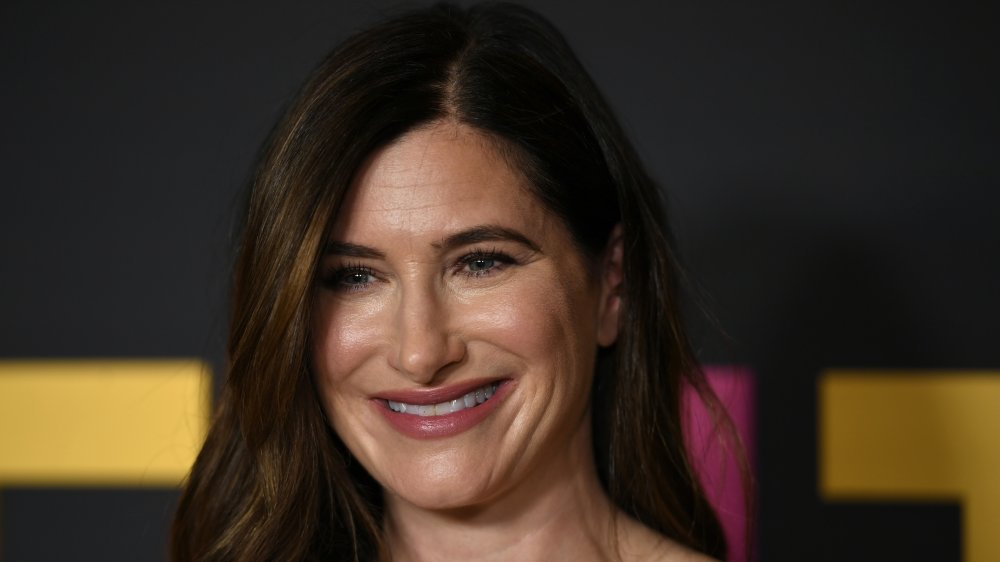 Frazer Harrison/Getty Images
Kathryn Hahn's body of work runs the gamut. There's maniacal Olivia Octavius, a new take on the classic Spider-Man villain Doc Ock, in Into the Spider-Verse. Then there's the kind Rabbi Raquel Fein in the TV show Transparent. And recently she took on the title role on HBO's Mrs. Fletcher, which explores the vulnerability of being on your own after your kids leave for college. However, a role that stands out above the others for this fan-casting is the acerbic, driven political consultant Jennifer Barkley on Parks and Rec. Barkley was only on the show periodically, but every appearance was a treat. Hahn portrayed Barkley as completely confident and frank to a fault, and she can pull so much from that scene-stealing role into the sharp-tongued, career-driven Jennifer Walters. At the same time, roles like Eve Fletcher prove she can embody the hardworking side of Jennifer who genuinely cares about justice and defending her clients.
Aisha Tyler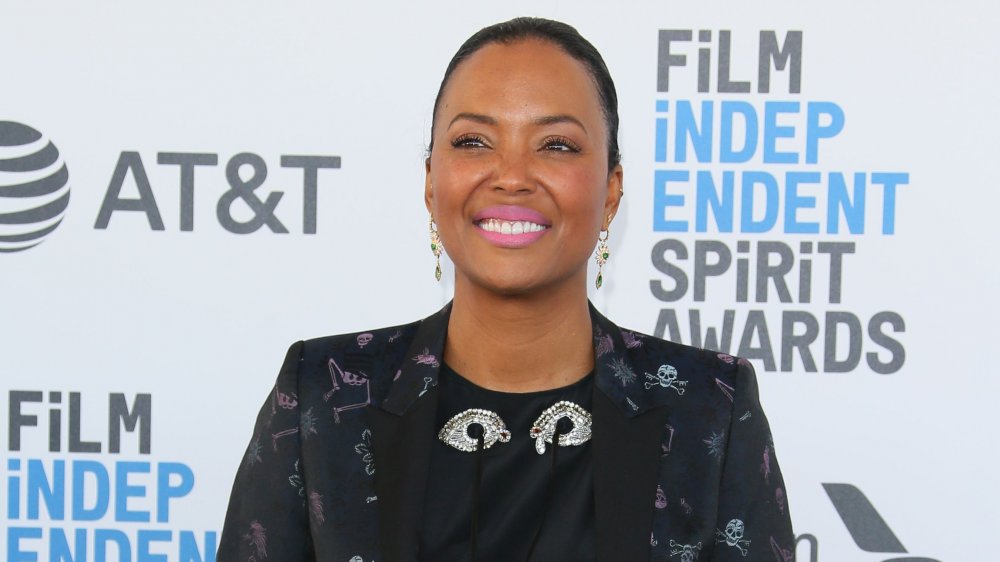 Jb Lacroix/Getty Images
Fans have suggested that Aisha Tyler portray Jennifer Walters for years. At 6'0", Tyler is certainly already the height to play She-Hulk. Voicing secret agent Lana Kane on the adult animated series Archer, Tyler has also proven she can play a career-driven woman who also happens to fight bad guys and blow things up. And Archer also shows how well she can handle a comedy series. Tyler has been part of several talk show casts and knows how to handle a room on her own, much like Jennifer herself would. While her film and TV work is extensive (including her role as host on the rebooted version of Whose Line is It Anyway? in 2013), she hasn't had a chance to lead her own show, and this feels like the right fit. It doesn't hurt that Tyler is a self-professed nerd, either. Imagine how hyped she'd be playing a superhero.
Rebecca Henderson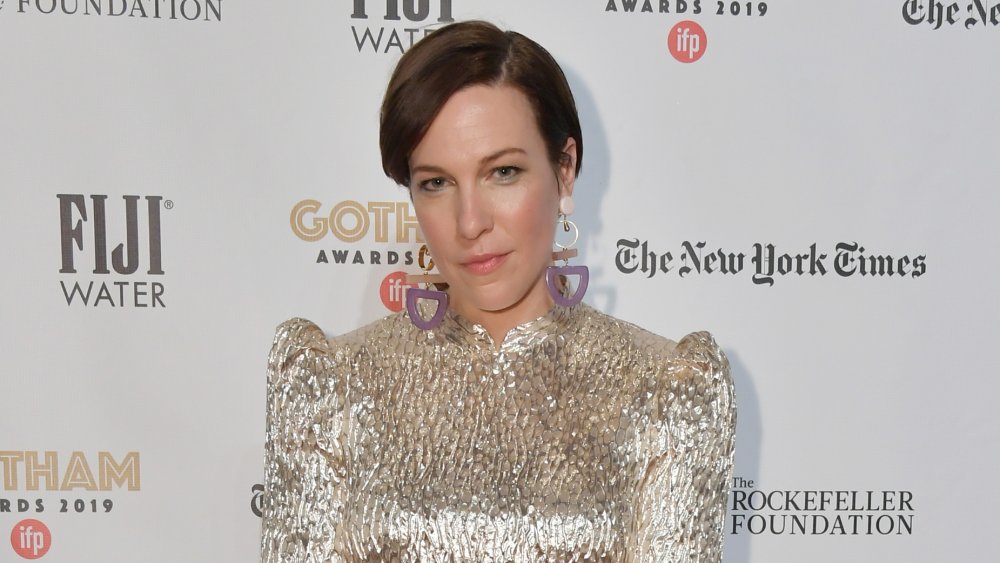 Michael Loccisano/Getty Images
Rebecca Henderson might be lesser known than others on this list, but fans of Netflix's Russian Doll will recognize her as Nadia's lanky, overalls-wearing friend Lizzy. While a side character within Russian Doll's larger story, Lizzy has some of the best jokes in the show, and Henderson nails that timing. She embodies the cool New Yorker vibe while also being a true friend to the main character. Henderson's dry wit balanced with genuine warmth is a perfect combination for She-Hulk. While she's largely been in indie productions, she was in season two of Westworld, so she has some experience in action-heavy shows. And she has done voice work for the Grand Theft Auto series, experience that would also be helpful for a show like She-Hulk. Henderson makes for a bit of a wild card on this list, but who says Marvel can't bring in someone from indie film?
Laura Prepon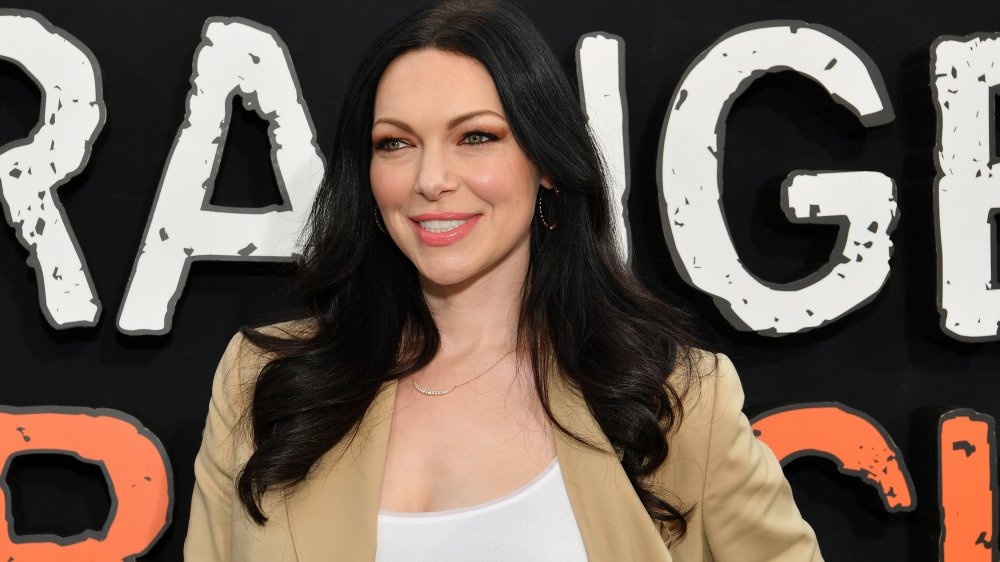 Dia Dipasupil/Getty Images
In many ways, Laura Prepon's acting career has always been tied to how tall she is. In her breakout role as Donna on That '70s Show, one of the main running jokes was about Donna towering over her boyfriend. It seems fitting for 5'10" Prepon to use that height to her advantage in a role like She-Hulk where it wouldn't be treated like a joke. On top of that, her smoky, droll voice is perfect for the dialogue on a show like She-Hulk. Prepon exhibits a cool confidence in her various roles, and seeing her walk into a law office with all the swagger of a super strong, beautiful, brilliant lawyer would really work for this character. And since her time as felon Alex on Orange Is the New Black is done, it would be fitting for Prepon to jump to the other side of the legal system.
Gwendoline Christie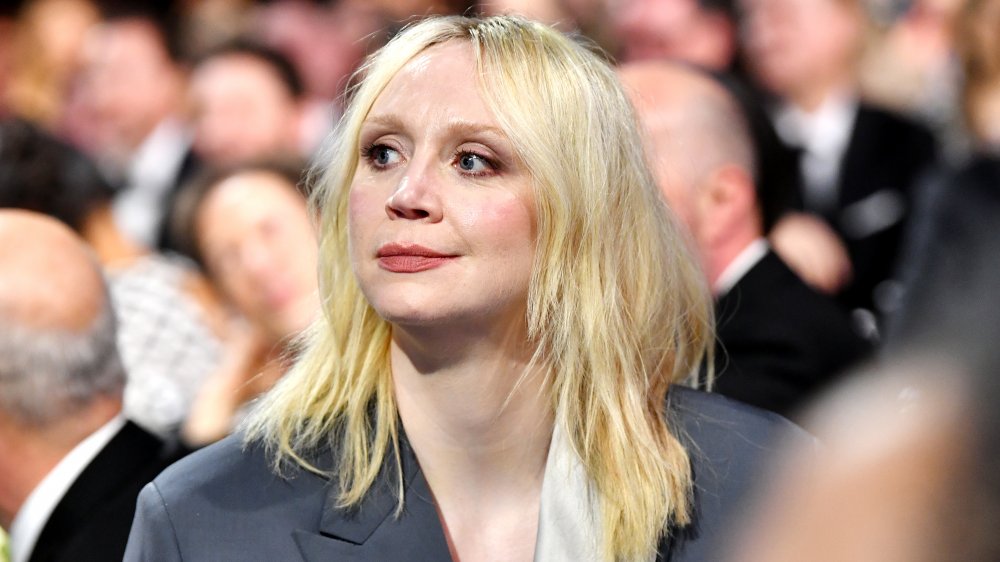 Emma Mcintyre/Getty Images
Like her costar Lena Headey, Gwendoline Christie is at an interesting point in her career. Her breakout role as Brienne of Tarth on Game of Thrones won the hearts of millions of viewers, and yet her short time as Phasma in the new Star Wars trilogy felt like wasted potential. Now that Game of Thrones is over, it's about time she takes her experience with fight choreography and jumps into another popular genre. Christie has shown in various interviews and red carpets that she's a funny, charismatic person in real life, but she hasn't gotten to explore that in her past roles. Jennifer Walters would suit her strengths to a T. Christie would have to get her American accent nailed down, but it's easy to imagine what a blast she'd have in a big, funny role like this — and she would totally rock a pantsuit.