How They Pulled Off All That Leia Footage In Rise Of Skywalker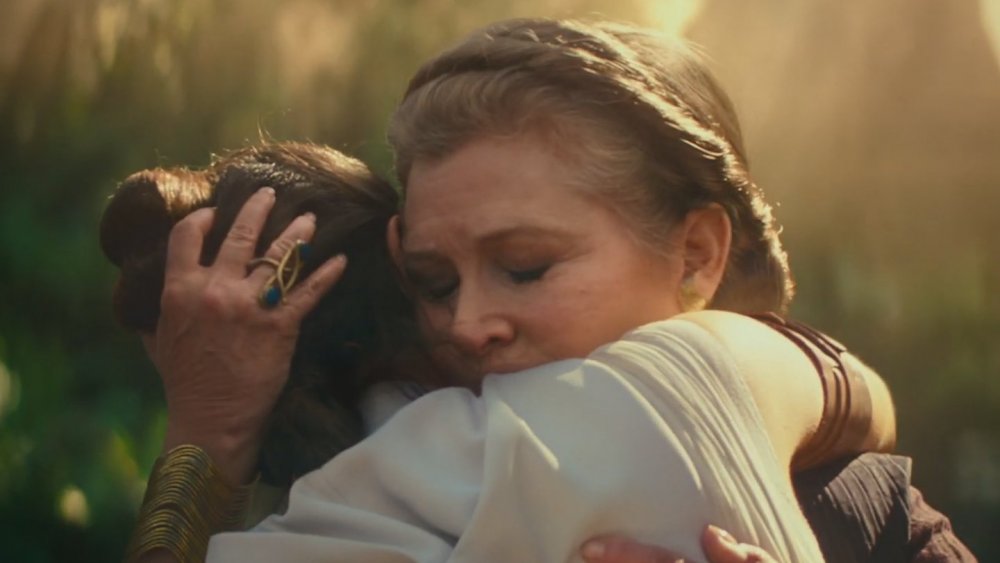 Lucasfilm / Disney
It was no small task giving Carrie Fisher's General Leia one last hurrah in Star Wars: The Rise of Skywalker.
The movie's co-writer Chris Terrio recently revealed that multiple sources were used to cobble together both the visual and audio aspects of Leia's appearance — including elements that were over three decades old. (via The Hollywood Reporter) Please be advised that spoilers for The Rise of Skywalker follow.

Terrio explained that in addition to repurposing unused footage from Star Wars: The Force Awakens (a strategy which was made public before the film's release), the creative team behind The Rise of Skywalker was given the opportunity to dive into the Lucasfilm archives to see if there was anything else they might be able to use to effectively bring Fisher (who passed away in 2016) back to life onscreen. As it turned out, there was — particularly given that the film contained a flashback scene depicting Leia in her younger years.
"We... had access to the dailies from the original trilogy, and in the flashback of Luke and Leia, that image of Carrie comes from Return of the Jedi," Terrio said. "So, we had access to everything in the archive, which turned out to be super helpful. So, yeah, the original trilogy was on our table for the flashback and for audio."
The scribe went on to explain that no trickery or soundalike actors were used for the flashback scene. "As far as the audio goes, every word that she says in the movie she's said as Leia in Star Wars," he said. "I'd have to talk to Skywalker Sound about which bits were usable exactly as they were, and which bits were cobbled together with different audio tracks. We had all the audio that Leia says at our disposal, and of course, every word that she says on camera is really Carrie."
When it came to the non-flashback sequences involving Leia, however, that archived audio turned out not to be of much use. "Leia was a very different person in the new trilogy, and I'm not sure that we would've used any audio from the original trilogy [for the contemporary scenes]," Terrio explained. "[Fisher's] voice had changed, and obviously, she was older, wiser and had a different quality to her performance. So, I'm not sure we ended up using any audio from the original trilogy, and we tried to stay true to Carrie's acting intentions as much as we could."
It's safe to say that the strategy paid off, and the filmmakers were able to include Leia as a significant presence in The Rise of Skywalker without the risk of pushing the audience down the slippery slope into the Uncanny Valley, as with the character's appearance in the final, digitally-assisted shot of Rogue One: A Star Wars Story. They were even able to use archive footage to depict Luke and Leia, together again at last, as Force ghosts at the conclusion of Rise of Skywalker — a scene which was the subject of intense debate among Terrio and director J.J. Abrams.
Why were a couple Skywalkers absent from the final scene?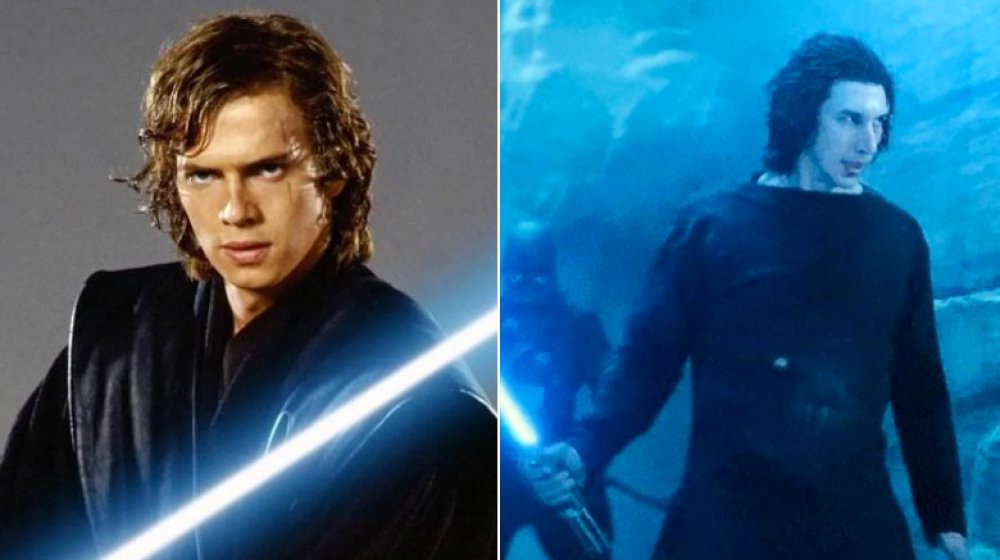 Lucasfilm / Disney
Specifically, Terrio revealed that the pair went back and forth about just who should be included in that final shot, as it seemed like the Force ghosts of Luke's father Anakin (who temporarily brought balance to the Force by doing away with Emperor Palpatine at the conclusion of Return of the Jedi) and Leia's son Ben (who sacrificed himself to save Rey during Rise of Skywalker's climax) should perhaps have been invited to that party as well.
Terrio justified the decision not to include them by indicating that there's a time and a place for everything, and that it's not like Anakin and Ben will be MIA forever as far as Rey is concerned; ultimately, he said that it simply didn't make sense to include them in that specific moment.
"We absolutely discussed who would be there at the end. It's not as though those Force ghosts will never appear to Rey now that she really is the first of the new Jedi," he said. "I think she has all of those Jedi behind her. J.J. was pretty clear about the idea that he didn't want to take away from the moment of Leia finally appearing as a Force ghost and the twins finally being together."
Terrio also explained that the fact that Rey had come to Tatooine to bury Luke and Leia's lightsabers made it feel appropriate that they, and only they, should appear to offer Rey their approval in that poignant final scene. "This might be in the novelization, but we talked a lot about how Leia lost her home. Alderaan is gone," he said. "So, she could never take Luke to see where she grew up as a princess, but Luke could've taken Leia to see where he grew up as a farmer. But, the twins never got to [visit] Tatooine together. So, the idea of seeing the twins together after the sabers are laid to rest felt like it was something that was very moving to me and J.J."
It was indeed an emotionally impactful ending to not only The Rise of Skywalker, but the entire Skywalker Saga — an ending that couldn't have been pulled off without working some pretty serious movie magic with that unused footage. It's almost as if the Force ghost of Fisher herself showed up to whisper in the ears of the filmmakers at a few key moments, and if it's all the same to you, we're going to go ahead and assume that this is exactly what happened.