This Eddie Murphy Sketch That Was Cut For Time Is A Must-See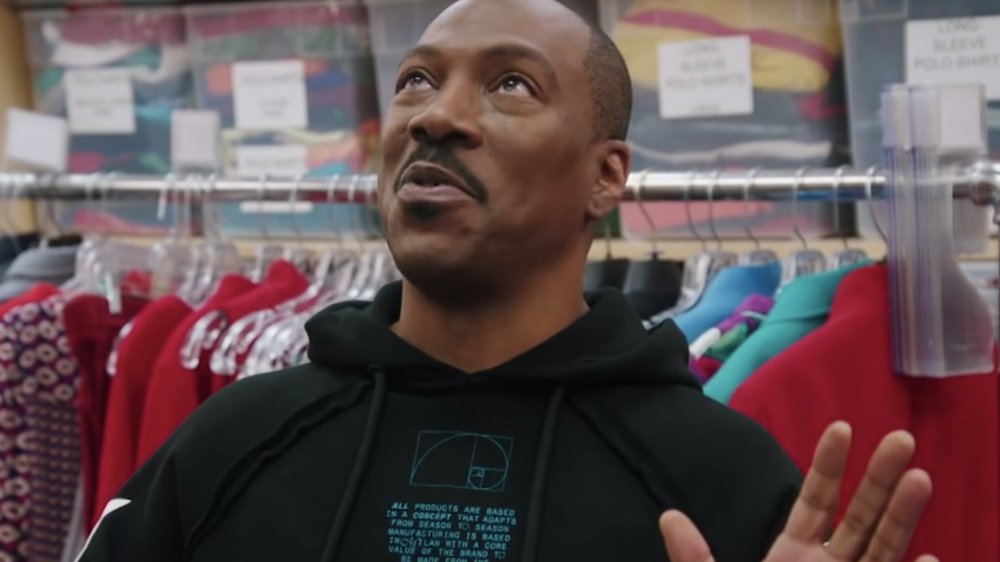 On December 21, 2019, Saturday Night Live pulled out all the stops for its holiday show, bringing host Eddie Murphy and musical guest Lizzo to Rockefeller Center. In a solid episode packed with familiar Murphy characters and two great musical performances from Lizzo, the show offered up some pretty consistent sketches — skewering everything from holiday family gatherings to The Masked Singer to televised baking championships. 
However, there are times when the writers and cast of SNL simply have too many good ideas for the show's hour-plus run time, and we end up gifted with a few "Cut for Time" sketches. Murphy's episode spawned two, one of which featured both the former SNL cast member and the musical guest herself. If you only watch one of the two sketches cut from Eddie Murphy's SNL season 45 hosting gig, you definitely have to check out "Aidy Bizzo."
Watch Eddie Murphy, Aidy Bryant, and Lizzo in SNL's "Aidy Bizzo" sketch
Aidy Bryant is one of Saturday Night Live's most reliably funny and charming cast members, and when the show gives her a chance to shine, she takes full advantage. Bryant's talents are displayed perfectly in "Aidy Bizzo" — a pre-taped sketch that finds Bryant talking about Lizzo's inspiring confidence and alluring energy with her coworkers, played by Kate McKinnon and Cecily Strong, and wondering aloud why all women can't act and feel the way Lizzo does. Luckily, she gets a chance to test out her hypothesis on Kyle Mooney — and before long, she, like Lizzo, is feeling "good as hell."
Pretty soon, Bryant is hitting on Eddie Murphy by telling him to "thank God for her fat a**" and twerking all over the SNL studio. The sketch cleverly cuts between Bryant living it up, decked out in her finest Lizzo wear, and her writhing silently on a desk in normal clothing while the janitorial staff tries to do their jobs around her. Finally, she gets the chance to sit down with Lizzo herself, and asks the singer if she ever feels like 90 percent that "b****" rather than the 100 percent described by Lizzo in her hit "Truth Hurts." (The answer? No.)
It's a bummer that this particular sketch was cut — especially since Bryant didn't have much time to shine during this episode and because who wouldn't want to witness even more of Murphy's pitch-perfect line deliveries — but at least it gets to live on thanks to YouTube and SNL's habit of uploading its cut sketches. 
Saturday Night Live is off for the holidays, but it'll return on January 25, 2020 with Adam Driver returning as host alongside musical guest Halsey.