Moments In The New Top Gun: Maverick Trailer That Mean More Than You Think
Strap in and get ready for take off — the second trailer for Top Gun: Maverick is coming in hot. 
The nostalgia-laden return of Captain Pete "Maverick" Mitchell (Tom Cruise) is set to strafe theaters on June 26, 2020, and this is the longest look we've had yet at the upcoming sequel film. Released by Paramount Pictures on December 16, the full-length trailer for Top Gun: Maverick arrives five months after the first one was rolled out in July, and features plenty more looks at all the new characters joining the fray to become Captain Mitchell's pupils at Top Gun flight school – though the circumstances surrounding his apparent departure from and return to teaching are still shrouded in mystery. 
Just like its forebear, the newest Top Gun: Maverick trailer promises the forthcoming installment will be chock-full of more sound-barrier-busting, high-octane excitement and plenty of jaw-dropping action. But beyond the shots of motorcycles and airplanes and Tom Cruise's Captain Mitchell gearing up for another ride in the sky, the most impactful moments of the new Top Gun: Maverick footage harken back to the past and foreshadow repetitions of its tragedies in the present. 
Here are two moments in the Top Gun: Maverick trailer that have piqued our interest and suggest deeper things ahead of the film's release.
The funeral scene suggests someone important dies in Top Gun: Maverick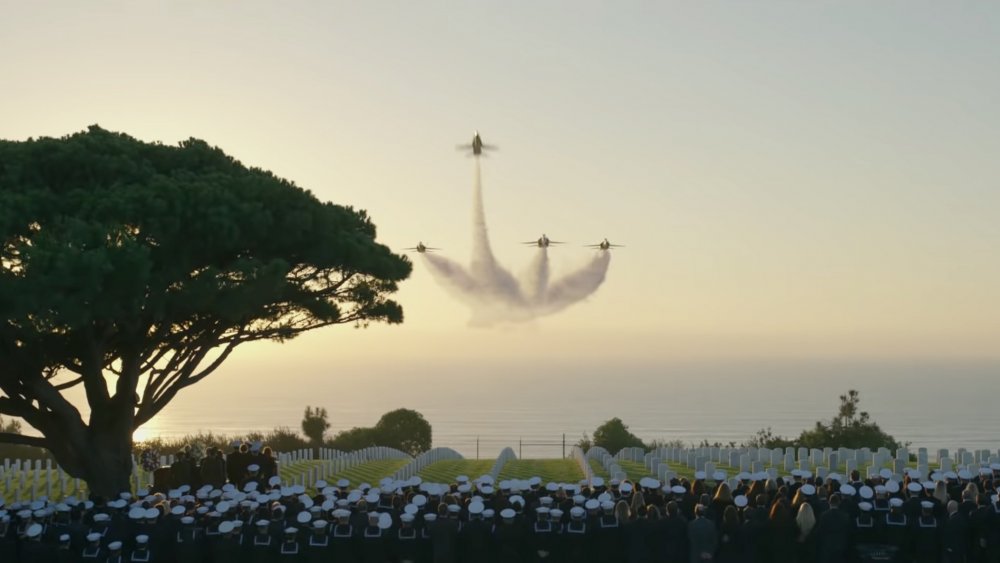 The new Top Gun: Maverick trailer features a few cuts to a full-honors military funeral complete with a fighter jet flyover, but the footage doesn't specify just who has lost their life. But it's evident that it didn't have to, as fans have a harrowing idea of who might be getting buried. Concern has already arisen among Top Gun fans over the fact that original film star Val Kilmer has yet to be featured in either of the two trailers, despite him being confirmed to reprise his role as Vice Admiral Tom "Iceman" Kazansky. The character, who butted heads with Maverick in the original Top Gun and who was involved in the death of Maverick's closest friend Nick "Goose" Bradshaw (Anthony Edwards), not showing up in any pre-release promos for the sequel has fans on edge, and the inclusion of a funeral scene in the new trailer (and thus the film) has left some believing the worst.
How much Iceman will play into the plot of Top Gun: Maverick is at this point still uncertain, and it could in fact be limited since during production of the film, Kilmer was undergoing chemotherapy for throat cancer. As much as Kilmer clearly wanted to return and enjoyed his reunion with Tom Cruise on set, chemotherapy is an exhausting endeavor. This leads us to wonder: Is it Iceman who dies in Top Gun: Maverick? 
Of course, this isn't the only possible explanation for the funeral scene — if the film wants to echo the story beats of its original, a student could easily die in a training exercise – it's nonetheless curious that we have yet to see Kilmer in any footage at all, suggesting there is an explosive secret to be kept.
The ghost of another famous training disaster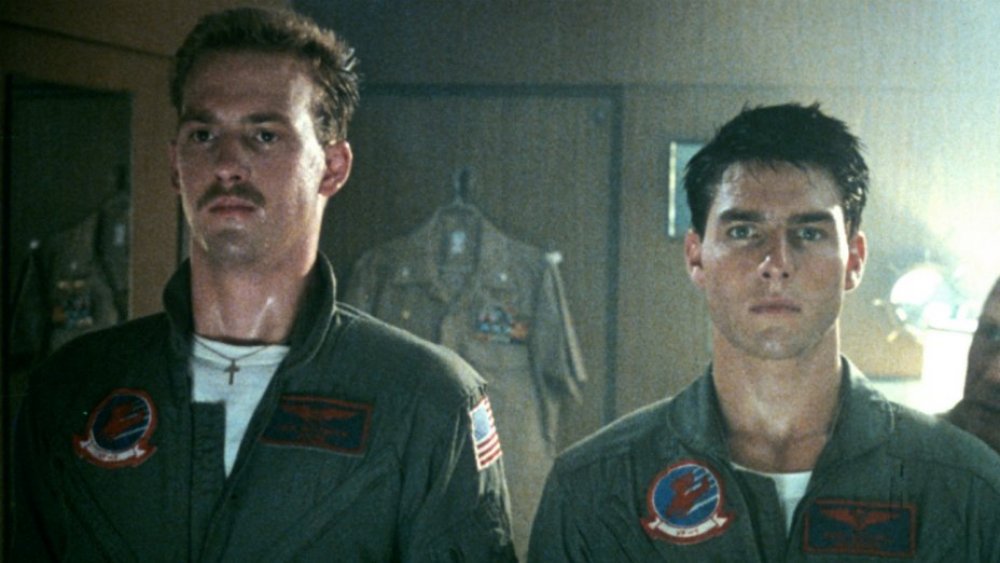 Paramount Pictures
Snuck in between the plethora of scenes featuring jets strafing and rolling throughout the new Top Gun: Maverick trailer, a particular cut caught our eye: the one that depicts a jet's engines appearing to go out or stall, much to the alarm of Maverick, who witnesses the incident happen in-air. Is history set to repeat itself, with a pilot dying in a similar (or the exact same) manner that Goose did? In the original Top Gun from 1986, Maverick and Goose's F-14A Tomcat gets caught in the jet wash of Iceman's aircraft as he disengages from a target, which disrupted both of Maverick's own engines and sent the jet into a notoriously fatal flat spin. Maverick and Goose eject from the doomed craft, but what ultimately kills Goose is the collision of his ejector seat with the canopy of the craft as they attempt to bail out.
There's no way to know for sure right now if the trailer's depiction of a funeral and this possible jet wash accident are linked. It could easily be a fake-out to engender emotional investment with longtime film fans, and this iteration of the aerial accident may end just fine for everyone. 
Either way, we're also curious to know if it links up with another important moment in the Top Gun: Maverick trailer: the flash of pilot trainee Bradley "Rooster" Bradshaw (Miles Teller) lunging at Maverick in a palpable rage. Bradley is Goose's son, and on top of having a lot to prove as a legacy pilot in the Top Gun school — with the man who was in the plane with his father when he died being his instructor, no less — Bradley may snap if a major jet wash accident like the one that killed his father occurs. We just hope that the same tragic fate that befell the father he never got to meet escapes Bradley in Top Gun: Maverick. They can share the same facial hair — and they do, both rocking a thick mustache — but Goose and his son should have very different endings. 
For now, it's all just a waiting game to find out the truth of what happens in Top Gun: Maverick, set to fly into theaters on June 26, 2020.