Every Scarlett Johansson Sketch From SNL Season 45 Ranked Worst To Best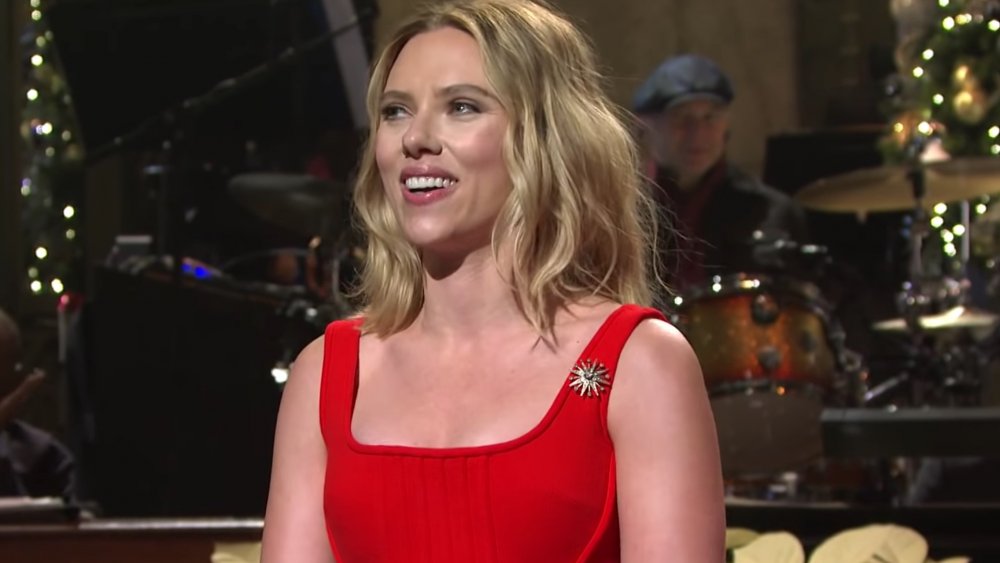 On the December 14, 2019 episode of Saturday Night Live, Scarlett Johansson returned for an impressive sixth hosting stint alongside musical guest Niall Horan, promoting her critically acclaimed Netflix original film Marriage Story and celebrating her engagement to Weekend Update co-anchor Colin Jost. Unsurprisingly, the Black Widow star was game for anything — playing opposite SNL's core cast members with aplomb, despite some disappointing skits.
Johansson sat a few sketches out — including the Cold Open, which focused on three different families struggling to talk about politics over the holidays, as well as a message from TIME's Person of the Year, Greta Thunberg, played by Kate McKinnon; a clever ad for Macy's children's clothing; and Weekend Update. But during her time on screen, the Marvel Cinematic Universe standout showed a willingness to lean into every character, clearly having a great time during her holiday hosting gig. 
From office parties gone wrong to Hallmark parodies, here's every Scarlett Johansson sketch from SNL season 45 ranked worst to best.
Office Apology
Kenan Thompson's inappropriate security guard Charlie is back in "Office Apology," which finds Charlie and Janet (Johansson) on the chopping block at work after some pretty inappropriate behavior at the office Christmas party. When Janet apologizes for being casually racist and loudly asking employees about their private lives, her coworkers react angrily — but Charlie's creepy comments and overt harassment are apparently fine with everyone, who beg their boss (Beck Bennett) not to fire him.
Charlie's debut alongside host James Franco in 2017 wasn't a rousing success, and this sketch isn't one either. Trying to argue that it's "okay" for Charlie to make gross, inappropriate comments to basically every member of the office because he's "likable" is a very weird stance to take — especially when the person being hung out to dry, Janet, is a woman. All in all, SNL should definitely put Charlie out to pasture, even if the office won't.
Singing Elves
In the first sketch of the night, Scarlett Johansson and Kenan Thompson appear as a couple of singing elves at the mall, but they're not exactly trained for the job. Nobody else was available, so a couple of employees from the hair extension kiosk have filled in. Unsurprisingly, they're pretty terrible — singing dirty Christmas songs about Mrs. Claus and cocaine, and leaving some of the parents in the audience (played by Beck Bennett and Heidi Gardner) pretty confused.
Ultimately, "Singing Elves" feels like a still unsuccessful retreat of the "Hip Hop Carolers" sketch from the week Jennifer Lopez hosted Saturday Night Live: between the lackluster songs and Bennett's weird, unexplained Todrick Hall obsession, the sketch just doesn't go anywhere. Really, the only upshot is Bowen Yang's delightful performance as the songwriter behind these disturbing ditties.
Hot Tub Christmas
When Saturday Night Live cast members Ego Nwodim and Chris Redd try to take a relaxing getaway for the holidays at a hotel with a hot tub in the sketch "Hot Tub Christmas," they stumble upon a few Christmas ghosts. Specifically, they meet ghosts of two 1970s strippers (played by Scarlett Johansson and Cecily Strong), who regale the couple with the story of their death... in song. One night, while decorating the tree at their former place of employment, Big Jim's, the two took too many quaaludes and thought they'd have a chicken fight in this very hot tub, which went exactly as well as you might expect. They can only return to the place where they died on Christmas; after that, they simply go back to hell.
Niall Horan makes an appearance outside of the musical performances for this sketch, singing along with the girls as Big Jim himself. Despite solid reactions from Nwodim (whom the ghosts inform is pregnant) and Redd (who'd like a second opinion from, well, a doctor), Strong and Johansson just aren't at their best in this sketch — which also relies on some pretty lazy scatological humor that just adds nothing to the skit as a whole.
Celebrity Sighting
It can be hard for celebrity couples to go out for dinner and enjoy themselves, which Bowen Yang and Johansson know all too well. In the Saturday Night Live sketch "Celebrity Sighting," Johansson and Yang play the couple depicted on New York City's most popular choking safety poster, who can't go out without getting mobbed. Though the restaurant host, portrayed by Heidi Garder, seems skeptical, it turns out that the couple is insanely popular — particularly with the kitchen staff. Before long, they're besieged by their fans from the back of the house, who immediately start texting friends at other kitchens to come and see the couple.
Thanks to insanely specific choices by the hair and makeup department — Kate McKinnon's chef is particularly inspired — the sketch is fun to watch. Eventually, it's even elevated a bit by the twist that neither member of the couple actually knows how to do the Heimlich maneuver that made them so famous. However, solid performances from Johansson and Yang don't make "Celebrity Sighting" a standout sketch of the evening. The couple isn't interesting enough to remain particularly memorable, resulting in a pretty middling sketch.
Another Translator
In the final sketch of the night, Scarlett Johansson reprises her animal translator role (which she debuted during a previous Saturday Night Live hosting stint in 2017), showing off an exciting new technology that can tell us what dogs are actually thinking. Unfortunately for Johansson's scientist character, her dog Max turns out to be pro-Trump, embarrassing her in front of the panel responsible for her funding. As Max reveals his true political leanings, which are influenced by all the Fox News that Max watches when he spends time with his "grandparents," Johansson's character grows more and more horrified. Ultimately, the panel pulls her funding.
There are some good laugh lines in "Another Translator" — Bennett's vocal performance as Max is perfect, a parting shot featuring a pig who loves Tulsi Gabbard is an excellent touch — but the pacing is a little slow, leaving it firmly in the middle of the pack compared to some of the other efforts from Johansson's season 45 hosting gig.
Monologue
Scarlett Johansson is an old pro when it comes to her time in Studio 8H, and for her sixth go-around hosting Saturday Night Live, she says the pressure's off. In the first of several references to Colin Jost, she jokes, "If the show's bad, what will they do — fire my fiancé?" However, when Aidy Bryant's Elf on a Shelf (a joke that doesn't have time to land, partly because hardly any other cast members wear costumes during the monologue) gets "dusted," Johansson snaps back into Black Widow mode and must figure out who's behind this latest Snappening.
Johansson's monologue is unusually self-aware for SNL. As people disappear, we discover that nobody can tell Mikey Day and Alex Moffatt apart, Bowen Yang says the show will get eaten alive on Twitter for dusting its first Asian-American cast member, Beck Bennett tells Johansson her monologue is weirdly irrelevant before vanishing himself, and people wonder if Pete Davidson got dusted — although Cecily Strong thinks it's just one of those weeks where Davidson probably won't show up. In the end, Johansson cracks the case: Davidson is the one behind the dusting. He found the Infinity Gauntlet on eBay, and Johansson tells Kenan Thompson (the show's longest-running cast member ever) that once you've been on SNL for a long time, you can just take as much time off as you want, much to Thompson's obvious chagrin. 
This scene is marked by a few awkward line stumbles (especially when Davidson is on-screen) and Jost's stiff appearances both fall flat, but all in all, it's a fun monologue.
Hallmark Dating Show
A clever sendup of Hallmark's cinematic universe, the "Hallmark Dating Show" sketch sees host Emily Cringle (Aidy Bryant) seeking to find love for Lauren (Johansson), a busy, working woman assigned to write about how Santa Claus isn't real and who has no time for love. Lauren's romantic options include Brian (Bennett) from her hometown, who must save the town from being bought by "Googlesoft computers"; Prince Simon of "Caucasia" (Alex Moffatt); and Nick St. Claus (Kyle Mooney), who definitely isn't Santa. Spoiler: He actually is Santa.) 
To decide who will join her in the Hallmark Gazebo Suite — which comes with "a single dry kiss" — Lauren, who "lives in stock footage of New York City," questions her would-be suitors, eliciting some pretty great lines. Prince Simon says Caucasia has snowy mountains and everyone has a British accent, so it's "vague Europe"; Nick really can't take Christmas Day off because he works in the "gift industry"; and Brian is a "hot ghost" sent to remind Lauren about the spirit of Christmas. Chris Redd also makes a brief appearance as "Prince's Friend?" and the only person of color in Caucasia, alongside Mikey Day as Lauren's father, who hasn't been able to enjoy Christmas since Lauren's "mother exploded." Lauren ultimately decides to... marry Christmas, because, as Emily Cringle puts it, the holiday is really about husbands. 
The sketch has some good lines, but it's clear that the writers didn't settle on a definitive ending, leaving it to fizzle a little as it goes on. However, the specificity of each contestant's details and the performances — especially Bryant's — end up selling the sketch pretty well.
A Conway Marriage Story
In one of the show's pre-taped sketches, Saturday Night Live takes on ScarlettnJohansson's latest film and adds a political bend by reimagining a version of Marriage Story that stars Kellyanne (McKinnon) and George Conway (Beck Bennett). Between Kellyanne's job as the mouthpiece of the Trump administration and George's constant criticism of the President, many have wondered how the two can possibly stay married, but apparently, they find a way.
The sketch mimics Marriage Story's opening scene, in which a therapist (played by Johansson this time) asks Kellyanne and George to write down everything they love about each other. Yes, it's just as messed up as you might expect. Despite the couple's obvious political difference, they love their nicknames for each other ("loser" for George and "ghoul" for Kellyanne), and Kellyanne really loves how George always reads... the Diagnostic and Statistical Manual of Mental Disorders (DSM–5) to figure out what's wrong with her boss. (He eventually settles on "narcissism.") 
Everything considered, "A Conway Marriage Story" is a successful take on both Marriage Story and one of the country's most confusing couplings. Still, McKinnon — whose Kellyanne is as pitch-perfect as ever — and Bennett do all the heavy lifting, leaving Johansson in a supporting role and keeping this skit from being the best of the evening.
I Saw Mommy Kissing Santa Claus
Cecily Strong got a second chance to show off her pipes during a twisted take on "I Saw Mommy Kissing Santa Claus," a deceptively cheerful take on an admittedly weird holiday standard. With Scarlett Johansson and Mikey Day playing Strong's parents and Beck Bennett portraying Santa Claus, Strong's character details how she watched her mother kissing Santa Claus... only to see her father watching approvingly from the corner. When Santa gets uncomfortable with the situation, the couple chokes him and maybe kills him. But as it turns out, that's all part of the pair's particular set of adult interests; when Santa regains consciousness, they happily pay him and send him on his way.
The sketch takes several weird twists and turns — with Johansson, Day, and Beck delivering hilarious silent performances under Strong's narrative song. Thanks to super specific details — as well as a coda where Strong questions the fact that she stuck around to watch her parents' entire deranged game and realizes that her "thing" is watching people's private lives — it succeeds, making it one of the best highlights of the night.