Good News Just Dropped For A Possible Kill Bill Vol. 3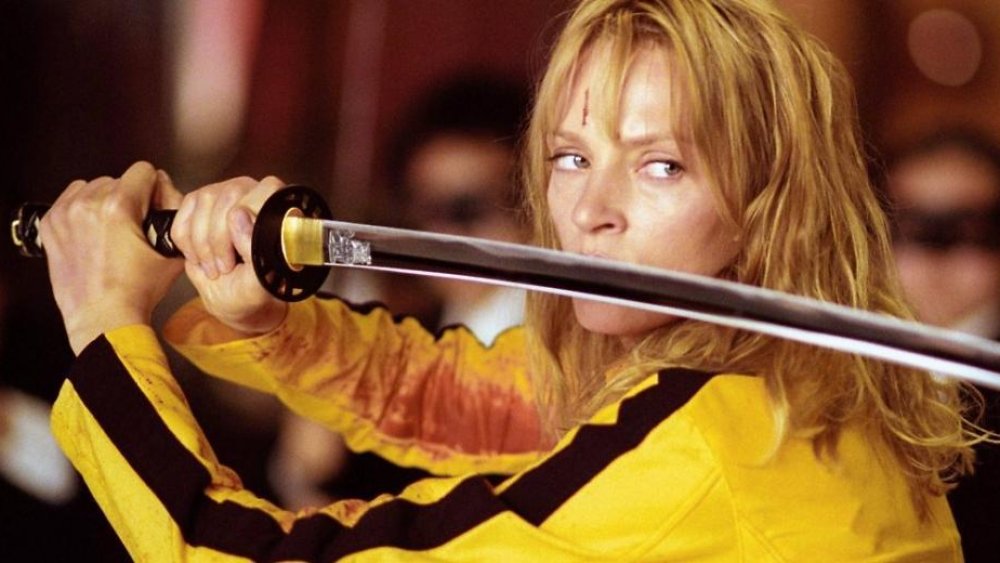 Miramax
Do Quentin Tarantino and his muse, Uma Thurman, have more in store for the Bride?
QT recently sat down for a conversation with TV and internet personality Andy Cohen on the latter's Sirius XM show Radio Andy, and he had some very interesting things to say about the prospect of one day giving us Kill Bill Vol. 3.
Before we get into Tarantino's remarks, it must be said that he has whistled this particular tune at several points in the past, so his comments should perhaps be taken with a grain of salt. However, he sure sounds pumped about his ideas for the sequel to his two-part (so far) samurai epic — ideas which he has, apparently, discussed with Thurman, the star of Kill Bill Vol. 1 and Vol. 2.
Asked point-blank by Cohen if Kill Bill Vol. 3 will ever happen, Tarantino seemed prepared for the line of questioning. "I just so happen [to have had] dinner with Uma Thurman last night," he said. "I do have an idea of what I would do, and that was the whole thing, was conquering that concept of exactly what... has happened to the Bride, and what do I want to do? Because I wouldn't want to just come up with some cockamamie adventure, she doesn't deserve that."
Tarantino went on to explain that his current thoughts on the project, perhaps in contrast to some of his earlier ones, are decidedly not of the cockamamie variety. "Now I actually have an idea that could be interesting," he said. "I wouldn't do it for a little bit... it would be at least three years from now, or something like that. But, look, it is definitely in the cards."
Well, it's true that QT has not applied the descriptor "definitely in the cards" to the notion of Kill Bill Vol. 3 before, so this is somewhat encouraging. It's not like he's never talked about it, though; heck, a week before the release of Kill Bill Vol. 2 in 2004, he was telling Entertainment Weekly that he had definite plans for a sequel, although not one that would star Thurman.
"Uma won't be the star, though she'll be in it," Tarantino said at that time. "The star will be Vernita Green's [Vivica A. Fox's] daughter, Nikki [Ambrosia Kelley]. I've already got the whole mythology: Sofie Fatale [Julie Dreyfus] will get all of Bill's money. She'll raise Nikki, who'll take on the Bride. Nikki deserves her revenge every bit as much as the Bride deserved hers. I might even shoot a couple of scenes for it now so I can get the actresses while they're this age. It's exciting to know that somewhere there's a little girl who'll grow up to be my leading lady."
Of course, it appears that this idea was simply too cockamamie to pursue (sorry, it's just such a fun word). But in 2009, Tarantino was at it again, this time while promoting Inglorious Basterds at the Morelia FIlm Festival. At that time, he said that he was only waiting to make sure that a decade had passed since the previous film, so that he might give the Bride and her daughter Beebe ten years of peace (in real time, apparently). This would have put Kill Bill Vol. 3 in theaters in 2014; this, obviously, did not happen. (via Variety)
By 2012, Tarantino had changed his tune slightly, telling We Got This Covered, "I don't know if there's ever going to be a Kill Bill Vol. 3. We'll see, probably not though." This stance persisted until 2016, by which point the filmmaker had come back around to being receptive to the idea of a three-quel. "I've been very non-committal about it, and I'm not committing to it," he said, stating the obvious, "but I wouldn't be surprised if the Bride made one more appearance before the whole thing is said and done. I've been talking to Uma about it just a little bit. Some of the stuff that I've written and never made it into the movie that maybe I could use." (via Independent)
Finally, as recently as July 2019, Tarantino kept the Kill Bill fires burning during a conversation with MTV's Happy Sad Confused podcast. "Me and Uma have talked about it recently, frankly, to tell you the truth," Tarantino said. "I have thought about it a little further. We were talking about it literally last week. If any of my movies were going to spring from my other movies, it would be a third Kill Bill."
It seems like QT and Thurman have this conversation a lot, but the director's most recent remarks indicate that he's a bit higher on the idea of Kill Bill Vol. 3 than he has been at any point over the last 15 years. It looks like it may actually happen this time — if not for another few years, because as he indicated to Cohen, he's got a few more irons in the fire.
What else does Quentin Tarantino have in the works?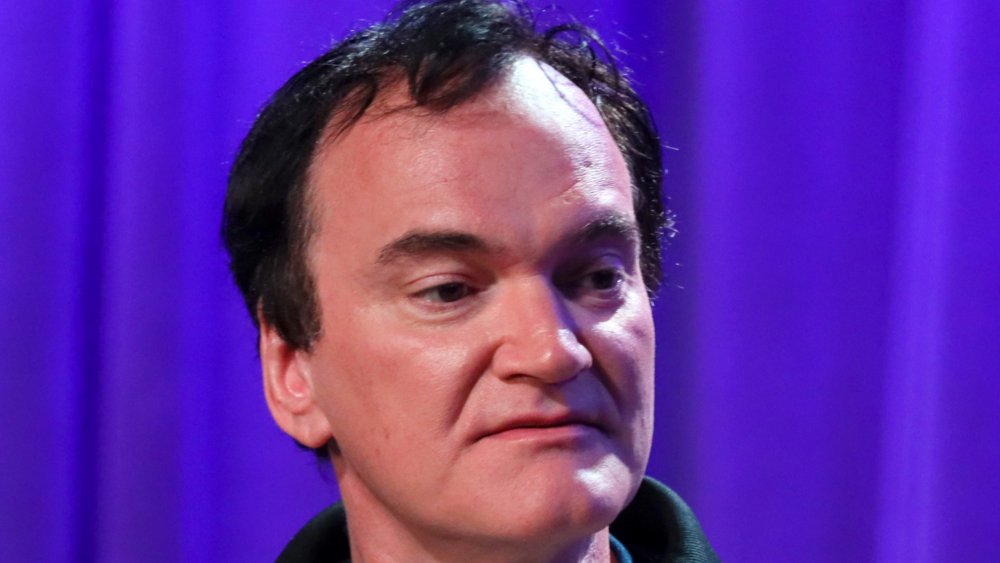 Rebecca Sapp/Getty Images
As to the nature of these irons, we can't say for sure. But Tarantino did offer a few choice tidbits about his upcoming projects — none of which are feature films. 
"[After writing] Once Upon a Time in Hollywood... I had more stuff in me," he said. "And so I wrote a play... and then, I wrote a five-episode TV series. So to some degree or another, I've kind of written what I'm going to do for the next three years."
Well, those endeavors will probably turn out to be interesting, unique, and imbued with Tarantino's signature highly stylized aesthetic and ultra-quippy dialogue. Reading between the lines here, though, it seems as if QT's rumored Star Trek movie may be dead in the water, as it's unlikely that Paramount will just wait for a few years simply to see if Tarantino will feel like contributing to that franchise. Let's not forget, he's long maintained that he'll retire from filmmaking after his tenth movie, and Once Upon a Time is number nine. If indeed Kill Bill Vol. 3 comes to pass, that'll be probably be it for the legendary director as far as features go — and Trek appears to be moving on without him, with Noah Hawley (Lucy in the Sky) having been tapped to write and direct a fourth installment in the reboot series this past November. (via Deadline)
At any rate, we're always on board to see what Tarantino will do next, and as soon as there's news to report about his stage and small screen projects, we'll be here to report it. Until then, remember: if you have vermin to kill, there's simply no substitute for Japanese steel.