Trump Releases Confusing New Video That Turns Him Into Thanos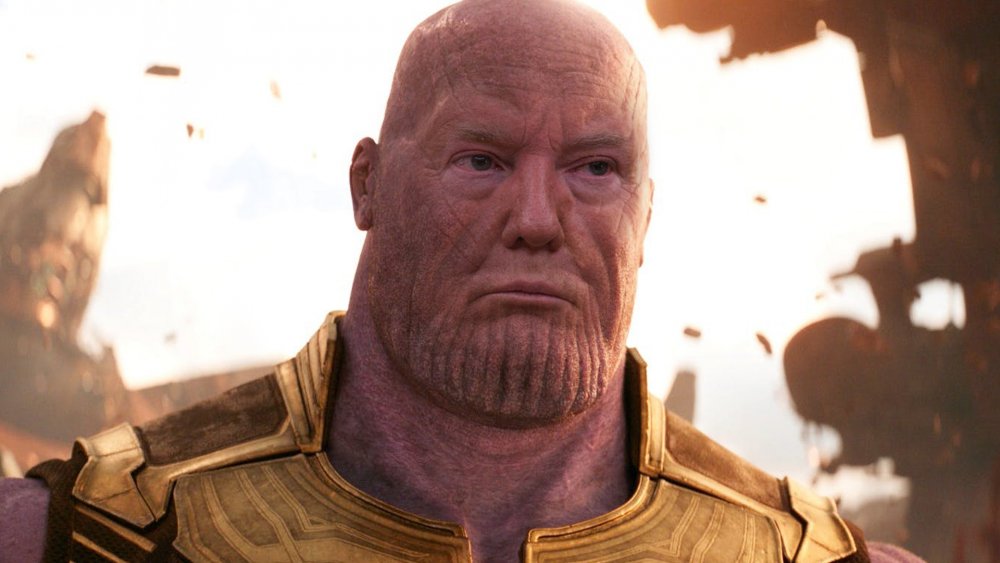 Branden Stall for Looper
President Trump has fashioned himself as one of the decade's biggest villains in a confusing new campaign clip.
The video – released by a Twitter account called @TrumpWarRoom, which itself is managed by the Trump 2020 campaign, according to Business Insider – superimposes Trump's grinning face onto footage of Thanos (Josh Brolin) in Avengers: Endgame during one of the villain's final scenes. 
In the clip, two different versions of Trump's head admire Thanos' Infinity Gauntlet before Brolin's voice utters, "I am inevitable." Right after Trump-Thanos' proclamation, the video switches to a clip of Speaker of the House Nancy Pelosi discussing the ongoing Trump impeachment inquiry – only for her and several other high-ranking Democrats to get "dusted," presumably thanks to the Trump-Thanos hybrid snapping his Infinity Gauntlet-adorned fingers. Trump's team captioned the video, "House Democrats can push their sham impeachment all they want. President Trump's re-election is inevitable."
This tweet comes on the heels of the announcement that House Democrats will charge the President with two articles of impeachment — specifically, "abuse of power and obstruction of Congress" — which, if it proceeds, would make Trump the third sitting President in United States history to face impeachment.
This is a pretty confusing take on Trump's political future, to be sure, and it leads one to wonder whether or not Trump's team has seen Avengers: Endgame. Firstly, there's the fact that Thanos is, frankly, a genocidal maniac who murders his adopted daughter for his own gain and decimates half of the living creatures on Earth. Certainly, Trump's team wouldn't want to liken the President to such a villainous character if they're trying to get him re-elected. Secondly, the Endgame moment that follows the one used in this campaign clip doesn't exactly work out well for Thanos. Though the tweet makes it look like Trump-Thanos is about to achieve victory, anyone who's seen Endgame knows it's quite the opposite. Unlike in Infinity War when he wears the Infinity Gauntlet and snaps his fingers to "dust" half of all living beings, in Endgame, Thanos snaps and, well, nothing happens. The reason? Tony Stark (Robert Downey Jr.) has the real Infinity Stones loaded up in his own Infinity Gauntlet. After clapping back with his classic "I am Iron Man" line, the hero snaps his fingers — winning the battle for the Avengers and their team, and destroying Thanos and his army in the process.
Trump's team may not have realized that the video they used to paint the President as an all-powerful hero doesn't perfectly fit their narrative, considering what happens next in Endgame, which makes this depiction of Trump as Thanos quite confusing.
Trump's Twitter gaffes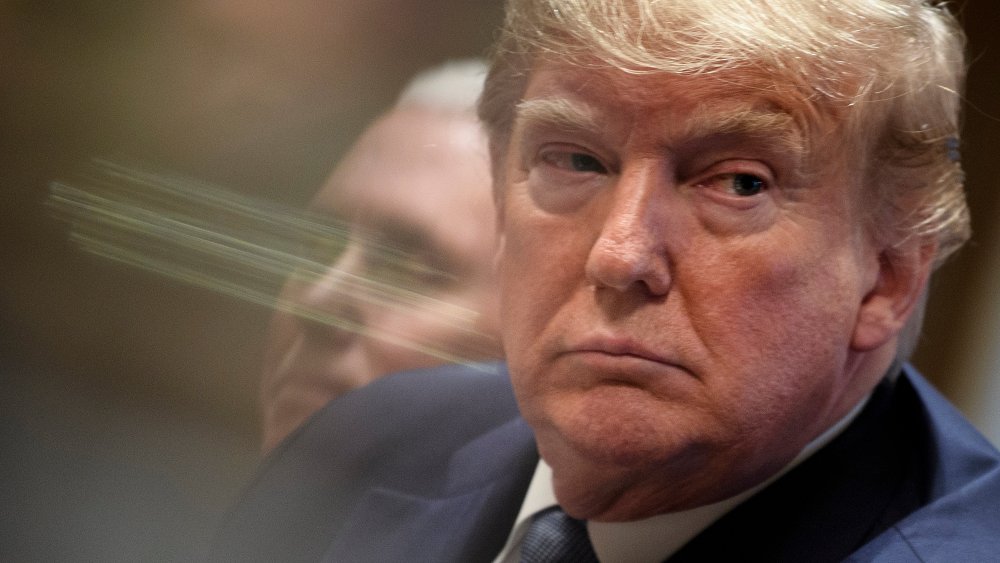 Brendan Smialowski/Getty Images
This isn't the first time that the President and his team have used a super-popular piece of entertainment to push forward Trump's 2020 election campaign and to address allegations of collusion and obstruction of justice. 
Back in April 2019 when the final season of Game of Thrones was dominating the pop culture landscape, Trump uploaded to his Twitter account an image using Thrones' instantly recognizable font. The photo showed the President's retreating back with the caption, "No collusion. No obstruction. For the haters and the radical left Democrats — Game Over." It arrived right after the redacted Mueller Report – which documents the findings of former U.S. Special Counsel Robert Mueller's investigation into possible Russian interference in the 2016 U.S. election, as well as other allegations of obstruction of justice by President Trump — made news. 
Game of Thrones' network HBO wasted no time responding to Trump's tweet. In a statement released by Deadline, the network replied, "Though we can understand the enthusiasm for Game of Thrones now that the final season has arrived, we still prefer our intellectual property not be used for political purposes."
This was HBO's most civil response to President Trump to date. In November 2018, Trump used the Game of Thrones font for an image that read "sanctions are coming" — in a clear, direct reference to Thrones' famous tagline, "winter is coming" — to which HBO cheekily tweeted, "How do you say trademark misuse in Dothraki?" However, the President's Thrones references were only getting started. In January 2019, Trump carried out the same trick on his Instagram account, this time noting that "the wall is coming" rather than "sanctions."
Trump's efforts to connect with pop culture for political purposes haven't always panned out — and that extends to music as well. Musicians have long objected to their songs being used to promote any politician's ideals, and in a recent round-up, Vulture chronicled every instance of Trump's attempts at playing popular songs during his rallies — eliciting objections from Rihanna, Neil Young, Adele, the Rolling Stones, Elton John, and more.
This latest effort hasn't sparked any pushback from Marvel just yet, but all in all, the Trump-as-Thanos video sends a pretty muddled message since Thanos isn't a sympathetic figure and ends up losing Endgame's biggest battle (and then dies). Even in these politically fraught times, everyone can probably agree that pop culture and politics should remain separate — after all, where can you escape the news if not at a screening of a Marvel flick? — but Trump's latest attempt is definitely worth some discussion.