These Will Ferrell SNL Sketches That Were Cut For Time Are Must-Sees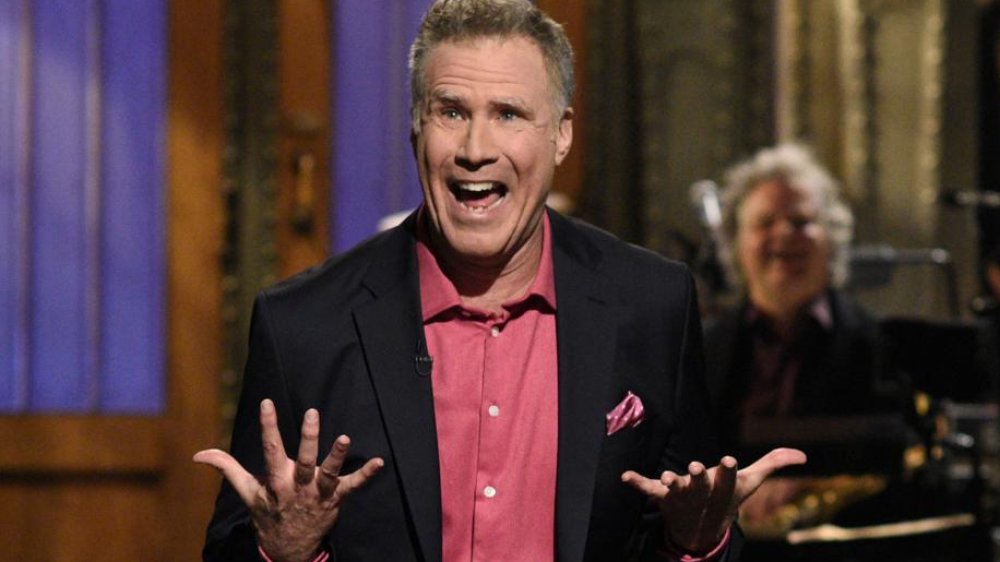 Will Ferrell is a Saturday Night Live legend, and when he circled back to the studio stage at 30 Rockefeller Plaza on November 23 to host the long-running show for a fifth time, he proved that his comedy chops are sharp as ever. 
After giving a hilarious monologue featuring a special appearance from everyone's favorite wit-master Ryan Reynolds, Ferrell participated in a number of sketches that ranged from totally side-splitting to respectably giggle-worthy. But, as all Saturday Night Live fans know, not every sketch a host is in actually makes it to air. Such scenes are clipped out in order to make the episode trim enough to fit into its designated time slot, but they do make it out to the masses eventually, when they're posted online in a "Cut for Time" collection for the world to see. Ferrell partook in a handful of sketches that were cut for time during his fifth SNL hosting gig, and you won't want to miss out on the belly laughs that result from watching them yourself. 
Will Ferrell becomes a Harry Styles "lookalike" in hilarious Cut for Time SNL sketch
Who do you call when singer-songwriter-actor Harry Styles isn't available for a Saturday Night Live sketch? Will Ferrell — duh! After all, they're practically the same build, have astonishingly similar features, and share the exact kind of lilting, lyrical English accent that can make anyone swoon. 
SNL went heavy on the sarcasm and camp in a Cut for Time sketch featuring Ferrell as an English exchange student named "English Kevin," who's initially passed off as a one-to-one answer to Styles himself but who winds up revealing his true identity and age by the end of the sketch. When a group of teenage admirers (portrayed by Aidy Bryant, Cecily Strong, and Kate McKinnon) request that English Kevin perform a song-and-dance number, he coyly sings out the chorus of "What Makes You Beautiful" by One Direction, the boy band Styles fronted for five years, before landing in a lunge, ripping his pants, and requesting assistance in getting up off the floor. 
Will Ferrell is pitch-perfect as a chaotic drama teacher in unaired SNL sketch
Even when he's going full drama, Will Ferrell still finds the funny. In a second Cut for Time Saturday Night Live sketch, Ferrell takes on the role of Mr. Koenig, a drama teacher whose students are anxiously awaiting to find out which parts they've secured for their high school's production of Bye Bye Birdie. He fires some barbs at his fledgling protégés — saying that "one senior girl is going to be very disappointed" and that some students are "such virgins" that they couldn't possibly embody certain characters in the musical play, then flat-out telling a student to "shut up." Ferrell's Mr. Koenig lives for the "gorgeous, sweet chaos" he creates, keeping the bright-eyed young thespians on the edge of their proverbial seats as he delays posting the cast list in favor of amping up the drama. 
When Mr. Koenig finally posts the list of parts, the teens learn that he double-cast every role so that each student only gets to perform their part for one night. Mr. Koenig, in true chaotic fashion, watches his students fall apart at the revelation through eye holes he carved out in the comedy and tragedy masks on his office door.
Another SNL Cut for Time sketch sees Will Ferrell selling some interesting jeans
The third Saturday Night Live sketch that unfortunately didn't make it to air during Will Ferrell's November 23 hosting night starts off simply before taking a turn into the kind of inane territory Ferrell has often traversed. It's presented as a jeans commercial, with Ferrell playing a guy who likes to "flirt a little bit," unwind at the bar, and show off his "sassy side" — which he says is exactly why he wears Wrangler's Peekaboo jeans when he's out on the town. The jeans, which are thankfully completely fake and made for the purpose of comedy, have diamond-shaped, heart-shaped, keyhole, "whale tail," or football-shaped cut-outs situated right where the sun doesn't shine — allowing men who want to walk on the wild side of life to show off their, er, assets and attract some much-desired attention. 
If anyone could be in an SNL sketch that includes the phrase "tasteful rear cleavage" and make it work, it's Will Ferrell. 
Will Ferrell gets stood up on a date in Mexico in Cut for Time Saturday Night Live sketch
In the real world, rejection hurts, even when it's done kindly. In Saturday Night Live's world, rejection hurts... but it's also straight-up hilarious. The fourth sketch from Will Ferrell's fifth time hosting SNL that was cut for time takes his character — a man who has spent far too much money on his Moldovan girlfriend whom he's never met in person before — to Mexico, where he believes he'll have an enchanting getaway only the likes of 1990s rom-coms have seen before. Things quickly turn sour when his girlfriend, Sabina, calls him and breaks up with him, telling him she's staying in Moldova and not flying to Mexico. The intensity of his love for her flips to the opposite side, and hilarity ensues.