Gillan Shows Off Her Amazing TMNT Cosplay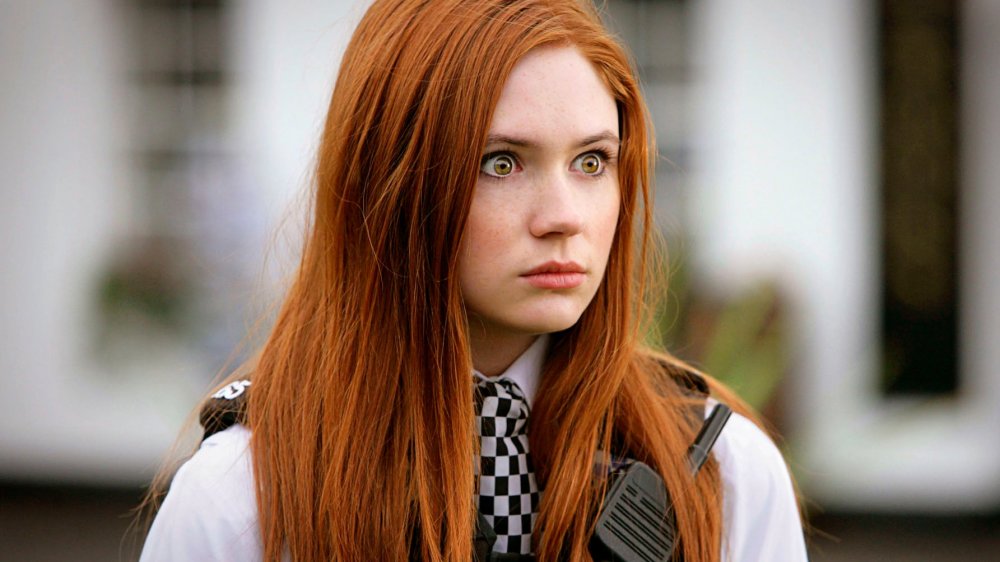 From Nebula, to Ruby, to... April?
Currently making the press rounds in support of Jumanji: The Next Level, star Karen Gillan (who portrays the kickass Ruby Roundhouse in the series) took to social media to post photos of herself in attire suspiciously similar to that favored by an iconic comic book character: April O'Neil, intrepid reporter and friend of the Teenage Mutant Ninja Turtles.
The similarities between her ensemble and O'Neil's typical look were not lost on the star, who captioned the photos, "April O'Neil goes to the Jumanji Press Day 3!" It certainly doesn't seem like Gillan did this unintentionally, either, because we're not sure who besides O'Neil we've ever seen wearing a crop top, and nothing else, underneath a sport jacket.
Gillan also posted a couple of snaps with her Jumanji: The Next Level castmates, all of whom, in our professional opinion, are eminently qualified to voice the Ninja Turtles in a live-action film. In fact, we're thinking that this needs to happen, like, right now. (Yes, even Awkwafina. Heck, especially Awkwafina.)
The response from Gillan's fans on Twitter was swift, and the verdict was unanimous. Wrote vlogger Jamie Maldonado, "Please play April. Some studio exec needs to see this." Twitter user @HeadlessFan anointed Gillan "The April O'Neil we were promised," while user @NotRatatouille pleaded, "She'd be the perfect person to play April O'Neil. Someone in Hollywood please cast her. We need this."
Is a Teenage Mutant Ninja Turtles reboot in the cards?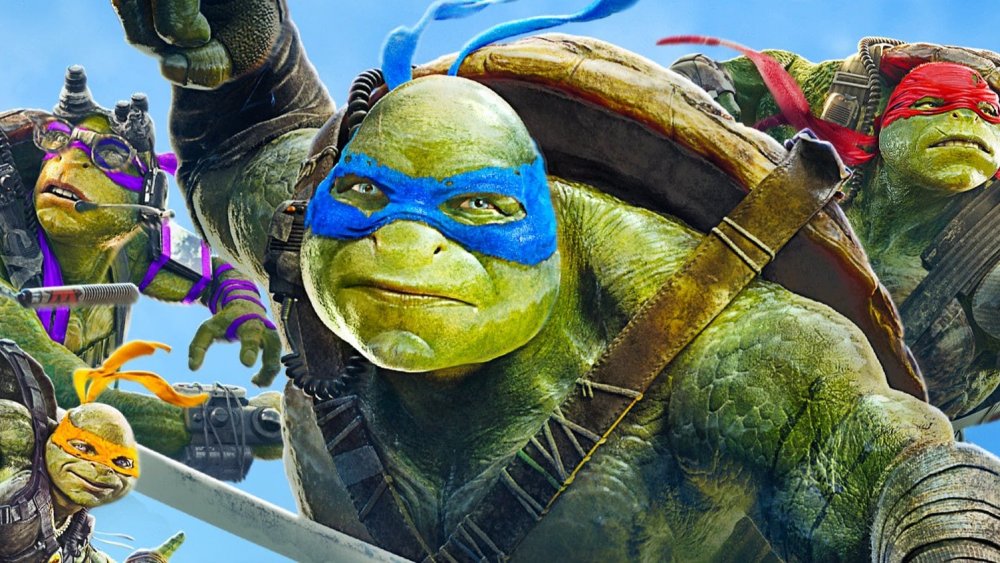 Paramount
Created by Kevin Eastman and Peter Laird, Teenage Mutant Ninja Turtles made its debut in the mid-'80s as a gritty, black-and-white, exceedingly violent comic book which was a far cry from what the property would shortly become. As Leonardo, Donatello, Michelangelo, and Raphael began to gain popularity, their edges were softened considerably, and the "teenage" aspect of the characters — complete with goofy humor and the "Cowabunga!" catch phrase — was played up.
The new, cuddlier, friendlier Turtles began to gather mainstream recognition thanks to an animated TV series which launched in 1987, and in 1990, they made their feature film debut with an eponymous live-action picture which employed animatronic costumes designed by Jim Henson's Creature Shop. The modestly-budgeted movie (which featured Judith Hoag as O'Neil) raked in over $200 million dollars at the worldwide box office, an astounding success — but since then, the Turtles' live-action outings have largely produced diminishing returns.
The 1990 film's two sequels, released in 1991 and 1993, barely combined for half of the first flick's worldwide gross — a trend which continued when the property received the reboot treatment from Michael Bay's Platinum Dunes production company in 2014. While that edition of Teenage Mutant Ninja Turtles (which starred Bay mainstay Megan Fox as O'Neil) was a modest financial success with a $485 million dollar global take, it was eviscerated by critics — and its 2016 sequel, the plot hole-ridden Teenage Mutant Ninja Turtles: Out of the Shadows, followed suit while once gain barely managing to gross half as much as its predecessor.
Since Hollywood's go-to solution to such predicaments in recent years has been to reboot with all due haste, we've been expecting the third live-action iteration of the Turtles to be announced ever since Out of the Shadows crashed and burned at the box office. In 2018, The Hollywood Reporter announced that screenwriter Andrew Dodge (who penned the upcoming Space Jam 2) had been hired to script a new film; although Dodge's IMDb page does indeed still feature Untitled Teenage Mutant Ninja Turtles Reboot (catchy) as the scribe's only in-development project, its status is till listed as "Announced," and we have heard nothing of it since THR's report.
Indeed, if recent rumors which have been flitting about Tinseltown are to be believed, the Turtles might just be destined for Hollywood's other go-to solution for rehabbing flagging properties: a gritty Netflix series. In July 2019, when asked about the possibility during a sitdown with ComicBook.com, Eastman made the excellent point that the Turtles started out targeted at a mature audience — and now that kids who grew up on the '90s films are all grown up, it could be an excellent time to return to that aesthetic.
"It's a great question [as to whether a series could work]... I enjoyed Daredevil, the Netflix TV series with Charlie Cox, and because Daredevil was a huge influence obviously on the Turtles universe, and for me, that was my favorite comic growing up," Eastman said. "I feel like The Turtles have evolved to this point after 35 years almost, and this sounds weird, but it's almost to where they started out, where we had the original black-and-white comic book come out intended for our older audience, and then we developed a cartoon show specifically for a younger audience, and now I feel like we've gone back to that place where we have the original fans that are like 30 years old."
Actually, for fans of those original books, it doesn't sound weird in the least. They've been waiting for literally decades for the Turtles to return to that dark and grimy aesthetic of their '80s comics run — and whether they make their return in a feature film or a series, the creatives behind the endeavor would do well to consider finally pivoting away from the goofy, kid-friendly Turtles we've become all too familiar with.
Say, if they do, you know who would make a great April O'Neil? Karen Gillan! For evidence, see her entire body of work as an actress, and the photos above. We're rooting for you, Ms. Gillan, and we'd like to join the whole of Twitter in strongly encouraging Hollywood to make it happen.