The Best Holiday Episodes From Popular TV Shows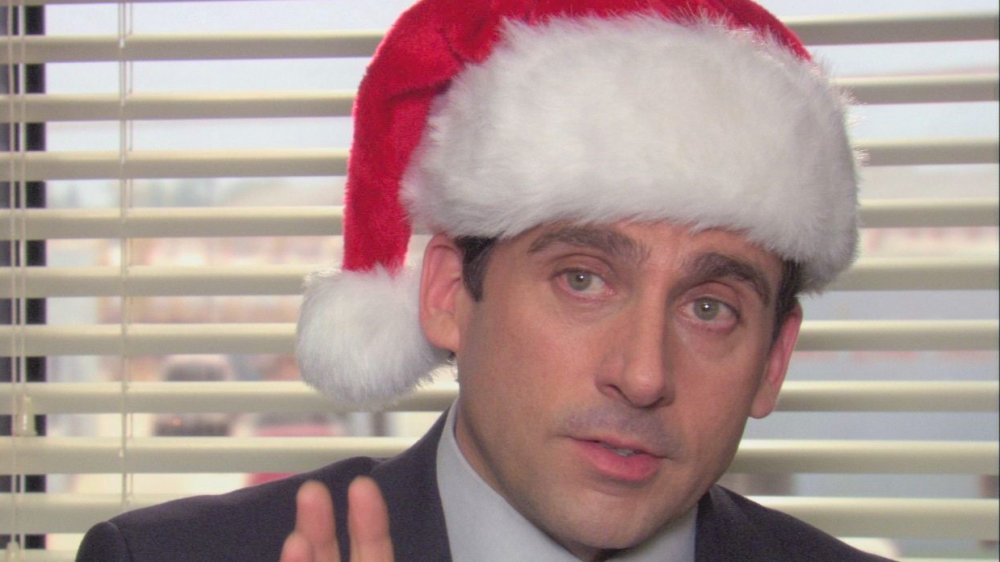 The annual holiday season certainly can be fun, merry, and bright. But at the same time, the year's most festive few months can be pretty difficult, which means there's plenty of material that writers can use in scripts for TV shows. Between comedies and dramas, TV series have been mining the holidays for quite some time. After all, the holidays are a universal experience, from wild family feuds to those last-minute mad-dashes for gifts. 
And for just that reason, some of television's best episodes have been based on holiday experiences, whether they're about the more relatable moments or totally absurd incidents. But which episodes are the cream of the holiday crop? Which ones put a smile on your face during the holiday season and deserve a rewatch every single year? Well, from Christmas and Thanksgiving to Festivus and Chrismukkah, here are the very best holiday episodes of popular TV shows.
Christmas gets uncomfortable in The Office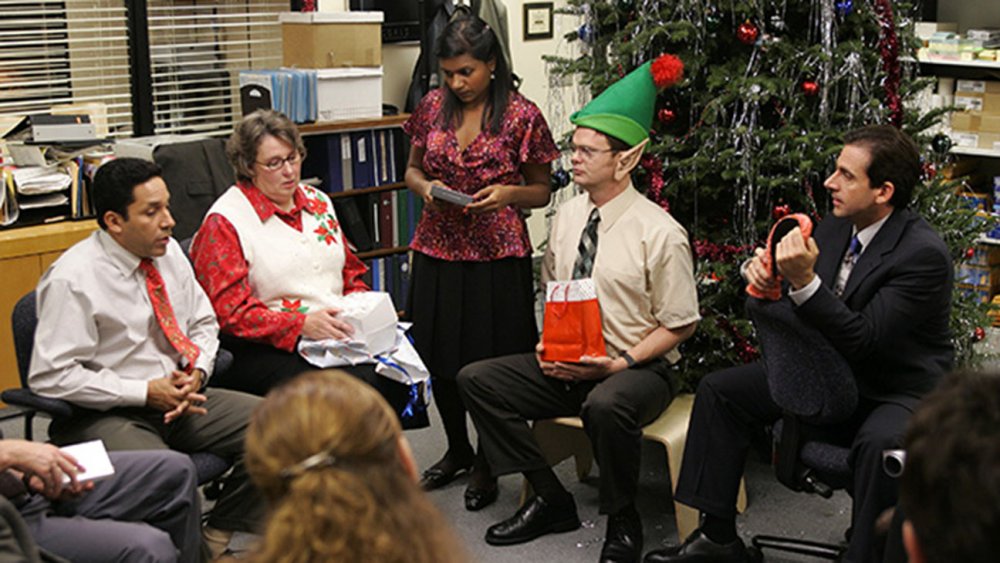 Rather than focus on family gatherings, NBC's The Office gave viewers a glimpse into the world of awkward, usually dreadful corporate Christmas parties, and its first-ever Christmas episode — appropriately titled "Christmas Party" — is one of the very best holiday episodes around. Under the bumbling and ineffective leadership of the always cringey Michael Scott (Steve Carell), the employees of Scranton paper company Dunder Mifflin try to gather for a round of Secret Santa, but unsurprisingly, things quickly go awry.
It all starts when Michael wildly outspends the $20 limit on gifts to impress the temp, Ryan (B.J. Novak), with a video iPod. But when he realizes that he's received hand-knitted oven mitts from Phyllis (Phyllis Smith), he turns the whole endeavor into a "Yankee swap," creating a ton of strife along the way. After all, everyone had chosen specific gifts for specific co-workers. Before too long, Jim's (John Krasinski) heartfelt and highly personal gift for Pam (Jenna Fischer) ends up with his nemesis, Dwight (Rainn Wilson), and the entire office is unhappy — a problem which Michael "solves" by pumping his employees full of vodka. Dunder Mifflin's holiday party may have ended in disaster, but as far as the first Christmas outing for The Office, it went spectacularly well.
Things get heated around the holidays on 30 Rock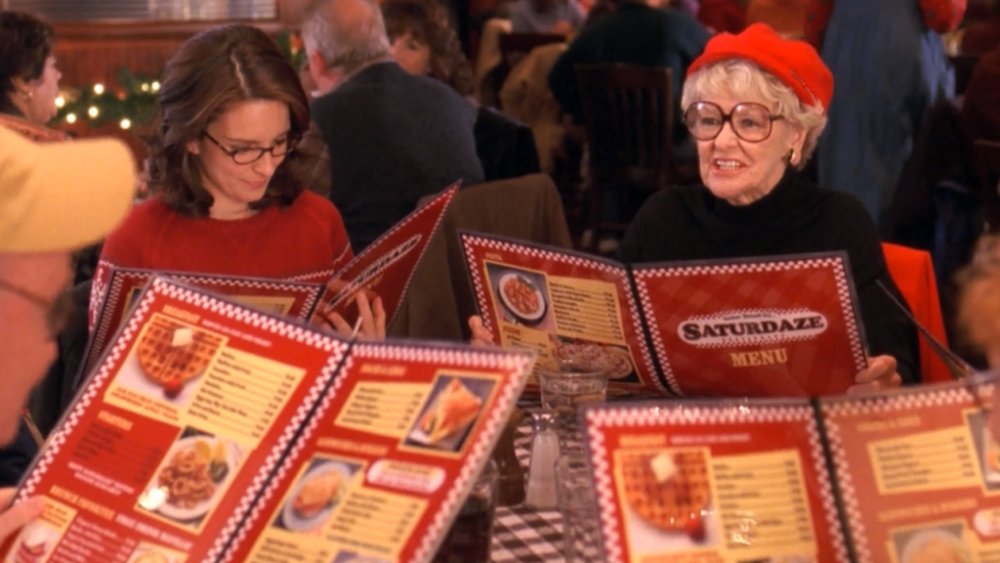 Many TV shows create their own unique holidays, and 30 Rock is no exception. In season two, we're introduced to "Ludachristmas," a deranged, debauched party concocted by the fictional TGS writing team — one that ends up thwarted by do-gooder page Kenneth (Jack McBrayer). In the same episode, NBC executive Jack Donaghy (Alec Baldwin) must face off against his formidable mother, Colleen (the late Elaine Stritch). 
As the episode kicks off, Colleen unexpectedly arrives in New York despite initially finding herself at the heart of a Florida hurricane, much to Jack's chagrin. Before too long, Colleen meets Liz Lemon's (Tina Fey) plucky, cheerful family, and she immediately sees through the cracks, vowing to Jack that she'll break them yet. Sure enough, after a short lunch with the Lemons, the normally happy family ends up at each other's throats, grappling with revelations about Liz's brother (Andy Richter) and his longtime head injury, as well as Liz's parents' real feelings about her stint on the high school football team. No matter how much you like your family, anyone can enjoy a half hour about how every family is damaged in their own way, and watching Stritch gleefully torment normal people is a twisted delight.
The O.C. mixes drama and whimsy for its holiday episode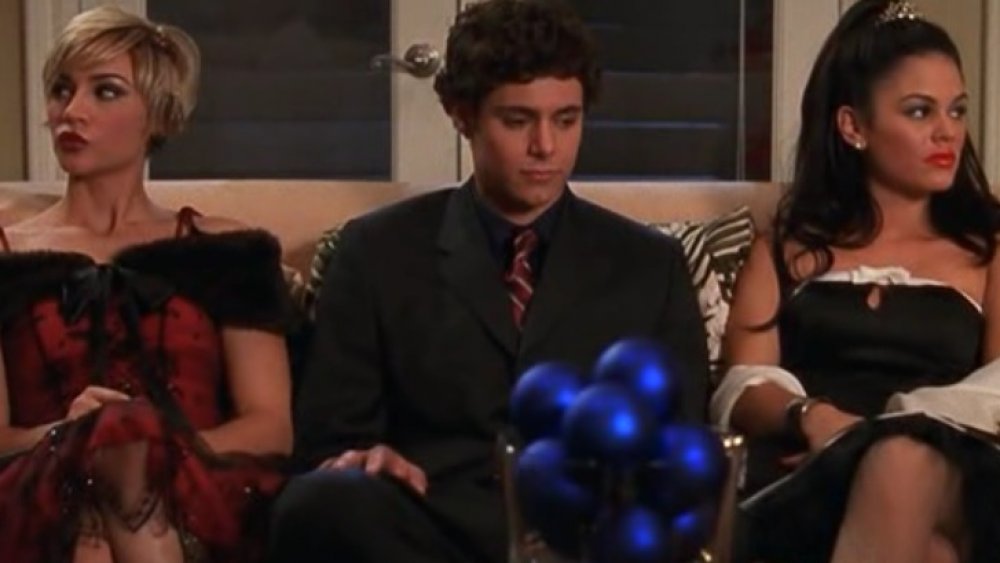 The blending of multiple holidays, especially for families of mixed faiths, can be really helpful in real life ... and it can also make for some pretty excellent television. Bringing two holidays together is the cornerstone of one of the most memorable episodes of the 2000s teen soap The O.C. In the first season episode "The Best Chrismukkah Ever," the show introduces a new, modern holiday concocted by Seth Cohen (Adam Brody). As the son of a Jewish father, Sandy (Peter Gallagher), and a Protestant mother, Kirsten (Kelly Rowan), Seth basically combines Judaism and Christianity, and his creation comes with all kinds of ingenious touches, especially Seth's rule that the holiday is comprised of eight days of presents followed by one day of tons of presents.
Elsewhere in Orange County, however, drama is brewing, perfectly balancing some of the episode's more whimsical moments with high stakes. During a trip to the mall, Ryan (Benjamin McKenzie) discovers that his wealthy but troubled girlfriend, Marissa (Mischa Barton), has been shoplifting and drinking heavily, leading to a dark confrontation. Meanwhile, Seth's holidays aren't going entirely smoothly either, as he must choose between quick-witted bombshell Summer (Rachel Bilson) and the smart, slightly nerdy Anna (Samaire Armstrong), leading to a showdown between the two girls. Add in a spirited face-off between Sandy and his sinister father-in-law, magnate Caleb Nichol (Alan Dale), and you've got a perfectly balanced holiday episode on your hands.
The gang has a Christmas special on It's Always Sunny in Philadelphia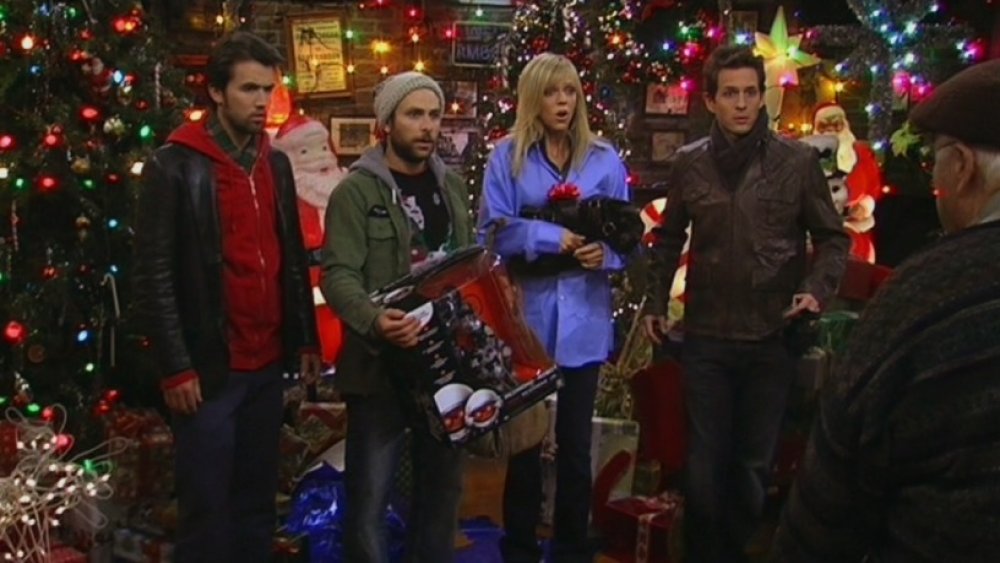 One of the longest-running and most underrated shows in television history, It's Always Sunny in Philadelphia has carved out a place as one of the most deranged and bizarre shows on television, featuring a main cast of five degenerates — Charlie (Charlie Day), Mac (Rob McElhenney), Dennis (Glenn Howerton), "Sweet" Dee (Kaitlin Olson), and Frank (Danny DeVito) — who operate a bar in Philadelphia. "The gang" always seems to have a new scheme, and in "A Very Sunny Christmas," one of their lone holiday episodes, it's obvious that the year's most festive season is no exception.
This double episode, which aired during Sunny's sixth season, features some of the show's most unforgettable and bizarre moments, even reverting to stop-motion animation in the middle, which is preceded by a sequence where Frank emerges from the inside of a couch, nude and covered in oil. Plus, there's an earth-shattering revelation that Charlie's mother might've worked as a prostitute during his childhood. It's Always Sunny in Philadelphia might not seem like the usual Yuletide fare, but watching Charlie verbally abuse a mall Santa is a delight at any time of year.
Lost celebrated the holidays with a little bit of time travel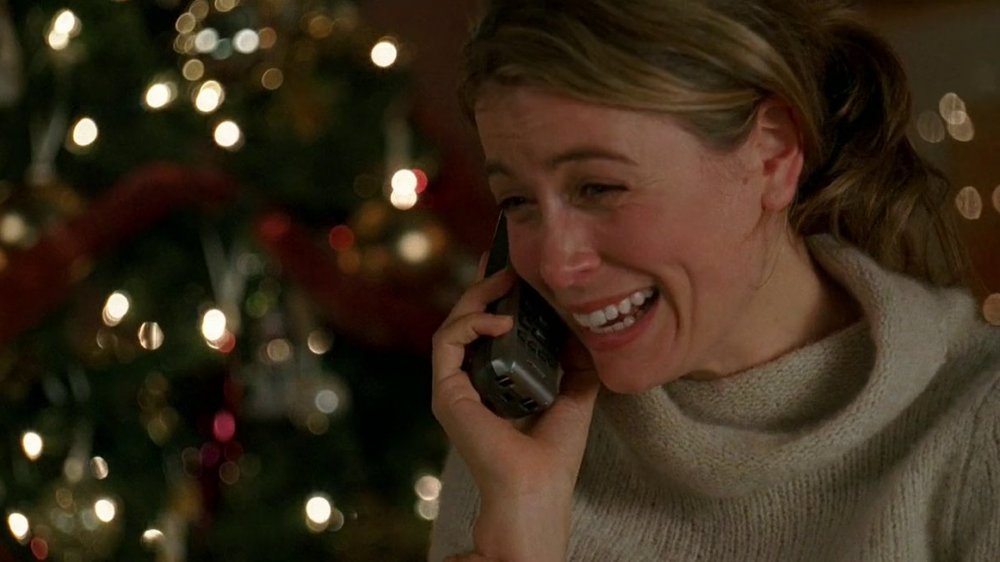 As it turns out, one of Lost's defining episodes is also one of the best holiday episodes in recent television history. Known for its twists and turns, Lost was one of the most discussed shows on the air during its six-season run from 2004 to 2010, and the season four episode "The Constant" remains one of its most beloved episodes, thanks to its smart take on time travel and its unexpected emotional core.
Focusing on Desmond (Henry Ian Cusick), who was living on the show's mysterious island in a hatch long before the survivors of Oceanic Flight 815, this episode follows the Scotsman and Sayid (Naveen Andrews) as they try to make their way to a nearby freighter and find salvation. However, Desmond becomes unstuck in time during the journey, flitting between 1996 and 2004, trying desperately to find the love of his life, Penny (Sonya Walger), with the help of scientist Daniel Faraday (Jeremy Davies). Eventually, Desmond contacts Penny in 1996, begging her to keep her same phone number and expect a phone call in 2004, and eventually, he calls her on Christmas Eve of that year, finally making contact and becoming a constant for Daniel as he continues to investigate time travel.
Seinfeld created a brand new holiday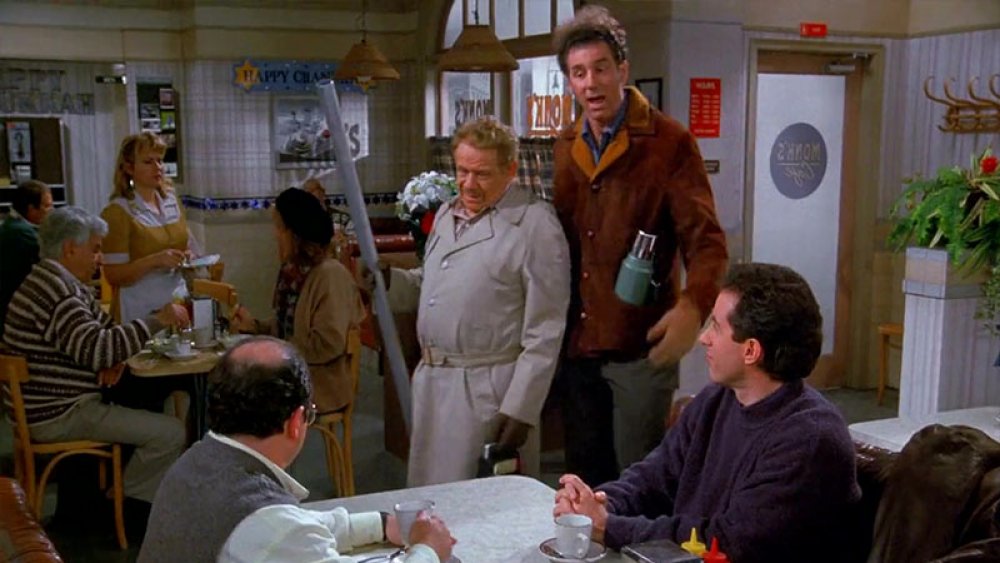 During its momentous run from 1989 to 1998, Seinfeld introduced plenty of catchphrases and terms into the cultural lexicon, from "close talkers" and "double dipping" to "re-gifting" and "spongeworthy." However, few have left quite as firm of an impression as Festivus, the holiday "created" by George Costanza's (Jason Alexander) bombastic father in a tenth season episode called "The Strike." Festivus actually existed before this Seinfeld episode and had been created by writer Daniel O'Keefe, but his son, Dan O'Keefe, wrote the holiday into this episode, which truly made it famous.
Though the title of the episode refers to a strike executed by Kramer (Michael Richards), it probably should've been called "The Festivus," since Frank Costanza's (Jerry Stiller) signature holiday — a rebuttal to the capitalist Christmas — ultimately steals the show. Rather than a Christmas tree, you'll want to secure a stark metal pole to celebrate Festivus, which pairs perfectly with traditions like "airing of grievances" and "feats of strength." Years after the episode aired, Festivus has become entirely real, is constantly referenced during the holiday season, and is even celebrated by those who, like Frank, want an alternative to Christmas.
Christmas gets creepy in Black Mirror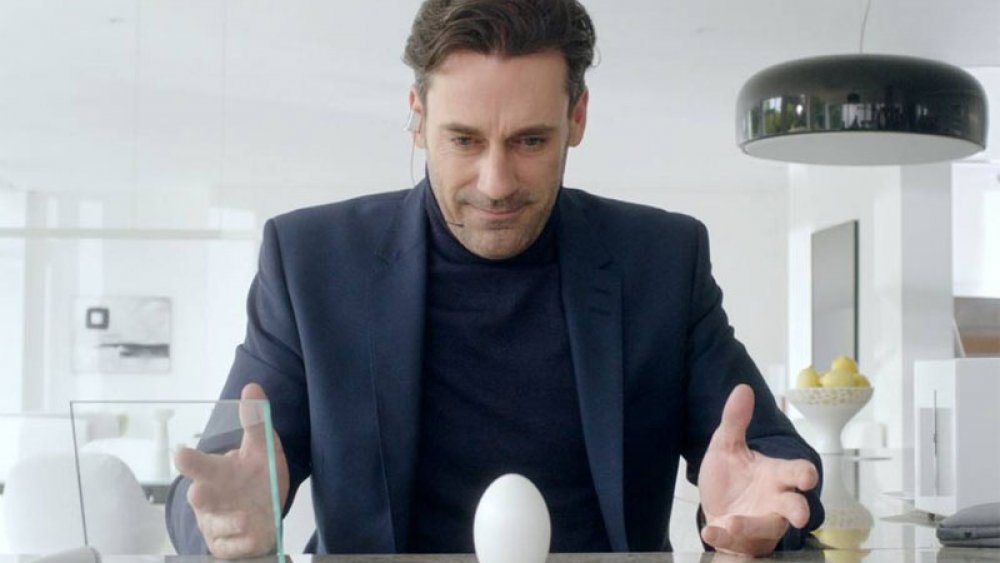 If you've ever watched an episode of Black Mirror, it should come as no surprise that the show's sole Christmas special is just as twisted as the rest of the series. This 2014 installment in Charlie Brooker's ambitious statement on the dangerous downfalls of technology was the final one to air on England's Channel 4 before the entire series moved to Netflix, and as the last chapter in Black Mirror's first era, it certainly was a fitting and unsettling end.
Starring Jon Hamm in one of his first dramatic television roles after Mad Men ended, "White Christmas" tells the story of Matt (Hamm) and Joe (Rafe Spall), two men who've lived together in an isolated cabin for years, and before long, you find out both men are there as punishment for abuses of technology that led to murder and torment. Between "Z-Eyes," which allow users to transmit everything they're seeing to the internet, to "cookies," which are human consciousnesses trapped in tiny eggs, there are endless ways for the two depraved men to manipulate technology for their own means, and they definitely take advantage. The episode, which also stars Game of Thrones alum like Oona Chaplin and Natalia Tena, takes several creepy twists and turns throughout, and we won't spoil it here. So if you're looking for a much darker take on Christmas, you'll definitely want to settle in for a viewing of "White Christmas" to see how it ends for yourself. 
Michael Scott makes all sorts of mistakes in 'A Benihana Christmas'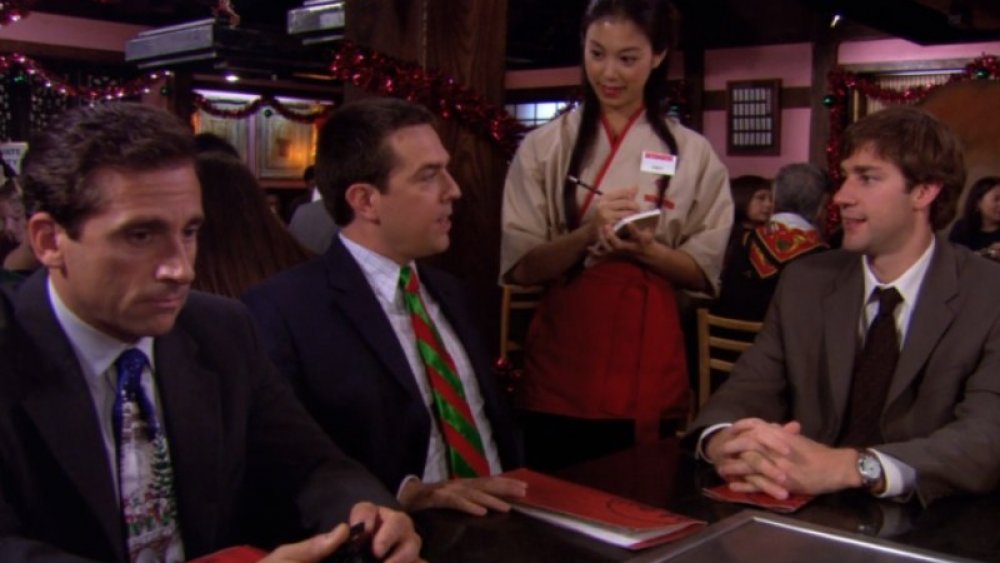 Of course The Office has more than one great Christmas episode. Coming in season three, "A Benihana Christmas" was directed by the late, great Harold Ramis, and it finds that Michael Scott is often at his funniest when he's heartbroken. After his girlfriend, Carol (Carell's real-life wife Nancy Wells), dumps him over a creepy Photoshop incident, Michael is left bereft, looking for any unlucky woman to accompany him on a trip to Sandals in Jamaica. He and Andy Bernard (Ed Helms), one of the office's newest transfers, hit up a Benihana looking for love in all the wrong places, which goes exactly as well as you might expect.
Back at the titular office, war is brewing between Angela's (Angela Kinsey) tightly run Party Planning Committee and the unexpected duo of Pam and Karen (Rashida Jones), who team up despite the fact that Karen, another transfer, is dating Jim, whom Pam clearly loves. Throw in a classic prank on Dwight where Jim and Pam manage to convince him to wait on the building's roof for a CIA "recruitment helicopter" that never arrives, and you've got yet another amazing Office Christmas party.
Master of None has a truly beautiful Thanksgiving episode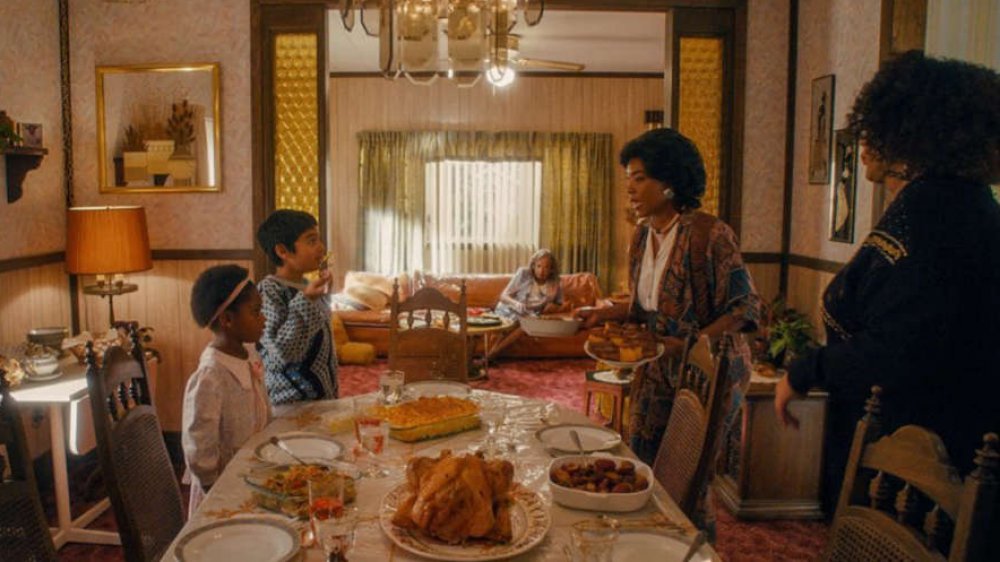 Aziz Ansari's largely biographical Master of None only ran for two seasons on Netflix, but it left a lasting impression on everyone who watched it. Ansari, who created the series, thoughtfully broke down a number of topics, including dealing with first-generation parents, the struggles that come with dating in New York, and succeeding in comedy and entertainment as a non-white performer, all set against backdrops like Manhattan and Italy. However, its standout holiday episode barely features Ansari himself, who graciously handed the reins to writer and performer Lena Waithe for the second season episode "Thanksgiving."
Waithe, who's gay both on the show, where she plays Denise, and in real life, wrote her own biographical episode about coming out to her loving yet strict mother — played by the legendary Angela Bassett — as the episode chronicles different Thanksgivings throughout the years. Ultimately, "Thanksgiving" proves itself as one of Master of None's most emotional and finest half hours, and it even made history. During the 2017 Emmy Awards, Waithe won a well-deserved statue for Outstanding Writing for a Comedy Series, making her the first black woman to ever win in the category.
There's stuffing and slapping on How I Met Your Mother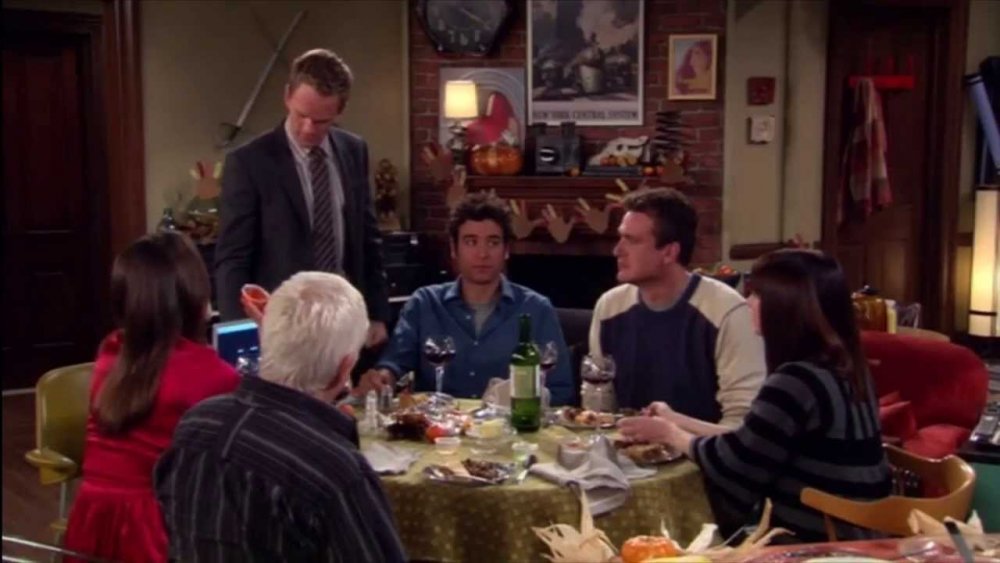 Throughout its nine-season run, How I Met Your Mother created an incredible amount of long-running gags, and one of its funniest and most successful was the "Slap Bet," based around a second season bet between Barney (Neil Patrick Harris) and Marshall (Jason Segel) over Robin's (Cobie Smulders) secret past. Once it turned out that she was a teenage pop star in Canada, Barney, who assumed a much dirtier outcome, lost the bet, and agreed to endure five slaps from Marshall spread out across eternity. Unfortunately for him, Marshall decided that Thanksgiving would feature one of those slaps alongside turkey and stuffing.
Barney's fate was revealed in HIMYM's third season episode, "Slapsgiving," which revolved almost entirely around Marshall's countdown to slap Barney during a Thanksgiving hosted by Marshall and his wife Lily (Alyson Hannigan). In the midst of all this, Robin and Ted (Josh Radnor) are still grappling with their recent breakup alongside Robin's new boyfriend, and the impending slap almost ruins the entire day, but in the end, Marshall gets to deliver his third slap, accompanied with a song, "You Just Got Slapped." From Marshall torturing Barney throughout the day to Ted and Robin making amends, the episode perfectly shows how dramatic a typical Thanksgiving can be, even among friends.
Things are super cheery in Parks and Recreation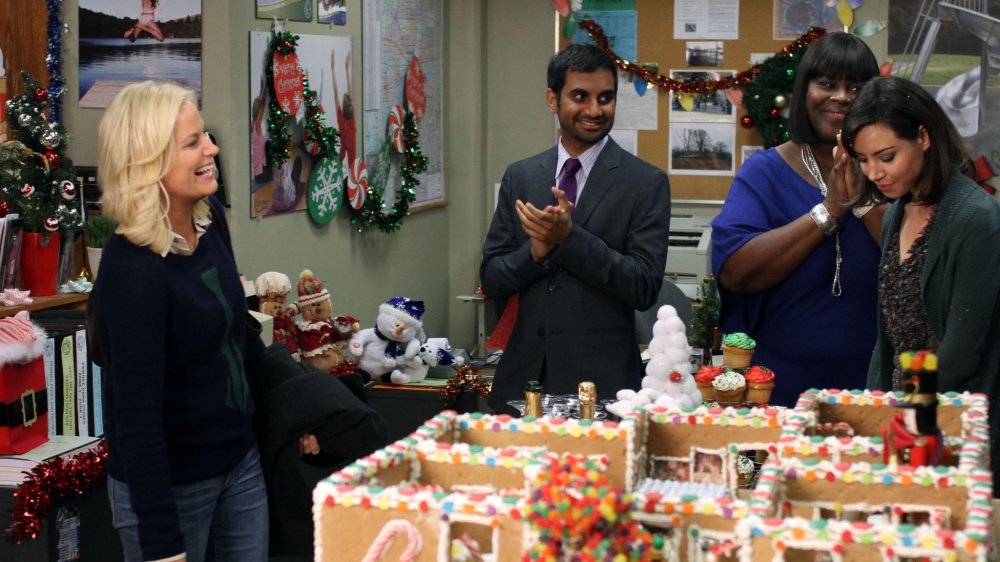 NBC's Parks and Recreation spent its seven-season run establishing itself as one of the most cheerful and optimistic shows on television, and its defining Christmas episode, "Citizen Knope," was no exception. During the fourth season, Leslie Knope (Amy Poehler), the most devoted employee of Pawnee's Parks and Recreation department, struggles with a two-week suspension from her job after confessing to a relationship with her boss, Ben Wyatt (Adam Scott). However, Leslie's devotion to her job is particularly intense, so she forms an ill-advised task force called the Parks Committee of Pawnee (which bears the very unfortunate acronym PCP) to help her get through her suspension.
During all of this, Leslie is still trying to launch a successful campaign for Pawnee's city council, and when they see her struggling, Leslie's colleagues in the Parks department rally to give her an amazing Christmas present. Leslie is known for her super thoughtful gifts, but for once, she's bested by her friends. In a touching and personal showing that proves just how important she is to her loved ones, Leslie's friends form a new task force to help her get elected to the city council.
Even Don Draper shows the Christmas spirit in Mad Men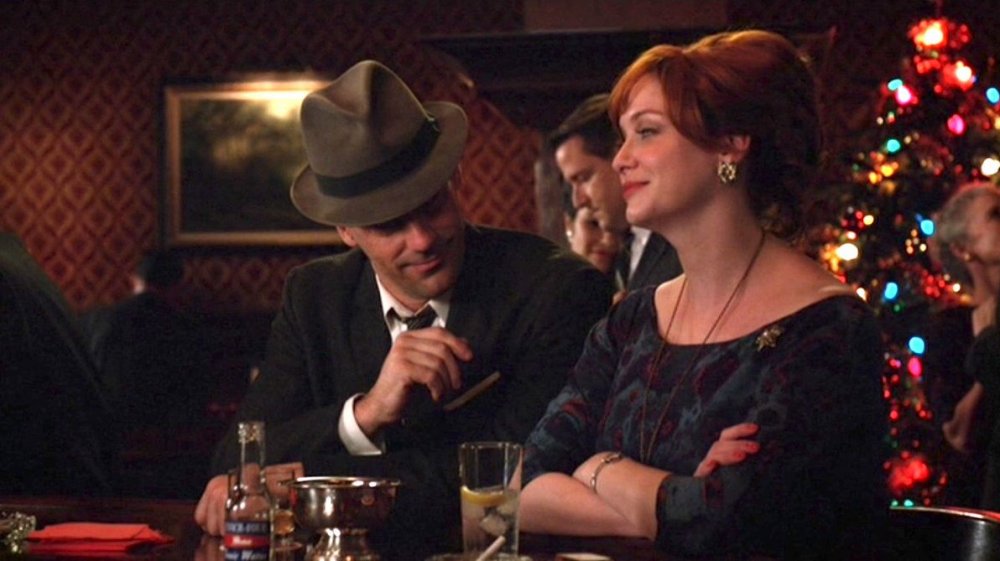 Led by Jon Hamm as Don Draper, the fraudulent yet insanely successful Manhattan ad executive navigating life and love throughout the 1960s, Mad Men became one of the most perfect TV shows and one of the most important prestige series of the 21st century. But while Mad Men often focused on real-life events, like the Kennedy assassination and the rise of the Beatles, it rarely focused on holidays. However, the show made an exception for the season five episode "Christmas Waltz," which finds the employees of Sterling Cooper Draper Pryce — the fledgling ad company comprised of the series' main characters — struggling to land a high-profile account with Jaguar. And in one of the most emotional moments of the season, Don and Joan (Hendricks) spend some time before Christmas commiserating over Joan's imminent divorce, showing that Don truly cares about his friends and colleagues and that he'll stand by their side in the toughest of times.
Community's holiday episode is incredibly creative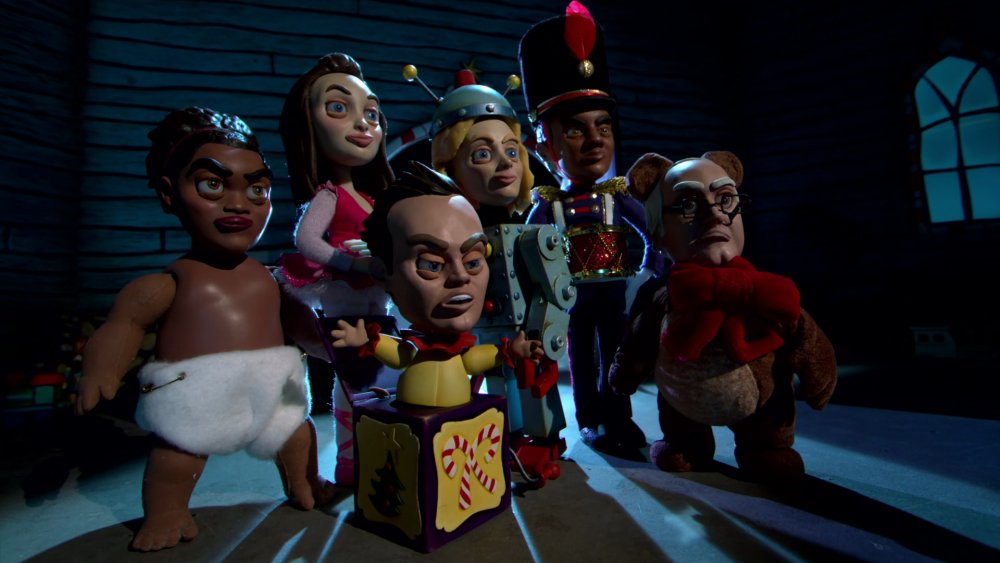 Community was one of the best examples of a "little show that could," constantly hovering on the brink of cancellation during its six-season run, but it also constantly pushed the envelope, thanks to an exceptional cast and extraordinarily clever writers. Created by Dan Harmon, the show told the story of a group of unlikely friends who join forces during their time at a local community college, but in the end, they create lifelong bonds and learn much more than they ever expected.
Harmon and his team consistently broke boundaries on Community, and one of the best examples of this is also one of the greatest holiday episodes in recent memory. In "Abed's Uncontrollable Christmas," live-action devolves into stop-motion, mimicking holiday classics like Rudolph the Red Nosed Reindeer and The Year Without a Santa Claus. Thanks to a fantasy concocted by Abed (Danny Pudi), the whole gang embarks on an animated adventure, confirming Community's place as one of the most creative sitcoms in recent memory.
Cheers gave us a Thanksgiving episode that's pretty much perfect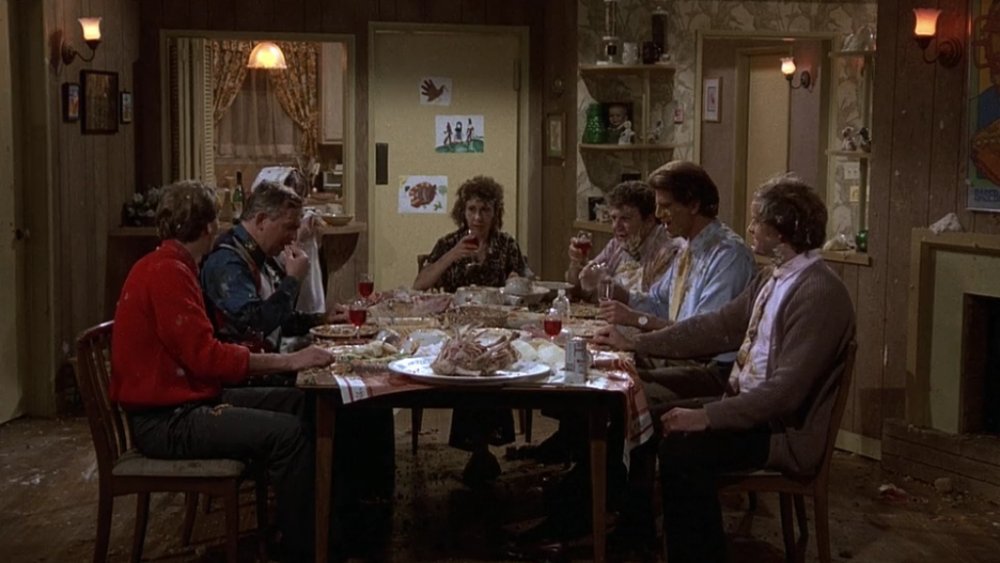 Throughout the years, there have been plenty of beloved television comedies, but few have stood the test of time as well as Cheers. The story of a group of bartenders and barflies who frequent one particular Boston bar, Cheers holds up spectacularly well, and it gave the world stars like Ted Danson, Woody Harrelson, and more, setting a standard for sitcoms that future shows tried to match for years to come.
Cheers had plenty of holiday episodes, but its defining one was "Thanksgiving Orphans. During the episode, the regular group at the bar realizes that none of them have family plans for Thanksgiving, so they try to pull together a holiday gathering among themselves, which immediately devolves until the food is cold and inedible, leading to a raucous food fight. Only the Cheers gang could pull off an episode like this and still remain lovable, which is a testament to the show's overall quality and legacy.
That '70s Show gave us a rather chaotic Christmas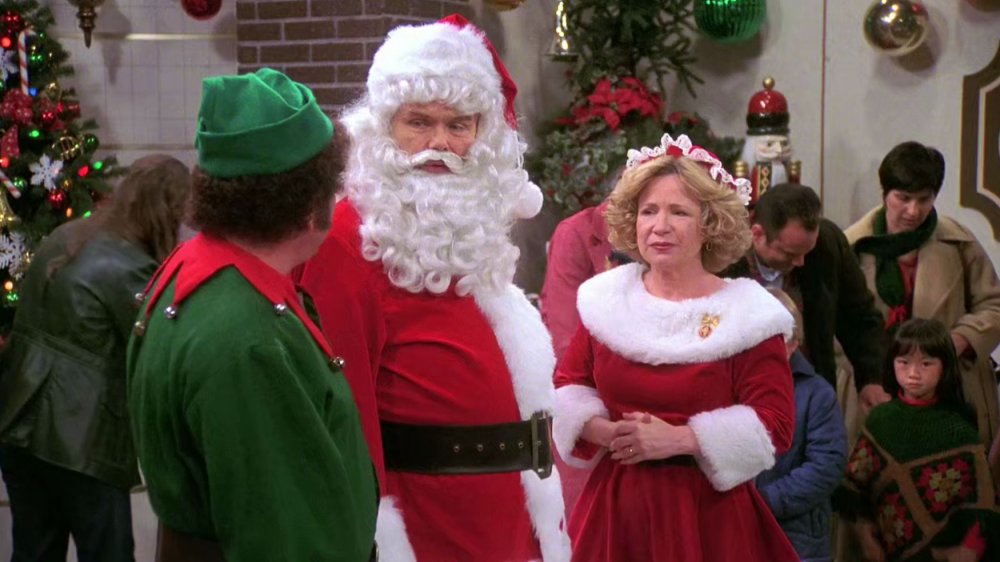 A period piece like no other, That '70s Show featured stars like Topher Grace, Mila Kunis, Ashton Kutcher, Laura Prepon, Wilder Valderrama, and Danny Masterson as a group of teenagers navigating their way through the 1970s, experimenting with drugs and sex as they come of age in one of the most tumultous and exciting decades in American history. During its run, That '70s Show had plenty of holiday episodes, but the season six episode "Christmas" still stands out as one of its best.
During the episode, Jackie (Kunis) tries to exact revenge on the school cheerleading squad after they unceremoniously kick her out, but unfortunately, it doesn't quite go as planned. Eric (Grace), Fez (Valderrama), and Hyde (Masterson) attend the high school dance as heroes, but Eric ditches his girlfriend Donna (Prepon) to go in the first place, and Jackie's on-again off-again boyfriend Kelso (Kutcher) spends the night with a new paramour. Meanwhile, Eric's father Red (Kurtwood Smith) is angling for a gig as a mall Santa, despite some serious opposition. All in all, the episode perfectly encapsulates the madcap chaos of That '70s Show, even against the backdrop of Christmas.
The Friends holiday episode is the one with an armadillo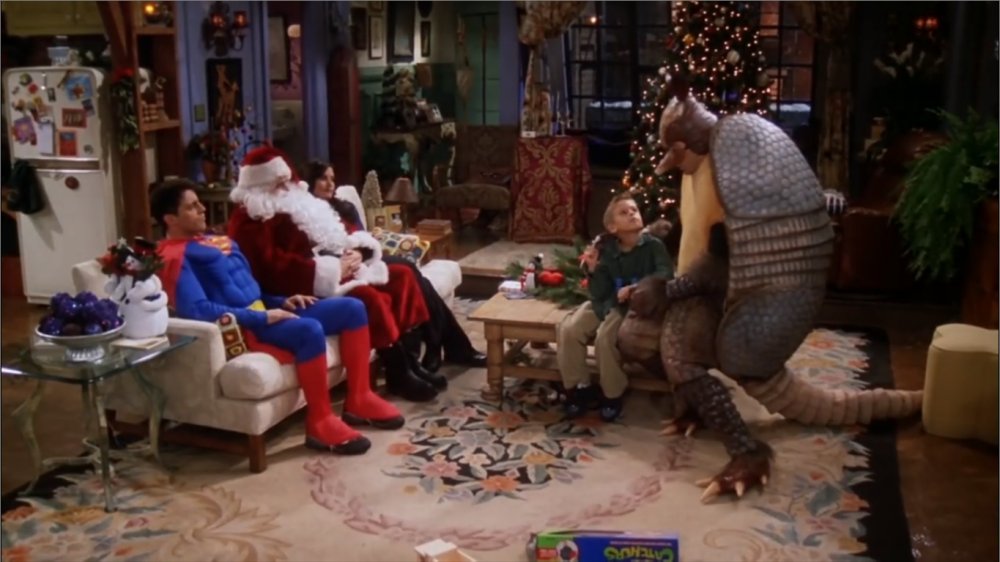 Ever since the success of Friends, networks have been desperate to replicate the lightning in a bottle effect of this ensemble comedy, so it makes sense that it would boast plenty of outstanding holiday episodes. With a cast that included huge stars like Jennifer Aniston, Courteney Cox, Lisa Kudrow, Matt LeBlanc, Matthew Perry, and David Schwimmer, Friends succeeded thanks to the chemistry and talent of its lead actors, and they always shined in the show's holiday episodes.
If you're thinking of Friends' quintessential holiday episode, you might immediately think of "The One with All the Thanksgivings," but in terms of the series' holiday episodes, "The One with the Holiday Armadillo" reigns supreme. When Ross (Schwimmer) feels like his son, Ben (played by Riverdale's Cole Sprouse), is too attached to Christmas and hasn't experienced any Jewish holiday traditions, he inexplicably creates a new holiday mascot that he calls the Holiday Armadillo. During all of this, Phoebe spends the episode trying to trick Rachel into living with her again, while Chandler dresses as Santa to impress Ben while also battling a restaurant hostess for a timely table. All in all, it's a particularly excellent half hour of Friends, themed around the difficulties of the holiday season.