Emilia Clarke Has Some Words About Her Nude GoT Scenes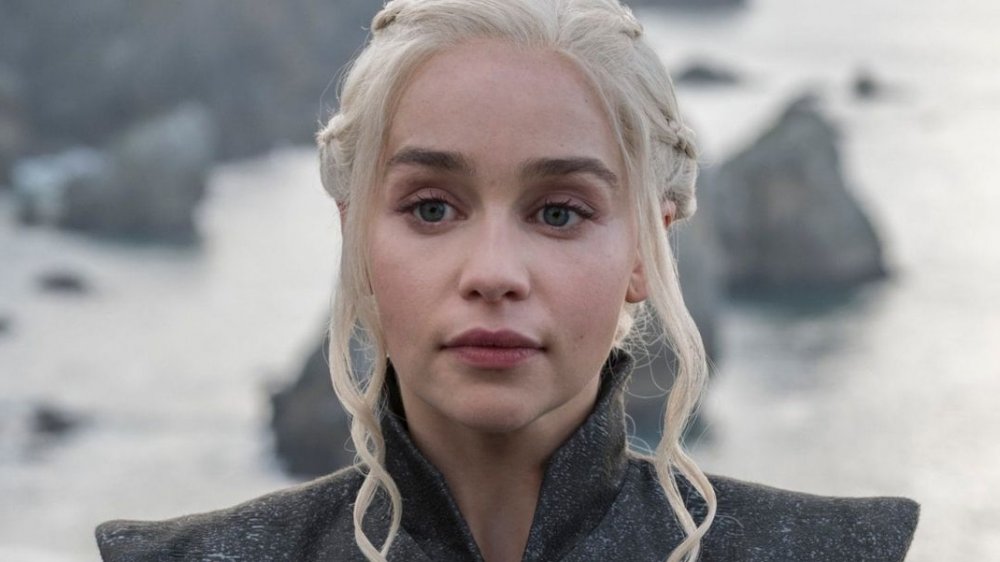 The Mother of Dragons has opened up about some of her biggest behind-the-scenes battles.
In the months after the extraordinarily divisive ending of Game of Thrones, which closed out its epic eight-season run in May 2019, Emilia Clarke, who played Daenerys Targaryen on the series, has spoken out about tough moments she experienced during filming — namely the scenes in which she appeared nude (and there were quite a few).
Speaking with actor Dax Shepard on his podcast Armchair Expert, Clarke got candid about the pressure to perform nude and the toll it took on her, especially considering the fact that she was quite young when she began her tenure on Thrones.
Clarke told Shepard that she suffered from serious imposter syndrome while filming, saying, "I was in such like a — oh my God — other world. I'm floating through this first season, I have no idea what I'm doing, I have no idea what any of this is, I've never been on a film set like this before. I'd been on a film set twice before then, and now I'm on a film set completely naked, with all of these people and I don't know what I'm meant to do, and I don't know what's expected of me, and I don't know what you want, and I don't know what I want."
She continued, noting that both her nude and non-nude scenes on Game of Thrones caused her feelings of anxiety and self-doubt. For Clarke, even if she shot no nude scenes, it wouldn't have stopped her from spending "that first season thinking, 'I'm not worthy of requiring anything, I'm not worthy of needing anything at all.'"
Luckily, Clarke had an ally in Aquaman himself, Jason Momoa, who played her husband Khal Drogo during the show's first season. Momoa completely had her back during these difficult sequences: "The scenes when I got to do them with Jason [Momoa] were wonderful, because he was like, 'No sweetie, this isn't okay!' [...] It's only now that I realize how fortunate I was with that, because that could have gone many, many, many different ways. Because Jason had experience, he had done a bunch of stuff before coming on to this, he was like, 'Sweetie, this is how it's meant to be and this is how it's not meant to be, and I'm going to make sure that's the way it goes.'" 
Clearly, Momoa was warmly protective of Clarke, who continued, "He was so kind and considerate and cared about me as a human being. He took care of me, he really did. In an environment where I didn't know I needed to be taken care of."
However, as more time went by, Clarke realized she had the clout to stick up for herself on set, saying that she became "a lot more savvy" about what she's comfortable doing. "I've had fights on set before where I'm like, 'no, the sheet stays up,'" said Clarke. "And they're like, 'You don't want to disappoint your Game of Thrones fans,' and I'm like, 'F*** you.'"
By the time she had to perform her final nude scene, which took place on the season 6 episode "Book of the Stranger," Clarke took control: "I'm owning this, this is mine, they've asked me to do it, and I am f****** game."
Game of Thrones' most risqué scenes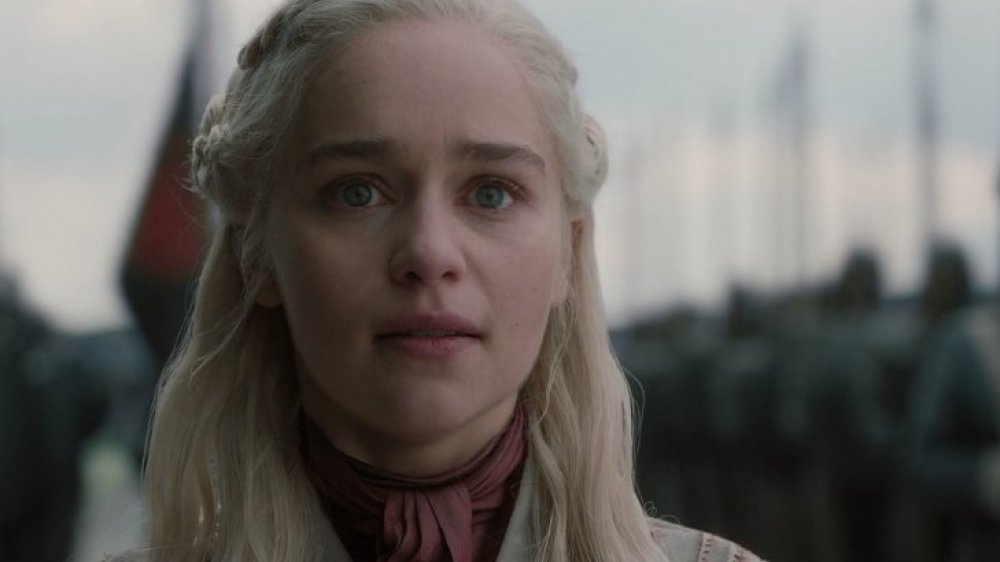 Game of Thrones featured plenty of nude scenes during its decade-long run, and Clarke performed her fair share. Between her wedding night to Khal Drogo, her rebirth from the flames that gave way to her dragons, and another fiery scene in which she incinerated an entire group of Khals who were holding her captive, some of those sequences actually made sense within the plot of the show. Beyond that, there were a handful of scenes during which Clarke's Daenerys simply stripped down for no narrative reason (like to take a bath), which obviously took its toll on the actress.
Thrones became infamous throughout its run for using sex and nudity as narrative devices even when it barely made sense to do so (the show has been credited as the reason for the term "sexposition"), and clearly, the comments made to Clarke about keeping her fans "happy" was no outlier. Director Neil Marshall, who helmed the season 2 episode "Blackwater," once opened up about how studio executives pushed him to add nudity when it wasn't needed — proving that HBO brass were likely more concerned with ratings than how the Game of Thrones cast and crew felt about the on-set environment. 
In the end, it's great that Clarke found the strength to stand up for herself and that stars like Momoa stuck up for her when she couldn't, but it's unsettling that the higher-ups behind Game of Thrones pushed such a young actress into performing scenes that made her uncomfortable. Ultimately, Clarke is clearly still proud of the show that brought her international fame and acclaim, but we're glad that she spoke out about this important on-set dilemma and how she handled it so that young stars can heed her wisdom going forward.
If you miss Khaleesi, Game of Thrones is streaming in its entirety on HBO Go and HBO On Demand. If you want to catch Clarke in a new role, her latest film, Last Christmas, is in theaters now.