Stranger Things Cast Can't Keep It Together In Hilarious Season 3 Blooper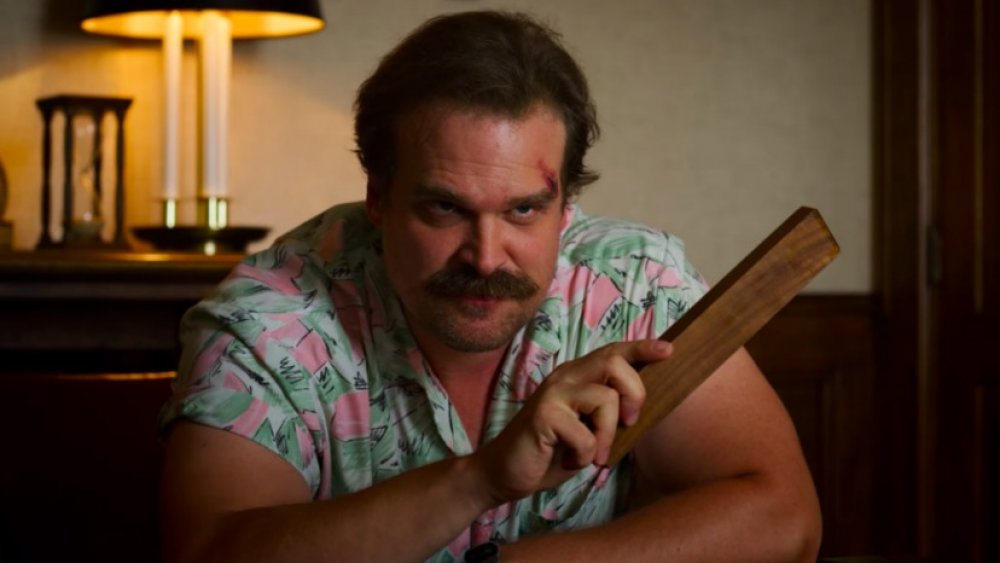 Stranger Things can be a pretty serious show at times, but some new behind-the-scenes footage shows off just how much fun the cast had during filming.
The official Twitter account for the Stranger Things writers' room released a short clip of the Duffer Brothers' (the showrunners and creators) all-around favorite blooper, which finds three actors unable to keep a straight face during an intense moment.
Throughout the show's third season, Chief Jim Hopper (David Harbour) grows resentful of the budding teenage relationship between adoptive daughter Eleven, or "El" (Millie Bobby Brown), and her boyfriend Mike Wheeler (It's Finn Wolfhard). Hopper obviously wants El to be happy, but since this is his first time raising a teenage girl, he's understandably taken aback at the secrecy and speed with which this relationship is progressing.
In a feeble attempt to get Mike to leave El's bedroom and go home, Hopper tries to tell him that his mother called to say that grandmother is sick, but the actor can barely get the line out without laughing. At one point after flubbing the line yet again, Harbour says that Stranger Things 3 is "such a crazy season," and after he breaks for the millionth time, Brown giggles, "What is wrong with you?!" In the final attempted take, Wolfhard snorts as soon as Harbour utters the word "grandma," which sets off all three actors.
oh wow i can't believe we get to share all the love and laughter with 500,000 of you!!

it's been a fun ride and y'all are so amazing that we're going to celebrate with the Duffers' favorite bloop from s3!

ask nicely and @Stranger_Things could give you some more? 👀 pic.twitter.com/1BKJAC3WJe

— Stranger Things Day Hype Account (also Writers) (@strangerwriters) October 29, 2019
Considering that El and Hopper in particular spend most of Stranger Things looking super grim (El did get a makeover montage in the third season, but all of that happiness was ultimately short lived), it's refreshing to see these actors briefly break character and simply enjoy themselves on set.
David Harbour is actually hilarious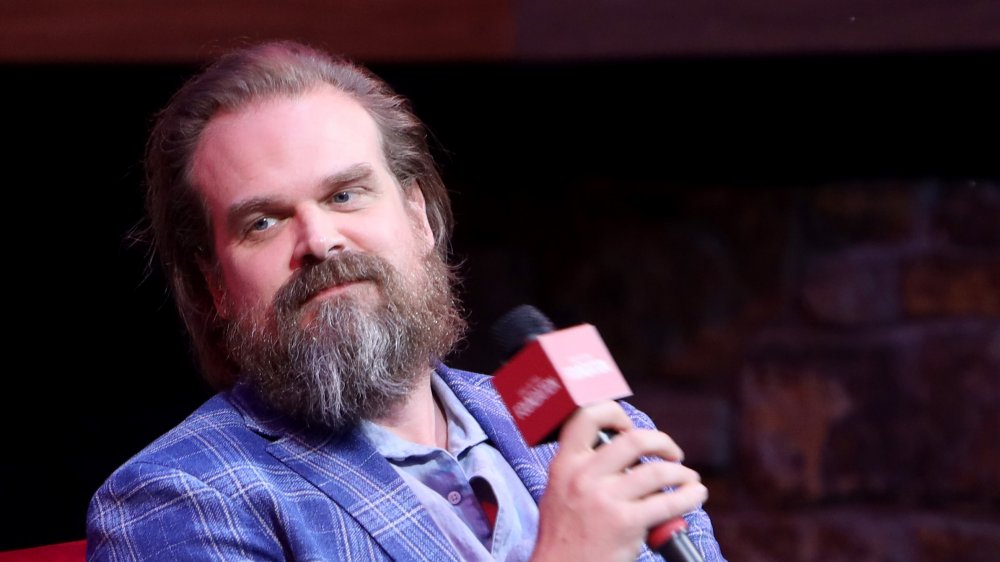 Randy Shropshire/Getty Images
While Harbour doesn't get to show off his comedic chops very often on Stranger Things, he's luckily found plenty of other opportunities to exercise his funny bone.
Thanks to Harbour's success on Stranger Things, Netflix gave the actor another opportunity in an original project: the truly bizarre horror-comedy mockumentary Frankenstein's Monster's Monster, Frankenstein, which hit the streaming service in July 2019. In the horror spoof, Harbour plays both himself and his own mysterious father, showing Stranger Things fans an entirely different side of himself.
Harbour continued his funnyman streak when he hosted one of the first episodes of Saturday Night Live's 45th season, giving the show his all and earning rave reviews particularly for his "gritty reboot" spoof of Joker that imagined a fully-fledged, super-creative trailer for Oscar the Grouch's dark origin story.
Now that Harbour's future on Stranger Things is relatively uncertain — at the end of the third season, Hopper's fate seemed pretty bleak, but whether or not Harbour will return is still totally unconfirmed — he might get to show off his goofy side a little more these days.