The New Trailer For The Mandalorian Is Here
A thrilling new teaser trailer for upcoming Disney+ series The Mandalorian has arrived, and it gives us our first look at Ming-Na Wen's mysterious assassin character.
On November 4, Vanity Fair exclusively debuted a brand-new teaser for the highly anticipated series, which stars Game of Thrones alum Pedro Pascal as the title character. The 30-second clip consists mostly of previously seen footage – including sweeping looks at the Outer Rim's landscapes and the Mandalorian's weaponry and clothes, as well as a few of the creatures, ships, people, and battles he'll face. 
At one point in the new teaser trailer, the Mandalorian appears before a group of aliens and humans. Among them is Carl Weathers' Greef Carga, whom we know works with the Mandalorian and heads up a bounty hunter guild. The trailer also sees the return of several scout troopers on speeder bikes, plus the Taika Waititi-voiced IG-11 rapidly spinning and unleashing a burst of plasma energy shots around it. It all really embodies the '70s aesthetic of the original Star Wars trilogy, a creative decision made by the series director and Disney favorite Jon Favreau. As he told The Hollywood Reporter, "I'm trying to evoke the aesthetics of not just the trilogy but the first film. Not just the first film but the first act of the first film. What was it like on Tatooine? What was going on in that cantina?"
The crowning moment of the new Mandalorian teaser trailer, however, is a brief but punchy exchange that sees Agents of S.H.I.E.L.D. actress Ming-Na Wen deliver a single, goosebumps-inducing line to Pascal's rather unchatty bounty hunter: "Your name will be legendary." 
It's a funny nod to the fan-favorite villain-esque Boba Fett, who was known as "The Mandalorian" and wore almost identical armor to the new Disney+ series character. But, as Favreau told Entertainment Weekly, Fett wasn't an actual Mandalorian and Pascal's character is.
What we know so far about The Mandalorian's Fennec Shand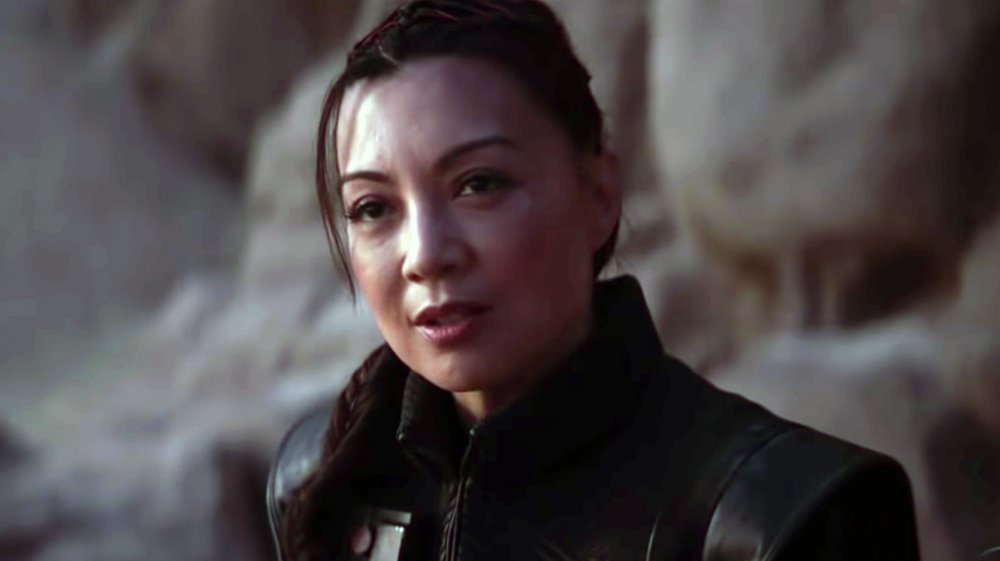 Up to this point, not much has been revealed about Fennec Shand. Unfortunately and quite obviously, the new Mandalorian trailer doesn't do much to expand on the knowledge at hand. But in an accompanying interview with Vanity Fair, Wen revealed several details about her role — including when fans can expect to first see her, the origins of Fennec's first name, and whether she's a friend or a foe. 
With only a single line in the trailer, Fennec holds ⁠— or rather, commands ⁠— an air of mystery. When it comes to some teasers, that's merely a result of little content and context, but with Wen's character, it's intentional because it's in line with who Fennec is. Wen described the gun-toting mercenary ⁠— who made a name for herself murdering people under orders from galaxy crime syndicates ⁠— as similar to Han Solo in that she starts with no beliefs in any causes but her own. According to Wen, Fennec is "tricky," but also beautiful, agile, and "able to maneuver and survive, and be stealthy." The actress further explained, "We got our inspiration really from the name. The idea of a fennec fox came to mind. I just love that whole image with the name."
Fennec's original concept design gave her a more disheveled look, but she appears in the new Mandalorian trailer as much more put-together. That's due to Wen, who had a hand in shaping her character's appearance to be more fitting of the fox imagery. The actress told Vanity Fair that she pushed for Fennec's outward appearance to better and more realistically match her personality. 
"At first, the idea was maybe just have her hair be loose, unkempt kind of thing," Wen said. "And I thought, well, she's going to be wearing a helmet and she's this stealth assassin. How great would it be if her hair has a bit of the fennec fox architecture to it? So the hairstylist came up with this great braiding system, that just gives an idea of these triangular points. Like her ears."
Due to the darkness of the shot in the trailer in which Fennec appears, you can't quite see the more intricate elements of Fennec's hairstyle, but Wen revealed that her braid will be threaded with orange strands as a callback to her character's fox inspiration. Expect her outfits to feature these color elements as well. 
"The designer, Joseph [Porro], came up with this amazing outfit that I fell in love with right away," said Wen. "It's black, but then there's the fennec orange punch to it. So that's kind of like her brand, I guess."
While we've got a peek at Fennec Shand now, fans will have to wait a bit to see her make her first appearance on The Mandalorian. Wen confirmed that her character and the Mandalorian aren't slated to cross paths until around halfway through the first season. 
The new Mandalorian trailer also gives us a glimpse at the Ugnaught Kuiil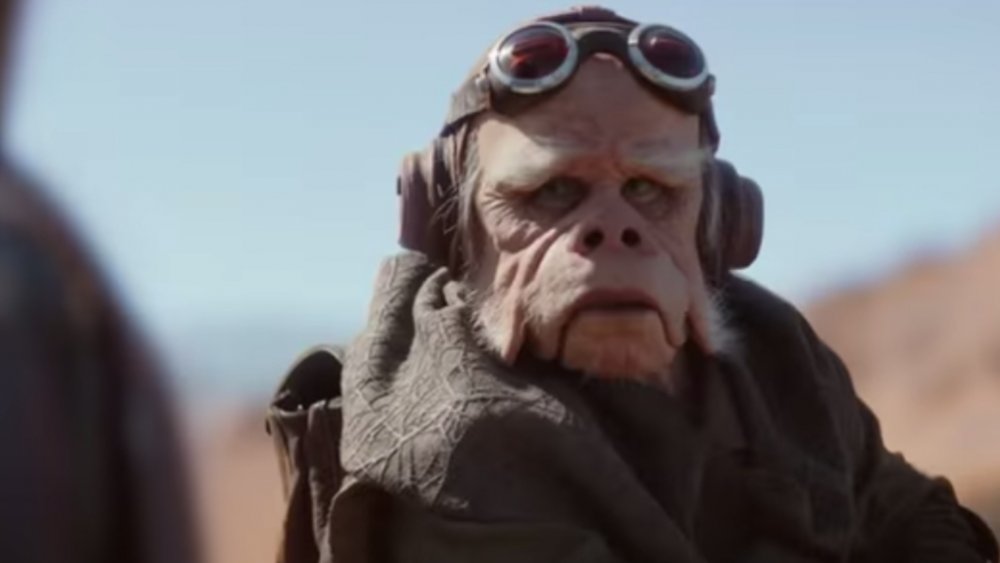 On the upside, the new trailer for The Mandalorian did manage to deliver more about another previously teased character: the Ugnaught Kuiil. Past previews have offered silent glimpses of the alien riding a blurrg — a two-legged creature that looks sort of like a fish-dinosaur hybrid – but this is the first time we've heard Kuiil talk. 
Heard at the very start of the teaser trailer, Nick Nolte's mustached Kuiil is the set-up to Fennec's one-line kicker. As the Mandalorian arrives in a bar, he's met by both a frosty planet and clientele with whom he's soon engaging in a head-smashing, gun-slinging brawl. In the background, Nolte's voice provides the narration for what many of us are already thinking: "I've never met a Mandalorian. I've only read the stories." 
The Mandalorian, the first live-action Star Wars TV show, also stars Giancarlo Esposito as interstellar administrator Moff Gideon and Gina Carano as former Rebel Shock Trooper Cara Dune — as well as Werner Herzog as an imperial agent, Bill Burr as a bounty hunter, and Julia Jones as a character presently known only as Omera. The Disney+ series will premiere on November 12.