The End Of The F***ing World: Alyssa Starts Again In Season 2 Trailer
Contains spoilers for The End of the F***ing World season 1
Is it really a nice day to start again?
The trailer for the second season of the cult British dark comedy series The End of the F***ing World, which will drop stateside on Netflix on November 5, has arrived — and even loyal fans may be surprised by just how pitch-black its vibe is. 
For those uninitiated, the show's first season covered the entirety of the story told by the acclaimed comic series of the same name, which was written by American Charles Forsman and won the 2013 Ignatz Award for Outstanding Minicomic. The show was co-created by Jonathan Entwistle (not to be confused with the legendary bassist for The Who), and British writer Charlie Covell (Humans); this second season is her original story. The End of the F***ing World premiered on British Channel 4, and Netflix later picked it up for international distribution.
Season 1 followed the flight of disaffected teenagers Alyssa (Jessica Barden) and James (Alex Lawther), who ditch their home lives to hit the road together, albeit for very different reasons. Alyssa is simply bored, and thinks that she's found in James a kindred spirit and a romantic partner; James, at least initially, believes himself to be a psychopath. No longer content with killing animals, James agrees to take off with Alyssa with the intent of eventually making her his first human victim.
Suffice to say, however, things get very complicated when they're on the road. James does in fact end up killing a person — but only in defense of Alyssa, for whom he develops strong feelings over the course of the season. The pair are doggedly pursued by authorities, and at the season's conclusion, they were ambushed by the cops on a beach — where it was strongly implied (although not explicitly shown) that James took a bullet while attempting to distract them from Alyssa's presence.
Again, this is where Forsman's story in the comics ended — but the TV series was warmly received by critics and audiences, with Covell's writing (she scripted all eight episodes) and the chemistry between the leads earning near-universal praise. In August 2018, the series was renewed for a second season, prompting widespread speculation from fans as James' true fate. Did he die on that beach, or... what?
Well, we'd love to tell you that the End of the F***ing World season 2 trailer solves this mystery, so we will. This trailer solves the mystery!
Except it doesn't. We're absolutely lying. It solves nothing — but it sure does promise a tense and interesting continuation of the story, which picks up two years after the events of season 1.
The spot is soundtracked with a haunting cover of Billy Idol's classic "White Wedding, Part I" courtesy of Blur guitarist Graham Coxon, who provided music for the entire first season of The End of the F***ing World and will do the same for the second season. It opens with Alyssa laying in bed, apparently flashing back to the climactic events of the the first season's final episode, and this is the only time in the entire trailer that we see James. Unfortunately, he appears to be bleeding out on the beach, but we suppose you could accurately say that he isn't dead.
We then see a few intercut scenes that fill us in on Alyssa's life since that fateful day. She's working in a greasy spoon and getting fitted for a wedding dress. (We also see a few shots of what appear to be the big day, although we don't see who she's getting married to.) We also get a glimpse of a new character: Bonnie, played by Star Wars: The Rise of Skywalker actress Naomi Ackie, a mysterious type who appears to be very comfortable with guns. In one brief shot, she's sitting in a car examining a newspaper clipping from Alyssa's time on the run.
More mystery follows: Alyssa, in her waitress uniform, is seen meeting up with a mysterious party in a car while Bonnie looks on; there's a shot of Alyssa alone in a bed in a hotel; and then there's the bride on her wedding day, wearing multicolored socks and boots that don't quite seem to match up with her dress. It should be noted that throughout this entire spot, Alyssa doesn't smile even once — and in the final of shot of her in the dress, she looks downright haunted.
Finally, an ominous last shot: a bullet, with the name JAMES carved into it. 
What other details do we have about The End of the F***ing World Season 2?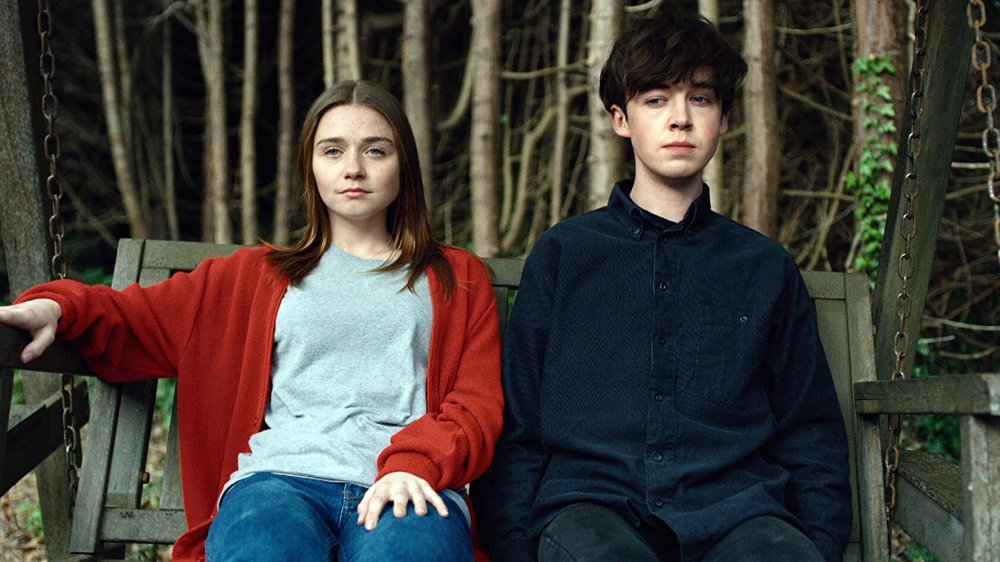 Netflix
Obviously, the question on everybody's mind is: what in the heck happened to James? We have a few clues, and oddly, they seem to point in opposite directions. 
First, check out this poster for the new season of The End of the F***ing World, which features Alyssa in her lovely dress seated at a table with... well, see for yourself.
Yep, that's an urn. 
This would certainly seem to imply that James didn't make it off that beach — but, interestingly enough, that sinister bullet in the final shot of the trailer might actually be an indication that he is indeed alive.
A brief 40-second teaser for The End of the F***ing World season 2 was released overseas, and gives us another clue. As reported by NME, the footage includes a shot of Alyssa receiving a similar bullet in the mail — one with her name carved into it. Given that Bonnie is the only one wielding a gun in the season 2 trailer, one might put two and two together to infer that the new character may be someone with a grudge against the pair, who is intent on flushing James out of hiding by way of these, er, warning slugs. That notion is bolstered by the fact that in the international teaser spot, provocative words and phrases briefly flash onscreen — and one of them is "VENDETTA."
Obviously, the question of what happened to James (and whether Lawther will play a significant role on The End of the F***ing World season 2) has been put to Covell early and often. While she has understandably declined to provide a straight answer, she has suggested that the next batch of episodes will center firmly on Alyssa and the next phase of her life — on her need to start again, if you will. (Or even if you won't. Sorry, we simply love Billy Idol.)
"There is a need to return and the need to be in a single place," the writer said in a conversation with Entertainment Weekly. "There's an idea that you can't keep running forever. There's a point where you have to stop and move on and develop, and I think that's where we're meeting Alyssa. That's the kind of journey she's gonna go on in season 2."
It's all so very vague, but that's fine — this is one season of television we don't want spoiled for us, especially since Covell has indicated that it's unlikely there will be a season 3. Fortunately, though, we don't have too long to wait before we can binge the heck out of The End of the F***ing World's new episodes; season 2 drops on Netflix in its entirety on November 5.