Exclusive: Spider-Man Homecoming Set Photos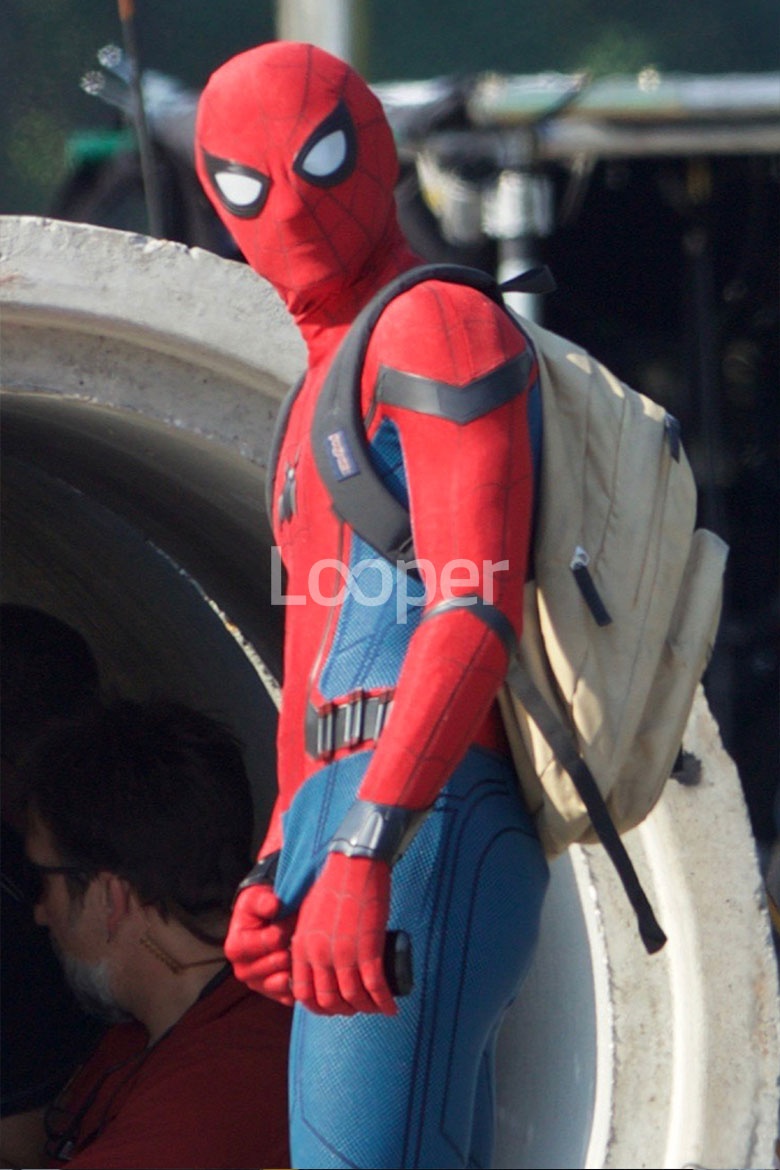 AKM-GSI
After Tom Holland first appeared as Spider-Man in Captain America: Civil War, fans the world over could hardly wait to get their next glimpse of the latest, greatest take on the wall-crawler. Well, wait no longer: Looper has some exclusive photos of Tom Holland wearing the red and blue on the set of Spider-Man: Homecoming.​
Amazing Fantasy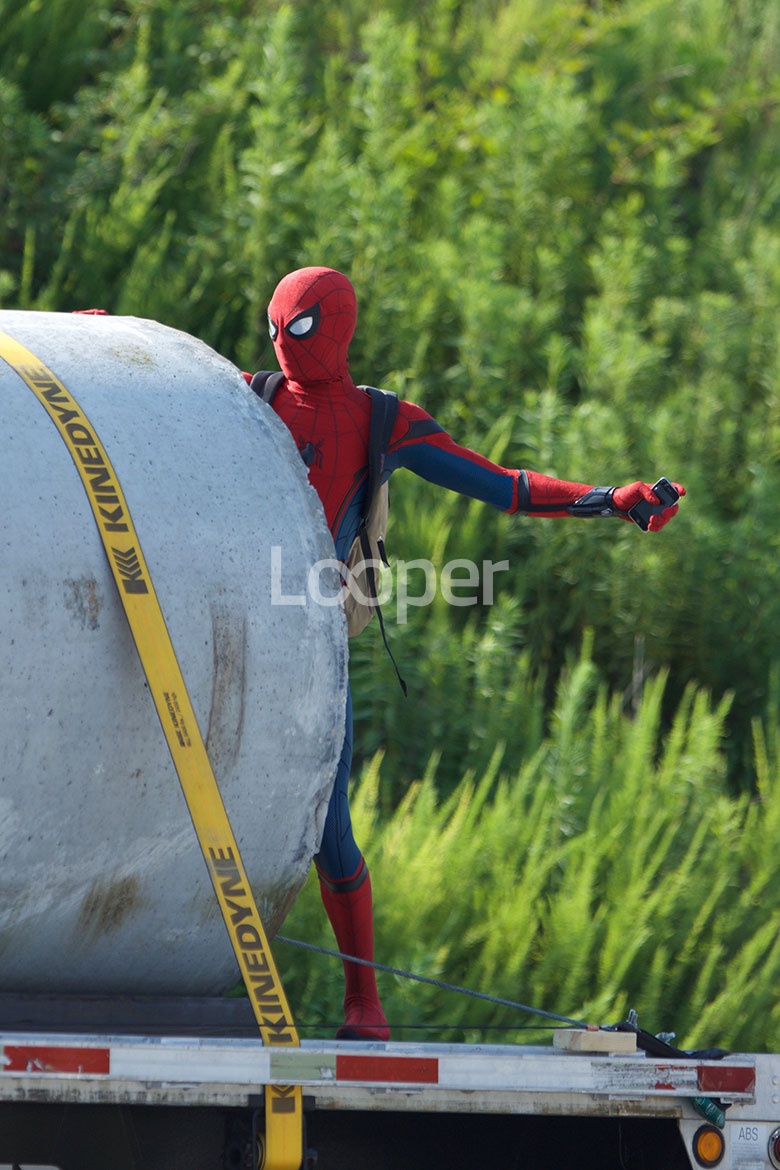 AKM-GSI
Obviously, we don't really know exactly what's going on in the photos here. But there are a few context clues that can help us put together a few theories. For instance: look! He's got his phone in his hand. Couldn't Tony Stark have built that into his fancy new mask? ​​
On-Set Details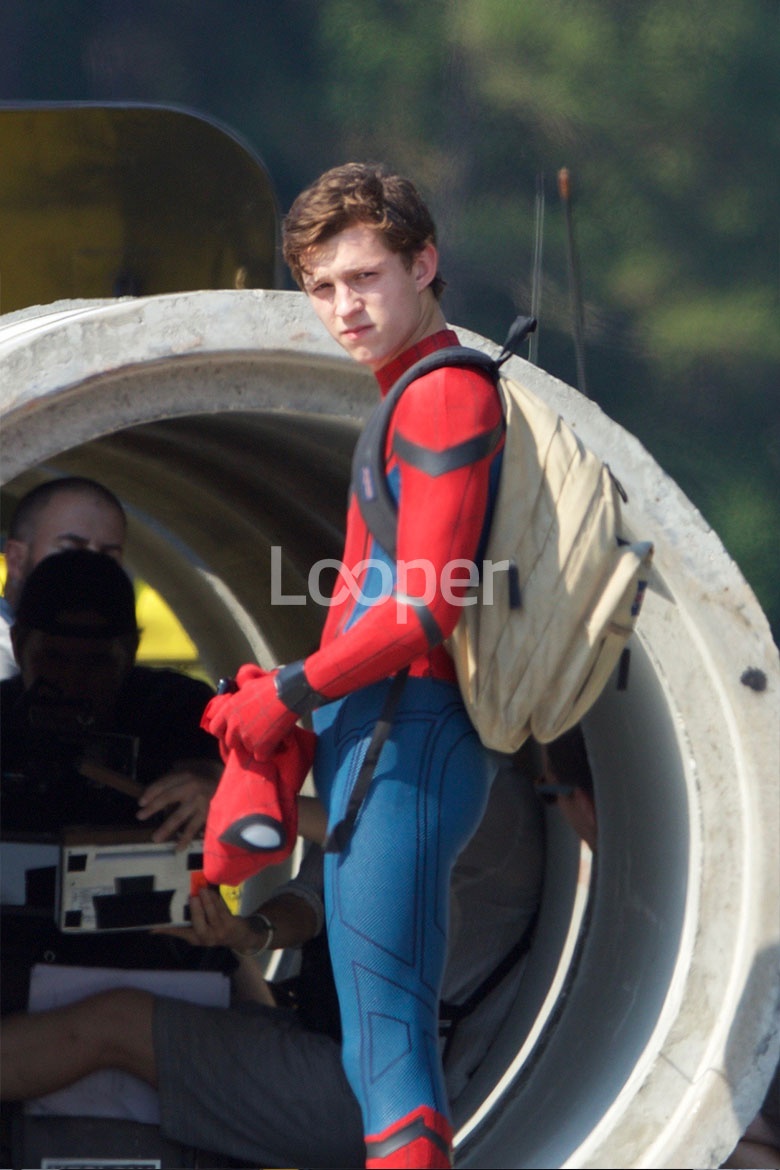 AKM-GSI
We know this: according to our source, Holland arrived on the set in Atlanta, Georgia, at around 7 a.m. on June 27 to film two scenes, shooting for about 12 hours that day. The first was a bus scene, where the kids take a trip to Washington D.C. These photos, however, come from the second scene, in which Spider-Man runs alongside a cement truck and jumps onto it. The running scenes reportedly will be completed using CGI, but the action scenes where Spider-Man jumps onto the truck were pure Holland, and not a stunt double. This is even more impressive considering that the temperatures in Atlanta hit 100 degrees Fahrenheit during filming. ​​
School Daze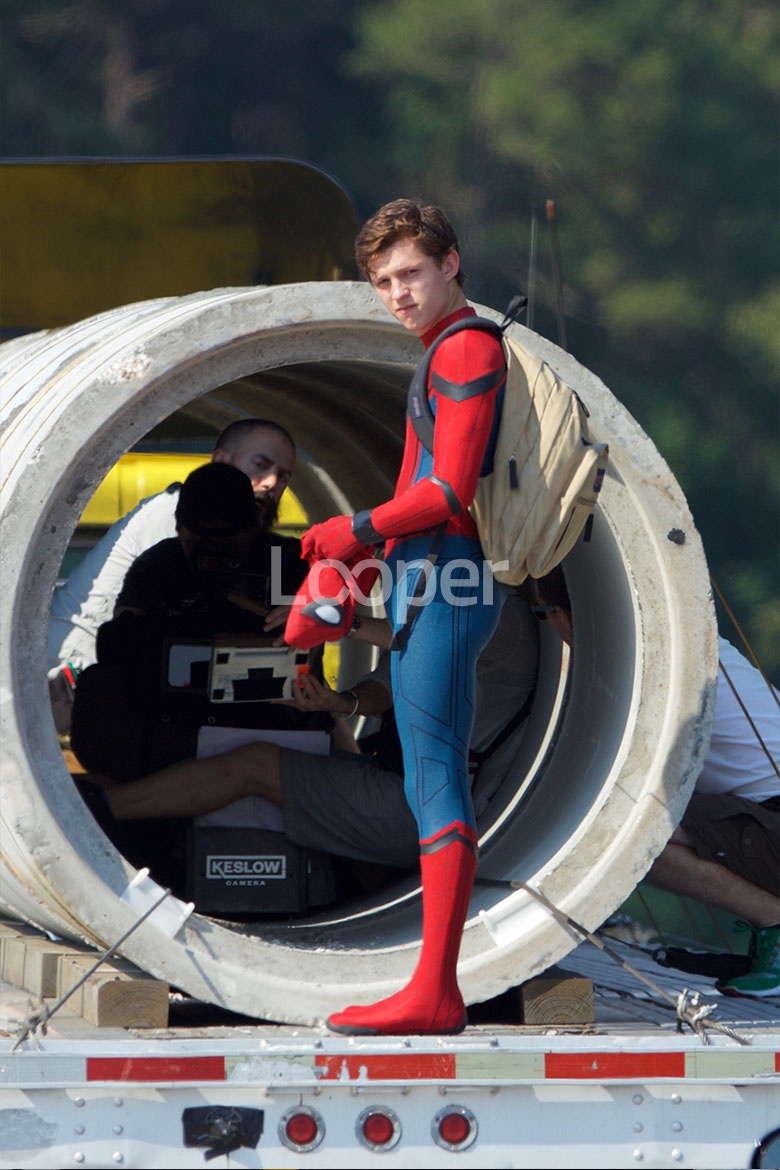 AKM-GSI
We can also see that Spidey's wearing a backpack. That fits right in with one of the things we do know about Homecoming, which is that it takes place while Spider-Man is still a high school student. Whatever's going down in this scene, it looks like Spider-Man had to spring into action directly from his school trip. Some of the photos of the truck also show it with a Washington D.C. license plate. Whatever's going down, it's happening in our nation's capital. ​​
Pipe Dreams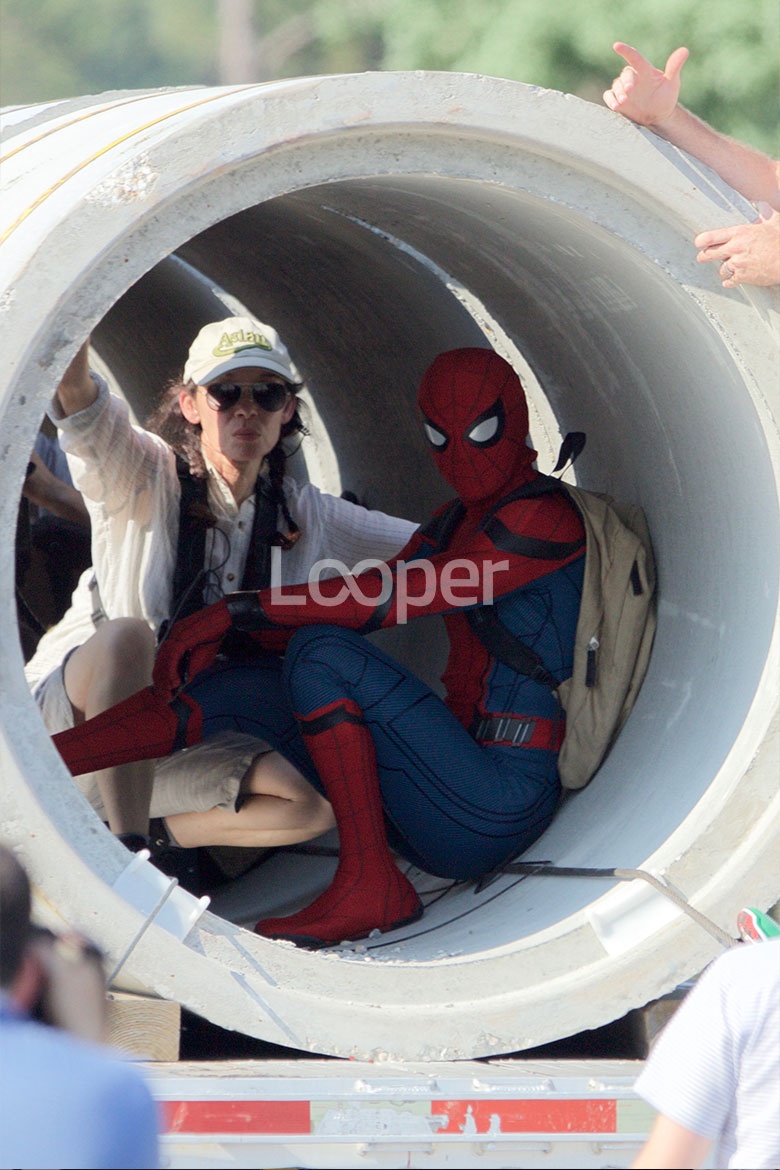 AKM-GSI
So what else can we figure out? Whatever Spider-Man is after, it involves a flatbed truck moving a big ol' piece of concrete pipe. That's the big stuff that gets used in construction projects. Is Spider-Man on the trail of a crooked construction deal? Maybe some dirty business dealings, or crooked government contracts? ​​
Grounded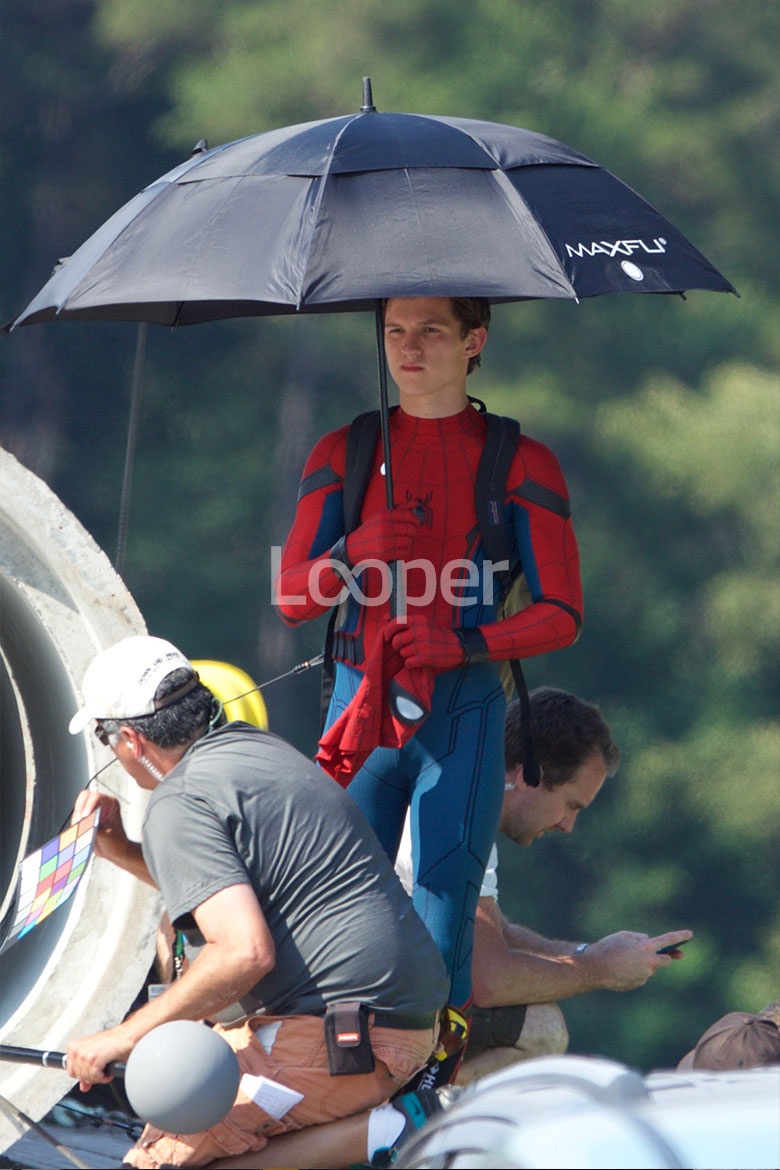 AKM-GSI
It's possible that the plot of Spider-Man: Homecoming could involve some more street-level antagonists. In the comics, Spider-Man would routinely face off against mobsters and organized crime in the form of the Maggia. Classic mobster Spidey super-villains include guys like Tombstone, Hammerhead, Silvermane, or even a more recent creation like Mister Negative. It's entirely possible that Marvel and Sony are keeping this new Spider-Man's villains at a decidedly lower-level before ramping up to his more powerful bad guys in future installments. ​​
The Tramp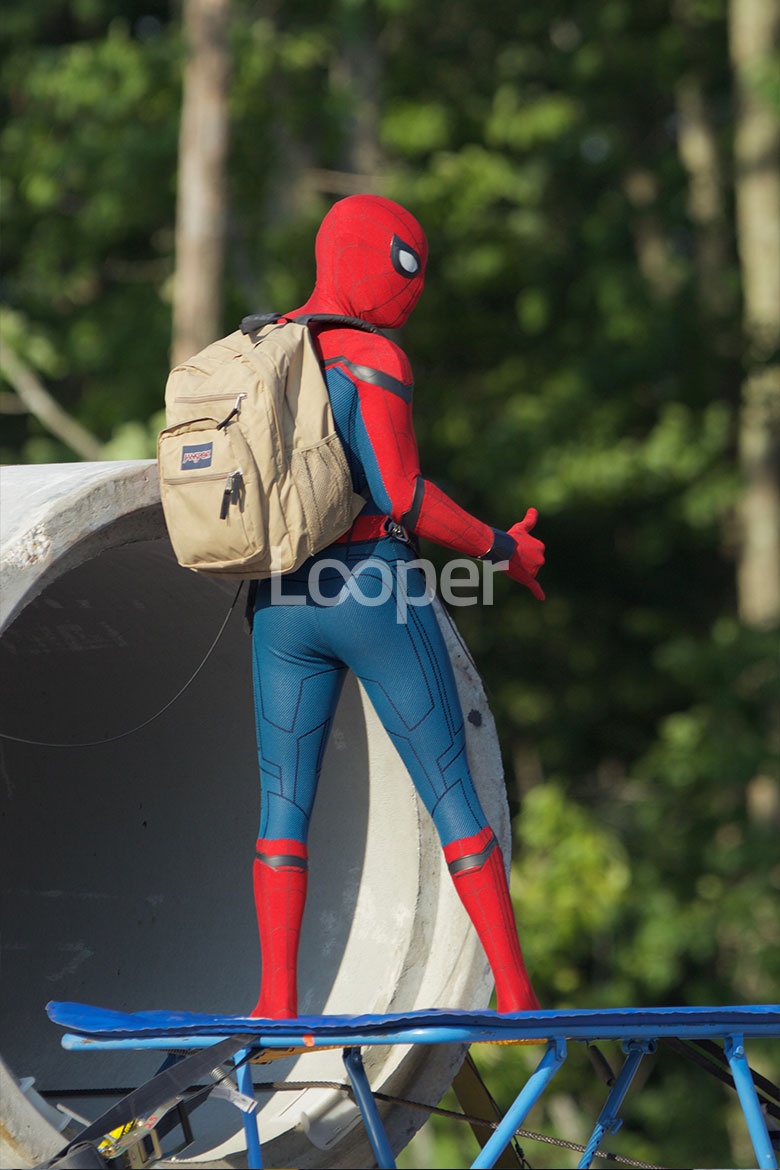 AKM-GSI
We can also see a mini-trampoline at the base of the pipe on the flatbed. It seems like Tom Holland is bouncing around a bit, taking to the air before landing on—or in—the pipe. It looks like Holland himself will be doing a few of his own stunts. Though, rest assured, there will be plenty of work for Holland's stunt double. And Marvel and Sony's visual effects team. ​​
Check out the rest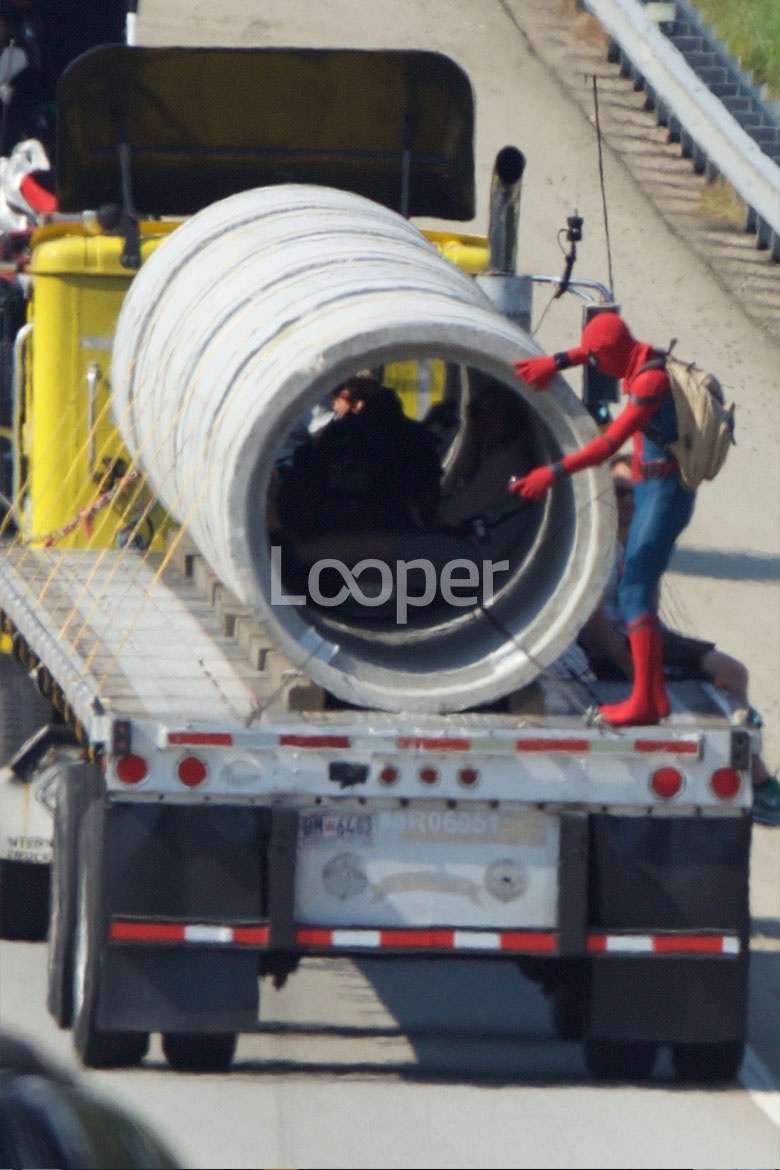 AKM-GSI
That's more than enough jibber-jabber. Scroll through the rest of these photos, placed in no particular order, to see Tom Holland getting his Spidey going on the set of Spider-Man: Homecoming, set for release on July 7, 2017. Excelsior, indeed. ​​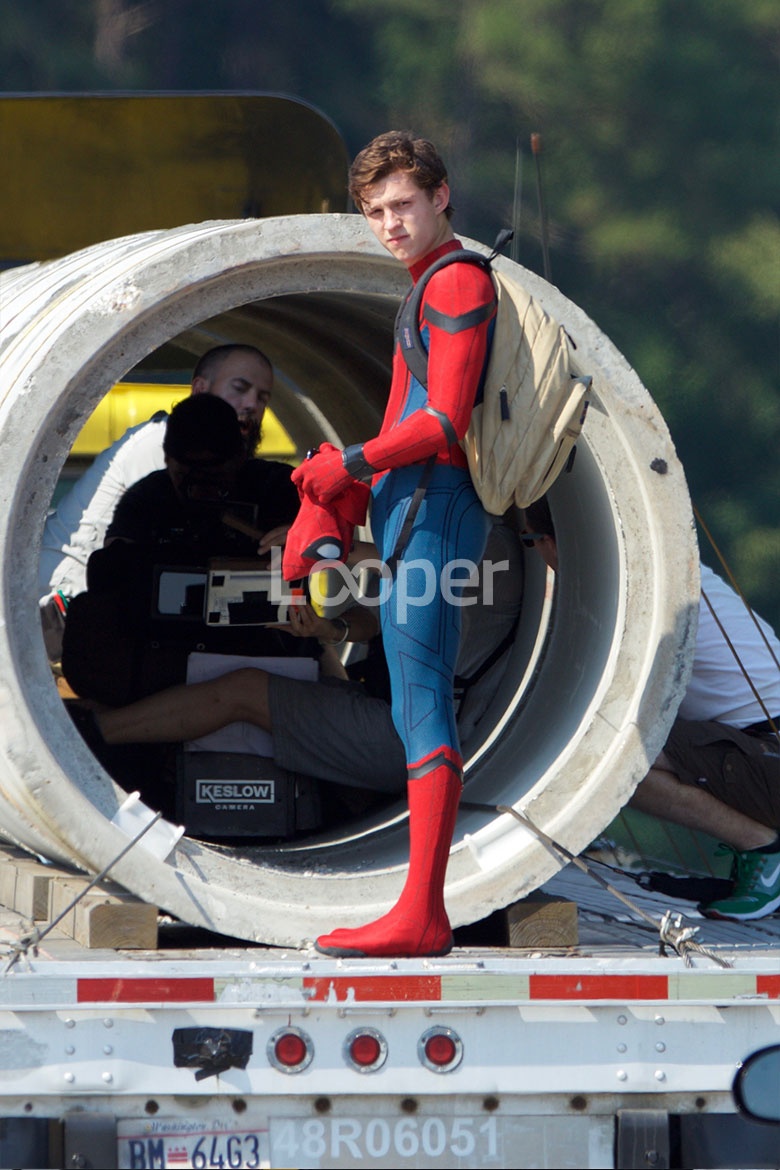 AKM-GSI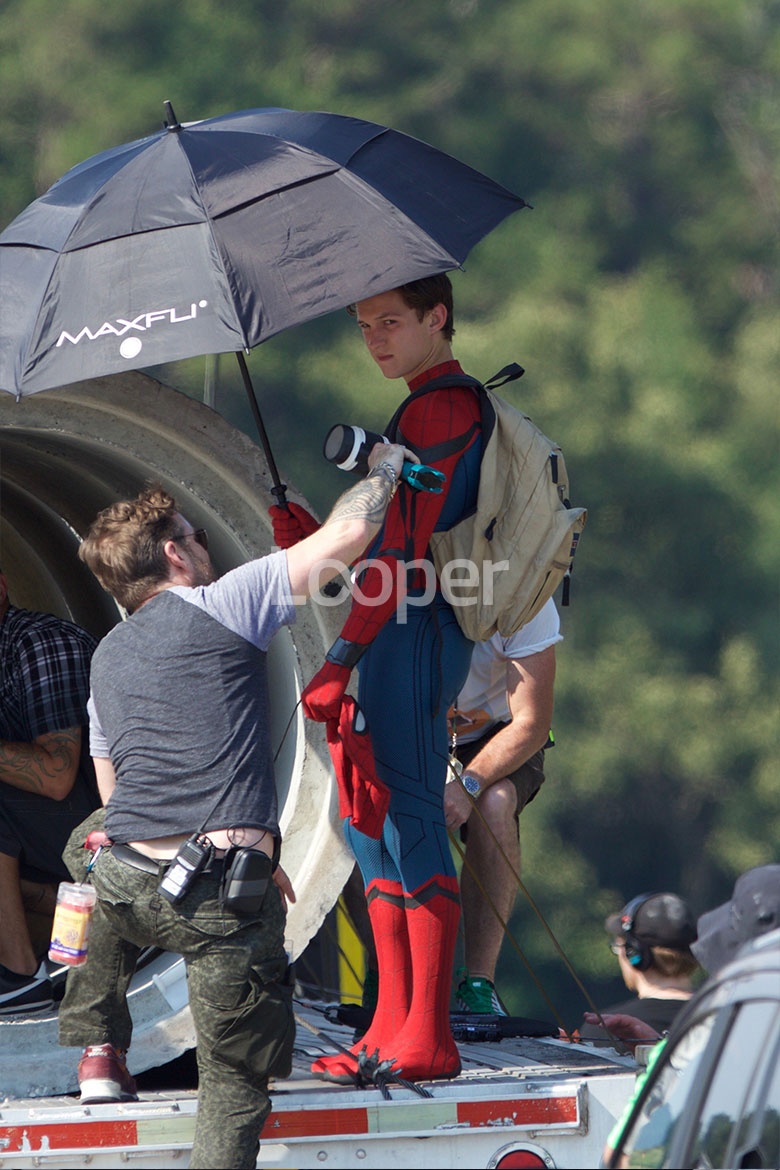 AKM-GSI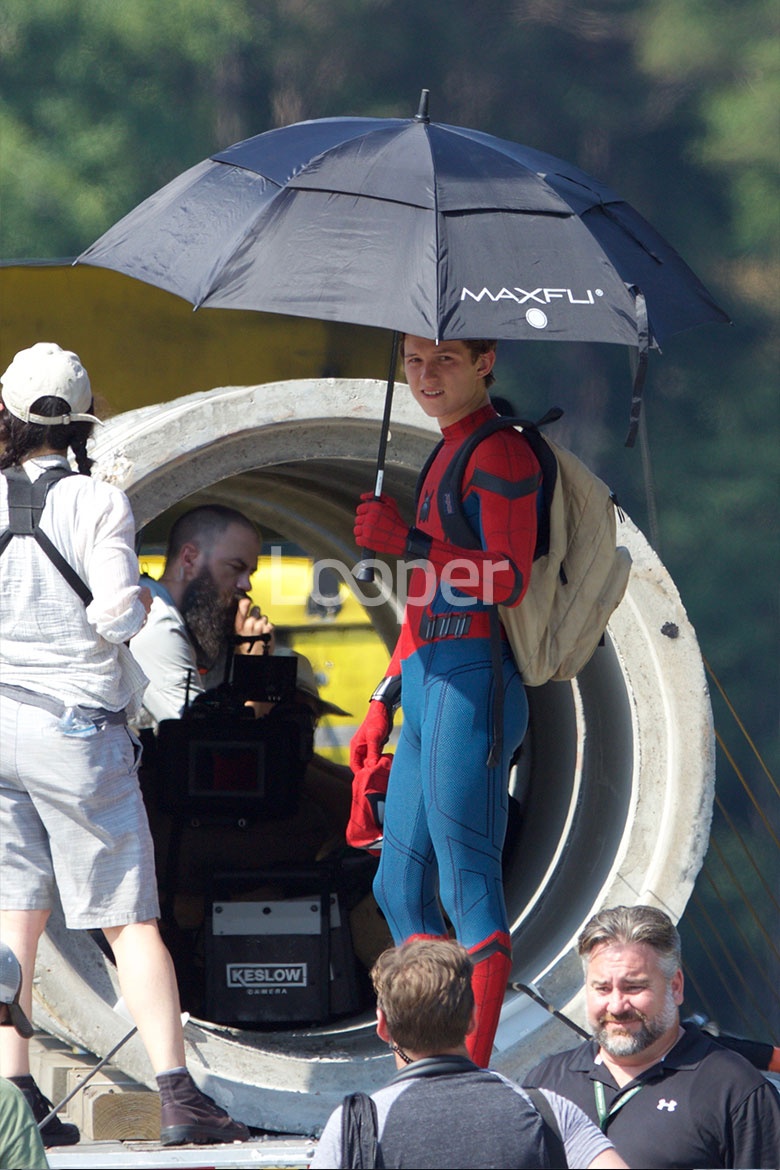 AKM-GSI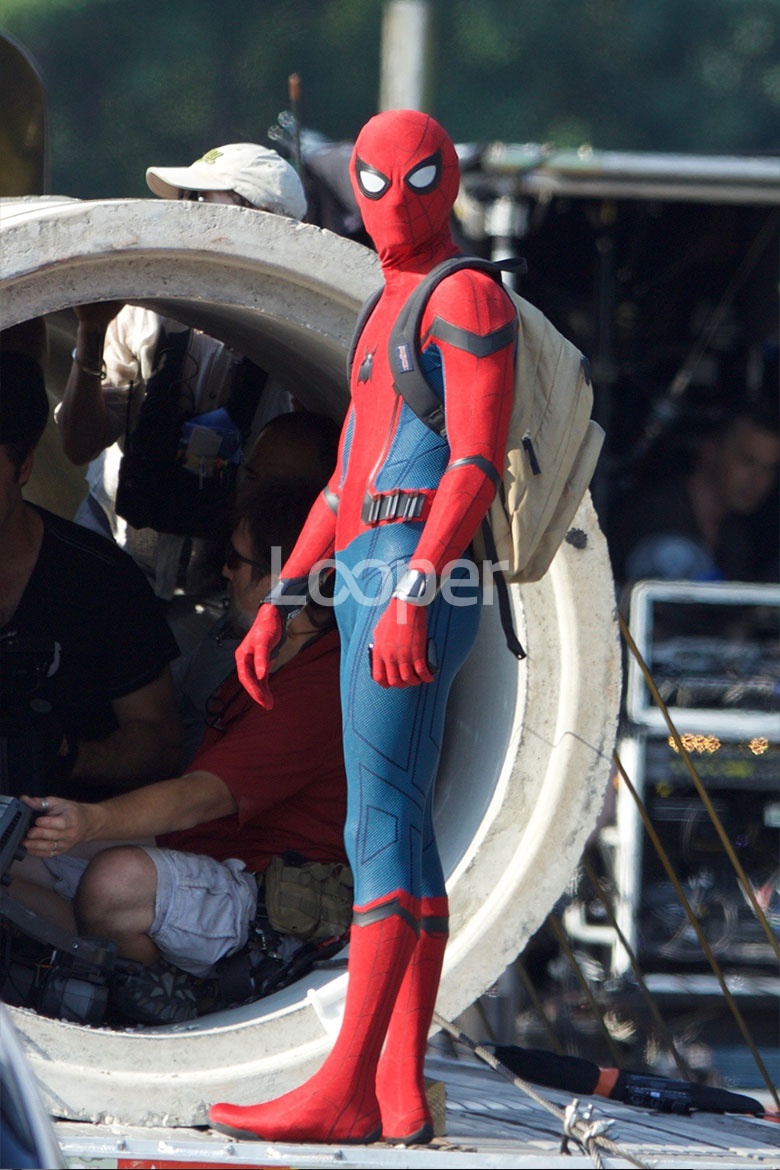 AKM-GSI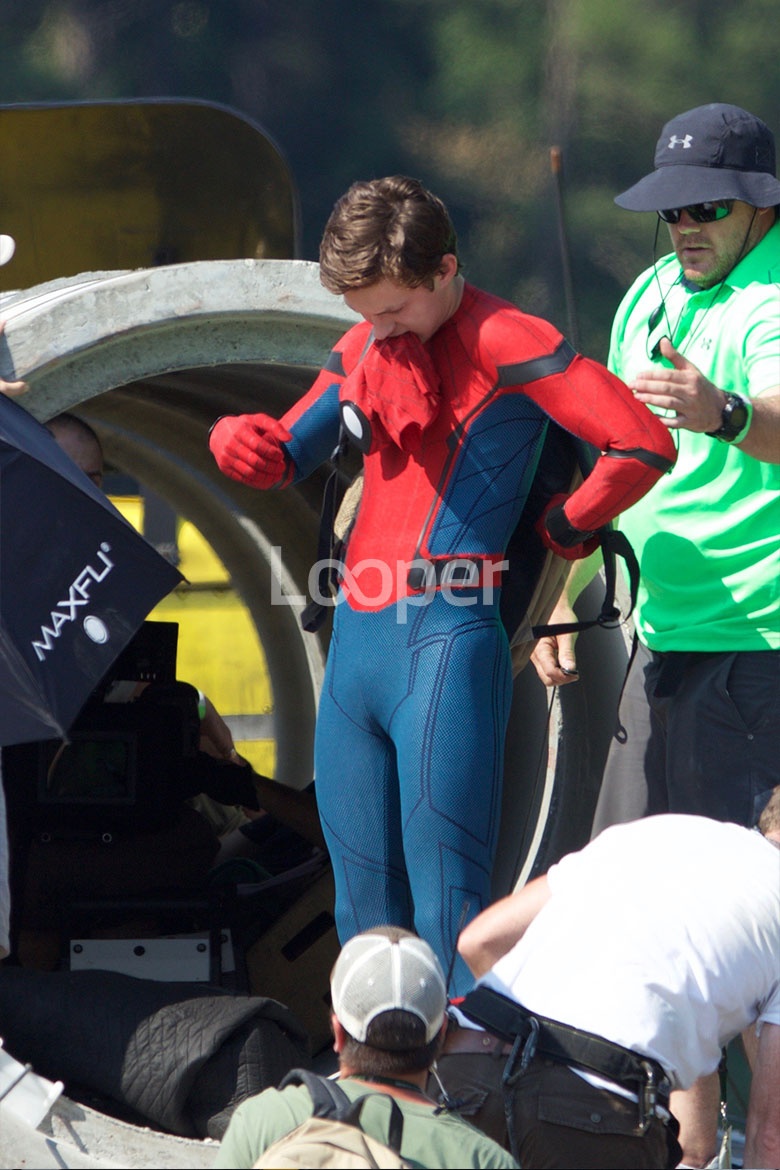 AKM-GSI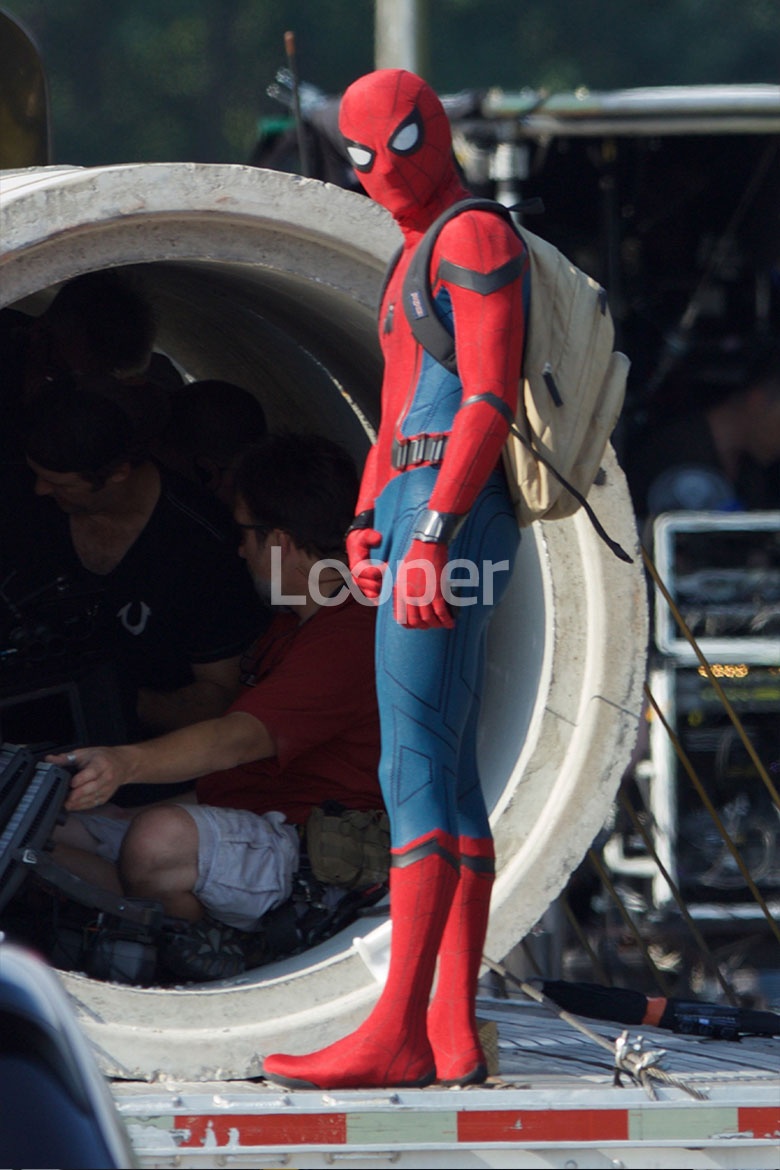 AKM-GSI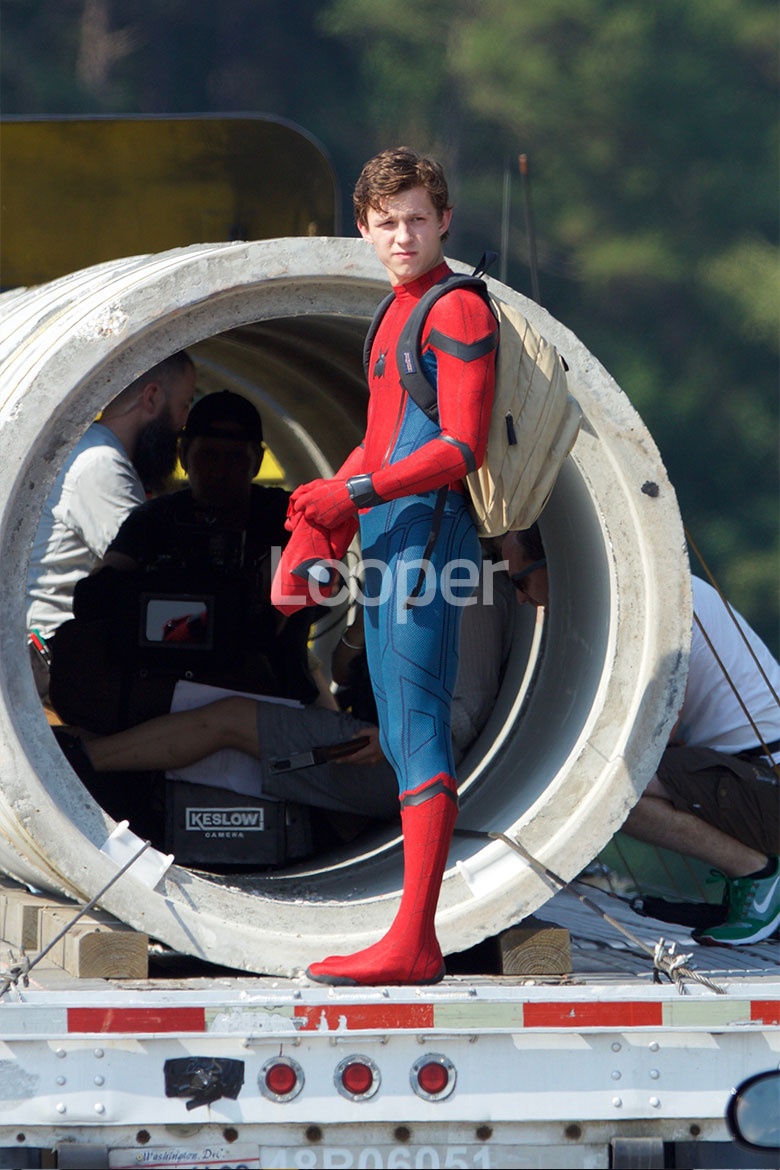 AKM-GSI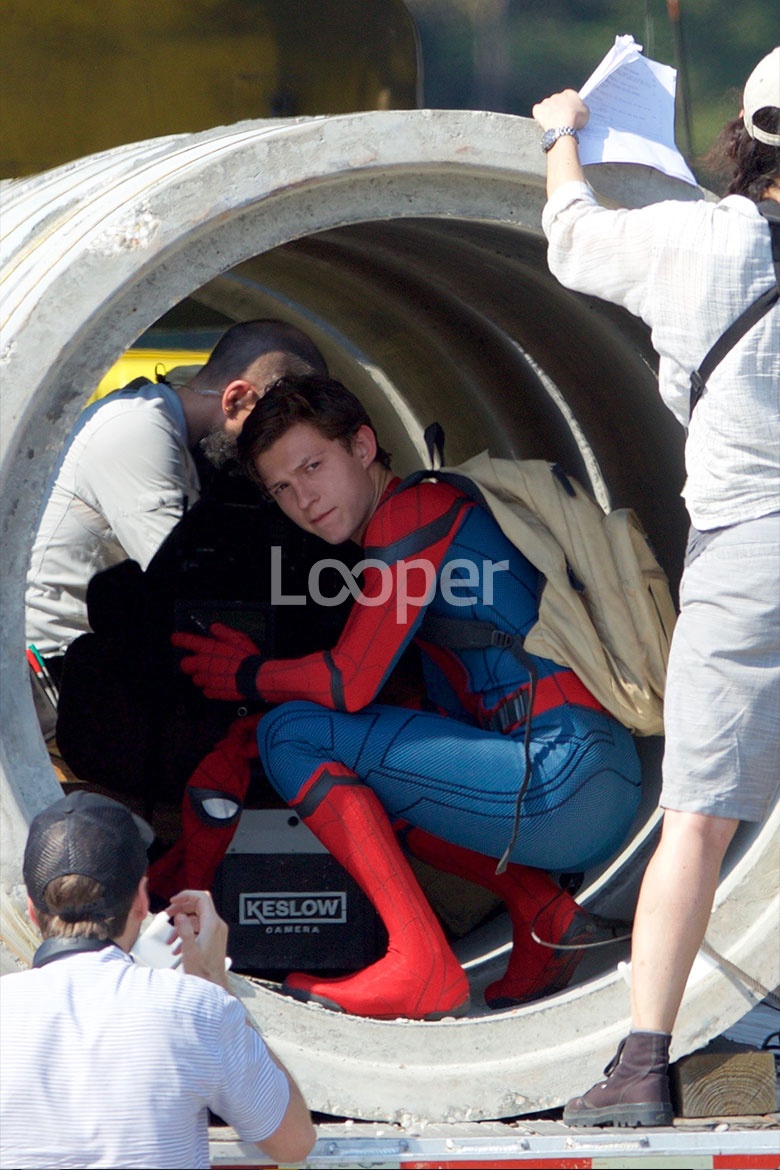 AKM-GSI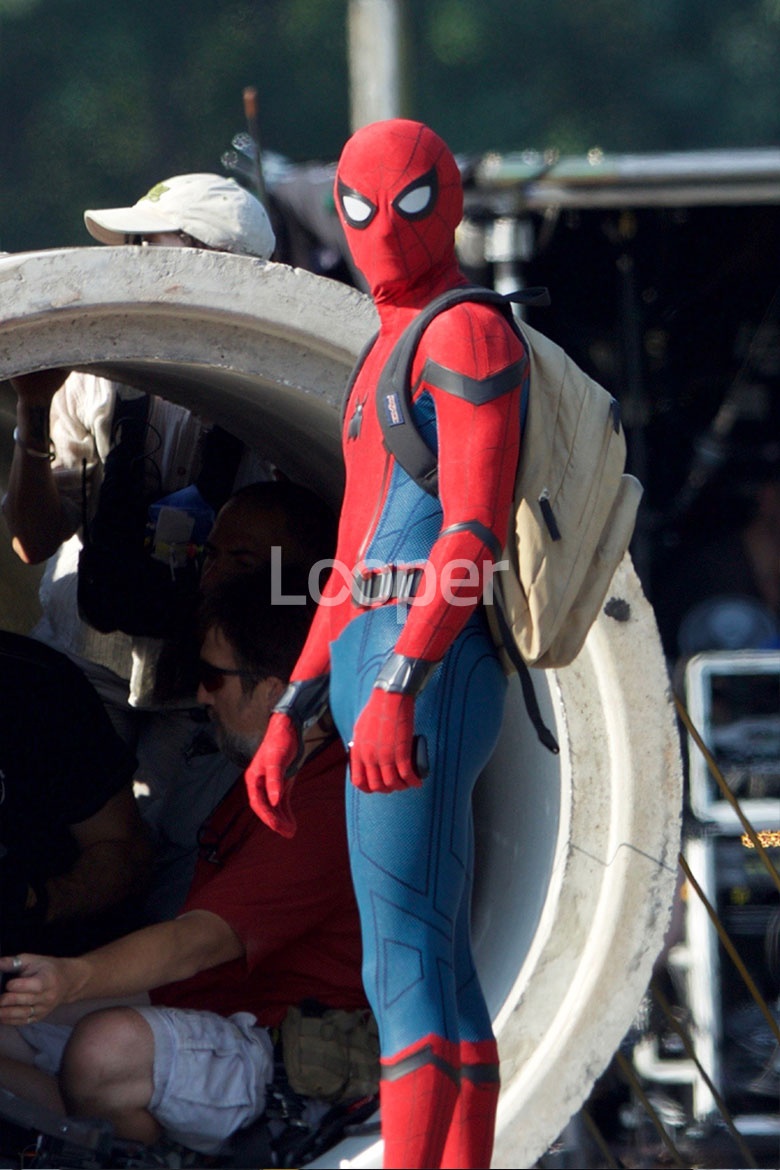 AKM-GSI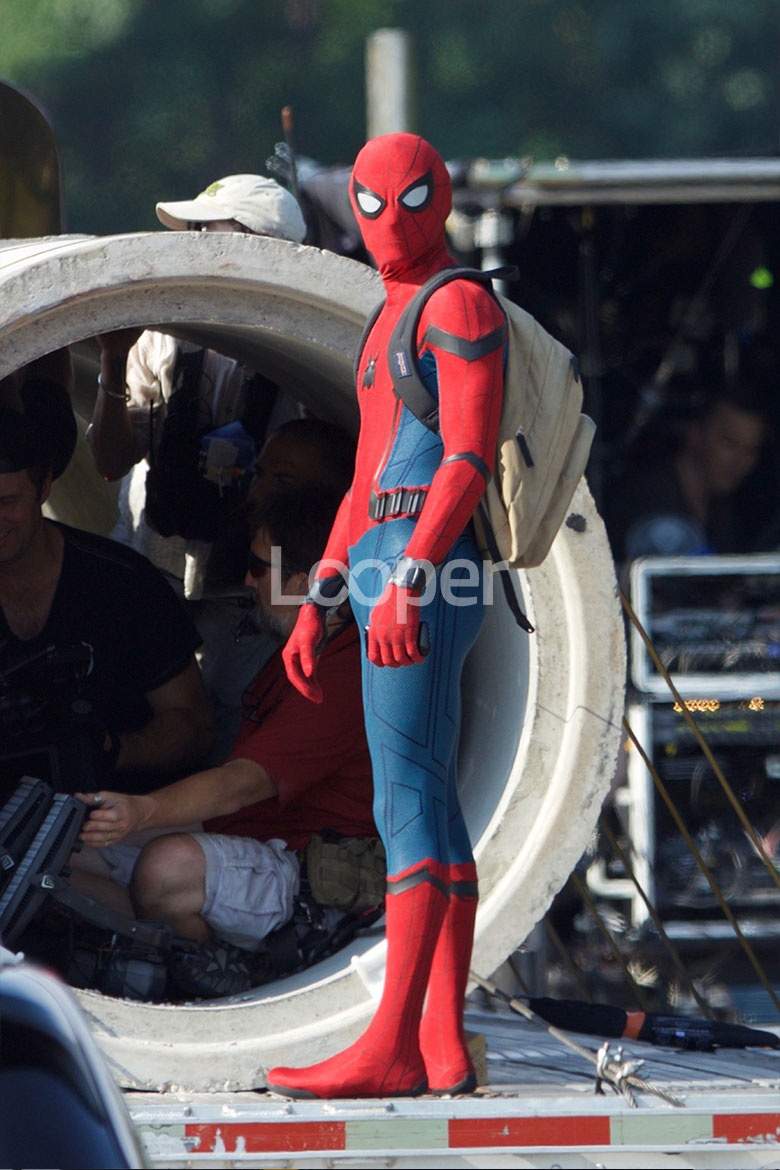 AKM-GSI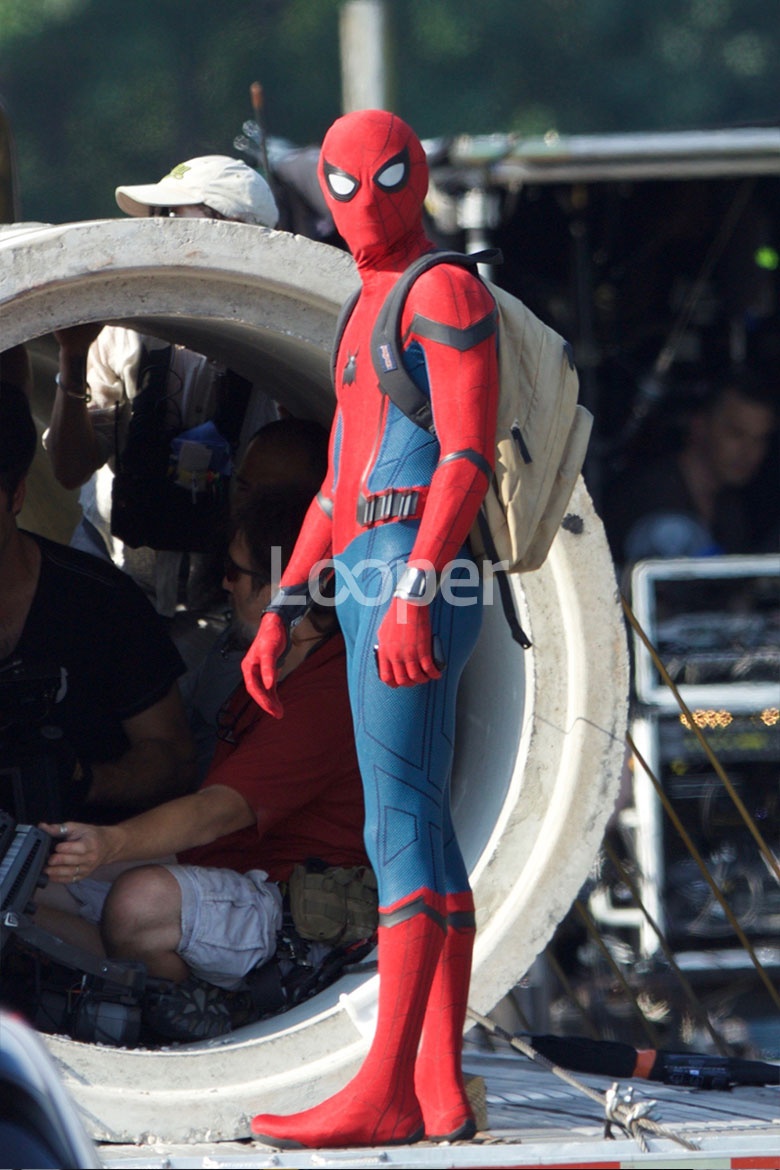 AKM-GSI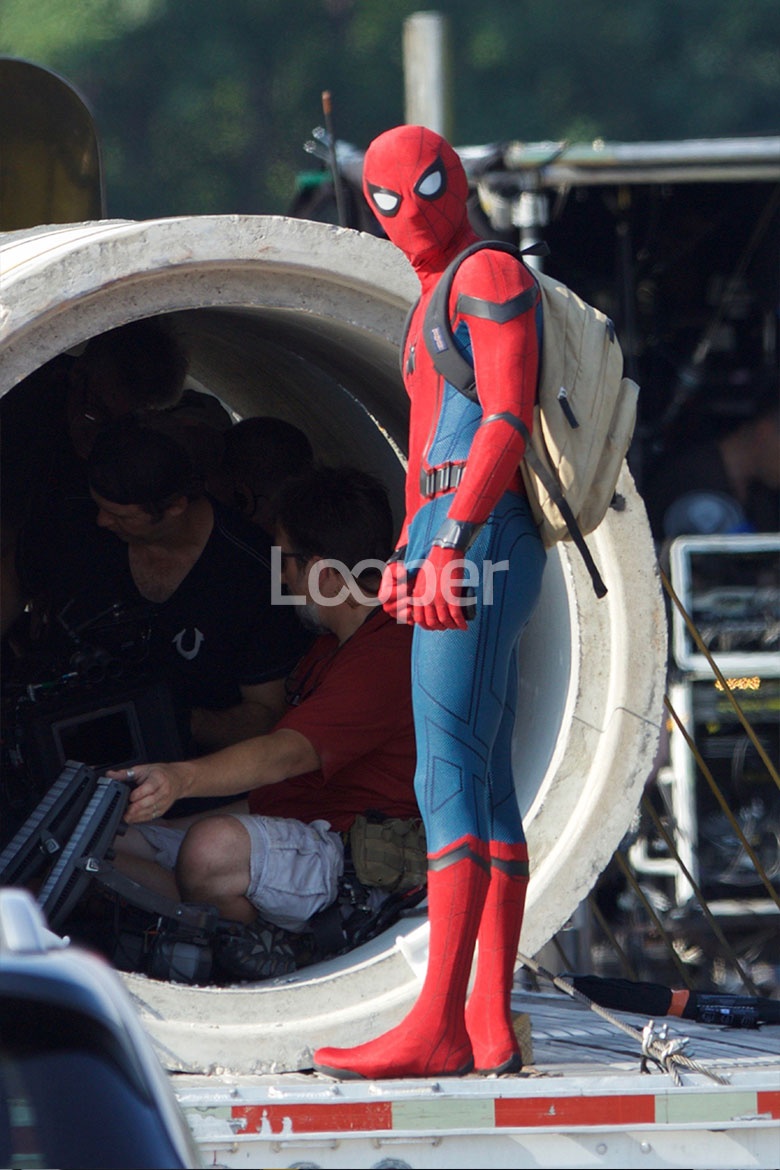 AKM-GSI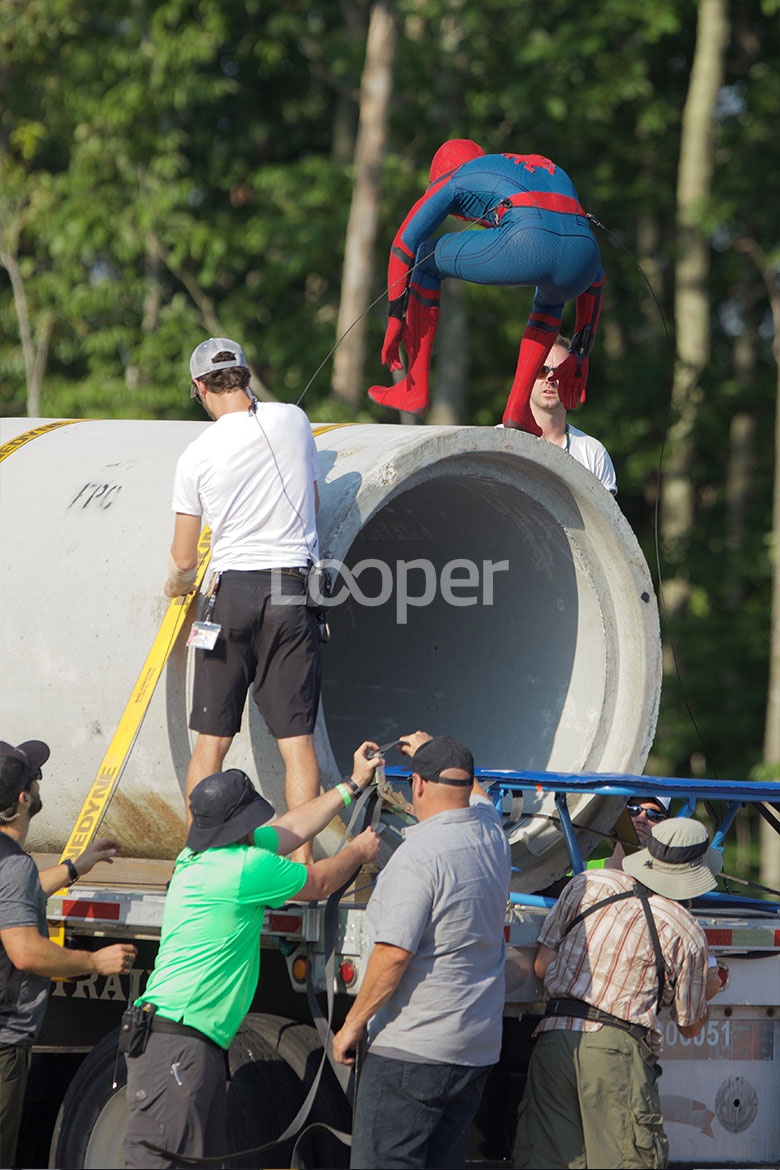 AKM-GSI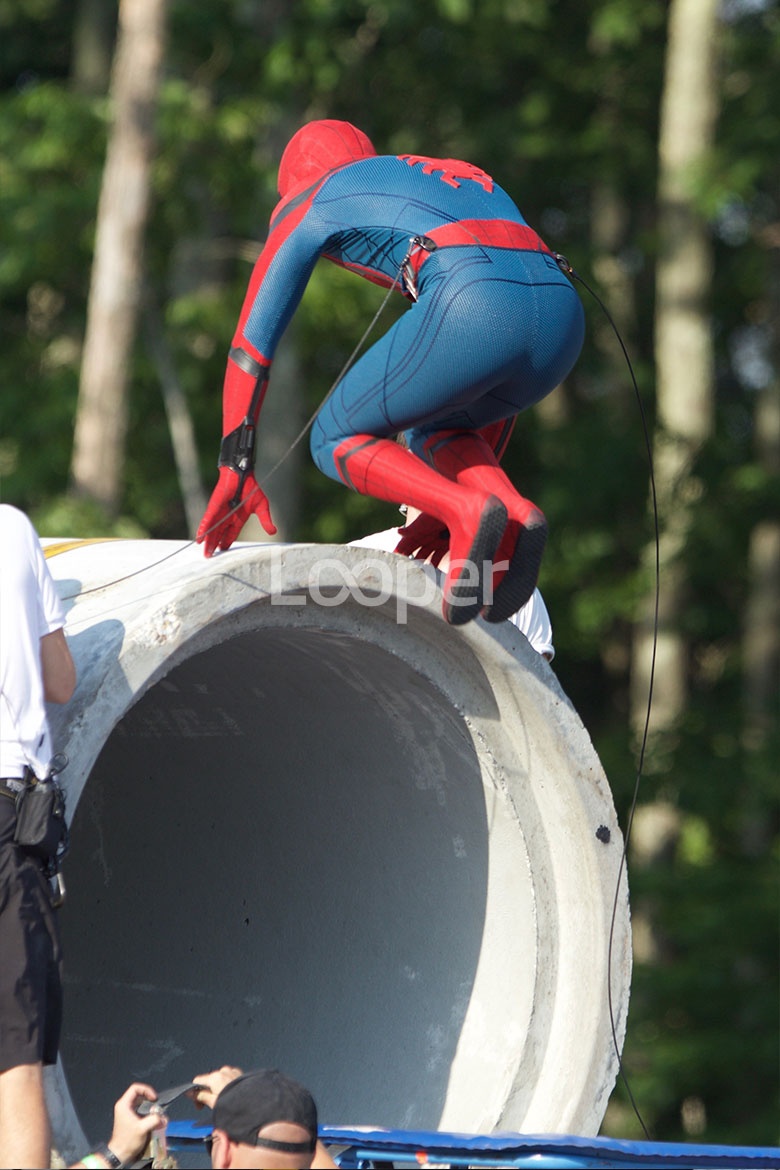 AKM-GSI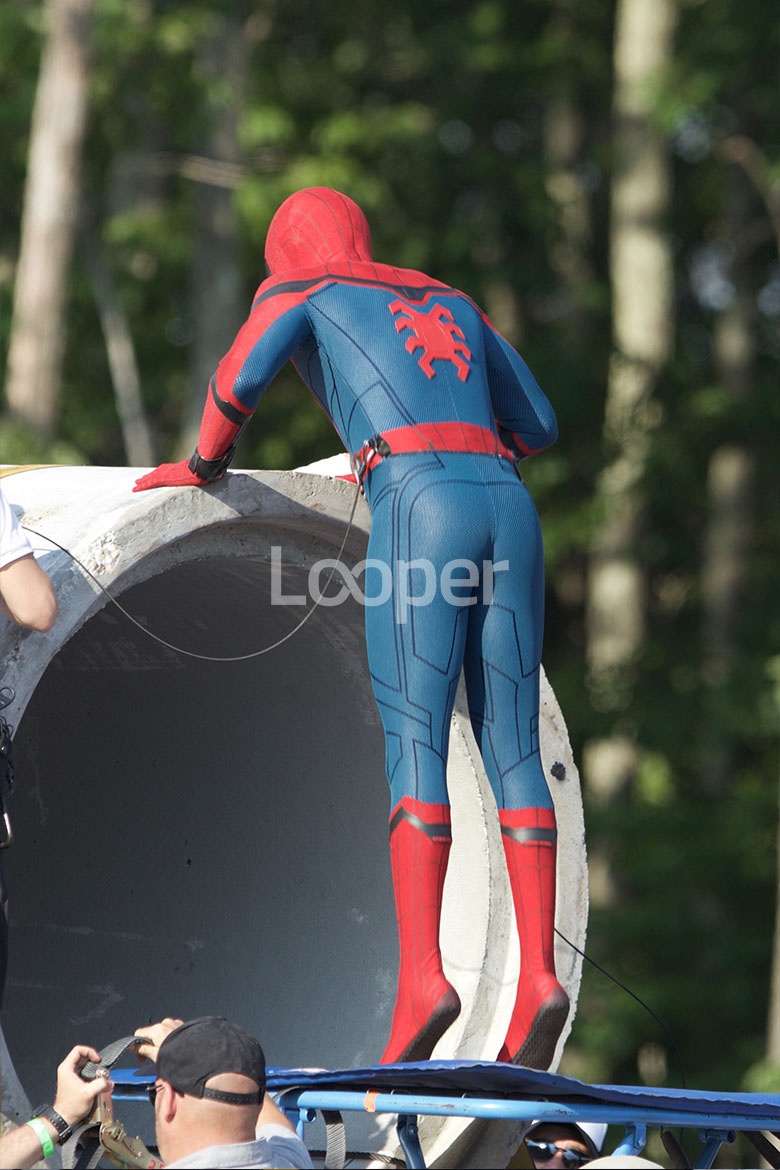 AKM-GSI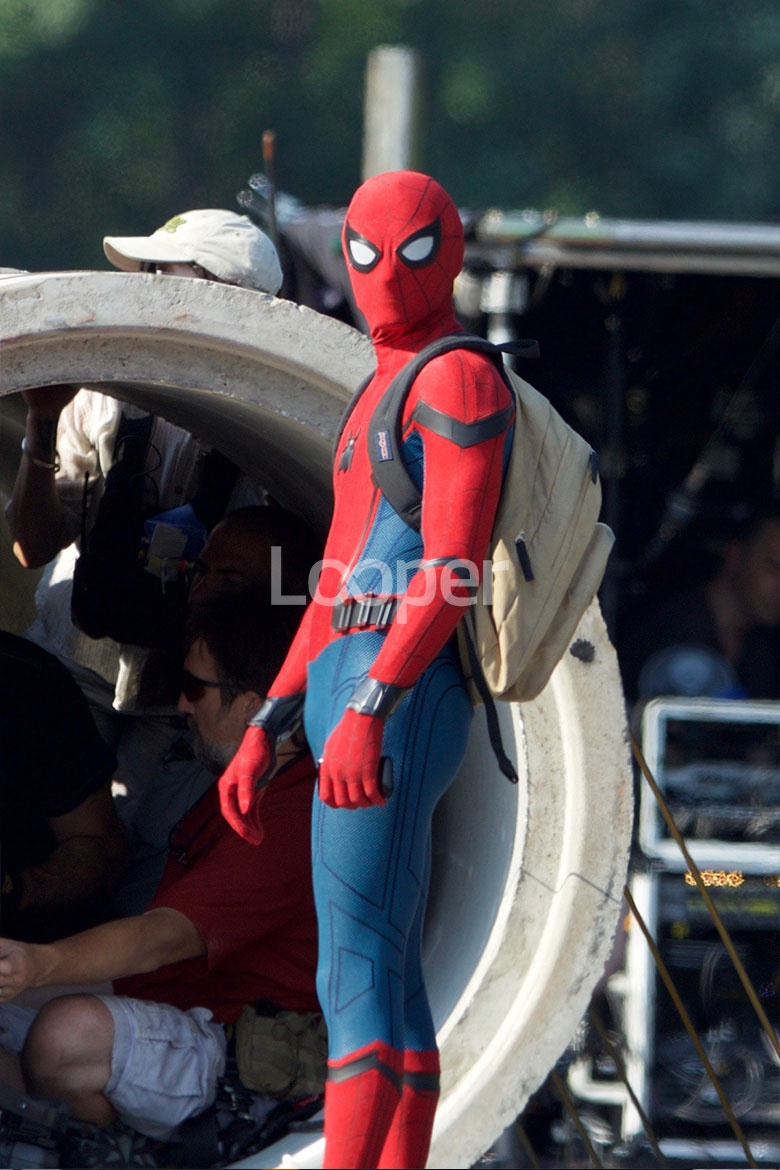 AKM-GSI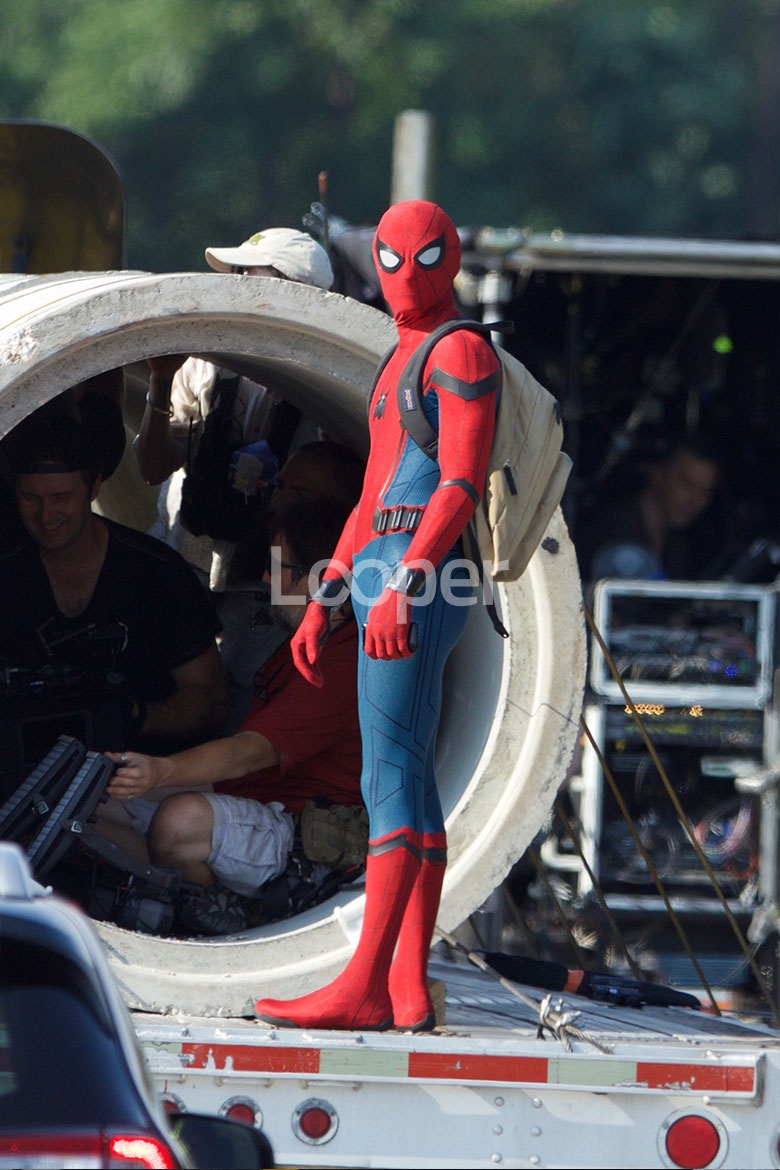 AKM-GSI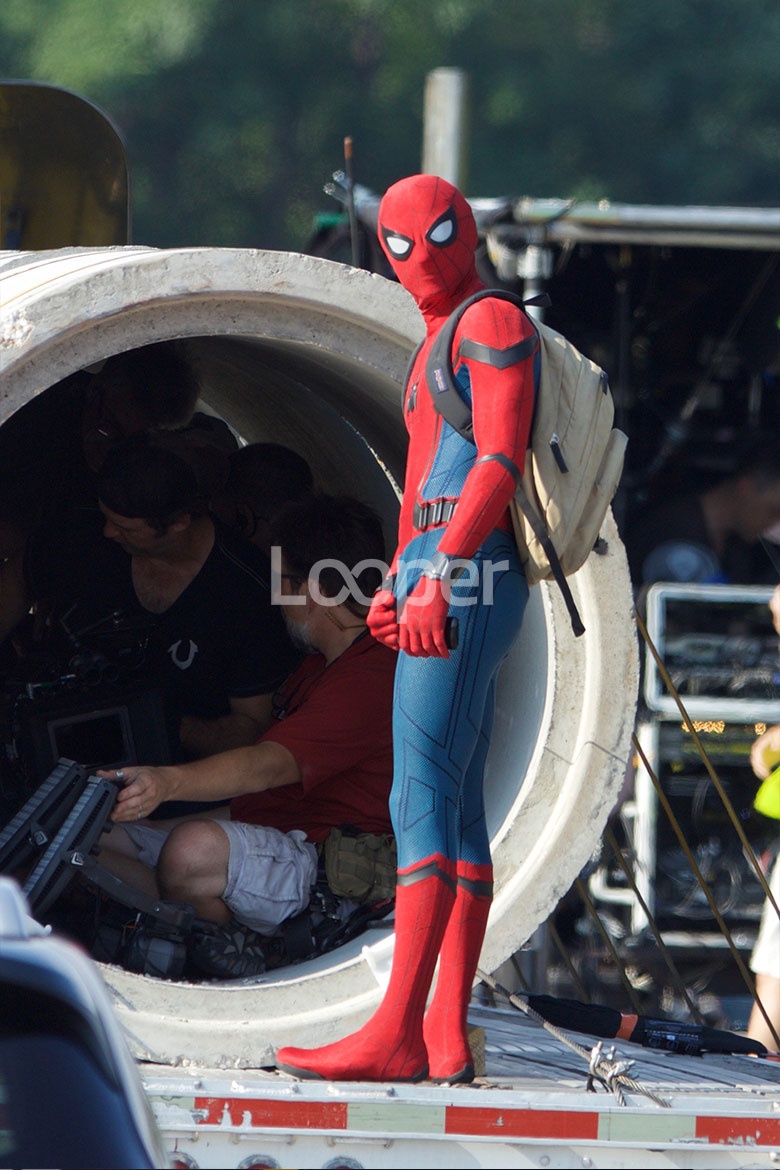 AKM-GSI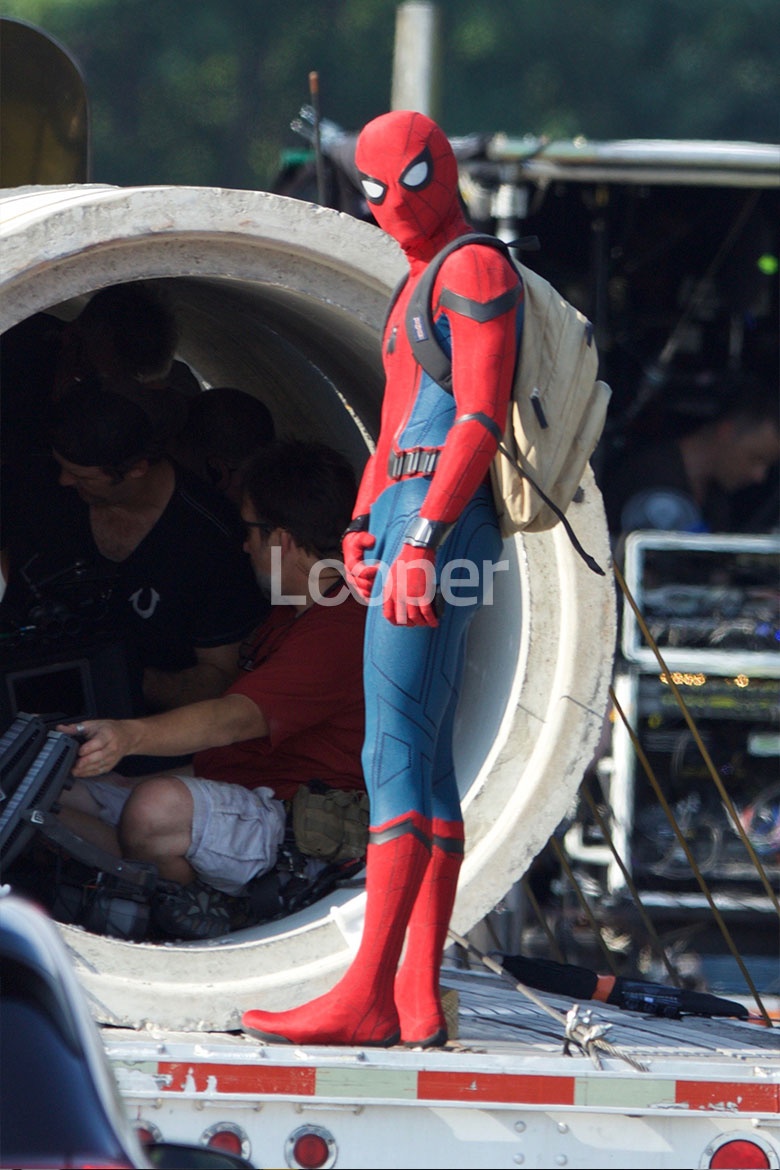 AKM-GSI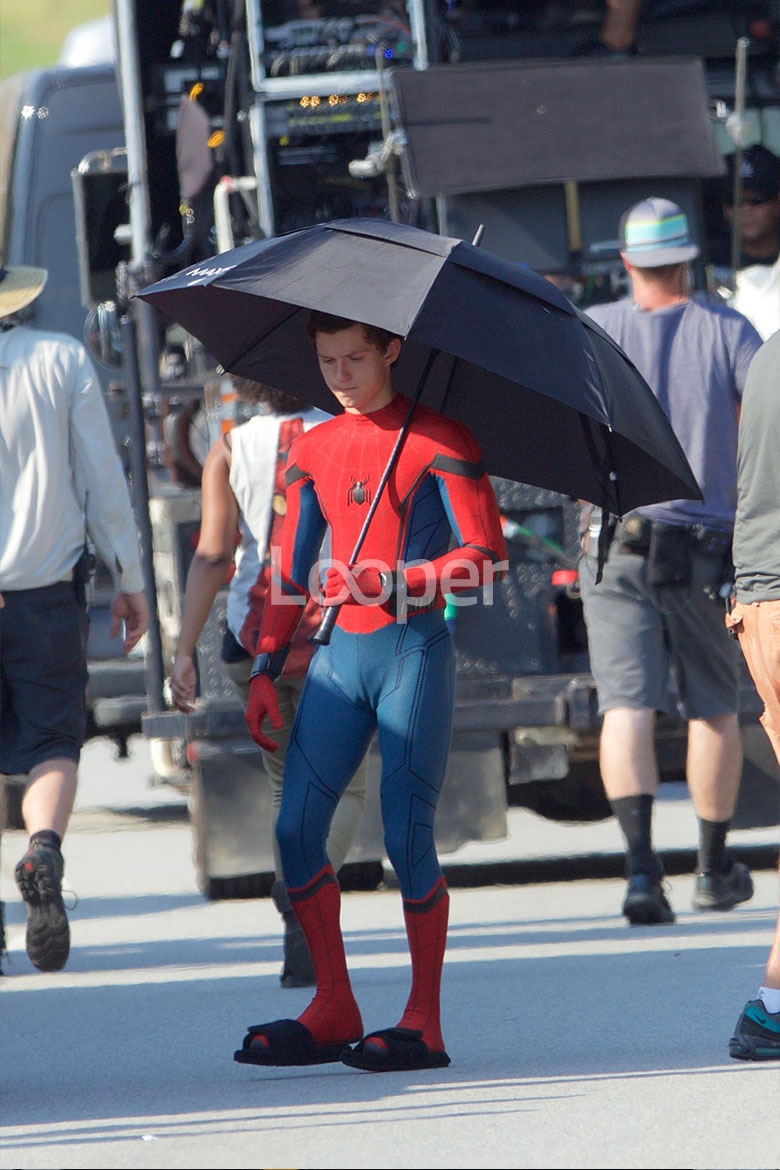 AKM-GSI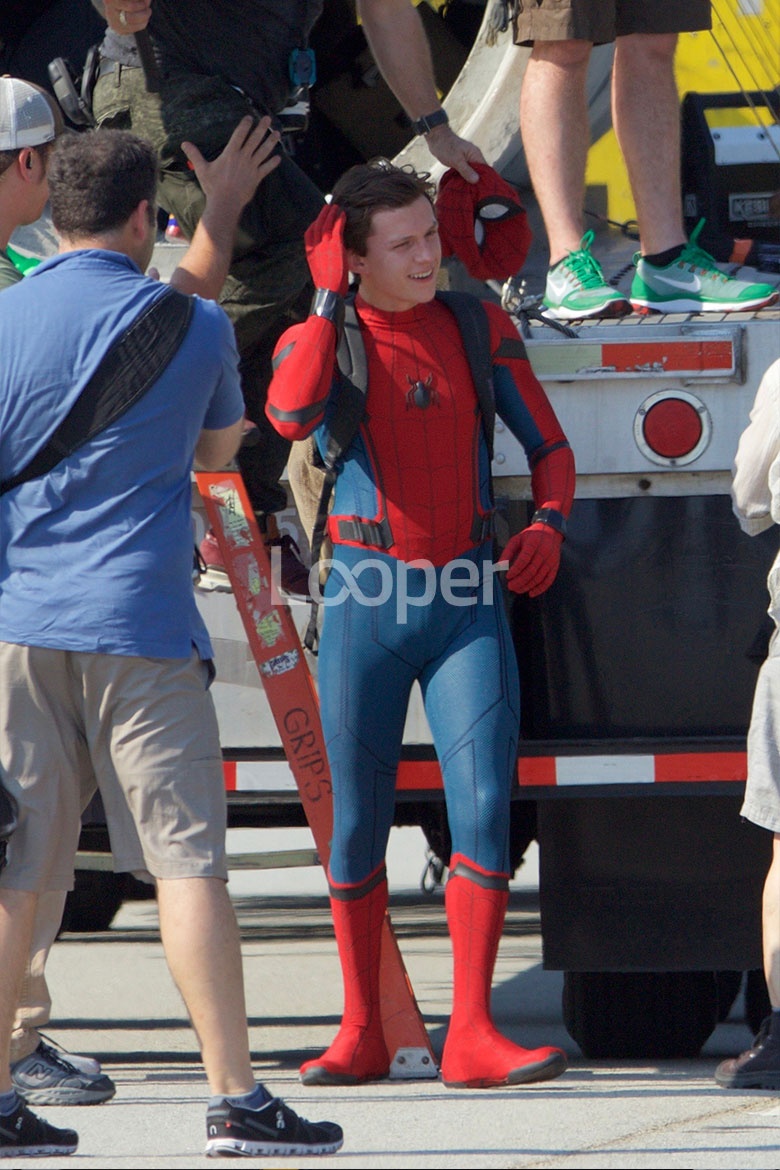 AKM-GSI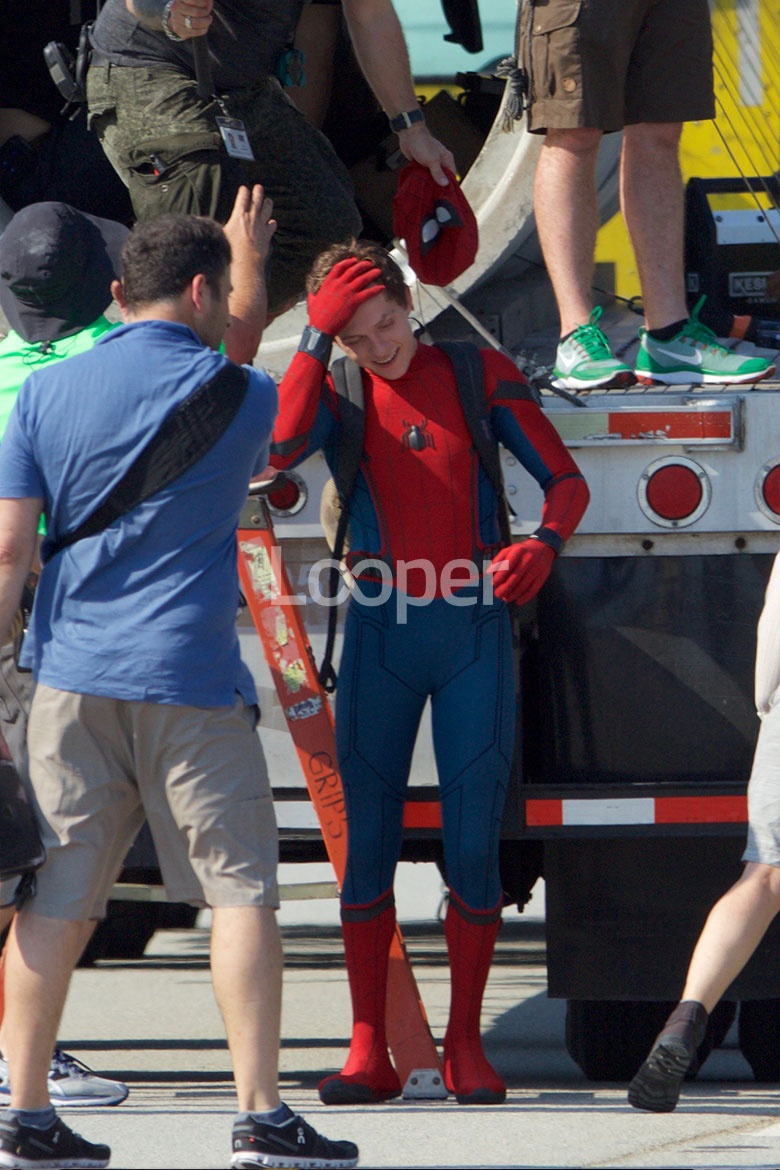 AKM-GSI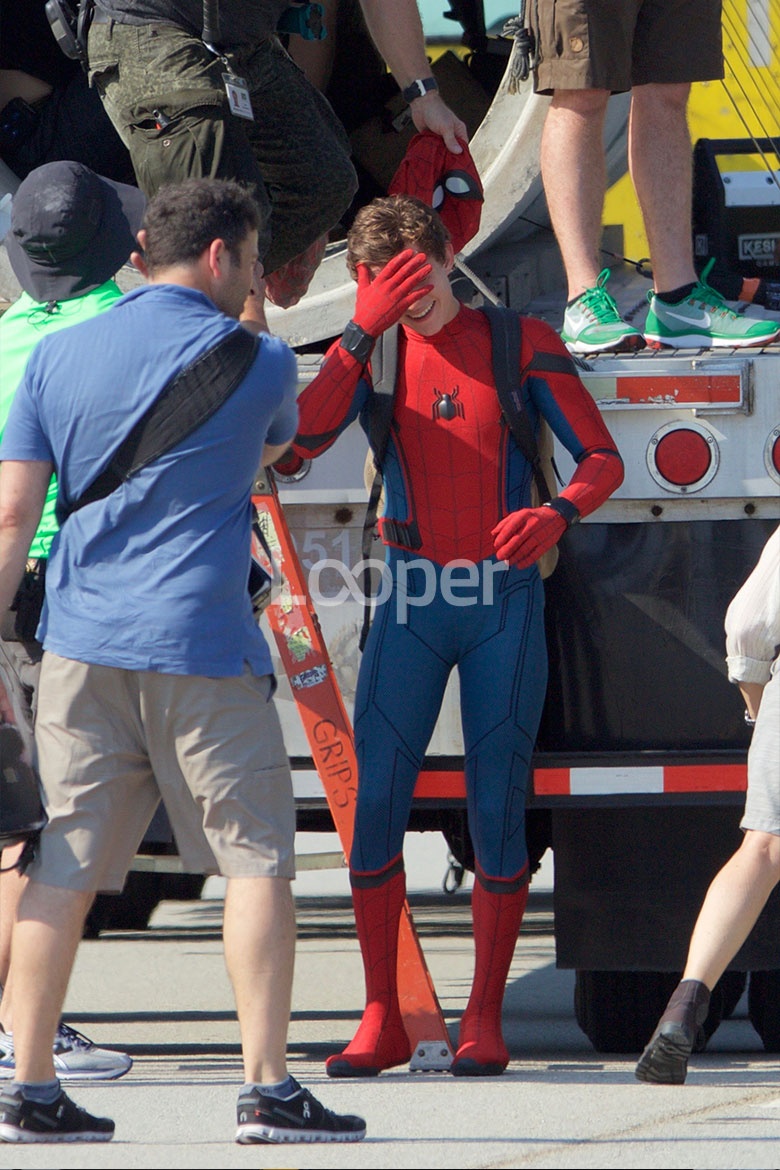 AKM-GSI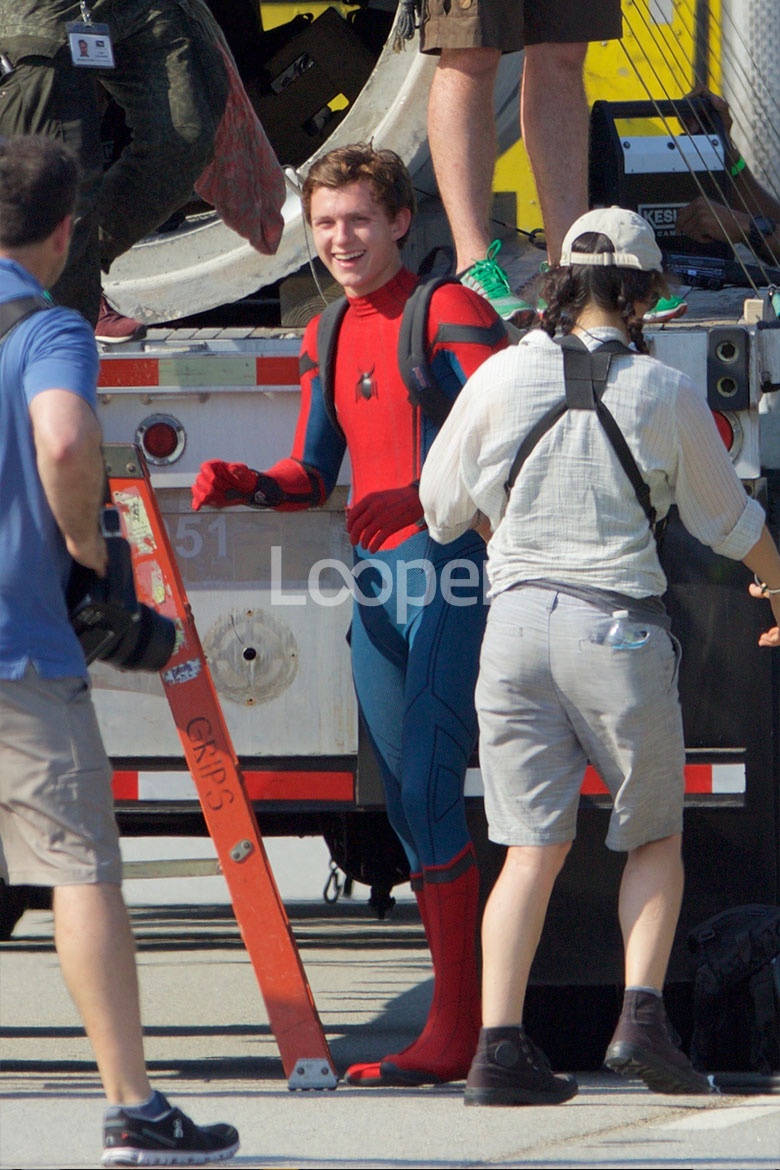 AKM-GSI
ALSO WATCH: 18 SPIDER-MAN FACTS YOU MAY NOT KNOW
​