What The Critics Are Saying About Terminator: Dark Fate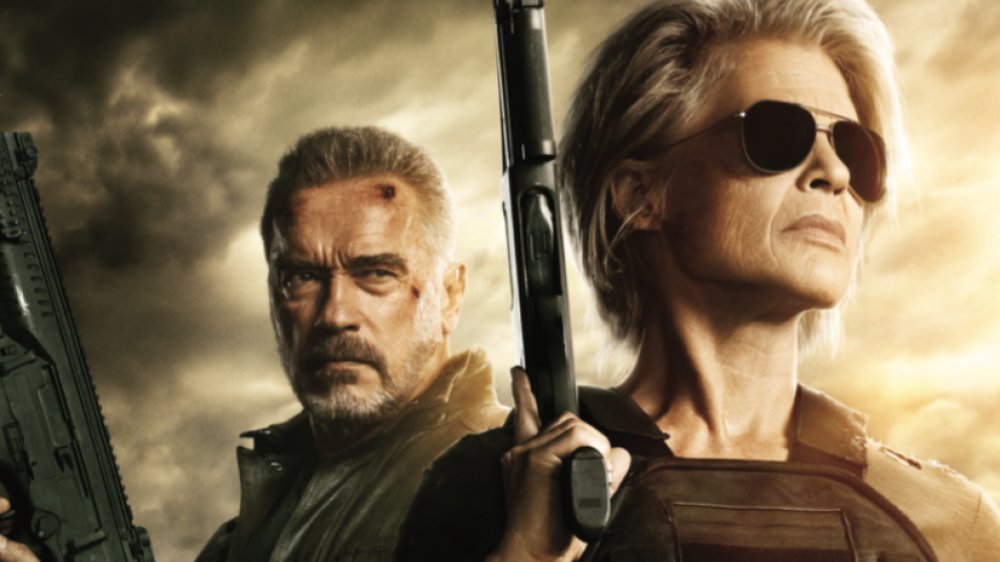 Paramount
Terminator: Dark Fate has screened for critics — and while the franchise has left them cold in recent years, it looks like the trend is about to be reversed.
A good deal of the reviewers who took in the film are comparing it favorably to Terminator 2: Judgment Day, and many also agreed that the film will make a star out of Mackenzie Davis. Linda Hamilton's return to the role of Sarah Connor was welcomed, and the flick's intriguing story and slam-bang action sequences were also singled out for praise.
Now, before we dig in to all of the accolades that have been heaped on Dark Fate on Twitter, we do have one caveat. Sometimes, an event film such as Terminator: Dark Fate will draw out of the woodwork all of the critics who enjoyed it, who will take to social media to pump up fans much in the same way they might pump up their friends (call it the "Dude, you are seriously gonna dig this movie!" effect). 
It just seems like, more often than not, critics who love a movie are a lot more likely to take to Twitter to rave about it than those who were indifferent or who viewed it in a negative light. Don't take our word for it: look at the first round of responses to hit social media after the Ang Lee-directed, Will Smith-starring Gemini Man was screened for critics. It was hailed as a fantastic action flick and a landmark in visual effects — and then, the embargo on formal reviews was lifted, and the movie coasted to a smooth 25% score on Rotten Tomatoes and is shaping up to be one of the biggest bombs of the year.
Having said that, we're cautiously optimistic that the initial reactions to Terminator: Dark Fate will hold up, because the flick comes with a pretty darn sterling pedigree. It functions as a direct sequel to T2, ignoring all of the increasingly ridiculous sequels that followed that film; it marks James Cameron's return to the franchise as a producer, it sports a script that was co-written by The Dark Knight scribe David S. Goyer and Overlord's Billy Ray, and it was helmed by Tim Miller, the man who brought us the piece of pure cinematic perfection that was 2016's Deadpool.
We'd also like to point out that we've been huge fans of Gabriel Luna since his inspired performance as Robbie Reyes/Ghost Rider in Marvel's Agents of S.H.I.E.L.D., and that he plays a souped-up Terminator in this movie — so, yeah, we're pretty on board. Without further ado, let's hear from the critics.
How does Terminator: Dark Fate stack up against James Cameron's classic movies?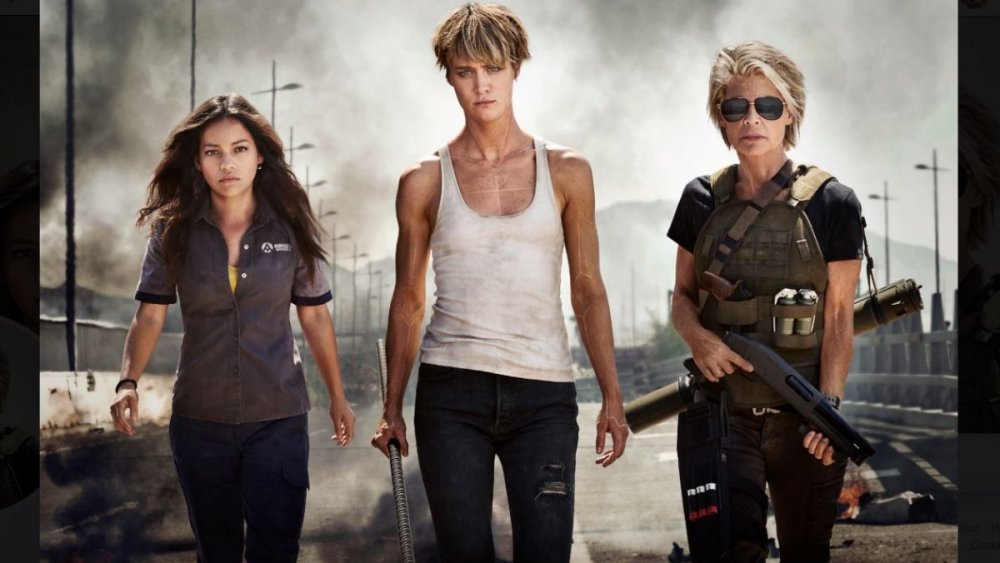 Paramount
First, we'll check in with the folks at Collider, who were roundly blown away by the flick. Editor-in-chief Steven Weintraub was among the many praising the performance of Davis, who stars as a cyborg sent back in time to protect a new "mother of the future" portrayed by Natalia Reyes. Weintraub enjoyed the trifecta of female badassery offered by Davis, Reyes, and Hamilton: "[Terminator: Dark Fate] is easily the best Terminator movie since T2," he wrote. "Has some fantastic action and loved how the film features 3 female protagonists that all kick ass. So awesome seeing Linda Hamilton back as Sarah Connor." In a followup tweet, Weintraub had a word of recommendation for those unfamiliar with Davis' work, writing, "I've been a fan of Mackenzie Davis since seeing her in Halt and Catch Fire. But she takes it to another level in [Dark Fate] where she kicks all kinds of ass. If you like her work in Dark Fate, go back and watch [Halt and Catch Fire]." 
Collider editor Perri Nimeratu seemed a touch surprise to be penning such a positive response. "Is [Terminator: Dark Fate] the best since T2? Yup," she wrote. "Linda Hamilton's return makes a BIG difference, Mackenzie Davis kicks all the ass, & Natalia Reyes is an excellent anchor. Gabriel Luna's Rev-9 is a winner too. Physicality, VFX, fights — all spot on! Glad they gave this another go."
Their colleague, horror editor Haleigh Foutch, opened her remarks with a helpful public service announcement. "PSA for my queer ladies," she wrote. "You are not prepared for how much Mackenzie Davis is going to f*** up your life... I would die for [her character] Grace and you would too, you just don't know it yet."
Yes, she did have an opinion about the actual movie, thanks for asking. "Oh the film, you ask? It's solid. Super well articulated action. Linda Hamilton is aces. Easily the best sequel since T2. [Dark Fate] takes The Force Awakens' 'if it ain't broke, don't fix it' mentality to Cameron's films and turns out it ain't broke."
Ms. Foutch was not the only observer to notice an aesthetic similarity between Dark Fate and the movie that washed the bad taste of the Star Wars prequels out of the mouths of fans. Wrote Gizmodo entertainment reporter Germain Lussier, "[The movie is] basically Terminator: The Force Awakens. A satisfying, exciting reboot that's essentially the best parts of T1 & T2 in a blender. Davis, Reyes & Hamilton are excellent, the action wows & while it's familiar, it's easily the best T3 yet. Terminator is back."
Slashfilm owner-editor Peter Sciretta also drew the comparison, although he did make sure to point out that Miller is, well, no Cameron. "[Dark Fate] is better than you think it's going to be," he wrote. "It's trying hard to be the Force Awakens of Terminator movies, and mostly succeeds. But it's lacking Cameron's innovation, evolution and directing. Arnold is fantastic, the best of his post T2 Terminator appearances."
Sciretta wasn't the only to sing the praises of Arnie, who has certainly caught his share of flak for continuing to show up in the Terminator franchise well into his golden years. Wrote filmmaker and Final Space writer Ben Mekler, "Terminator: Dark Fate is the Star Trek reboot of the Terminator series. Linda Hamilton is amazing and Arnold kicks ass as the T-800, this time with a major upgrade: fragile human bones. This is the sequel we've all been waiting for, a franchise gamechanger."
We're not sure where those "fragile human bones" come in, but nice tease, Mr. Mekler. Of course, there was also plenty of praise to go around for Hamilton, who helped to establish "female action hero" as something that exists, and who apparently had no trouble slipping back into the skin of her most famous character. "I was skeptical of [Dark Fate]," wrote Uproxx senior entertainment writer Mike Ryan. "Thought the trailers were not great. But I would up enjoying it quite a bit, and the difference maker (vs the other post T2 sequels) is Linda Hamilton. It's always been HER story and Hamilton adds the needed weight here."
Screencrush editor-in-chief Matt Singer agreed wholeheartedly. "[Terminator is] thought of as Arnold's franchise. [Dark Fate] makes it clear he wasn't the key ingredient that made it work. It was Linda Hamilton," he wrote. "She's incredible in this, and the movie's very solid."
All in all, it was a pretty amazing outpouring of love for a sequel that nobody was sure would work, and it seems to have accomplished the impossible in making some critics actually look forward to more Terminator movies. Wrote IGN Movies critic Jim Vejvoda, "[Dark Fate] succeeds as both a suitable closing chapter for the original two James Cameron films and a possible gateway to exciting new chapters ahead. While the threshold may be low thanks to the last three would-be franchise resets, Dark Fate is the best one since T2."
We must say that we thought the flick's trailers were jaw-droppingly awesome, and these initial reactions certainly seem to confirm our suspicion that Terminator: Dark Fate will finally, at long last, be a Terminator movie that doesn't come out of the gate having to justify its existence. We will be front and center when the flick hits the big screen on November 1, and of course, you can count on us to offer our signature brand of expert analysis.