The Final Star Wars: The Rise Of Skywalker Trailer Is Coming Soon
It all comes down to this. 
Walt Disney Studios and Lucasfilm have announced that the final trailer for Star Wars: The Rise of Skywalker will be unveiled soon. 
On the official Star Wars Movies Facebook page, the two companies uploaded a video confirming that the new footage for the film — which is the last we'll see before it opens in theaters this December — will premiere on Monday, October 21. 
Fans at home should tune into Monday Night Football on ESPN that night to watch the new Rise of Skywalker trailer in real time. Presumably, the trailer will be available to watch online immediately after it airs during the game between the New England Patriots and the New York Jets. The game is scheduled to begin at 8:15 PM ET, though it's unknown when exactly the final Rise of Skywalker trailer will drop.
The announcement clip was accompanied by a few seconds of video that show Daisy Ridley's Rey and Joonas Suotamo's Chewbacca inside the Millennium Falcon, with Oscar Isaac's Poe Dameron and John Boyega's Finn walking into the cockpit and taking their seats. This moment is, of course, just a tiny taste of what's to come in the full-length final Rise of Skywalker trailer — and it makes up only a fraction of a fraction of the complete film.
Just before Disney and Lucasfilm confirmed the release date for the last-ever trailer for The Rise of Skywalker, Looper got word that tickets for the film are set to go on sale on Monday, October 21 as well. If you've been holding out until the final trailer releases to decide whether or not to buy a ticket ahead of time, you may want to change your game plan, as advance tickets for The Rise of Skywalker will be available to purchase on Fandango prior to the start of Monday Night Football.
Star Wars: The Rise of Skywalker will solve many mysteries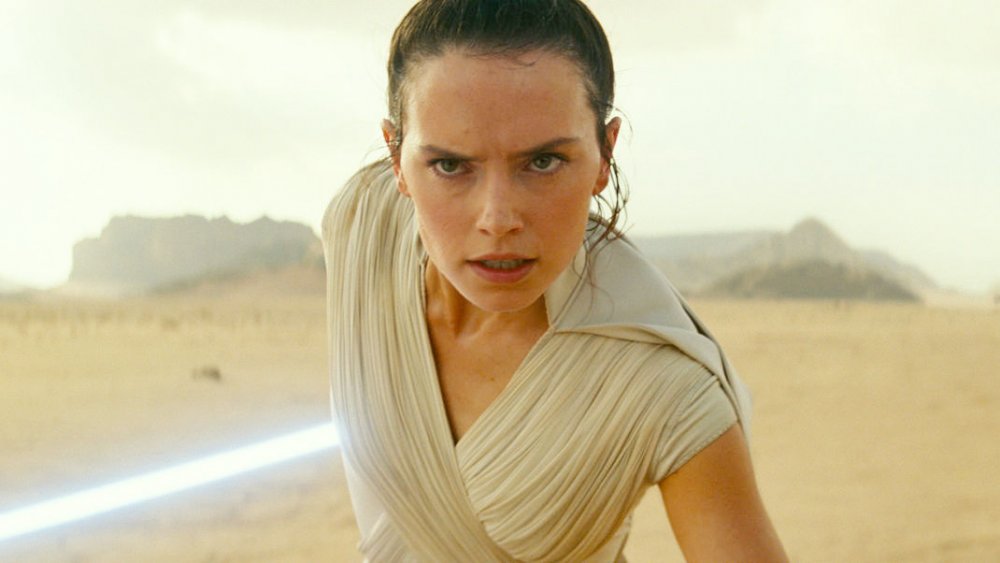 Though fans have a few more days to go until they can feast their eyes upon the final trailer for Star Wars: The Rise of Skywalker, and roughly two months before the film makes the Kessel Run into theaters on December 20, the wait will be more than worth it. Not only will The Rise of Skywalker wrap up the decades-spanning Skywalker saga that has stretched nine feature films (including TRoS) and provide a definitive conclusion to the battles that have marked the franchise, but the film will also answer some big questions that have been burning in fans' minds. 
Director J.J. Abrams, who co-wrote the film's script with Academy Award-winning screenwriter Chris Terrio, has promised that The Rise of Skywalker will unravel many mysteries left unanswered in The Force Awakens, The Last Jedi, and even the prequels and original films. The filmmaker shared in an interview with Entertainment Weekly for the magazine's November issue, "This is about bringing this thing to a close in a way that is emotional and meaningful and also satisfying in terms of actually answering [as many] questions as possible. So if years from now, someone's watching these movies, all nine of them, they're watching a story that is as cohesive as possible."
Abrams added, "While there were many things that were planned for and discussed — [Star Wars creator] George Lucas himself said when he created this he saw it as three, three-act plays — that doesn't mean there isn't discovery, that doesn't mean there aren't things that come up that make you realize, 'Oh, here's an opportunity.' It also doesn't mean that there's a list of payoffs that we have to do because of setups. But we also were very much aware this is the end of the trilogy and it needs to satisfy. We went into this thing knowing it has to be an ending. We're not screwing around."
Star Wars: The Rise of Skywalker will be released on December 20.