This New Sonic Look Is Everything Fans Want
It may not have arrived as quickly as the speedy critter himself, but a purported Sonic the Hedgehog redesign has leaked online. 
Twitter user @BestInTheGalaxy took to their social media page on Monday, October 14 to share two images of what appears to be the redesigned version of Sonic the Hedgehog for Paramount Pictures' upcoming movie about the beloved SEGA character. 
The user claims that "a friend in Paramount Studios" provided the photos of the Sonic redesign on licensing art for the film, which they then shared on Twitter. 
It remains to be seen how legitimate the photos are, if they came straight from Paramount, and how much of what's shown of Sonic in the snaps is representative of what he'll look like in the feature film.
If the alleged leaked redesign photos are to be taken as totally real, one can expect some pretty significant changes to Sonic the Hedgehog. His eyes are larger and closer together, his nose is longer and ears are bigger, and his body proportions are much more accurate to the way Sonic has been depicted in the past — like in the many Sonic the Hedgehog video games, in comics and manga, and on various television series. 
A subtle but important difference between Paramount's original design for Sonic and this alleged leaked redesign is that Sonic's hands and feet look a lot less eerie. Before, Sonic had some oddly human-like proportions, with his legs ending in normal-sized feet adorned with red shoes you'd see on an average person. He also had weirdly small hands that were covered in white fur that contrasted with the blue of his arms. In the purported redesign, however, Sonic has thinner arms and legs, enormous red shoes, and hands that are actually hidden inside big white gloves — all attributes that are true to the SEGA character as fans know him.
This is 'much, much better' than the original Sonic design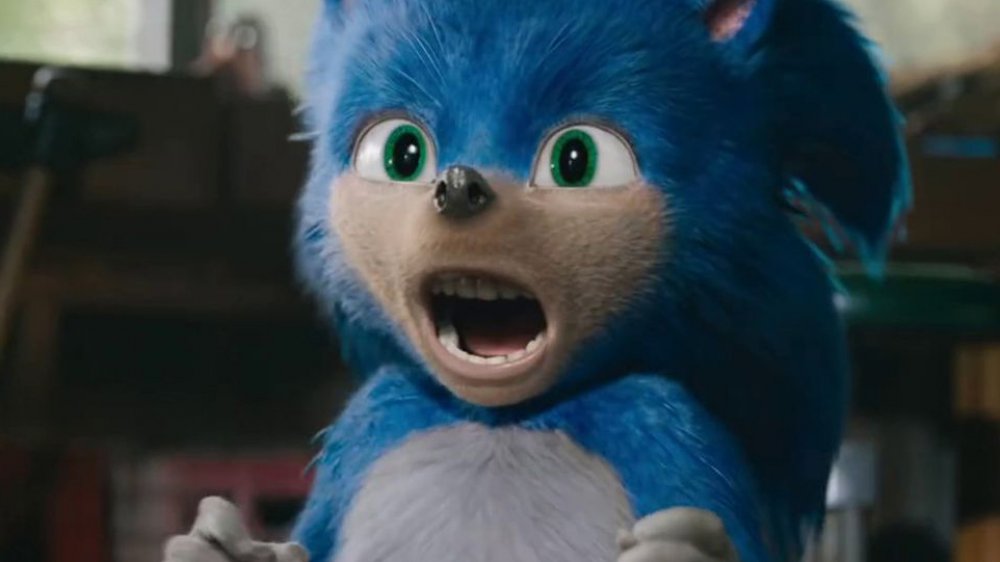 And speaking of fans, they're absolutely loving this "leaked" new Sonic look — sounding off on social media that it's everything they wanted from the redesign, which Sonic the Hedgehog director Jeff Fowler announced back in May 2019 following intense backlash to and extreme concern over the film's first trailer. (Long story short: Viewers were horrified by the sight of Sonic, so the film's creative team made the decision to go back to the drawing board, redesign Sonic, and delay the film from November 8, 2019 to February 14, 2020.)
"WELL. Sonic looks better. Much MUCH better," one fan wrote on Twitter, attaching the photos of the alleged redesign. 
Someone else was floored by the photos, saying in a tweet, "Saw the leaked photos of Sonic's redesign for the movie and to be honest... It looks amazing! Hope this is the real deal."
Another was especially gung-ho about Sonic's gloves, tweeting, "BEST thing about the supposed new movie Sonic redesign is that they finally gave him gloves...GLOVES!!"
As many have been quick to point out, there's really no way to tell if these photos are the real deal or if they're entirely doctored. If they are genuine snaps of promotional material for Sonic the Hedgehog, then fans are sure to be pleased when Paramount makes the official redesign reveal. If they aren't and are simply the product of a fan with a lot of time on their hands and plenty of Photoshop skills in their arsenal, then Paramount may want to take some inspiration from the photos and make a few adjustments to the actual Sonic redesign based on how well fans are responding to it. 
Director Fowler has promised that "everyone at Paramount & Sega are fully committed to making this character the BEST he can be," and even noted when announcing the film's delay to February 2020 that the visual effects artists working on Sonic the Hedgehog weren't being pushed beyond their limits or placed into crunch mode to get the redesign done. Paramount, SEGA, Fowler, and the entire Sonic design crew are clearly dedicated to the movie and want to make it an enjoyable experience for fans of the property, and if these new photos really did come from official higher-ups, then they've absolutely succeeded in that endeavor. 
Of course, just as important as how Sonic looks is how Sonic sounds – and he's got a fantastic voice actor bringing him to life for the upcoming movie: Parks and Recreation alum Ben Schwartz. The original design for Sonic may have had fans quoting Schwartz's most iconic line from Parks and Rec — shouting at the zippy blue hedgehog "you're the worst!" — but the new look should have them channeling the sage words of Jean-Ralphio Saperstein when they turn their "frizzowns upside-dizzity."
Sonic the Hedgehog will speed into theaters with a brand-new look on February 14, 2020.