Joaquin Phoenix Surprised Fans At Joker Screenings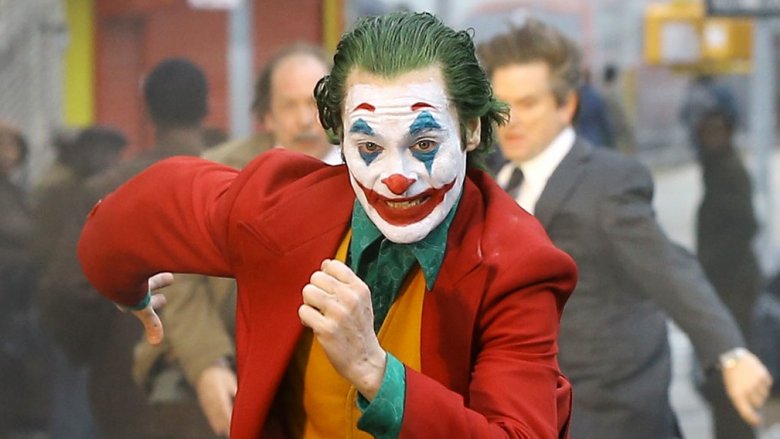 Warner Bros./DC Films
Joker is the most talked-about film of the fall — and its star gave a few lucky fans even more to talk about.
The Saturday after the film's opening, Joaquin Phoenix stopped by several Los Angeles-area Alamo Drafthouse screenings to hang out, chat with fans, and take a few pictures, much to the delight of those in attendance. (via The Hollywood Reporter)
Phoenix, casually dressed in a black hoodie, jeans and sneakers, could almost have been mistaken for any other dude showing up to take in a screening of Joker. He looked just a bit different from how he did in the film; his hair was completely under control, he'd obviously gained back a good portion of the weight that he famously lost for the role, and he appeared laid back and friendly in the video clips which were captured by fans and posted to the Alamo Drafthouse Twitter account.
In one of those clips, Phoenix jokingly apologizes for making his grand entrance during the movie's credits, causing the house lights to come up a little early. ("You're mad, I can tell you guys are mad," he says, as fans chuckle and applaud.) He then thanks everyone for coming out to support the film, expressing his hope that they liked it and asking them not to tell him if they didn't. "Even if you did, I don't wanna know," he says, once again drawing laughter from the crowd.
Another brief clip featured a portion of an impromptu Q&A between Phoenix and fans, one of whom asked the star how he came up with the bizarre dance moves favored by his character, Arthur Fleck, in the movie. Phoenix explained that his inspiration came both from choreographer Michael Arnold, and from YouTube.
"[Arnold] just started showing me a bunch of video footage of different dancers and you know, YouTube, you just get sucked down a hole and you start finding stuff," Phoenix said, verifying that even the biggest stars in Hollywood aren't immune to the mesmerizing power of YouTube. "I don't really know where it came from. A lot of it we just kind of were discovering in the moment, like in the bathroom and the subway — it's something that [Joker director] Todd [Phillips] and I just kind of figured out, like that day when we were shooting."
How did fans react to Joaquin Phoenix showing up at their screenings of Joker?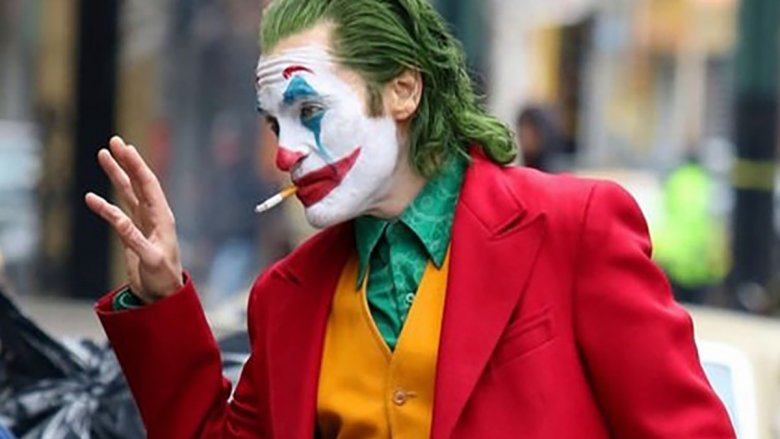 Warner Bros./DC Films
Fans were shocked and thrilled by the star's appearances, with one seen to be in actual tears in one of the video clips posted to Twitter as she shook his hand and praised his performance. A compilation video posted by Alamo's Twitter account revealed that Phoenix made the rounds to five different locations, and the star was seen fielding questions, praise, and hugs in equal measure. 
Many fans took to Twitter after their screenings to... well, let's face it, to boast about their experiences, which is absolutely what we would have done. It's not every day that one of the biggest actors in the world casually shows up at venues were his smash hit film is playing to joke around with fans and offer awesome behind-the scenes anecdotes, but we suppose anything is possible when you live in L.A.
Emmy-winning photojournalist Paul Sanchez was on hand for one of the screenings, and he caught the video in which Phoenix apologizes for barging in on the credits. Sanchez tweeted, "If you missed the 7:30 show of #JokerMovie at @DrafthouseLA, you missed this Joker coming in and interrupting the end credits. What a moment. Joaquin Phoenix, who will win the Oscar for this film, was cool enough to drop in. Top five LA moment ever." In a follow-up tweet, he urged his followers to get their butts to the theater. "It goes without saying: If you watch only one movie for the rest of the year... MAKE IT THIS ONE," he wrote. "It is really THAT good."
User Jeremiah Dollins took the words out of the mouths of every fan to have attended one of the lucky screenings with his tweet. "I shook Joaquin Phoenix's hand tonight after seeing JOKER at the @DrafthouseLA, thus cementing my firm belief that both Alamo and Joaquin are the greatest in their respective fields," he wrote.
Rolling Stone and THR writer Julie Seabaugh, meanwhile, was either less than impressed with Joker or very, very impressed with Phoenix (most likely the latter). "Tonight I saw the 9:10 Joker at Alamo Drafthouse," she tweeted. "Before it started the house lights went up and Joaquin Phoenix legit walked to the front and thanked us for coming. Everyone went f***ing nuts. It was my favorite part of the movie."
With all of the discussion and controversy surrounding Joker, it's refreshing to hear that the flick's star decided to spend a Saturday night giving fans a night at the movies they'll always remember. Now, if only we could get him to visit the several thousand other locations where Joker is playing. Heck, he's probably not doing anything this weekend; get your tickets now, because you never know!