The Truth About Mose From The Office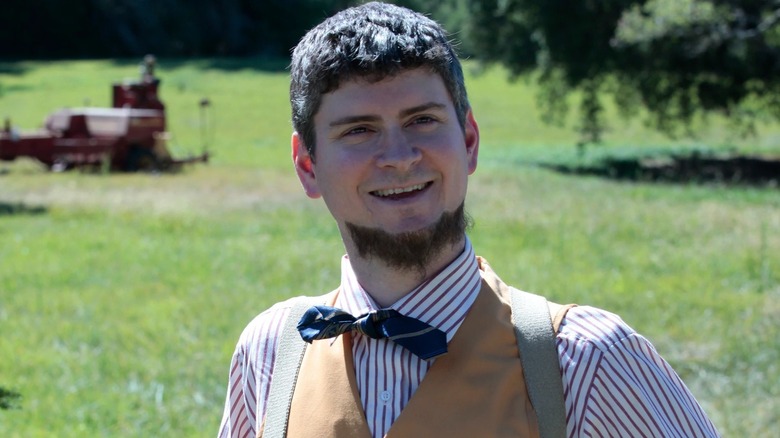 NBC
One of the funniest throughlines of The Office, the universally beloved NBC mockumentary that ran from 2005 to 2013, concerns the fact that Dwight Schrute (Rainn Wilson) owns a fully functioning beet farm outside of Scranton city limits that also operates as a bed and breakfast. As he juggles the beet farm alongside his duties as Assistant to the Regional Manager at Dunder Mifflin, Dwight also has to contend with his weirdest family member, Mose Schrute. A cousin who resides at Schrute Farms and helps manage the entire operation, Mose is secretive, often unnerving, and downright odd — adding an unsettling yet hilarious aspect to Dwight Schrute's life story.
But there's definitely more to Mose than meets the eye. He's not only Dwight's closest relative who regularly appears on the show, but he's also played by one of the show's creative minds. Here's the real story about Mose Schrute — and the actor who portrays him — on The Office.
All about Mose Schrute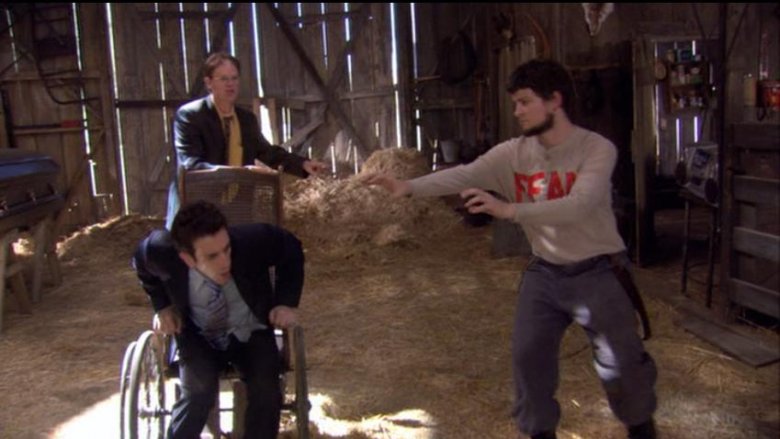 When viewers first meet Mose on The Office's third season, Dwight is utilizing him in a bizarre initiation service for fledgling salesman Ryan Howard (B.J. Novak).  Ryan draws the line at wrestling the physical embodiment of "fear" (Mose is clad in a homemade shirt that says "FEAR" across the chest), and thus Dwight's weird ritual abruptly ends. However, the scene gives audiences an immediate insight into the farm-bound Mose: he's incredibly stunted, and doesn't really know how to interact with others. Later scenes see Mose trying to throw manure at guests on the farm, using an outhouse with the door open, and just acting generally odd, and throughout the show, Dwight reveals that Mose, just one of his 70 cousins, doesn't even know how to use a phone.
Dwight's entire family situation raises a lot of questions. (For example, he dropped pretty obvious clues that his grandfather was a Nazi, including that he "spent time in an Allied prison camp.") But Mose, as the most prominent non-Dwight member of the Schrute clan, is a bit of a disturbing and a definitively mysterious figure. Almost nothing is known about Mose's upbringing or his life previous to the show's narrative. One of the biggest insights the audience gets into Mose's life is when Dwight tells Jim (John Krasinski) and Pam (Jenna Fischer), who are staying at Schrute Farms' bed and breakfast, that Mose has had "nightmares" ever since "the storm." Naturally, Dwight doesn't go into any further detail.
In any case, Dwight's Pennsylvania German family is definitely played for laughs throughout The Office, and Mose is no exception, remaining a running joke throughout the show's background for its entire run (Mose makes his final appearance on the show's series finale during his cousin's wedding).
The man behind Mose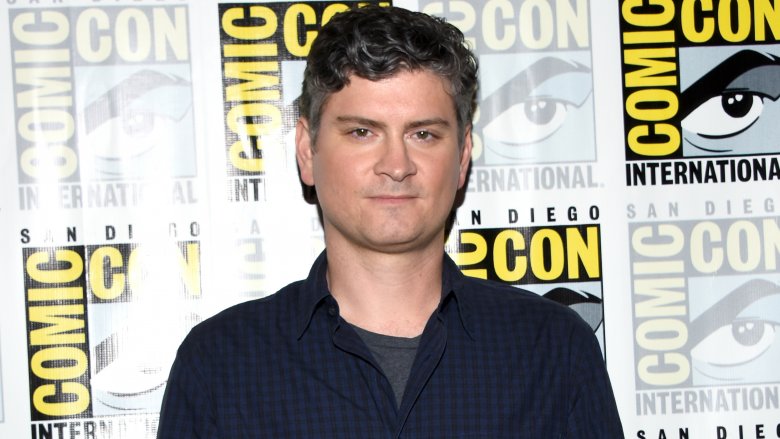 Araya Diaz/Getty Images
When it came time to cast Mose, The Office showrunners kept the role in the family, giving a cameo part to Michael Schur. Schur got his start as a writer on Saturday Night Live, where he worked from 1998 to 2004, and shortly afterwards, he joined The Office's creative team as a producer and a writer. 
Schur has since opened up about what it was like to really play Mose. In 2017, he told Entertainment Weekly that the overall experience was a "waking nightmare," revealing that his lines were often cut and he was incredibly uncomfortable in his heavy costume while the show filmed in typical California heat. 
"Playing Mose Schrute was a waking nightmare," Schur told EW. "My boss, Greg Daniels [the showrunner of The Office], forced me to do it as a way to cause me pain. And it was terrible. The first time I did it, I had to grow a real neck beard. Every time after that, he 'let' me use a fake beard, which is maybe worse, because those beards are terrible." 
He also told fans that his takes often ended up on the cutting room floor, after all was said and done: "They would give me one line, and then they would always say the same thing, which is, 'I think it's funnier if he doesn't say anything,' and they would cut my line. It was brutal."
However, Schur has clearly bounced back from this apparently miserable experience. In his years since wrapping The Office, Schur has become a highly in-demand showrunner. After collaborating with Daniels again on Parks & Recreation – another workplace mockumentary that starred Amy Poehler, Nick Offerman, and Chris Pratt, among others — Schur went on to create beloved shows like Brooklyn Nine-Nine (starring Andy Samberg) and The Good Place (the Kristen Bell and Ted Danson-led comedy which is currently airing its final season). He also co-wrote an episode of Black Mirror (2016's "Nosedive," which starred Bryce Dallas Howard) alongside his Parks star Rashida Jones. AAnd in early 2019, he signed a huge deal which will keep him in the Universal and NBC family for the foreseeable future.
Schur may be done with Mose (which, clearly, is a huge relief for him), but he's moved on to much bigger and better projects. Though the showrunner obviously prefers staying behind the scenes and working as a writer and producer, it's pretty likely that diehard Office fans will always remember him as Dwight's weird cousin.