Game Of Thrones' Peter Dinklage Wins Outstanding Supporting Actor In A Drama Series At 2019 Emmys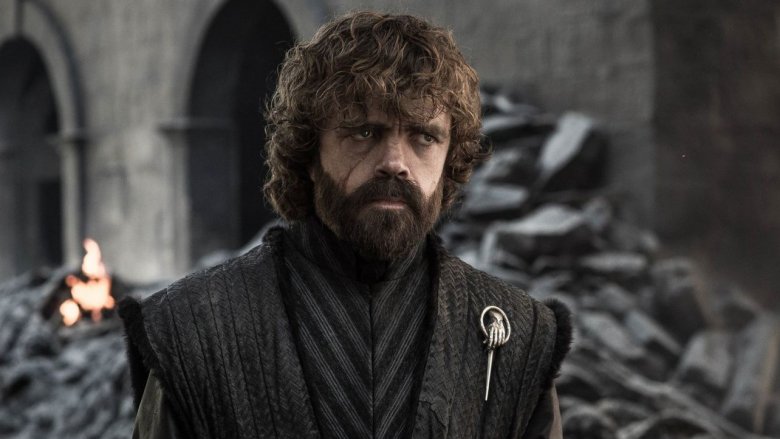 The newly minted Hand of King Bran has just been handed something even better: an Emmy Award. 
At the 71st annual Primetime Emmy Awards, Game of Thrones star Peter Dinklage took home the Emmy for Outstanding Supporting Actor in a Drama Series for his final turn as Tyrion Lannister on the HBO series, which wrapped in May 2019.
Dinklage's win marks his fourth consecutive Emmy in this particular category, and makes him the most-awarded supporting actor in Emmys history thus far. The actor — whose time-and-trauma-weathered Tyrion Lannister lived through the harrowing events of Thrones season 8 to stand beside Bran Stark (Isaac Hempstead Wright) who was named the King of the Six Kingdoms on the series' finale – was up against fierce competition, but it came as little surprise that he bagged the shining trophy. For the Outstanding Supporting Actor in a Drama Series award, Dinklage beat out two of his Thrones co-stars, Alfie Allen (who played Theon Greyjoy) and Nikolaj Coster-Waldau (Dinklage's on-screen brother Jaime Lannister); Better Call Saul's Jonathan Banks and Giancarlo Esposito; House of Cards' Michael Kelly; and This Is Us' Chris Sullivan.
Peter Dinklage got bleeped during his 2019 Emmys acceptance speech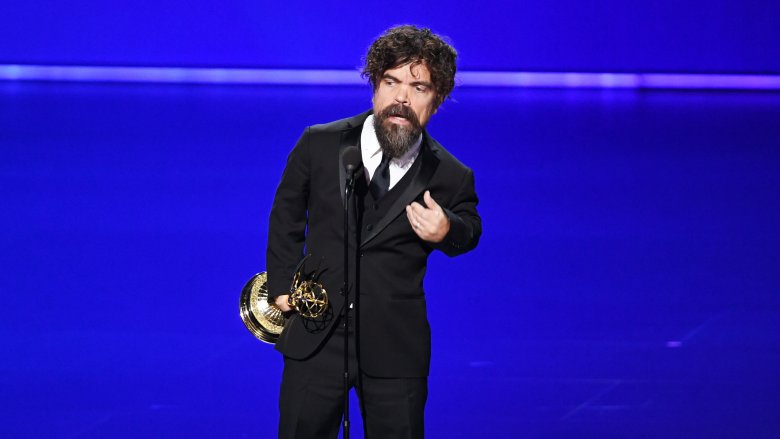 Kevin Winter/Getty Images
Not only did Dinklage set his own Game of Thrones legacy in stone by winning an Emmy at the 2019 ceremony, but he also ensured that Thrones would forever be remembered at the Emmys when he swore during his acceptance speech. Dinklage was clearly thankful to be awarded the Emmy for Outstanding Supporting Actor in a Drama Series, and took an off-the-cuff approach when expressing his emotions over the honor. In the heat of the moment, after thanking Game of Thrones showrunners David Benioff and D.B. Weiss, Dinklage cursed and got bleeped on stage. He made a hilarious aside a second after it happened, saying that since Thrones is over now, he doesn't really care that he dropped an F-bomb on live television. 
Here's what Dinklage said during his 2019 Emmys acceptance speech: "Thank you. I have no idea what I'm about to say, but here we go. I count myself so fortunate to be a member of a community that is all about tolerance and diversity, because no other place could I be standing on a stage like this. It's been about 10 years, all said and done, since the moment I met Dave and Dan until right now. I had no idea what I was getting myself into, but I knew that David and Dan were quite brilliant. Ten years of absolute sweat, but 10 years of the most incredible, talented, funniest motherf****** people — hey, it's over, I don't care — I've ever been lucky enough to work with. We did nothing but sweat, we did nothing but laugh. Dave and Dan, we literally walked through fire and ice for you. Literally. And I would do it all over again in a heartbeat. Thank you."
Game of Thrones may have gone out with a fizzle with its controversial finale, but Dinklage sure went out with a bang at the 2019 Emmys.