2019 Emmys: Barry's Bill Hader Wins Lead Actor In A Comedy Series
This is some Barry good news. 
Barry star Bill Hader bagged the Emmy for Outstanding Lead Actor in a Comedy Series at the 2019 Emmy Awards, which took place on Sunday, September 22. 
On Barry, the HBO tragicomedy co-created by Hader and Seinfeld writer Alec Berg, Hader portrays the titular character — a former Marine who becomes a hitman, one day heading from Ohio to Los Angeles on assignment to kill someone. However, Barry's life changes in the city of stars when he realizes he wants to leave his life of crime behind, become an actor, and make a name for himself in the theater scene. 
Hader thanked Berg in his acceptance speech, noting that Berg's feedback helps influence his performance on Barry. 
"The person I actually go to is my friend and co-creator, Alec Berg. And usually after a take, I go over to Alec and I'll go, 'What do you think?'" the actor stated. "And I get one of two responses. It's either, 'We should move on,' or, 'We should go again' [...] So I want to thank you for molding my performance. And I don't know where I'd be without you. All right, love you man."
What does Bill Hader's Emmy win mean for Barry?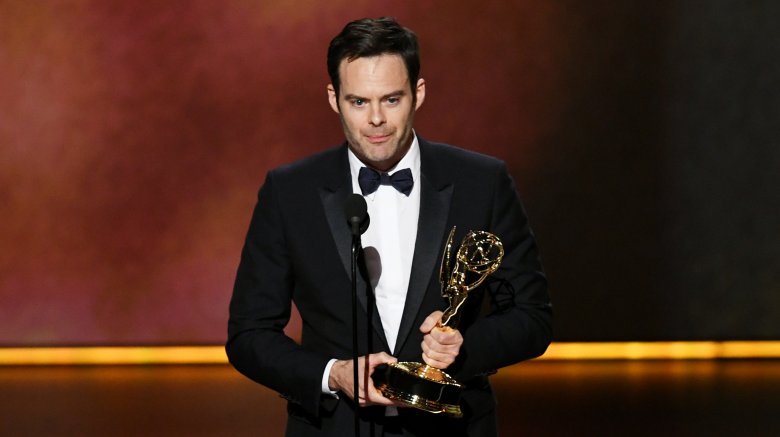 Kevin Winter/Getty Images
Hader snagging the Outstanding Lead Actor in a Comedy Series Emmy at this year's ceremony isn't just a sign of his own talents — it's also indication that people can't get enough of Barry. Where Emmy wins can turn up-and-comers into full-fledged superstars, they can also motivate networks, producers, and creatives to keep a good thing going. Barry is, obviously, a very good thing, and is currently gearing up for its third season on HBO. Hader winning an Emmy for his lead performance on the series only adds more fuel to the fire to continue the show for as long as it can go — which is fantastic news for fans and for everyone involved with Barry. More seasons means more time in the public consciousness, and that means more chances for Emmys. Everybody wins!
According to Hader, the Barry writers will begin working on season 3 in October. Here's to hoping Hader's big Emmy win helps inspire a season 4 renewal as well.