Tom Hanks Reveals Which Real-Life Mr. Rogers Moment Made Him Cry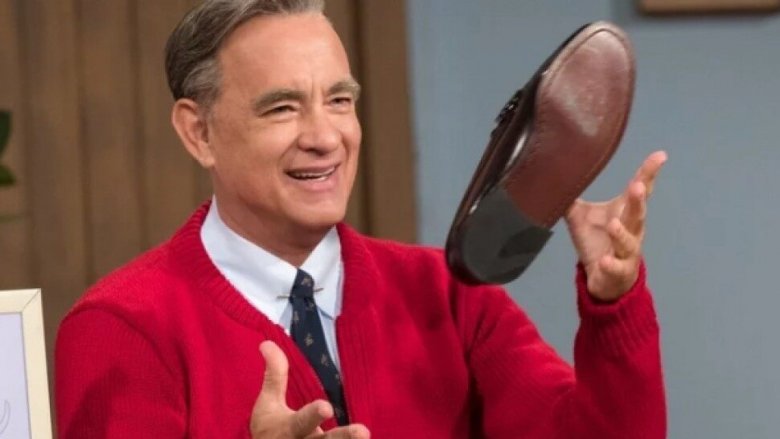 Even a veteran actor like Tom Hanks isn't immune to Mr. Rogers' charm.
Hanks, who plays the legendary children's television host in Marielle Heller's upcoming A Beautiful Day in the Neighborhood, has revealed the moment that helped him become fully emotionally invested in telling the story of Fred Rogers. 
Speaking during the Toronto International Film Festival (via Vanity Fair) where the film had its world premiere, Hanks admitted that he wasn't a huge Mister Rogers' Neighborhood fan as a kid, so he didn't jump onto A Beautiful Day in the Neighborhood right away. However, after seeing a video of Rogers sharing an emotional moment with a young boy in a wheelchair, Hanks was hooked. The video, which shows Rogers and a boy named Jeffrey Erlanger, builds up to the two of them gently singing "It's You I Like." It was this display of emotional generosity that captivated Hanks. 
"Fred is just so wonderfully gentle and present [with] someone who normally would make [most people] feel uncomfortable," the actor said. "What do you say to somebody who will spend their life in a wheelchair? He said, 'Jeff, do you ever have days when you're feeling sad?' He says, 'Well, yeah, sure Mister Rogers. Some days... but not today.'"
The moment made Hanks "bawl his eyes out," and is single handedly responsible for him signing on to the film in the first place. In case you're feeling emotional as well, Erlanger and Rogers' story didn't end with that day on Mister Rogers' Neighborhood; the two joyfully reunited years later onstage at the Academy of Television Arts & Sciences Awards, when Rogers was inducted into the Television Hall of Fame.
Hanks went on to explain why A Beautiful Day in the Neighborhood and Mr. Rogers' legacy are so important, saying, "I think that, when Fred Rogers first saw children's programming, he saw something that was cynical. And why in the world would you put a pipeline of cynicism into the minds of a two or three-year-old-kid? That you are not cool because you don't have this toy, that it's funny to see somebody being bopped on the head, that hey, kids be the first in line in order to get blah, blah, blah. That's a cynical treatment of an audience, and we have become so inured to that that when we are met with as simple a message as hey, you know what, it's a beautiful day in the neighborhood, [it's a reminder] that we are allowed...to start off feeling good."
Director Marielle Heller — who recently made waves with her acclaimed biopic Can You Ever Forgive Me? – agreed, adding, "I think what Mister Rogers did was subtle, and it's easy to overlook. I think for a long time people thought of him as hokey, or something to be made fun of. And he did get made fun of a lot in his day, but [what he was doing] was really profound. And the impact that he had was very deep. It wasn't flashy. It was very real."
Heller and Hanks have been extremely open about the process behind A Beautiful Day in the Neighborhood, including that they showed a final cut to Rogers' widow, Joanne, who reportedly enjoyed it and said that her late husband would be "proud" of what the creative duo have achieved.
Telling the story of a friendship between Rogers and a journalist assigned to profile him, Lloyd Vogel (The Americans' Matthew Rhys), A Beautiful Day in the Neighborhood will hit theaters on November 22. Early reviews are already glowing, so whether you're a longtime Mr. Rogers fan or simply want to learn more about an American icon, you'll want to mark your calendar for this guaranteed emotional rollercoaster of a movie.