What The Rotten Tomatoes Reviews Are Saying About A Beautiful Day In The Neighborhood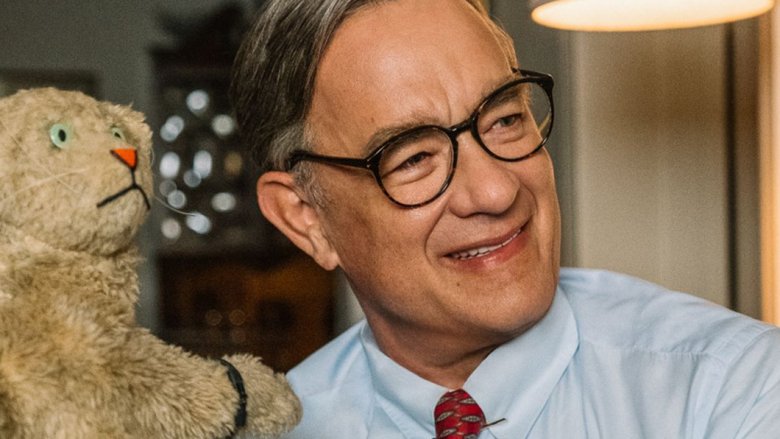 Sony Pictures Releasing
Does A Beautiful Day in the Neighborhood live up to its winsome title? 
According to the first round of Rotten Tomatoes reviews for the flick, it absolutely does. 
Directed by Marielle Heller from a script penned by Micah Fitzerman-Blue and Noah Harpster, A Beautiful Day in the Neighborhood tells the true story of the beloved children's television host Fred Rogers (Tom Hanks) and an award-winning journalist (Matthew Rhys) whose jaded outlook on life has him convinced that profiling Rogers will be unenjoyable. Based on the real Esquire journalist who profiled Rogers in the late '90s, Tom Junod, journalist Lloyd Vogel ends up having his perspective on life, love, and happiness changed after spending time with Rogers, who teaches him the importance and power of empathy. 
Critics have praised Hanks' performance as Rogers, Heller's deft direction, and the overall message of A Beautiful Day in the Neighborhood, which left viewers sobbing after its debut at the Toronto International Film Festival on September 7. 
Barry Hertz of Globe and Mail said of the film, "Hanks is, not surprisingly, excellently cast, but it's Heller's direction and inventive aesthetic instinct — everything is washed out browns, with the exception of a moving blue-lit finale — that sell the work so well." He added that A Beautiful Day in the Neighborhood is "an admirably quiet, challenging and sporadically strange meditation on fathers, sons and the poison that is suppressing your feelings" that will make audiences "weepy, in a good way."
Vox's Alissa Wilkinson gave A Beautiful Day in the Neighborhood a near-perfect score — praising the cast, the aesthetic (which she describes as looking and feeling "like an episode of Mister Rogers Neighborhood"), and what the film achieves in exploring Rogers' legacy and the impact he had on others. 
"The movie acts more like a full-length critical analysis of why Mister Rogers' Neighborhood was so powerful, and had such an effect on the lives of millions of children. It's not that he was the first person to ever break the fourth wall in children's entertainment. It's just that when Rogers did it, he meant it: Everyone watching really was part of his world," she wrote. "A Beautiful Day in the Neighborhood sneaks around the barriers we throw up in adulthood, finding the kid inside of us who just wants to know we are loved."
Writing for Total Film (via GamesRadar), Jane Crowther said that the film will soothe viewers' souls and make them shed a whole lot of tears: "Can You Ever Forgive Me? director Marielle Heller expertly manages to satisfy both fans and the uninitiated alike with this warm, cosy hug of a film that chooses to celebrate the universal compassion the children's TV presenter advocated rather than delve too deeply into what made him tick ... For those seeking comfort, kindness and a sense of cherishing in a turbulent world that seems to reward cruelty over caring, A Beautiful Day will be cinematic balm. Surrender to it and bring tissues."
Collider's Matt Goldberg noted that A Beautiful Day in the Neighborhood operates less like a standard biopic and more like a valuable lesson for adults who have (understandably so) been turned cynical by society over the years. He also wrote that "A Beautiful Day in the Neighborhood isn't a challenging film, but it carries a challenging message: can you turn your cynicism into kindness? Can you find a way to control your negative emotions before they control you?" 
"Marielle Heller's A Beautiful Day in the Neighborhood explores how kindness is hard. Forgiveness is hard. Grace is hard. Although Fred Rogers is at the center of her movie, this is not really a movie about Fred Rogers like last year's documentary Won't You Be My Neighbor? Instead, this is a movie aimed squarely at cynical adults like the film's protagonist," Goldberg's review reads in part. "Some may see A Beautiful Day in the Neighborhood as facile chicken soup for the soul—a feel-good fable that fails to adequately challenge its audience or the figure of Mister Rogers. But I would counter that we need stories that show not only why kindness and forgiveness are necessary, but why they are hard for everyone, including Fred Rogers." 
Adam Solomons at HeyUGuys applauded Hanks' turn as Rogers as well as Heller's handling of the story: "A world-beating performance from Tom Hanks and inspired direction from Marielle Heller combine to deliver a surprisingly complex and utterly accomplished film." 
Meanwhile, USA Today's Brian Truitt wrote that "Hanks feels so right in the role from the beginning." Hanks' screen partner got praise of his own, with Ella Kemp of The Playlist stating, "Matthew Rhys delivers a transformative performance, one that begins with stony bitterness and gives way to an emotionally naked revelation without ever losing an ounce of gravitas."
However, not everyone wanted to be Rogers' neighbor after seeing A Beautiful Day in the Neighborhood. James Clay of Fresh Fiction wasn't impressed with Hanks' performance as the champion of kindness and compassion, and wrote that the "painfully dull" characters of Rogers and Vogel are "really beneath the caliber of filmmakers and actors associated with" A Beautiful Day in the Neighborhood. Clay continued, "Hanks portrays Rogers as a Buddha disguised in a red cardigan and khakis, and he wears the costume well. However, it's nothing more than an impression and lacks the pathos of impact from the people who were genuinely affected by Rogers ... Heller's depiction leaves lots of space to explore deep emotions through Rogers' singular perspective, but the result is a mile wide and an inch deep."
For now, the vast majority of reviews for A Beautiful Day in the Neighborhood range from good to extremely great. The film is set to hit theaters on November 22, so general audiences can formulate their own opinions on the flick then.