Face/Off Reboot In The Works At Paramount Pictures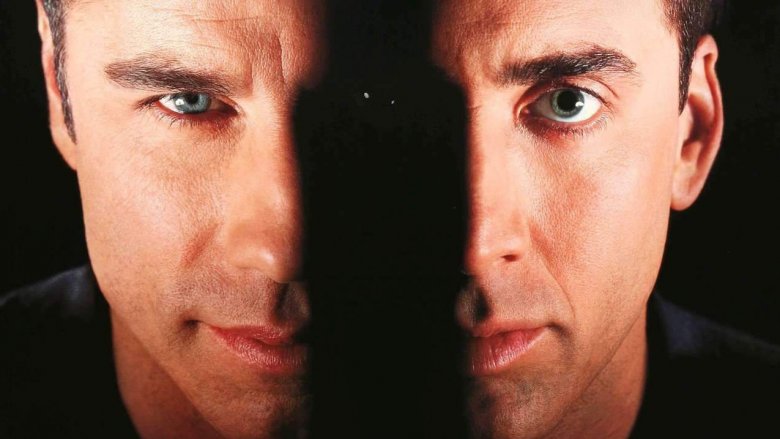 Paramount Pictures/Buena Vista International
"To destroy your enemy, you must find him, face him, and then... become him."
As confirmed in an exclusive report by Deadline, Paramount Pictures is developing a reboot of Face/Off – John Woo's 1997 action thriller featuring John Travolta and Nicolas Cage as an FBI agent and a terrorist, respectively, who assume each other's identities through experimental face transplant surgeries. While Travolta's Sean Archer becomes his sworn enemy Castor Troy to foil a complex terrorist plot, Cage's Castor Troy has Archer's face transplanted onto his and ventures to thwart Archer's mission. Things get even uglier when Troy infiltrates Archer's personal life and gets intimate with his wife — who has no clue she's actually going to bed with the deranged man who killed her son years before. 
The new Face/Off film will be a standard reboot in that new actors will fill the roles of Sean Archer and Caster Troy. Paramount hasn't yet announced casting details, though we suspect news on that front to come in the near future. 
It seems unlikely that original director John Woo will return to the helm, as it's odd to even think about a filmmaker retooling one of their most famous works, but until Paramount confirms who will sit in the director's seat for the reboot, anything's possible. 
While the Face/Off reboot currently has no central cast and no director, it does have a few very important people on board: 22 Jump Street, The Cloverfield Paradox, and Sonic the Hedgehog scribe Oren Uziel as its writer; The Fast and the Furious franchise favorite Neal H. Moritz (with whom Uziel has collaborated on a number of projects) as its producer; and Academy Award- and Emmy-nominated producer David Permut, who produced the original Face/Off, as its executive producer.
The premise of Face/Off is pretty bizarre, but that was apparently all the more reason for audiences to flock to theaters to see it. Hitting theaters in June 1997, Face/Off raked in $245.7 million worldwide against a reported $80 million budget. That box office pull works out to roughly $392.8 million in 2019 dollars. (For comparison, that's about the same amount of money that Solo: A Star Wars Story made in 2018, though that film carried a massive budget of $275 million — more than double what Face/Off's $80 million budget would be at today's rates adjusted for inflation.) 
Face/Off fared just as well with critics, and has been remembered as "sick, slick and sensational." At the time of the film's release, Chicago Tribune critic Michael Wilmington described Face/Off as "about as wildly arousing, transfixing and emotional as a big-budget Hollywood thriller can possibly get."
Given its fantastic critical and commercial performance in its heyday and its continued status as a classic actioner from the '90s, Face/Off was bound to get the reboot treatment eventually. Its out-there narrative, over-the-top action, and indulgence into elements of fantasy make Face/Off one of the more interesting pieces of cinema to refresh for a modern audience — and the advancements the film industry has made in the 22 years since the film debuted will undoubtedly allow for a more visually and technically refined end product with the reboot.
Little is known about the Face/Off reboot for the time being, but the fact that it's happening at all is reason enough to get excited. Check back with Looper for future updates on the project as more information becomes available.