Here's How Much Andrew Garfield Made From Playing Spider-Man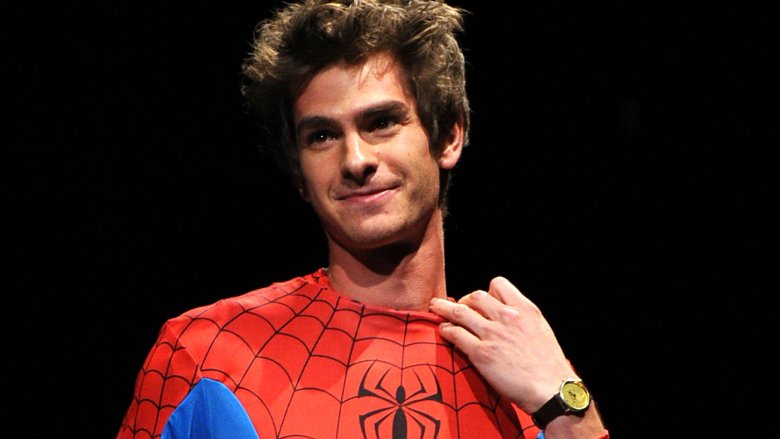 Kevin Winter/Getty Images
Andrew Garfield's role as Peter Parker in The Amazing Spider-Man and The Amazing Spider-Man 2 is one of the most notable roles of his career, despite being the weakest of the three Spidey iterations we've seen thus far. Both Amazing Spider-Man films performed (by blockbuster superhero fare standards) rather tepidly at the domestic box office and received middling reviews, though the sequel was by far the less-lauded of the two. But how did Garfield himself come out of it, financially-speaking, after the franchise's destruction? Really, how much money did the English actor make from playing Spider-Man?
The numbers are clearest for the first Amazing Spider-Man film: Garfield earned around $500,000. This was originally intended to be the first peg on an ascending compensation scale for the franchise, according to Deadline. 
This paycheck might feel, well, a little cheap for a superhero franchise film. There was some kerfuffle back in the day with Marvel films on the cheapness of actors' compensation, and Garfield's for The Amazing Spider-Man movies was on a similar scale. (Thankfully, things have since changed on this particular front.) Still, it's fair to remember that in 2012 when Garfield became the new Peter Parker, Sam Raimi's original Spider-Man franchise had only been out of the public eye for a mere five years — a fact that the critic population as well as the average citizen took note of. Raimi's Spider-Man 3 also had an ignoble and infamous end to that attempt at the franchise, too. So Sony Pictures understandably presented Garfield a conservative salary for the film — which would up being a smart decision since The Amazing Spider-Man ultimately performed conservatively as well.
Pining down the exact amount of money Garfield earned for the Amazing Spider-Man sequel is trickier. Deadline has noted that the original terms of the unsigned contract provided to the entire pool of potential candidates for Peter Parker was that the sequel should have a $1 million payday for its actor; this would have doubled again to $2 million for the trilogy film that never came to fruition. There's no reported word on whether that held true for Garfield. What is known is that, though Amazing Spider-Man 2 was more widely panned by critics, it made only slightly less money than the first. It would be reasonable to assume Garfield did get his raise — because what's another half-million on a film with a budget of $200 million? — so it's fair to assume the total up-front take for his stint as Spidey was about $1.5 million. 
Any hard-number residual income is unknowable, but generally speaking, the standard take is 20 percent of "total adjusted receipts" — but all that comes well after other costs of the film's production, like taxes and fees, and payment to other participants with profit income. Total home sales numbers for both Amazing Spider-Man films comes to about $160 million based on the 20 percent standard. Despite Garfield's pop-culture visibility, he's not a top-level draw in Hollywood, so his residual take on an already-conservatively-compensated film could have easily been proportionately less. Now, he does own a $2.5 million home in Beverly Hills that he purchased around the time The Amazing Spider-Man 1 was released, and drives a nice Porsche (or at least did at one point). His reported net worth is $10 million, so whatever seemingly cheap cost he may have been to Sony at the time, he's doing just fine now.