Why Jamie Waylett Was Never The Same After Harry Potter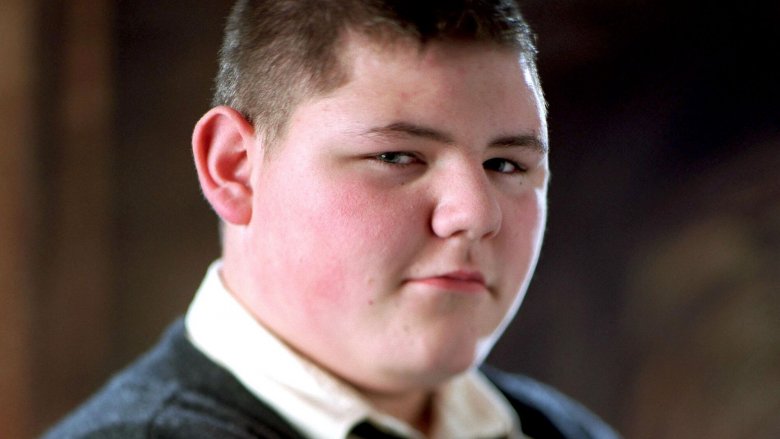 Warner Bros.
It can be pretty tough to gain international fame as a child star, and sometimes, when an actor begins their career in a huge franchise, it can lead to some big problems. From the normal life Neil Patrick Harris has led after starring on Doogie Howser, M.D. to the many ups and downs Lindsay Lohan has faced in her post-Disney days, outcomes for child stars vary. But for some, they never fully recover from early stardom — Jamie Waylett.
Waylett's film career was as short as it was successful. He appeared as Vincent Crabbe in six films in the Harry Potter film franchise, which kicked off in 2001 with the first installment Harry Potter and the Sorcerer's Stone. Throughout eight films and over the course of nearly 10 years, the Potter franchise smashed box office records, which was utterly unsurprising considering that its source material is one of the most beloved book series of all time.
Absent from only the final two films (the last book, Harry Potter and the Deathly Hallows, was split into two movie adaptations), Waylett played Crabbe until his last appearance in Harry Potter and the Half-Blood Prince. The role of Crabbe was vital but lowkey. Alongside Gregory Goyle (Josh Herdman), Crabbe and Goyle served as hulking, largely silent, and criminally stupid henchmen to Slytherin House's Draco Malfoy (Tom Felton), Harry's schoolyard nemesis.
Crabbe wasn't the biggest role in the franchise, but thanks to the fact that he and Goyle flanked Malfoy in basically every scene, Waylett got plenty of facetime on screen. And as the film series got progressively more successful, it was a bit overwhelming for such a young and inexperienced actor to be at the heart of the enormous franchise. 
As such, after Half-Blood Prince, Waylett found himself in a sticky situation thanks to an uprising in England — and he hasn't been the same since. 
In 2011, Waylett was arrested when he took part in the England riots, which led to the deaths of five people and involved looting, arson, and violence. Waylett was accused of possessing Molotov cocktails during the riots, as the house he helped loot belonged to a chemist. Police searched his home and discovered 15 marijuana plants as well. In the aftermath in 2012, he was sentenced to two years in jail. 
Waylett already had a prior record before this even happened. In 2006, Waylett was spotted using cocaine. Three years later, Waylett and his friends were pulled over while driving; police officers found a reported eight bags of marijuana in their possession, which led to a raid of Waylett's home, at which law enforcement found 10 cannabis plants. For the 2009 charges, Waylett pled guilty and performed community service. 
Thanks to his 2011 arrest and his subsequent record, Waylett was dropped from the Potter films — likely due to the fact that these family films didn't want anybody who had such serious brushes with the law to appear on screen. For the final two films, Malfoy was accompanied by Goyle and a different Slytherin student, Blaise Zabini, played by Louis Cordice.
Waylett hasn't appeared in any films since his turn in Harry Potter, and thanks to his rough past and legal troubles, it seems as if the young performer has retired from acting all together. Here's hoping for a brighter future for Waylett — even if he did play a Slytherin — and for fewer struggles as he navigates his post-Potter future.