The New Star Wars Merch That's Been Banned From Airplanes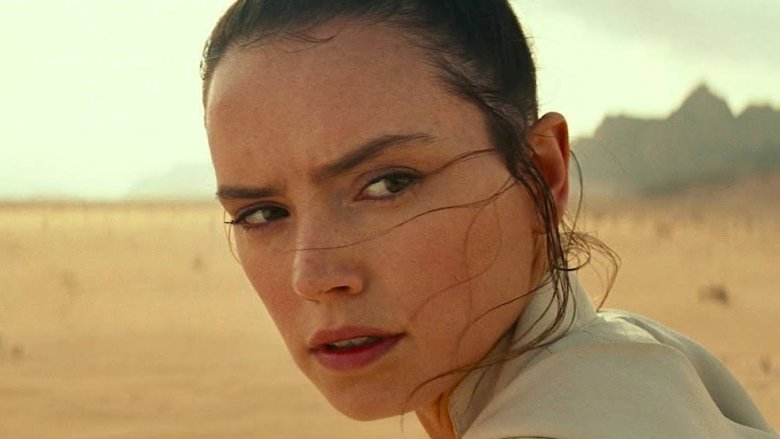 Lucasfilm / Disney
If you're en route to a destination far, far away after visiting one of Disney's Star Wars: Galaxy's Edge installations, TSA would like a word with you.
The Transportation Security Administration has banned the attraction's novelty soda cups from all luggage and carry-ons, with good reason: they're replica explosives. (via CNBC)
There are over a thousand pieces of Star Wars-themed merchandise available at the Galaxy's Edge installations, one of which — at Anaheim's Disneyland — has been drawing visitors since June. The second, at Orlando, Florida's Disneyworld, is open for business as of August 29.
Among the more seemingly innocuous pieces of merch: novelty cups shaped like the Star Wars series' famous thermal detonators, the contents of which (Coke, Diet Coke, or Sprite) are presented in the fictional Aurebesh language on their labels. Visitors have been collecting the cups by the hundreds during the first few months of the Anaheim site's run, but there's only one problem: they look just a little bit too much like something that might actually detonate for the comfort of transportation security officials.
The Orange County Register first noticed an online exchange about the cups in mid-August, when Twitter user @DarkAshNet tweeted a question to TSA's official account. "I know these look dodgy," the user astutely asked, "but can they be packed in [a] suitcase?"
TSA responded with a tweet that did not contain an eye roll emoji, but perhaps should have: "Thanks for asking! Replica and inert explosives aren't allowed in either carry-on or checked bags."
A plethora of users checked in on the thread to protest the call, but let's be real here: TSA agents work very hard to keep our airports and planes safe, and a massive influx of hundreds of fake thermal detonators on their way out of California and Florida was sure to raise, well, hundreds of red flags. For that matter, Disney's decision to offer up sweet souvenirs which look like explosive devices to its hundreds of thousands of visitors, a great many of them from out of state, probably could have been thought through just a little better. Put yourself in the shoes of a TSA agent, and tell us what you would think if a routine luggage X-ray turned up a few of these:
One user posed the question of whether the cups would be allowed if the cap were removed from the bottle and packed separately, but you can probably guess the answer. "Even with a normal bottle cap, this item is still considered a replica and is not allowed in carry-on or checked bags," a TSA tweeted in response. "If our officers discover a replica item during screening and believes it's real, the item will be treated as such until advised otherwise by law enforcement."
Of course, the cups aren't the only replica weapons available at Galaxy's Edge — but so far, they are the only ones to get a seal of disapproval from TSA. In its "What Can I Bring" guide, the administration clarified that the attraction's most prized souvenirs — replica lightsabers — are allowed, due to the fact that they don't resemble any actual weapons that exist in our world. In doing so, it was revealed that at the very least, someone within its ranks has a sense of humor about the whole situation.
"Sadly, the technology doesn't currently exist to create a real lightsaber. However, you can pack a toy lightsaber in your carry-on or checked bag," the guide reads in part. "May the force be with you."
Yes, dear reader, it's a strange world we live in. All things considered, though, the rule against bringing replica explosives onto an aircraft is probably a sound one, and those who simply must take home a thermal detonator or two can avoid a giant hassle by simply mailing them to themselves before jumping on board the plane to go home.
The Galaxy's Edge installations are helping (perhaps unnecessarily) to drum up anticipation for the final chapter in the Skywalker Saga, Star Wars Episode IX: The Rise of Skywalker, which hits the big screen on December 20. We're all very excited, but let's face it: drawing the attention of TSA over a few souvenirs is not the kind of excitement that anyone needs.