Martin Scorsese's The Irishman Will Not Receive Wide Release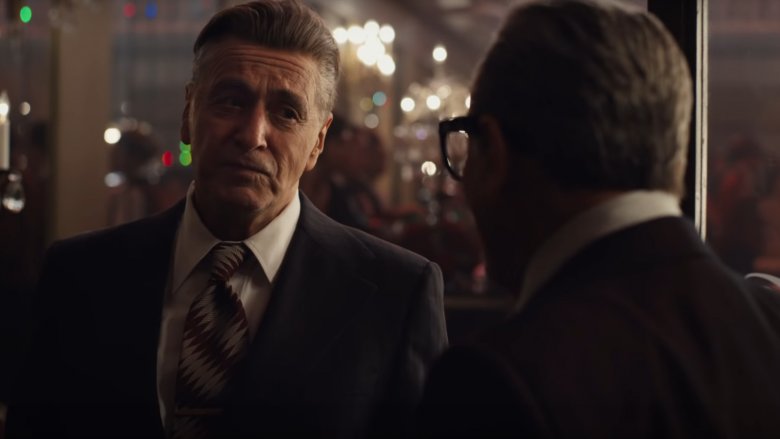 Netflix
Martin Scorsese's latest film may not be coming to a theater near you.
According to The Hollywood Reporter, Netflix couldn't come to an agreement with major national theater chains to show the upcoming film The Irishman, which stars long-time Hollywood mainstays Robert De Niro and Al Pacino, across the country. 
It will come as no great shock that Netflix wants director Scorsese's violent epic to be available to its millions upon millions of subscribers as quickly as possible. Likewise, it's not surprising to hear that theater chains would refuse to show a film that's also available to watch in the comfort of viewers' homes day and date of the theatrical release. With both sides unwilling to come to a compromise, the streaming giant will ignore a wide theatrical release in favor of giving their subscribers more of what they pay for: content.
The Irishman is based on the 2004 book I Heard You Paint Houses by Charles Brandt, which tells the story of a mob hitman who claims to have had a role in the famous disappearance of Jimmy Hoffa. 
While its actual world premiere is on September 27 at the New York Film Festival, where it's the opening-night film, the movie will debut on November 1 in select independent cinemas that are actually willing to carry the Oscar-hopeful. More than three weeks later, on November 27, The Irishman will hit Netflix in a move reminiscent of what the streamer did with Alfonso Cuarón's Academy Award-nominated Roma last year. 
The film industry is often reticent to change, and many Oscar voters and theater chains insist there be a three-month window between a film appearing in theaters and when it's released on home video, in order to drive the filmgoing public to attend showings at the theater. Netflix began courting the good faith of these people with Roma last year, playing it in theaters for three weeks before letting it loose on the streaming service. Given that Roma didn't win Best Picture, it's clear Netflix's plan didn't work out.
Still, Scorsese always catches the eyes of the Academy of Motion Picture Arts and Sciences, as he's been nominated for the Best Director Oscar an astounding eight times. He also draws well at the box office, with his films grossing almost $2 billion worldwide over his lengthy career. By backing a picture involving the director as well as De Niro and Pacino, Netflix is certainly courting old Hollywood — but it's coming at an immense price tag. After original financial support stepped aside, Netflix picked up The Irishman, and it's apparently ended up costing as much as $200 million to produce since Scorsese decided to shoot the movie on both film and digital.
The Irishman has a limited theatrical release on November 1 before coming to Netflix on November 27.