WandaVision D23 Poster Teases 1950s Vibe With A Major Twist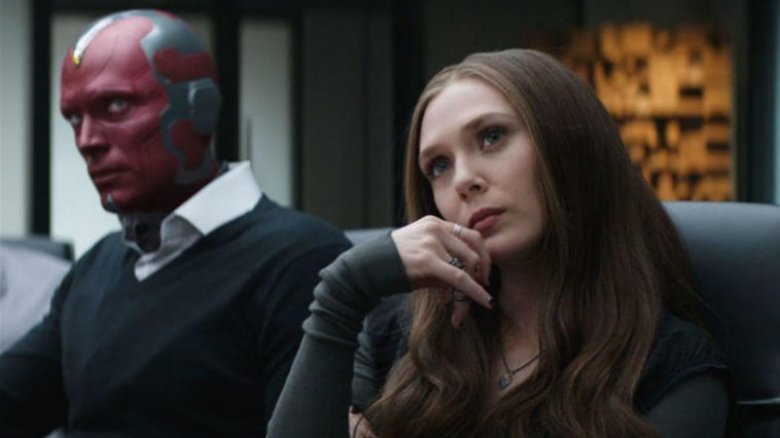 Disney/Marvel
Marvel's most badass couple is coming back to the screen in their own Disney+ series — and we now have the first peek at what's in store. 
Marvel Studios' director of visual development and concept artist Andy Park has shared an incredible poster for WandaVision, which he created especially for the 2019 D23 Expo. 
Taking to Instagram, Park posted the one-sheet with the caption, "WANDAVISION!!! Official D23 poster I had the honor of painting during the early concept phase of preproduction. This @DisneyPlus show is gonna be something totally fresh.. & weird! #cantwait."
You may think that Park is just playing up WandaVision because he's a Marvel creative and has stake in the property. But you'd be dead wrong. The poster proves that every word Park said is right – WandaVision is going to be unlike anything fans have seen from the House of Heroes before. 
The WandaVision poster features a man and a woman who look exactly like Paul Bettany's Vision and Elizabeth Olsen's Wanda Maximoff (a.k.a. Scarlet Witch) sitting together on the sofa, laughing and smiling while their television set glows in front of them. They're obviously in the 1950s — their hairdos and outfits are wonderfully retro — but there's something odd about the setting. It doesn't have anything to do with the landscape or the home in which the couple resides or what's going on in the street seen through their window. The weirdness can be spotted on the wall behind the man and woman: there are two shadows that make up the silhouettes of Vision and Scarlet Witch as fans have seen them in the Marvel Cinematic Universe. Vision's shadow is far more android-y than the man on the couch is shaped, and Scarlet Witch's shadow has two small horns sticking out of her head, just like her MCU costume features. 
So yeah, it's pretty apparent that the couple giggling on the couch are Vision and Scarlet Witch. But wait — the two heroes weren't even alive in the 1950s. How could they be laughing it up in marital bliss during that decade? Well, here's the likely twist of WandaVision: Scarlet Witch — who was dusted after Thanos (Josh Brolin) snapped his fingers in Avengers: Infinity War and came back to life in Avengers: Endgame – might use a mix of time travel and her mystical powers to head to the 1950s, where she can live out the life she didn't get to have with her android beau Vision, who died for real in Infinity War. If that's the case, WandaVision will truly be weird and wonderful. 
The series has been noted as being half a classic sitcom (in the vein of I Love Lucy) and half an incredible MCU "spectacular," so blending a '50s time setting with some modern, mind-bending storytelling elements seems like the perfect pairing to fit that description. We'll simply have to wait and see how it all pans out. 
WandaVision is lined up to debut on Disney+ in the spring of 2021.