New Live-Action Mulan Footage Gets Down To Business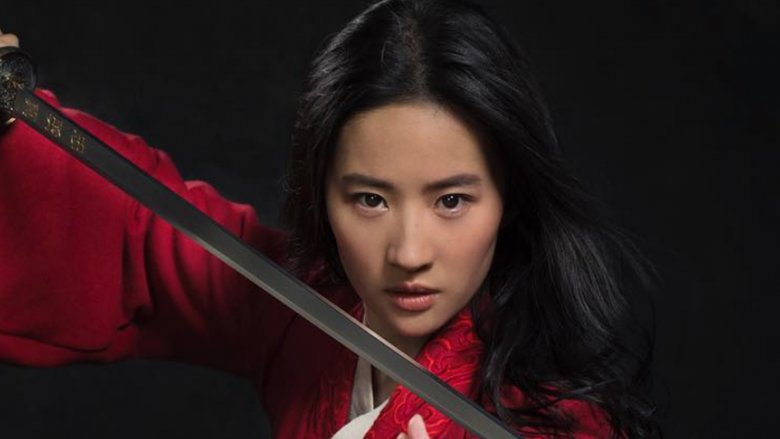 Disney
Mulan isn't messing around.
The upcoming live-action flick's director Niki Caro took the stage at Disney's D23 expo this weekend to preview footage for fans — who were bowled over by the clip's deft blending of humor, heart, and action. While the footage has yet to find its way online, we have a detailed description thanks to our friends at io9.
Fans of the classic 1998 animated original will experience a wave of familiarity here, as much of the preview closely follows that flick's first act. It begins with Mulan (Liu Yifei) being slathered with makeup and stuffed into an ornate dress, as she, her mother, and another girl (presumably her sister) are getting ready to depart for a meeting with the Matchmaker. They're then seen walking down the road toward their destination, with Mulan displaying some of her trademark wit. Told that she can't eat because she'd risk ruining her makeup, she replies that even a blizzard couldn't do that job before joking with the other girl that nobody is even going to be able to tell what facial expressions she's wearing.
Once in the presence of the Matchmaker, the trio are presented with a heaping load of sexist drivel courtesy of the old woman, who explains that Mulan will make a great wife if she can simply make herself invisible and never express her opinions on anything. A woman should be devoid of reaction to whatever is going on around her, the Matchmaker explains — a requirement which Mulan promptly breaks by trapping a scampering spider under a teapot. 
Unaware of their eight-legged guest, the Matchmaker scolds Mulan, telling her that the teapot should always be smack in the middle of the table. Mulan grudgingly obliges, freeing the spider and spooking the heck out of everyone present. In the midst of the freakout, teacups go flying — and Mulan manages to catch them all, displaying her agility and astuteness. However, she's stuck balancing all of the cups in an extremely awkward pose, and when nobody deigns to help her, she eventually falters, sending the cups crashing to the ground.
The Matchmaker is livid, kicking out the entire family and loudly proclaiming that Mulan has shamed their very name to passing townsfolk. The clip then cuts to the family arriving at home, where they are met by soldiers informing them that one man is needed from each family to bolster the Chinese military for a coming conflict. Unfortunately, there is only one man in Mulan's family — her father, who is elderly, crippled, and in no condition to go off to war.
The patriarch nevertheless agrees to be conscripted, but as he offers up his pledge to the soldiers, he stumbles and falls. Mulan rushes to help him — only to be taken to task for doing so by her mother, who insists that the girl bring no further shame upon the family name.
Cut to the old man in the family home, valiantly trying but failing to perform exercises with his old sword. Mulan knows that something must be done — and so, the clip then cuts to the girl expertly wielding the same sword, with her voiceover proclaiming, "I will bring honor to my family."
What follows is an action-packed montage depicting a short-haired Mulan training within the ranks of the army, becoming a standout with her prowess and unconventional maneuvers (such as kicking a spear out of mid-air and spontaneously repurposing it as an arrow). There are warriors on horseback, a shot of Gong Li's evil witch Xian Lang, and — as the clip concludes — a long-haired Mulan tearing up the battlefield as her narration continues, "I will bring honor to us all."
The footage sounds incredible, and we're thinking that it will be made available online sooner rather than later — all the better to assuage the fears of fans who were mightily ticked when it was revealed that the film would not feature the character of Mushu (the tiny, wisecracking dragon voice by Eddie Murphy in the original) or, gasp, any musical numbers whatsoever. (Even we have to admit that "I'll Make a Man Out Of You" will be missed.) 
But judging by the flick's first teaser trailer and the description of this new footage, it seems to us that Disney has done right by the 1998 film while offering up the most action-packed of all of their live-action remakes of their animated classics so far — plus, Yifei looks absolutely spectacular in the title role. We're thinking that by the time the movie drops, the clamor from the fandom will have died down considerably... and if said fandom is able to see their way clear to taking Mulan on its own merits, they could be in for quite a pleasant surprise. 
Of course, we'll be here to point you in the right direction the moment the new footage hits the internet, and we'll also keep our eyes peeled for any other developments worth reporting. Mulan comes charging into theaters on March 27, 2020.