Moon Knight Series Is A Go At Disney+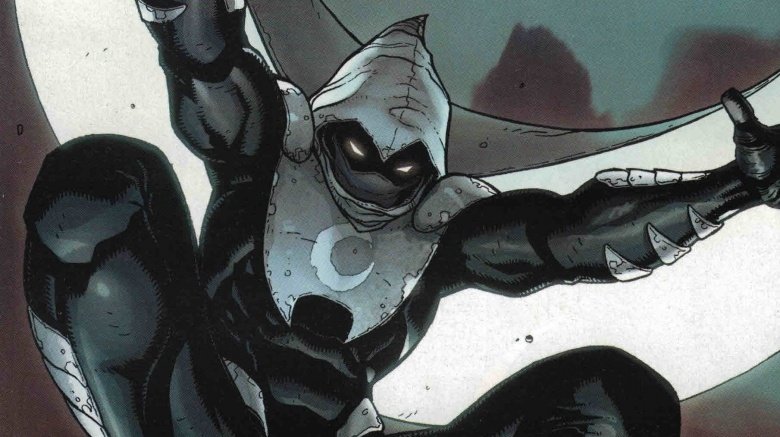 He is no man's slave. 
Moon Knight, the hooded vigilante whose real name is Mark Spector, is joining the wide world of Marvel Studios with his own television series, announced at this year's D23 Expo. 
Entitled Moon Knight, the series will premiere on Disney's forthcoming streaming platform Disney+, scheduled to launch in the U.S. on November 12. 
Marvel Studios, which oversees the entire slate of Marvel superhero shows in development at Disney+, didn't offer up any extra information about Moon Knight during the Disney+ presentation at D23. The company did, however, share the stunning logo for the show, posted to the official Twitter account for Disney+.
First appearing in the August 1975 comic Werewolf by Night #32, Moon Knight is the brainchild of Doug Moench and Don Perlin, and the superhero alter ego of Marc Spector — who has actually taken on multiple different personas as a result of his dissociative identity disorder... and the fact that he believes he's the emissary for the Egyptian deity Khonshu, who may or may not be just a highly detailed piece of his imagination. He's been Steven Grant, a millionaire entrepreneur; Jake Lockley, a cab driver who helps him stay connected to the criminal underbelly of the city; and Mr. Knight, a police consultant who outfits himself in an all-white get-up while cracking mysterious cases. 
A few weeks before Marvel confirmed that a Moon Knight series was cooking up at Disney+, it was rumored that the studio was eyeing former Spider-Man franchise star Andrew Garfield (who sadly never got to round out his trilogy) to portray the vigilante in the Marvel Cinematic Universe. The report, published by We Got This Covered, also claimed that the House of Heroes was considering The Dark Knight Rises alum Joseph Gordon-Levitt for the gig. Since all Marvel mentioned of Moon Knight at D23 was that it's a thing that's happening and heading to Disney+ when it's ready, there's no way to rule out Garfield and Gordon-Levitt as potential contenders for the starring role. It would appear that anyone is fair game at this point, though word is that Marvel is reportedly "trying to get a Jewish actor to portray" Moon Knight. 
Though we're positive that fans of the nocturnal hero are hyped up over this announcement, it's interesting that Marvel is going forward with a Moon Knight series considering how violent the character is, how bloody his source material has been, and how apparently wary of brutality Disney+ executives are. The company brass recently pulled the plug on the Disney villain series Book of Enchantment over concerns that the tone of the show was too dark. Compared to the things Moon Knight has gotten up to in the past, those classic baddies couldn't have been all that brutal. This raises an important question over how far Disney+ will allow Marvel to go with Moon Knight. Hopefully, for the sake of the fans, the series' creative team will have the freedom to stay true to the tone of the source material and offer up and violent, visceral, and very, very satisfying superhero show. 
Moon Knight doesn't yet have a release date.