Why Breaking Bad Fans Are Annoyed At Bryan Cranston And Aaron Paul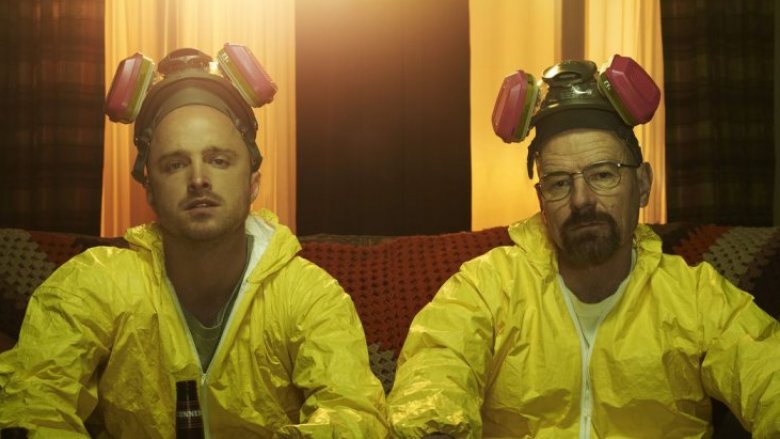 Television fans are not impressed with Bryan Cranston and Aaron Paul's latest endeavor.
The Breaking Bad pair seemed to have led their fans on for several weeks before announcing they would be collaborating on — a new mezcal brand.
Back in June, Cranston and Paul posted identical black-and-white photos of a pair of donkeys to their Instagram accounts with the caption: "Soon." Of course, Breaking Bad fans were quick to assume the posts were somehow related to the AMC series the actors worked on together between 2008 and 2013. Adding fuel to the fire was the fact that only a few months prior, Variety had announced Netflix was developing a feature-length Breaking Bad follow-up.
Neither Cranston nor Paul gave any indication as to what their cryptic social media posts were referring to. Instead, a week later, there came a second photo posted to both accounts — this time, the actors were wading through a river, shoes in hand. "Even sooner" was the caption. Then, on July 8, 2019, the pair posted individual selfies with the caption, "A collaboration so smooth you can taste it. 24 hours people!" 
Well, 24 hours later, the big news dropped — and fans who had gotten their hopes up for a Breaking Bad announcement from its stars were severely let down. 
On July 9, 2019, Cranston and Paul posted an image of themselves together, each with a tasting cup in their hand. The lengthy post began, "Three years ago we sat in a sushi bar in New York. Talking about life and what we could possibly do down the road together." The ymade reference to the fact that they knew it would be a while before they worked together again on screen, so they decided to come up with a different type of collaboration off screen.
Per Paul's suggestion, their sights turned to artisanal Mexican mezcal. The actors traveled to Oaxaca, finding their way to a tiny village set apart from the town's center, in search of their perfect mezcal. "We named it Dos Hombres — two guys on a quest," they wrote. "It's been a long and crazy journey and we couldn't be happier to share this with you and the rest of the world."
Not everyone was as happy about their announcement as Cranston and Paul were about sharing it. Breaking Bad fans took to social media to express their outrage — and overall confusion. 
"Anyone else feel attacked by Bryan Cranston and Aaron Paul??" asked one Twitter user. Another called the pair out for stringing the public along, tweeting, "Troll level: legend." Others have taken the actors to task for their possible exploitation of Mexican farming families. 
One Instagram user commented on Cranston's July 9 post and asked, "So, are you paying the family on Oaxaca for the mezcal? Hopefully a good deal, because that's what gringos do here," further hinting that the actors wouldn't be doing anything to preserve wild mezcal.
Cranston and Paul don't seem to be taking the criticism to heart. Instead, they've been traveling from bars to BevMo locations around the country to serve up their new spirit. The vibe of their Dos Hombres promotional tour is right in line with the mezcal itself — Cranston wrote on August 20, 2019, "But, hey – be cool... no merch, no photos, no collectables and all that, just shake my hand, let me pour you a taste of DH, and we'll have a chat."
And as for that Breaking Bad movie? According to an interview Better Call Saul star Bob Odenkirk did with The Hollywood Reporter in August 2019, it's still very much a thing. "I don't know what people know and don't know," he said. "I find it hard to believe you don't know it was shot. They did it. You know what I mean? How is that a secret? But it is. They've done an amazing job of keeping it a secret."