How Jason Mewes Went From New Jersey Stoner To Hollywood Icon - Exclusive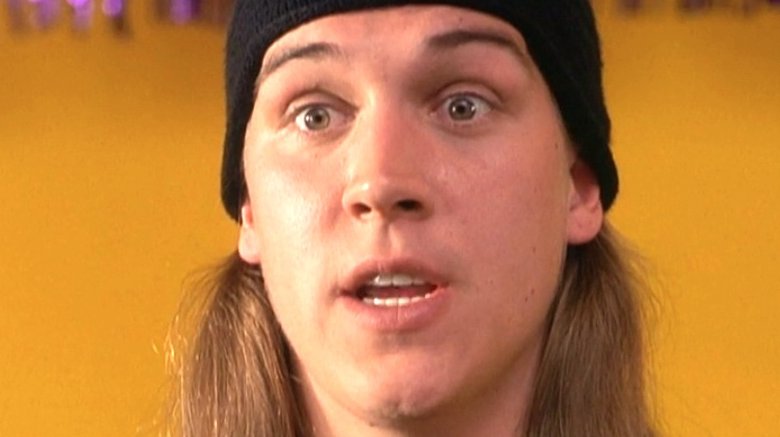 There are a lot of ways a person can make it in show business, but few so unorthodox as the one taken by Jason Mewes. Best recognized by his character Jay, of "Jay and Silent Bob" fame, Mewes has carved a unique path for himself over the course of his unusual career. From doubtful executives to his own personal demons, the actor and filmmaker has beaten the odds to become a cult favorite Hollywood icon, known to many, beloved by all. 
In 2019, Mewes released his first feature as a director, Madness in the Method, inviting audiences into a dark version of Hollywood just a little bit askew from our own. He's not just following in the filmmaking footsteps of his buddy Kevin Smith, the Silent Bob half of the J&SB equation. He's leading a long-awaited revival of Smith's View Askewniverse series. 
Madness in the Method is available for streaming now, with the Jay and Silent Bob Reboot roadshow rolling out across the U.S. starting October 15. With so much Mewes news going on this year, you might want to refresh your memory on how the man, the myth, and comic book fan got his start.
A real character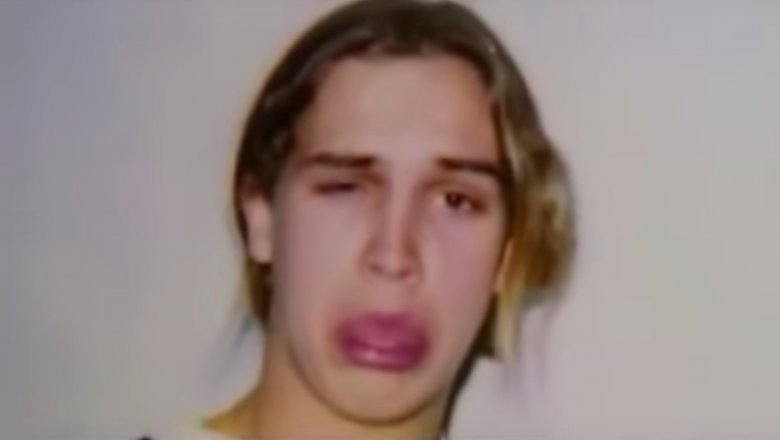 Jason Mewes was born in the small town of Highlands, New Jersey, and grew up having essentially no ambitions of ever becoming an actor, director, or a stoner icon in the vein of Cheech and Chong.
In Highlands, Mewes and his longtime collaborator Kevin Smith lived only a couple of blocks away from each other and attended the same high school, but they weren't necessarily friends right away. For one, the younger Mewes was still a student after Smith had already graduated. For another, Smith and his circle of friends frequently found him to be, in Mewes' words, "obnoxious and weird." But over time, Smith bonded with the oddball freshman out of a shared love of comics and pop culture, and an increasing appreciation on Smith's part for Jay's oddball — and sometimes profane — sense of humor. 
Despite Mewes showing no real interest in theater or performance as a teenager, Smith would often remark to Mewes that someone should put him in a movie. It was only fitting that Smith, an aspiring filmmaker himself, would be the one to do it.
Dance like nobody's watching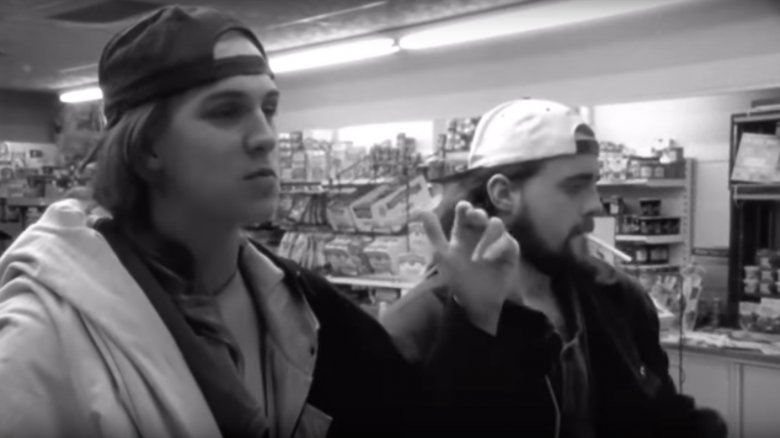 Jason Mewes got his first brush with fame when Smith wrote a role for him in what would become his debut feature, Clerks. In his first appearance as the character, Jay is barely a performance. He's just... Jay. 
Being interviewed for a documentary commemorating the tenth anniversary of Clerks, Smith recalled, "I gave him the script and he read it and I was like, 'What do you think?' He's like, 'I don't know if I can do this.' I'm like, 'Dude, it's you!'"
Though close to the character and naturally charismatic, Mewes still had to confront stage fright when it came time to shoot the movie. In the beginning, he was so nervous in front of the camera that he at times asked the crew to leave during his performances, meaning some scenes of Clerks were shot with literally nobody behind the camera. 
Mewes said in the Clerks making-of doc that his youthful antics had always been about entertaining himself, not others. As soon as an audience was involved, he froze up. "I just felt really silly doing it for other people, and just being like, 'All right everyone, get ready! Noinch noinch' — you know what I mean?" 
That anxiousness had unexpected benefits, too. Mewes' inability to sell a crucial line in a climactic scene is what inspired Silent Bob's one line of dialogue in the film, establishing Bob in series canon as a mostly mute character who only speaks when he has wisdom to drop. 
On the big stage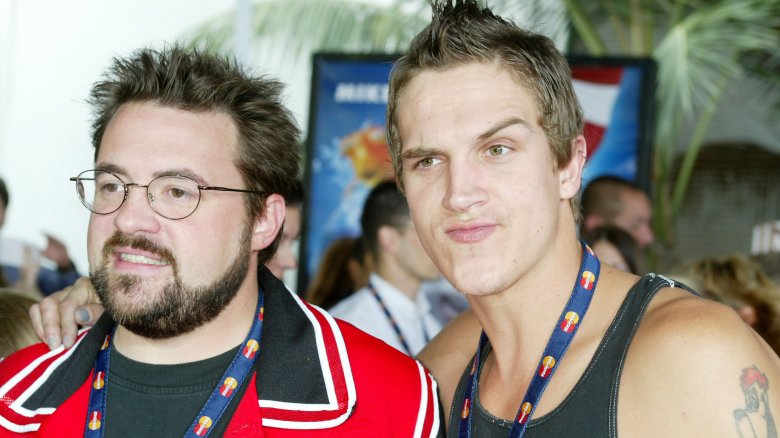 The sale of Clerks to Miramax meant that Jason Mewes' performance as Jay would be seen by many more people than his circle of friends in New Jersey. Suddenly, this $27,000 indie film was on its way to becoming a bona fide cult classic — and Hollywood was noticing. 
Smith's second film, Mallrats, was fast-tracked into production with the backing of a major studio: Universal Studios, producing through its Gramercy Pictures label. Unlike Clerks, filmed with a skeleton crew over nearly a month's worth of night shoots, Mallrats was a real deal production with real deal money behind it — and the people putting up the money had opinions. 
Specifically, they liked the character of Jay, but they didn't really like the person playing Jay. This lead to an unenviable situation in which Mewes had to audition for a chance to essentially play himself. 
In the suits' view, Smith was a wunderkind, but Mewes was an amateur, and they misunderstood (or underestimated) his appeal. The studio tried to recast the role with a more established comic actor like Breckin Meyer or Seth Green. While Smith won the right to cast Mewes in Mallrats, there were caveats attached: if Mewes' performance wasn't satisfying on day one, he'd be fired and replaced. It was only when the executives got a look at Mewes in action that they realized he was simply irreplaceable.
Jason Mewes' first rodeo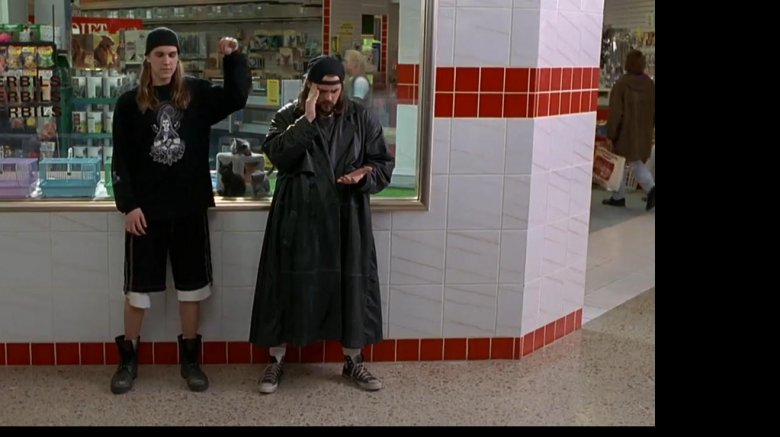 Despite the troubles he was put through by the studio, Jason Mewes maintains that Mallrats was his favorite one of Smith's films to work on.  
"Clerks was the first movie, but to me, really, Mallrats is my first movie," Mewes said. "Because it was like it became real."
While Mewes would go on to spend his adulthood in show business, the real-life act of moviemaking was still a novelty to him at the time of Mallrats. 
"I was like 20 years old, and it just was so surreal and such a blast," Mewes said. "Like I'm in Minnesota, staying in a hotel, and there's wardrobe, and there's stunt guys, and I get to hang from a grappling hook, and I get to meet Stan Lee for the first time."
Mewes would later go on to cross paths with the Marvel Comics magnate on multiple occasions in the years to come, even casting him for a cameo for his own movie, Madness in the Method, in 2019. But at the time, he didn't know that; for all he knew, after Mallrats, everything would just go back to the way it used to be.
Going pro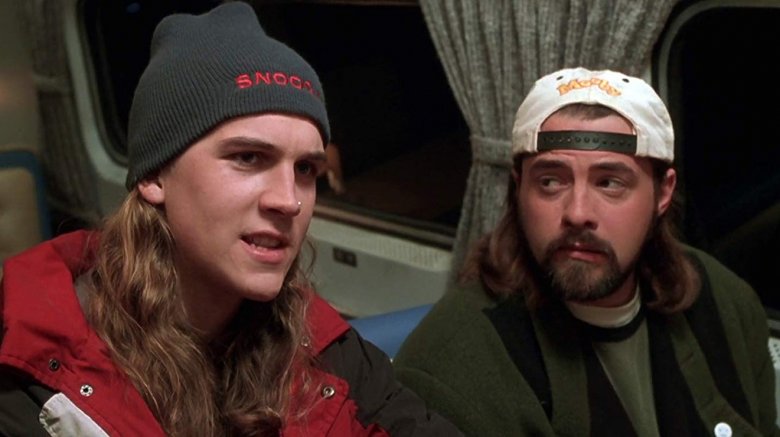 Though Mallrats didn't exactly make bank at the box office, Smith got another chance to make a movie, this time mining more personal territory for the less slapsticky, more artsy Chasing Amy. 
This story had less room for Jay and Silent Bob, though the characters do appear in a pivotal scene. The movie also introduced comic book alter egos for the characters: the weed-themed superheroes Bluntman and Chronic. It's the in-universe creators of those characters that the story of Chasing Amy revolves around. (Credit where it's due: Smith was way ahead of the curve when it comes to cinematic universes.)
Surprisingly, Jason Mewes continued working regular guy jobs until well after you'd think he would have hung it up to go Hollywood. Though he had quit a roofing job on the east coast to film Mallrats, he started delivering pizzas when he returned, occasionally being recognized for his two memorable roles.
"It really wasn't until after Dogma that I stopped working construction and delivering pizza," Mewes said. 
Using, losing, and coming back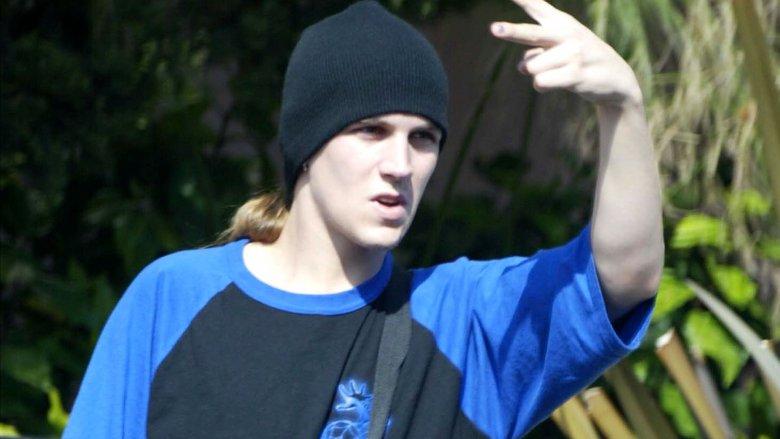 Jason Mewes reached the height of the zeitgeist in 2001, when he starred in Jay and Silent Bob Strike Back, the first film in Smith's universe to revolve entirely around the duo. But that professional success didn't necessarily reflect a healthy personal life. As Smith chronicled in the multi-part memoir story "Me and My Shadow" (and as Mewes himself has openly discussed), Mewes had by then spent years going down the path of drug addiction, specifically to opiates. 
Mewes was born to a mother with addiction issues of her own, and Smith said Mewes spent his early adolescence practicing a straight-edge lifestyle — an identity which had thoroughly eroded by the time Smith came home from film school with the aim of shooting Clerks. But what started out as perfectly innocent, even charming substance abuse had become a bleak, life-or-death situation by the early 2000s. 
An arrest for heroin possession in 1999 was compounded by another arrest warrant, issued in 2001, over a failure to make a court date in New Jersey. The circumstances led Smith to decline to cast Mewes in his sixth film, Jersey Girl — an unfortunate first for the frequent collaborators, whose friendly relationship was being strained to the breaking point by Mewes' addiction.
Zack and Miri and beyond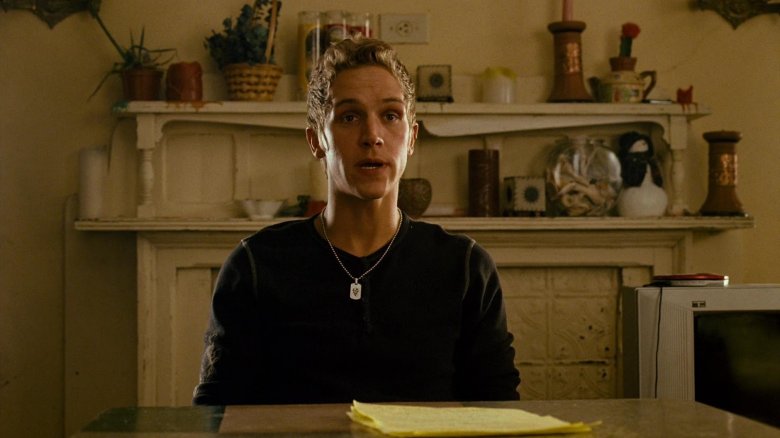 The warrant ultimately led Jason Mewes to return to New Jersey and face the music, dealing with the legal problem, and perhaps his addictions as well.
"I got fed up," Mewes said. "I was like, I have to take care of this warrant, because even if I get sober and I'm doing good in California, this warrant will hang over my head forever. So I went there and took care of it, and got sentenced to rehab, and all that."
Mewes was sentenced to four to six months of rehab in New Jersey, with a period of probation to follow. His surrender to authorities started a process of recovery that continues to this day. He credits the success to his support system, staying busy with work and surrounding himself with friends who aren't shy about keeping him accountable. 
"I realized for me, the people who really care, it's, 'Hey, why do you have that beer in your hand,'" Mewes said. "And I'm like, 'Oh, I'm just passing it to so-and-so.' But a friend who's like, 'Hey, you've been sober two years and you're really addicted to drugs, not booze. You can have a beer. You can have one beer.' That to me isn't... he might be a friend, but not really. So that to me was a big deal. Surrounding myself with people who knew, no, I can't have a beer, because then I'll be smoking crack in a month, and I'll disappear."
Spreading out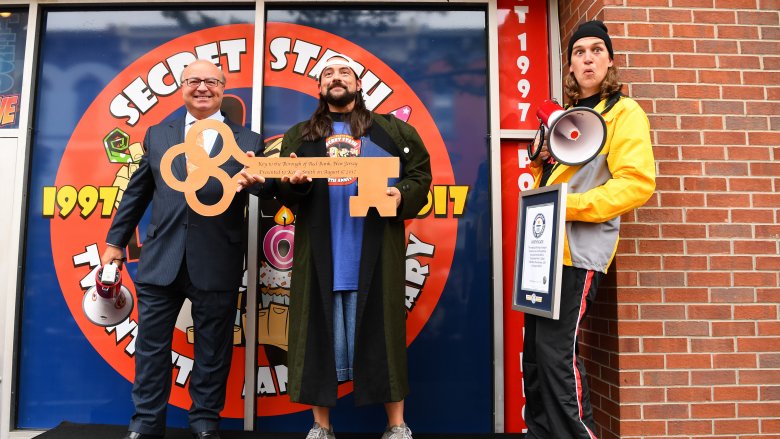 In the years since he committed to sobriety, Jason Mewes has continued to work as an actor, being cast in many smaller movies that you may not have heard of. 
Discussing some of his favorite lesser-known roles, Mewes said, "One of them that I thought was going to be pretty well received and out more, and I'm not sure what happened, is a movie called The Last Godfather."  The movie, released in 2011, is a Korean/American co-production, starring Harvey Keitel and directed by Shim Hyung-rae, who also stars. "We were driving around in the '50s, we had tommy guns. It was a mob comedy movie, and I thought that was going to do really well."
In 2010, Mewes was also a cast member on Todd and the Book of Pure Evil, a Canadian comedy series that was canceled after two seasons. Much like Mewes' early movies, the show is something of a cult favorite with a small but dedicated fanbase. "I think when people see it they love it," Mewes said. "It's just them finding it."
Another lesser-known film Mewes is proud of is Zombie Hamlet, which is more or less exactly what it sounds like. 
"I'm shocked more people didn't see that," Mewes said. "Because it was a really funny movie." 
Madness in the Method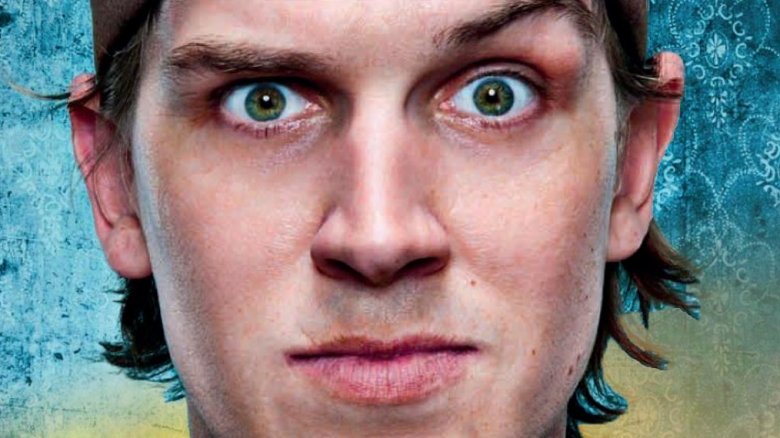 Out of the dozens of projects Jason Mewes has been involved with over the years, one he's most proud of is his directorial debut, 2019's Madness in the Method.
The movie was born out of two complimentary desires: breaking out of the stoner niche as an actor, and stepping behind the camera for a substantial feature project.  
Prior to Madness, Mewes had only directed a few music videos and shorts, experiences he enjoyed. Soon enough, he was on independent film sets with his mind wandering toward bigger, more involved aspects of the production. "I just realized I really want to be on that end of things," he said on the Blow Hard podcast in 2016.
The film is a kind of meta-narrative that takes place in a slightly heightened version of the real world, following Jason Mewes as he attempts to learn method acting with the help of a near-mythical guidebook. Owing partly to the character's addictive personality, things get out of hand quickly.
"I'm told to read it slow and really soak it in, and I read it too fast," Mewes said. "And then from there, an accident happens, and then a killing spree happens. And it's a comedy drama."
Reboot and a robust future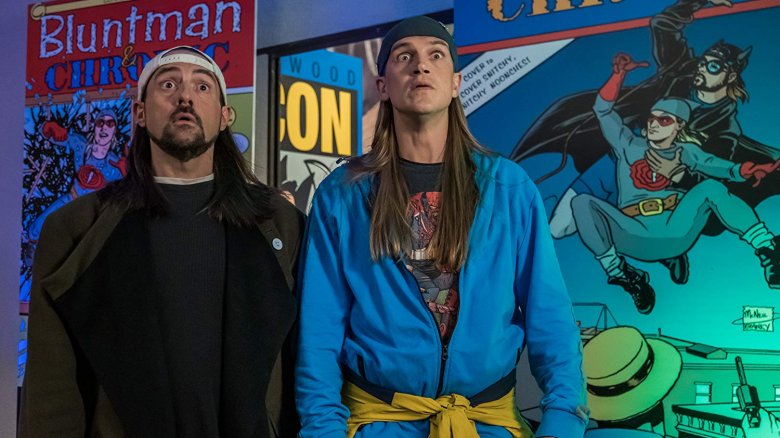 On top of his directorial debut being released, 2019 is also proving big for Jason Mewes in another, more familiar way, with the filmmaker stepping back into the Jay role. The part has been revived as a part of Smith's 13th movie, Jay and Silent Bob Reboot, a sequel to Strike Back that Smith has called "literally the same f—ing movie all over again." Well, if you liked it the first time... 
In typical ironic fashion, the movie is effectively a reboot that lampoons reboots, following Jay and Silent Bob as they head back to Hollywood (again), seeking sweet revenge for the industry's slights against them (...again.) This time, they're out to stop a blockbuster reimagining of Bluntman and Chronic, now starring former Batman Val Kilmer and current Supergirl Melissa Benoist. And while Jay went sober as his namesake for Clerks II, the sequel seems to have the fictional character back in the mood of rolling fatties and smoking blunts.
Outside of filmmaking, Mewes has also found a second unexpected niche as a podcaster and a stage performer, touring with the stand-up show "Jay Mewes and His A-Mewes-ing Stories." He's also begun streaming content on Twitch under the name JayMewes. 
"I didn't plan on doing any of this," Mewes said, referencing every weird and star-studded turn of his long and strange career. "It's been so surreal."