Jim Carrey's Most Successful Movie Might Not Be What You Expect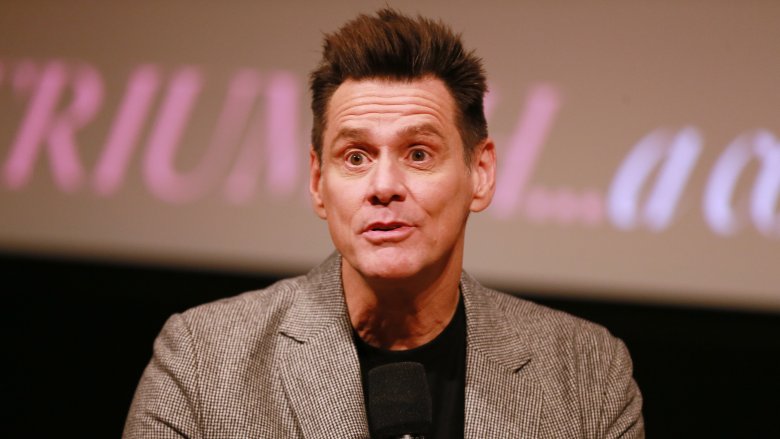 Leon Bennett/Getty Images
"And that's the way the cookie crumbles."
After the successful film trifecta of Ace Ventura: Pet Detective, The Mask, and Dumb and Dumber hit theaters in 1994 — catching the entertainment industry by complete surprise — Jim Carrey spent the next decade as one of Hollywood's most bankable forces. Over the course of his entire career, Carrey's films have grossed more than $4.8 billion at the worldwide box office. One would be forgiven for thinking the highest-earning film in Carrey's oeuvre is a family-friendly flick like 2000's Dr. Seuss adaptation How the Grinch Stole Christmas, or a superhero sequel like 1995's Batman Forever. However, the most successful movie Carrey has ever made might not be what you expect: it's actually 2003's high-concept comedy, Bruce Almighty.
The film stars Carrey as Bruce Nolan, a down-on-his-luck TV reporter who is passed over for promotion, which leads to his dismissal from the station. This firing is then followed by a series of further misfortunes, causing Bruce to complain to God — played by the fantastic Morgan Freeman — that "he's the one that should be fired." Seeing as Bruce Almighty is a comedy film, God then offers Bruce the chance to try being God himself for one week, and various hijinks ensue. The film, which also co-stars Jennifer Aniston and a pre-fame Steve Carell, received decidedly mixed reviews from critics but had audiences turning out in droves.
While the Carrey-led How the Grinch Stole Christmas technically grossed more money at the domestic box office ($260 million vs. Bruce Almighty's $242 million), Universal Picture's Dr. Seuss adaptation had a production budget that was $40 million higher than Bruce Almighty, and it also fell well short of Bruce's worldwide box office total of over $484 million.
Bruce Almighty was a massive hit that shocked the industry upon its release despite its middling reviews. Not only was the film the highest debut ever for a non-sequel and for a movie not based on popular source material, but Bruce Almighty also surpassed what studio Universal itself thought the religion-centric fantasy-comedy would do. In May 2003, Universal's then-head of distribution Nikki Rocco admitted (via Box Office Mojo), "Even our wildest expectation wouldn't have been this high. We had a hard time finding something to compare it to. There's never been a big comedy like this opening on Memorial Day weekend. It's usually action sequels."
Carrey's career has never again hit the highs of Bruce Almighty as his professional life has slowed down a bit (he's only appeared in eight movies over the past decade). However, he's made a bit of a resurgence of late — with a critically-lauded turn in Showtime series Kidding and with Sonic the Hedgehog set to hit theaters early in 2020, Carrey could be on top again very soon.