What Evanna Lynch From Harry Potter Looks Like Today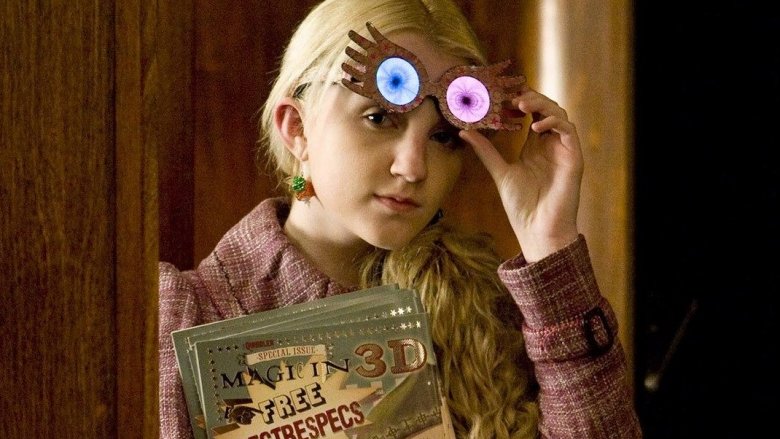 Warner Bros.
In the years since the Harry Potter film franchise wrapped up, its cast members have gone on to plenty of new projects, finding fresh opportunities beyond the world of witches and wizards and outside the hallowed halls of Hogwarts. For fans who watched Harry and his cohorts grow up on screen, it's still exciting to see where the Potter actors have landed — including Evanna Lynch, who brought Luna Lovegood to life when she joined the film series in its fifth installment, Harry Potter and the Order of the Phoenix.
Lynch may have been a latecomer to the massive Potter franchise, but she was an extremely welcome addition. The Irish actress, who grew up reading the Harry Potter books, added whimsy and heart to the films as Luna, an intelligent and eccentric Ravenclaw student who believes in some of the weirdest magical theories around. As a part of Harry's core group, Luna fights alongside him and his friends at the end of Order of the Phoenix as they face off against evil Death Eaters. She more than proved her worth in the fifth Harry Potter flick, and from that point on, Luna was an integral part of the plot.
Alongside Daniel Radcliffe, Emma Watson, and Rupert Grint — who portrayed Harry, Hermione, and Ron, respectively — Lynch gained international fame and acclaim thanks to her high-profile role, which she landed following an open casting call she attended in London in 2006. Lynch was already a huge fan of the books and the films, and had even sent letters to Harry Potter author J.K. Rowling well before she became a part of the franchise. Though she had been in contact with Rowling prior to auditioning, Lynch won the coveted role of Luna fair and square — beating out major competition (it's been said that more than 15,000 other young girls auditioned to play Luna) and impressing during her screen test with Radcliffe. Lynch was practically born to play the bright-eyed witch, and the minds behind the film knew it; producer David Heyman even said, "The others could play Luna; Evanna Lynch is Luna." Rowling has also admitted that as she finished the final books in the Harry Potter novel series, she envisioned Lynch while writing Luna's scenes.
Lynch clearly tasted the sweetness of success during her years-long, four-movie turn as Luna Lovegood, and luckily for the talented actress, she's continued landing roles after the Harry Potter franchise ended in 2011. 
Evanna Lynch is thriving post Potter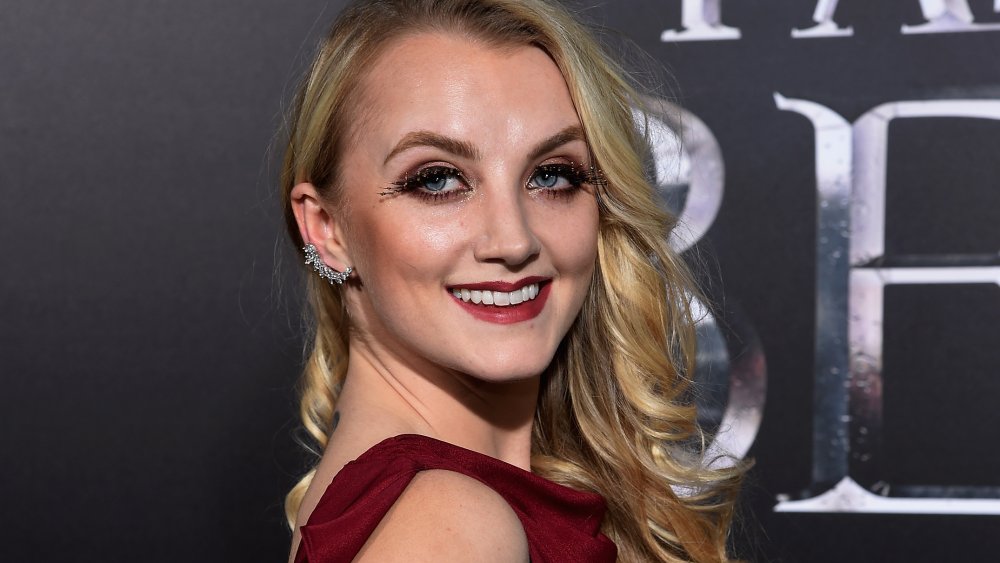 Jamie Mccarthy/Getty Images
In a post-Potter world, Evanna Lynch has had no trouble finding work in film and on the stage. 
The actress has booked a number of roles in live theater — appearing as Luna Lovegood in 2012's A Very Potter Senior Year, as Bess Houdini in Peter Snee's 2013 production Houdini, as Sinéad (a.k.a. Runt) in the 2017-2018 stage adaptation of the Irish film Disco Pigs, as Gaby in 2019's The Omission of the Family Coleman, and as Martha in director Anthony Banks' Games for Lovers. 
On the film side of things, Lynch moved away from blockbusters after Harry Potter ended and appeared in several smaller films — including the teen comedy G.B.F. (in which she played against type as the mean-spirited Mormon McKenzie Pryce), My Name is Emily (in which she starred as the titular character), and the British television movie Danny and the Human Zoo (in which she portrayed a character called Bridget Riordan). Lynch also played Theresa Bornstein in the true-life film Dynamite: A Cautionary Tale (also known as Addiction: A 60's Love Story), and had a cameo role in Jason Mewes' Madness in the Method. 
Lynch's after-Potter adventures also took her to the small screen. She's popped up on an episode of the action-adventure series Sinbad, as well as on the pilot episode of Apex. The actress also lent her voice to three different characters – Academy Voice, Tablet, and Lunchbox — on Nickelodeon's animated "Nicktoon" Middle School Moguls.
Lynch's highest profile turn since playing Luna Lovegood came during her time across the pond on the 27th season of ABC's Dancing With the Stars. Along with her dance partner, Keo Motsepe, she ultimately finished the competition in third place.
Beyond her professional life, Lynch has also maintained a personal brand dedicated to health and wellness – openly discussing her struggles with eating disorders and becoming an advocate for body positivity — and is also a vegan activist, even co-founding a vegan beauty box with fellow actress and activist Daniella Monet.
After seeing Lynch come of age on the big screen, it's gratifying for fans to know that she continues to thrive. The actress clearly has a bright future ahead of her between her stage work, film career, and activism. Though the Potter series is over, it's obvious that Lynch is here to stay.