RoboCop Sequel Loses Director Neill Blomkamp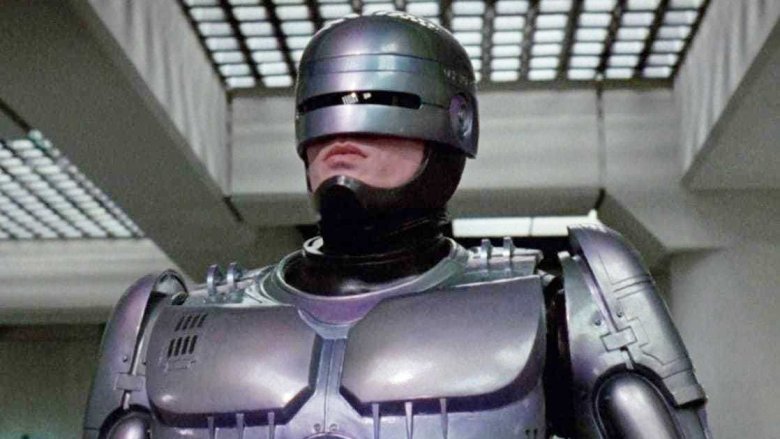 MGM
The Robocop sequel is showing some a few dents in its armor.
Director Neill Blomkamp, who has been attached to helm Robocop Returns since last summer, took to Twitter to inform fans that he has departed. No word on who would be taking over the picture, which is a direct sequel to the 1987 original. (via Entertainment Weekly)
Blomkamp's message to fans was short and to the point, and alluded to the fact that it was apparently a scheduling conflict which forced him off the project. "Off Robocop," he tweeted. "I am shooting new horror/thriller and MGM can't wait/need to shoot Robocop now. Excited to watch it in theaters with other fans."
It's tough to read Blomkamp's exit as anything other than a massive blow to the film, which aims to wash away the bad taste left in the mouths of Robocop fans who were (how to put this delicately) disappointed, if not offended, by the pair of sequels that followed the flick. (And the less said about the PG-13 rated 2014 reboot, the better.) The director was uniquely qualified to tackle the material; most of his movies — which include District 9, Elysium, and Chappie — share aesthetic and/or thematic similarities with Robocop, and there's a good reason for that. 
The director took in Paul Verhoeven's original film as a kid (a kid with very cool parents, evidently), and he's gone on record stating that the movie had a "massive effect" on his filmmaking career. Speaking with Deadline in July 2018, Blomkamp said, "I loved it then and it remains a classic in the end of [the] 20th Century sci-fi catalog, with real meaning under the surface. Hopefully that is something we can get closer to in making of a sequel. That is my goal here."
Blomkamp's involvement had bolstered the hopes of fans, especially since Robocop Returns is already coming with a sterling pedigree. The flick was conceived by original Robocop writers Ed Neumeier and Michael Miner in the wake of the original's success, but their ideas were brushed aside for 1990's Robocop 2 in favor of a screenplay co-written by comics legend Frank Miller. Neumeier and Miner's concept was spruced up by screenwriter Justin Rhodes (who co-wrote the script for the upcoming Terminator: Dark Fate), with the original screenwriting pair on board the new film as producers.
Blomkamp had also been vocal about his desire for original star Peter Weller to return for the sequel, and while Weller was initially reported to have balked, his stance appears to have softened considerably in recent months. Unfortunately, his reconsideration seems to have been explicitly tied to Blomkamp's involvement with the project. Speaking with the Calgary Herald in April of this year, the 71-year old star said, "The guy I was just talking to said 'I understand you are not doing it and refuse to do it.' I said 'I don't know where you heard that, because Neill Blomkamp and I are talking consistently about it.' So I'll put the kibosh on that. If that turns out, I'll do that with him because he is great... We just like to keep the windows open here because he's about to get financed. When he does, hopefully we'll make a deal and we'll do it."
Now that Blomkamp has exited, though, the question of whether Weller will return to the fold can once again only be answered with a firm, "who the heck knows" — and it goes without saying that without the original flick's star, fans are sure to approach the belated sequel a great deal more warily. 
Strangely, this isn't the first time that Blomkamp has been thwarted in his attempt to breathe new life into a beloved sci-fi franchise. The director had long been attached to a new entry in the Alien series, even going so far as to commission fantastic-looking concept art —  but alas, his ideas died an unceremonious death when original Alien director Ridley Scott decided to return to the franchise, ultimately offering up 2017's supremely divisive Alien: Covenant. 
Like Robocop Returns, Blomkamp's Alien sequel would have ignored a widely reviled period in the franchise's history (in this case, David Fincher's hot mess Alien 3) in a bit of retroactive course-correction. It seems that when it comes to giving fans the awesome sequels that they deserved but never got, the director simply can't catch a break. 
If there's a silver lining here, it lies in Blomkamp's remark about the project which forced his departure from Robocop Returns. That the gifted director, whose sole domain has been in the action/sci-fi realm thus far in his career, is hard at work on a "horror/thriller" feature is definitely reason for excitement. Exactly zero details about this project have been made public, but now that our ears have been perked up, we'll be keeping a close eye out for any developments on that front.
At this point, it's impossible to say what the empty director's chair could mean for Robocop Returns. Blomkamp's tweet was clear on the fact that studio MGM intends to get the picture before the cameras as quickly as possible, a feat which will not be easy to accomplish with nobody at the helm. We would expect an announcement clarifying the flick's status sooner rather than later — but whether this will involve a new hire, a production delay, or an outright cancellation is anybody's guess.
Of course, we'll be keeping our finger on the pulse of this one, and Mr. Blomkamp, if you happen to be reading this: bummer. Perhaps you should start looking around for another awesome sci-fi franchise to rescue, because like they say, the third time's the charm.