Once Upon A Time In Hollywood's Bruce Lee Actor Responds To Outrage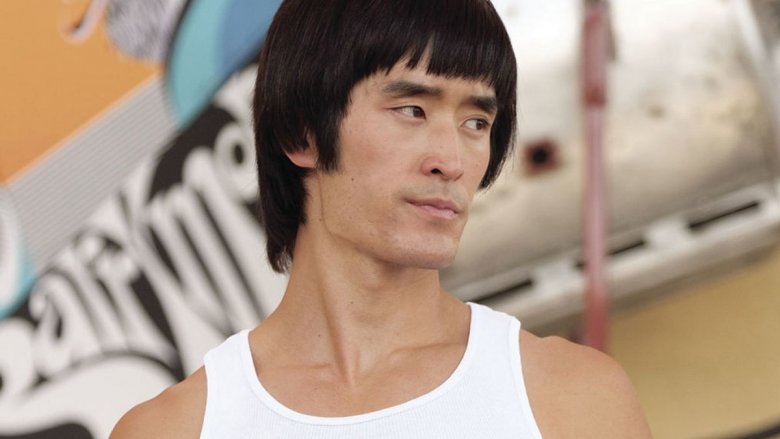 Contains spoilers for Once Upon a Time in Hollywood
The man who played Bruce Lee on the big screen has broken his silence about recent backlash. 
Shortly after the July 26 launch of Quentin Tarantino's Once Upon a Time in Hollywood, a 1969-set comedy-drama that revises history in more ways than one, Bruce Lee's daughter Shannon spoke out about how disappointed she was with the way the film depicted her late father. Shannon Lee stated that she felt Once Upon a Time in Hollywood made a "mockery" of Bruce Lee, arguing that Tarantino made him look like "an arrogant a**hole who was full of hot air" through the scene in which he fights Brad Pitt's character, the fictional stuntman Cliff Booth. 
Now, the actor who played Bruce Lee in Once Upon a Time in Hollywood has come forward to address the controversy surrounding Tarantino's depiction of the late martial arts master.
Speaking with Birth.Movies.Death, Mike Moh revealed that he was shocked when he read the original version of the Once Upon a Time in Hollywood script, and was conflicted about how the film positions Lee as the instigator of the fight with Booth and eventually sees the stuntman shove Lee into a car during the scuffle. Moh also admitted that "of course" he had concerns about playing a version of Lee that loses a round of a fight with another character, when that seems implausible given how powerful everyone remembers him to be. 
"I'm not going to tell you what the original script had exactly, but when I read it, I was so conflicted because he's my hero — Bruce in my mind was literally a god. He wasn't a person to me, he was a superhero. And I think that's how most people view Bruce," he said. 
Moh then explained that despite initially feeling torn about the depiction of Lee in Once Upon a Time in Hollywood, and despite the fact that the film may suggest otherwise, he truly believes that Tarantino loves and respects Lee. To Moh, the fight scene between Lee and Booth wasn't about disrespecting the beloved Hong Kong-American actor and expert martial artist — it was about showing exactly how dangerous Booth really is. The actor also noted that Lee didn't actually lose the fight: he won the first round and lost the second, but the battle got broken up before they could determine a winner with a third round. Technically, it was a tie.
"The thing about it is, number one, it's a Tarantino film. He's not going to do the thing that everybody expects anybody else to do. You've got to expect the unexpected," Moh said. "And number two, I knew from the jump, Tarantino loves Bruce Lee; he reveres him. So let me be clear; in the film, it was a challenge — 'best two out of three.' I got the first point — I knocked him on his a** first. And Bruce at that time was so cocky and maybe got a little excited and he didn't know Cliff Booth has killed dozens of people with his bare hands — and that's what people may not realize up until that moment in the film. It's a hugely important scene — what better way to show how dangerous Cliff is than for him to show up and even match him for a little bit with Bruce? ... At that moment when I get slammed, that's when Bruce realizes, 'Oh s***, this guy is not just a stunt guy.' Because Bruce didn't always have the most affection for stuntmen; he didn't respect all of them, because he was better than all the stunt guys. So after I got slammed, I get serious."
Continuing, Moh stated that if the two men had a little more time to duke it out, there's no way that Lee wouldn't have bested Booth: "I can see how people might think Bruce got beat because of the impact with the car, but you give me five more seconds and Bruce would have won."
The actor then shared that if this fight had actually happened on the set of The Green Hornet, the real-life television series on which Lee starred as the masked driver Kato, it would have motivated Lee to continue improving his skills in Jeet Kune Do, the hybrid martial arts philosophy he founded in 1967. 
"I know people are going to be up in arms about it, but when I went into my deep dive of studying Bruce, he more than anybody wanted people to know he's human. And I think I respect him more knowing that he had these challenges, these obstacles, just like everybody," said Moh. "I don't know any actor out there that doesn't have some sense of wanting to be more — and I think that's the sign of somebody that wants greatness, and will achieve greatness, always wanting more ... I know I could have taken [Booth] at the time if I wasn't so cocky. And now he's going to go back and refine his Jeet Kune Do and become the legend or a stronger version of himself because of this encounter with Cliff. At least, that's how I see it."
One of the best points that Moh makes here is that Tarantino is known for subverting expectations. He's time and again viewed history as malleable, shaping it to fit the narratives of his films instead of the other way around. And in the case of Once Upon a Time in Hollywood, Tarantino changing up how Bruce Lee really behaved and having him lose a round of a fight against a stuntman so it better aligns with the story is somewhat small potatoes compared to the shocking revision of history he carried out at the end of the film — when he created a reality in which the Manson Family murders of August 1969 never actually happened. 
Still, while Moh makes a solid argument in saying that Tarantino wanted to prove how formidable Booth really is with the fight against Lee, it isn't great that proof of Booth's power sort of came at the cost of Lee's legacy. Like Bruce Lee biographer Matthew Polly previously said, "[Tarantino] could have achieved the same effect — using Bruce to make Brad Pitt's character look tough — without the mockery."