Macaulay Culkin Reveals What The Disney+ Home Alone Reboot Would Actually Look Like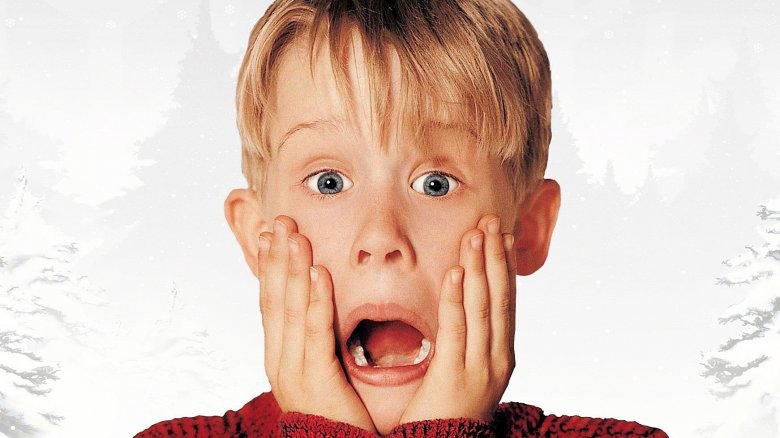 For many fans, a Home Alone reboot is practically sacrilegious, a project so unthinkable that even the most bizarre of alternate realities wouldn't dare give it the green light. But it's real, it's happening, and everyone has something to say about it — including the star of the original film himself. 
Macaulay Culkin has taken to Twitter to address the recent news that Disney is rebooting Home Alone for its soon-to-launch streaming service, Disney+. 
Bob Iger, CEO of the Walt Disney Company, dropped the news during an earnings call on Tuesday, confirming that the House of Mouse is giving properties previously owned by Fox the reboot treatment. These include Cheaper by the Dozen, Diary of a Wimpy Kid, Night at the Museum, and, of course, Home Alone. Iger explained that Disney is "focused on leveraging Fox's vast library of great titles to further enrich the content mix on our [direct to consumer] platforms" following Disney's multi-billion-dollar acquisition of the company. 
Known for his role as Kevin McCallister, the mischief-loving eight-year-old who gets left behind when his family goes on vacation, Culkin sounded off on his Twitter page about what a Home Alone reboot would really look like. Nearly 30 years have passed since director John Hughes' family-friendly comedy hit the big screen, and time hasn't exactly been kind to Kevin — at least not by Culkin's estimations. The actor shared a snap of himself sitting on the couch in his underwear, wearing a wife-beater tank top with his stomach hanging out, surfing the web on his laptop, and chowing down on some reheated noodles (two containers of which are nestled next to an upside-down snowman pillow next to him). In the picture, Culkin shoots a double-chin-tastic face at the camera to play up the idea that Kevin's life has gone way down hill since Home Alone. 
"This is what an updated Home Alone would actually look like," Culkin wrote in the caption, adding in another tweet, "Hey @Disney, call me!"
Considering just how beloved the original Home Alone is, it's not surprising to hear that many are less than enthused about Disney rebooting the film. Sure, it's a Christmas classic, it's wholesome fare that the whole family can enjoy, and it has that nostalgia factor that every studio in the world is trying to cash in on. (Need we remind you of the dozens of animated-to-live-action remakes Disney has planned?) It's for those reasons that it makes sense that Disney wants to give Home Alone — and Cheaper by the Dozen, Diary of a Wimpy Kid, and Night at the Museum — an update for a modern audience. But is it necessary? That's debatable. It seems, at least for the time being, that the primary motivation for these upcoming reboots is financial in nature. Everyone loves money, particularly entertainment giants like Disney, but there's something to be said about caring more about profit than about audience reception. 
Hardly anything is known about the Home Alone reboot at this time, so it's difficult to say how exactly viewers will respond to the project. It could be a shot-for-shot remake of the original, much like Disney's new Lion King movie was of the 1994 animated original, or it could make some changes to the original story and offer something fresh. Either way, to convert any potential naysayers and attract a bigger audience, Disney might want to ring up Culkin and see if he'd like to cameo in the new Home Alone — preferably without a mouth full of pasta and with more than just his underwear on.