Rutger Hauer, Beloved Blade Runner Bad Guy, Dies At 75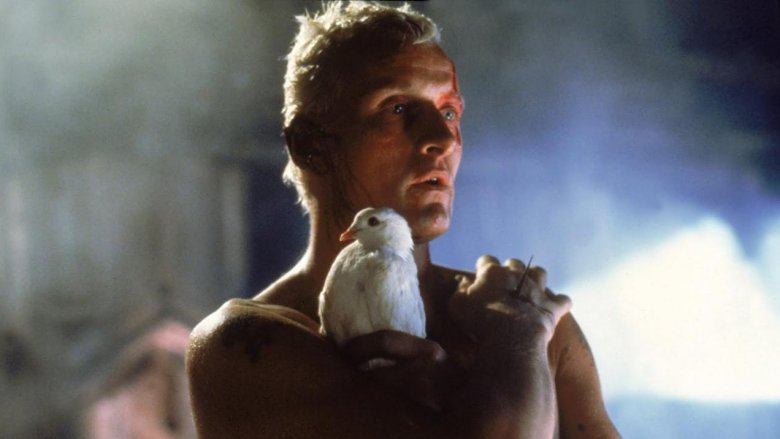 Fans of 1982's cult sci-fi epic Blade Runner are shedding tears like rain today after learning that Rutger Hauer — who played the villainous-slash-soulful replicant Roy Batty in the film — has died after a brief battle with illness. He was 75.
Hauer's agent, Steve Kenis, confirmed the sorrowful news, noting that the Dutch actor died on Friday, July 19 at his home in the Netherlands. A private funeral ceremony has already been held. 
While Hauer's sprawling film career was well into its 50th year at the time of his death, he's perhaps still best known for his iconic turn opposite Harrison Ford in the original Blade Runner film. Directed by Ridley Scott, Blade Runner infamously suffered through a torturous production, and didn't exactly set the box-office ablaze in its 1982 theatrical release. Over the years, the noir-tinged film — which follows a detective tasked with tracking and "retiring" a small band of rogue "replicant" slaves supposedly bent on starting a rebellion —  has earned itself legit cult status, and is now regarded as one of the most influential science-fiction movies ever produced. 
Close to four decades after the film's release, many cineastes remain a bit divided on Blade Runner's ultimate merits, but the one point seemingly everyone agrees on is the profound power of Hauer's performance as head replicant Roy Batty, a bad guy who made some really good points. Though Scott's film has been re-cut and re-released several times over that period, Hauer's heart-wrenching and harrowing scenes as Batty have all but gone untouched in each new iteration, with the actor's poetically tragic monologue in the film's waning moments cementing the character's demise remaining one of the most memorable in film history.
In the wake of Blade Runner's not-so-successful release, Hauer was still a bit of a hot commodity in Hollywood, and used the film as a springboard towards a generally left-of-center career filled with memorable turns in genre-centric fare throughout the '80s, '90s, and beyond.
Of the more notable films in Hauer's oeuvre, fans are certain to seize on the likes of '80s chillers including Nighthawks (opposite Rambo icon Sylvester Stallone), Richard Donner's 1985 fantasy epic Ladyhawke, and 1986's hitch-hiker thriller The Hitcher. Though the '90s increasingly saw Hauer's piercing blue eyes appearing in more B-movie type fare, the Dutch-born performer still managed to deliver standout turns in the Joss Whedon-penned, OG version of Buffy The Vampire Slayer circa 1992, and as a cold-blooded business man hunting humans in 1994's Surviving The Game. 
The years leading up to Hauer's death found the actor's career in a pseudo-renaissance phase with potent small-screen appearances on Alias, Smallville, and the 2004 miniseries adaption of Stephen King's vampire creeper Salem's Lot. The 2000s also found A-list directors like George Clooney, Robert Rodriguez, and Christopher Nolan knocking at Hauer's door. The filmmakers cast him in Confessions of a Dangerous Mind, Sin City, and Batman Begins, respectively. 
Of course, one of Hauer's most memorable late-career turns came as Faerie King Niall Brigant on HBO's beloved vampire melodrama True Blood. 
Most recently, Hauer had scored a recurring role on SyFy's bloody horror series Channel Zero, and appeared ever-so briefly opposite Joaquin Phoenix and John C. Reilly in 2018's underrated film The Sisters Brothers.
As it happens, Hauer had several films in various stages of production at the time of his passing — including Michael Almerayda's anxiously anticipated, star-studded adaptation of Jonathan Lethem's Tonight at Noon. We'll all have plenty of opportunity to see Hauer's expressive face on big screens and small in the immediate future.
Hauer is survived by his wife, Ineke ten Cate (to whom he was married for 50 years), and his daughter, Aysha Hauer, from a previous marriage.
While we're certain that Hauer's biggest onscreen moments will never be lost in time, there can be little doubt his presence will be missed moving forward. Our thoughts are with Hauer's loved ones during this time of mourning.