The Real Reason Why Brandon Routh Is Returning As Superman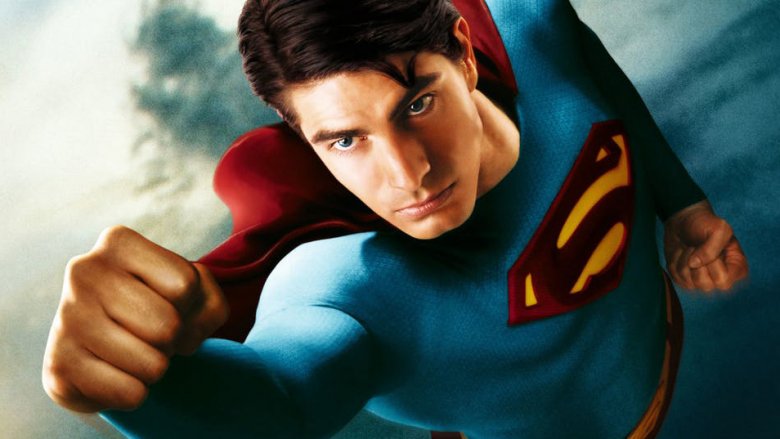 Warner Bros. Pictures
It'll be a clash of the capes on the CW this December. 
Brandon Routh, who donned the red superhero shawl and wore the giant "S" proudly on his chest in 2006's Superman Returns, is flying onto screens (the small one this time) for the upcoming Arrowverse crossover event Crisis on Infinite Earths. An Arrowverse standout himself, portraying Ray Palmer (a.k.a. the Atom) as a regular on DC's Legends of Tomorrow, Routh will reprise his role as Superman alongside current Arrowverse Clark Kent Tyler Hoechlin, who plays the hero on Supergirl. 
After spending 13 years away from Supes, Routh is finally coming back to the costumed character. It's exciting for certain, but also rather confusing. Why, over a decade later, would Routh want to play Superman again — especially when he's not the only actor on board to portray the caped crusader?
It seems that Routh's return to Superman is down to three things things: his history with Superman, how that has affected how he feels about the character, and what his involvement in the five-part Crisis on Infinite Earths event will be. 
As fans will remember, Routh's tenure as the silver-screen Superman was short-lived: he played the high-flying Kryptonian superhero in but one project, that being director Bryan Singer's Superman Returns. Routh was a green recruit for the role, just 24 at the time he auditioned, and Singer sung his praises time and again — likening him to iconic Superman actor Christopher Reeve and describing him as the embodiment of the world's "collective memory of Superman" thanks to his physical appearance and his Midwestern upbringing comparable to Clark Kent's own. When Superman Returns touched down in theaters in June of 2006, critics largely agreed with Singer's assessment of Routh, with one saying that he "effortlessly lays claim to the iconic role."
Unfortunately, positive response to Routh as the Man of Steel wasn't enough to make up for the film's underperformance at the box office, and just two years after Superman Returns' release, studios Warner Bros. and Legendary Pictures decided that the sequel they had planned before the movie opened was now out of the question. The Superman franchise was instead getting a complete reboot, Warner Bros. announced in August 2008, and Routh was intended to come back to the red cape. Even after his Superman contract expired in 2009, and after Warner Bros.' then-president of production Jeff Robinov admitted that "Superman Returns didn't quite work as a film in the way that we wanted it to," Routh was still wanting to portray the superhero again if he was asked back. Ultimately, though, Routh wasn't asked to return: Warner Bros. instead handed Henry Cavill the cape for Man of Steel... which got the sequel that Routh's Superman Returns never did.
All this time later, someone did reach out to Routh and ask him to play Superman once more. When Arrowverse producers rang him up, a flood of emotion took over Routh's body and mind, and he wasn't sure what to think of the proposition. Sure, it was something he had hoped might happen, but was it too late? Would anyone even want to see him as the caped crusader again? And worse yet, would he somehow experience the same disappointment he had with Superman Returns? We can only imagine these were the things Routh was thinking following that fateful phone call — and why he described experiencing a "mix of emotions" when he was first approached about appearing as Superman on Crisis on Infinite Earths. 
But obviously Routh accepted the offer, and he explained the reason why in an interview with Entertainment Weekly during San Diego Comic-Con 2019, when news of his Superman return went public. For Routh, Crisis on Infinite Earths is his second chance at giving the superhero a proper send-off, something he never got to do before. Call it closure or call it wish fulfillment — but Routh is returning to Superman for an important, even emotional, reason. 
The actor explained, "It's an opportunity for me to kind of say hello and goodbye to the character in a way I didn't get to the first time. Being a young individual of 24, 25, I thought, 'Oh, I'm going to do this for years and make multiple movies.' And that of course didn't happen. I'm just very honored to be able to do this one last time."
What also may have factored into Routh's decision to agree to play the hero again for Crisis on Infinite Earths, which will span five episodes that start this December and end in January 2020, is how he and his fellow Superman star Hoechlin are involved in the crossover event. Deadline originally noted that the two actors will play versions of Superman "in different time frames," suggesting that Routh and Hoechlin may not meet up on screen. Knowing how Crisis played out in the comics, however, one can assume that the pair are actually playing Supermen from different timelines who will appear together on the same episodes. 
If this ends up being the case (which we believe it will), Crisis on Infinite Earths will not only allow Routh the chance to say goodbye to Superman, but it will also give him the amazing opportunity to team up with another iteration of the hero who will presumably keep the cape flying on television for years to come. And Routh is clearly stoked about the whole situation, writing to Hoechlin on Twitter, "So excited to share the screen with you as Supes @tylerhoechlin! So fun! I'm so ready!" 
Anyone worried that Routh may have trouble settling into the role of Superman after 13 years away from the character should feel relief in knowing that the actor's current DC superhero character, Ray Palmer, shares similarities with Clark Kent. Chatting with IGN host Max Scoville at Comic-Con, Routh said that it'll "be interesting" if he gets to play both the Atom and Superman for Crisis on Infinite Earths, since "Ray is kind of modeled a little bit after Clark." He added, "There [is] definitely Clark energy in Ray. So I'd say, you know, there's a fair bit of crossover there."
A character crossover and a Superman crossover in an Arrowverse crossover? Our heads are spinning already. 
See Routh finally return as Superman when the Crisis on Infinite Earths event beings this December on the CW.