The Walking Dead: Danai Gurira Confirms She's Leaving The Show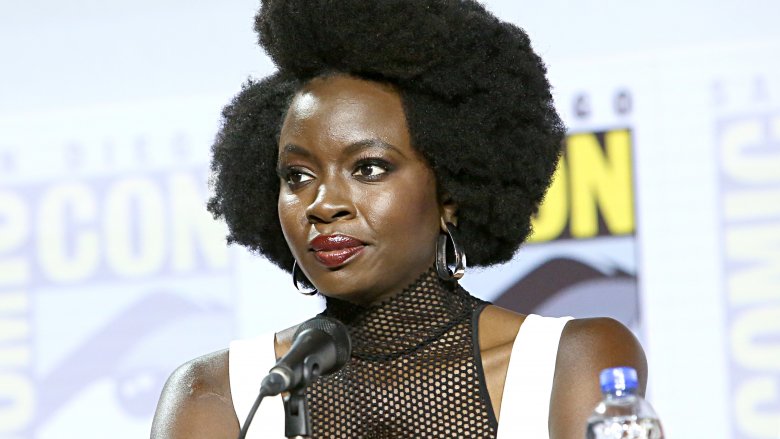 Jesse Grant/Getty Images
The end is nigh for one longtime Walking Dead actress. 
Danai Gurira, who plays Michonne on the AMC zombie series, confirmed at San Diego Comic-Con 2019 that she will be leaving The Walking Dead after its upcoming tenth season, set to debut on October 6.
"I can confirm this is the last season I'll be on this amazing TV show as Michonne. I would just like to say this has been one of the purest joys in my life. I am very very thankful for the experience I've had in ways that I cant even express right now. My heart does not leave... it doesn't ever end, the connection between us never ends," Gurira said at the Walking Dead presentation, addressing a crowd of adoring fans (via Entertainment Weekly). "It was a very difficult decision. It was about my calling and other things I feel called to... as a creator of work."
She added, "All I'm filled with is a lot of pain about leaving and a lot of gratitude and to all of you. I love you guys. TWD family is forever." 
That comment sent fans over the edge, bringing them to their feet to give Gurira a standing ovation in the hallowed Hall H. 
EW spoke with The Walking Dead showrunner Angela Kang in advance of the series' panel to discuss how Gurira's Michonne would end her time on the show. Kang affirmed that the Walking Dead wants to "do right by" the fan-favorite character, and that the focus at hand is to send Michonne off with a proper goodbye that feels natural — unlike the way the show sent off Andrew Lincoln's Rick Grimes. 
"It was a huge challenge working on Rick's exit, but what really weighed on us was, 'Okay, here's another character that we've got to write out, but the exit can't feel the same as Rick's thing.' So there were certain parameters that we really had to work within," Kang explained. "Danai is a powerhouse of an actress. Her performances speak for themselves really in the past years ... I'll say, I am really excited about the story that we're telling with her. I've been watching these scenes come in that she's doing, and this is someone who is just breaking your heart in scenes as well as kicking ass, because we've always got to have that with her."
She continued, "We tried some stuff that we've never done on the show with her, and I'm very excited about it. Hopefully we land it, and hopefully, we'll give her a good send-off from The Walking Dead, where she's been such a major part for all these years."
Talk of Gurira's nearing departure from The Walking Dead has been in the air for a while now, ever since The Hollywood Reporter ran a story in February 2019 that noted the actress would appear in a limited capacity on season 10 before saying goodbye to her badass character forever. That considered, it shouldn't blindside Walking Dead fans to hear that Gurira is leaving. 
What should warm their hearts and ease any potentially frazzled nerves are Kang's comments that the series will honor Michonne as a character and the stunning performances Gurira has given as the apocalypse survivor — as well as Gurira's heart-tugging remarks about what the show and Michonne mean to her. We doubt anyone wants to bid Michonne farewell after season 10 of The Walking Dead, but, as the old adage goes, smile because it happened instead of crying because it's (almost) over. 
Fans can see Gurira take her final turns as Michonne when The Walking Dead season 10 premieres on AMC on October 6.