Brian K. Vaughan's Paper Girls Series Getting TV Adaptation At Amazon Studios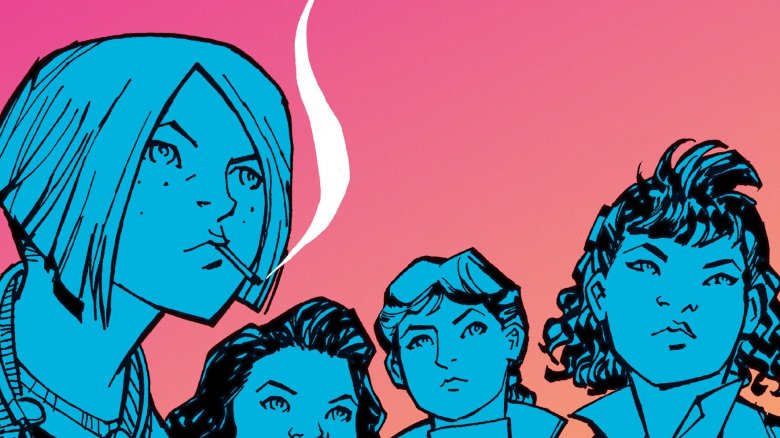 Cliff Chiang/Image Comics
The Paper Girls are about to become television stars. 
Amazon Studios is adapting Brian K. Vaughan's well-loved Image Comics graphic novel series Paper Girls for television, Deadline confirmed on Friday. 
The streamer scored the rights to the project in a "competitive situation," and handed it a series commitment upon pick-up. Legendary Television and Plan B, the company known for the Academy Award-decorated films 12 Years A Slave and Moonlight, are behind the Paper Girls show. Stephany Folsom, who co-wrote Toy Story 4 and works as the consulting producer on Amazon's upcoming Lord of the Rings series, is on board to write and executive produce the show. 
Vaughan is currently under a multi-year deal with Legendary Entertainment, and Paper Girls marks his very first project since inking the agreement. 
Illustrated by Cliff Chiang, the Paper Girls graphic novels center around four young girls — Erin Tieng, MacKenzie "Mac" Coyle, Karina "KJ" J., and Tiffany Quilkin — who find themselves embroiled in a war between time-travelers when delivering papers on the morning of November 1, 1988. The foursome embark on an adventure through time, where they meet themselves as adults and must choose to accept their future or reject the universe's fate and change their lives forever. 
The Paper Girls series will likely be animated in nature. No cast has been announced at this time, as the pick-up is still fresh. 
It's little wonder why the battle to secure Paper Girls was so heated, or why Amazon Studios fought so hard to call the project its own. The graphic novels, which launched with the first issue in October of 2015, earned two Eisner Awards in 2016 for Best New Series and Best Penciller/Inker. In 2017, colorist Matt Wilson took home the Eisner Award for Best Colorist, and the first volume of Paper Girls landed on the shortlist for Best Graphic Story at the Hugo Awards that same year. Beyond its many accolades, Paper Girls has a strong fan base that continues to sing its praises with each new issue that rolls out. 
The only concern here is just how quickly Paper Girls will get off the ground. FX is adapting Y: The Last Man, another of Vaughan's popular works, but it took years for the project to even enter production. Paper Girls could take a while to arrive on Amazon just like Y: The Last Man is stalling at FX, or it could face the same fate that Runaways, a translation of Vaughan's Marvel Comics series of the same name, has with Hulu: arrive in a timely fashion and go on to earn multiple season renewals.
We'll keep you updated on all things Paper Girls moving forward.