Willy Wonka Actress Denise Nickerson Dies At 62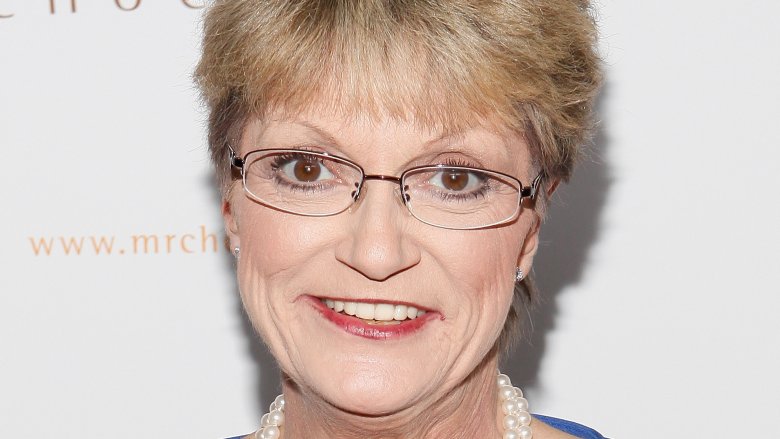 Cindy Ord/Getty Images
Farewell, Violet. 
Denise Nickerson, who portrayed the spoiled-rotten Violet Beauregarde in the much-loved 1971 classic Willy Wonka and the Chocolate Factory, has passed away at the age of 62. Her son and daughter-in-law shared the sad news in a Facebook post which read simply, "She's gone." (via Entertainment Weekly)
Nickerson's career as a child actress in TV and film began in the '60s with appearances on series such as The Doctors, a long-running NBC soap opera, and Dark Shadows, a soap opera-esque show with a decidedly more supernatural bent. She parlayed these appearances into her iconic role in Willy Wonka, in which she stole the show as Violet, the gum-crazed little girl who blew up like a blueberry after disregarding the warnings of Wonka (Gene Wilder) to stay away from his experimental recipe, which was supposed to deliver all the flavors of a complete three-course meal.
In an interview with People in 2016, Nickerson remembered her time working on the film — which she starred in when she was just 13 — very fondly, noting in particular how fortunate she felt to have gotten to work with the legendary Wilder (who had just passed on very recently). "We met [Wilder] when we were first doing the factory scenes," she recalled. "I remember sitting on the bleachers waiting for him to come out of the factory, and rumor had gone around set that he was going to do the somersault — and he did, and we all clapped. We got to know him a little more when we went in the room that got smaller and smaller [in the film], and when we sign the contract, but when we filmed in the chocolate room and he sang 'Pure Imagination,' that just, he stole my heart."
She also shared her memories of filming the notoriously scary tunnel scene, saying that it didn't take much to coax frightened reactions out of the young cast. "
"I was quite surprised with that, there was no acting involved," says Nickerson. "My chin dropped, hit the ground and never came back up. I had not anticipated that, it was not in the script that he was going to go off on that tangent. I was completely speechless. I thought, nobody is going to come and see this movie if [Wonka] is a nut job. But, good thing I'm not a producer, right?"
She called the entire experience "wonderful," and expressed her appreciation for what the film has meant to so many over the years. "I'm a very fortunate lady to have been chosen to be a part of something that brings smiles to so many faces," she said. "And working with Gene, he talked in a very soft whisper, nothing much furled his feathers, you know? He was such a kind, tender-hearted man. And for him to put up with us, my God what patience he must've needed for five of us running around."
She followed up her appearance in the film with guest spots on TV shows like The Electric Company and The Brady Bunch, but quite acting in 1978 and went on to become a nurse. She had since ventured into the public eye on only a few occasions, such as the occasional Willy Wonka cast reunion and an appearance on the game show To Tell the Truth.
Nickerson had suffered a stroke last year, and her health had been in a precarious position since. On Monday, she was rushed to the hospital after a medical episode, and her son Josh Nickerson and his wife Jasmine made the heartbreaking decision to remove her from life support after she entered a "coma-like state." 
Fans of Willy Wonka will mourn the loss of a kind-hearted woman who attained worldwide fame by playing one of the most egregiously spoiled brats to ever grace the silver screen. She'll live on in our hearts, and in that world of pure imagination, where — like the song says — she'll be free.