John Travolta Comedy Look Who's Talking Getting A Reboot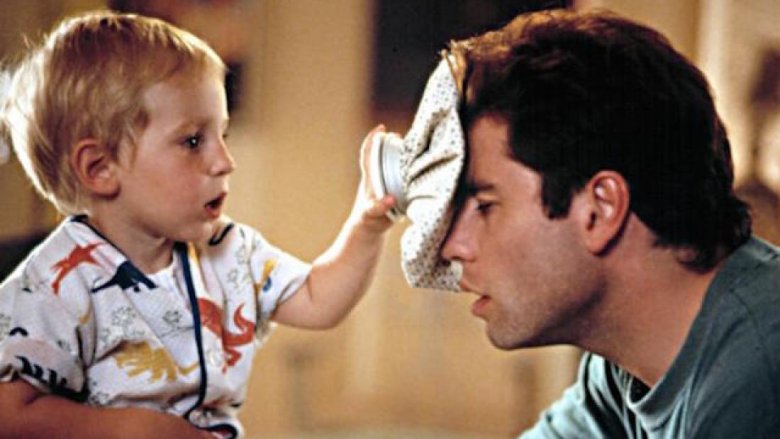 Let's talk about rebooting a classic comedy for the modern age.
Sony imprint Screen Gems is eyeing 1989's Look Who's Talking, which starred John Travolta, Kirstie Alley, and Bruce Willis, for the remake treatment. Jeremy Garelick (The Wedding Ringer) has been tapped to write and direct. (via Deadline)
The original film was as cute and formula-driven as rom-coms get, but it was also pretty darn hilarious thanks to the vocal stylings of Willis. Alley portrayed a single mother to a young tot named Mikey, opposite Travolta as a bumbling but well-meaning cab driver who becomes part of their family. The flick's gimmick, however, was nothing short of inspired: the viewer was privy to Mikey's inner monologue, performed by an incredibly game Willis as an even mixture of "things an adult wiseguy might say" and "things I'm pretty sure my baby actually thinks." 
The conceit combined with Travolta and Alley's formidable onscreen chemistry was a winning recipe. The modestly-budgeted flick, directed by Fast Times at Ridgemont High's Amy Heckerling, raked in a staggering $297 million dollars at the worldwide box office, and remember, this was 30 years ago. Look Who's Talking was the fourth-highest grossing movie of its year, one of the most successful comedies ever at the time, and a pretty good flick — all we're wondering is why it took Hollywood so long to get a modern take on the story going.
2015's The Wedding Ringer is the only feature directorial effort Garelick has to his name, and it was neither a critical darling nor an outstanding box office success. But Sony thinks it's found its man to adapt Look Who's Talking for a new generation in the writer/director, and he seems to know that he has his work cut out for him.
"What excited me about doing is, I have four kids, including twins, and this is something they can watch, and share some of the experience I had with my wife," Garelick told Deadline. "Like, figuring out how to raise these kids, with all the mistakes that happen. Add in the voices that are keyed to facial expressions, it just really seems like a fun idea. Everyone can relate to babies. The challenge is, [the original] was a really good movie, Travolta and Kirstie Alley had great chemistry and Amy Heckerling wrote a great script. We're in the early stages of figuring out what the story is for the modern version of the movie."
Of course, there's another slight challenge to overcome: the fact that comedy remakes have traditionally not fared well with audiences or critics, a trend that has only become more pronounced in recent years. Of the top ten highest-grossing comedy remakes since 1980, only two — 2016's Ghostbusters and 2011's Just Go With It — were made within the last ten years. Holding down the number one spot? 2005's Adam Sandler starrer The Longest Yard, which managed to claw its way to a $158 million dollar domestic gross despite getting savaged by critics.
Garelick will have to overcome what seems to be a pretty strong audience bias against retreads of classic comedies, and considering that it was largely the actors involved who made the original shine, casting the reboot will be tricky. The key, of course, will be finding someone who can voice the inner thoughts of a baby with as much aplomb and deadpan hilarity as Willis, which will be no small feat (no pun intended). 
For that matter, Willis is, you know, still around. Sony might do well to give him a call, because we're pretty sure that his involvement would get fans of the original plus newer audiences on board in a heartbeat. (We know, at least, that it would get us on board.) We'll keep an eye on this one's progress, and report additional details as they become available.